We know that Malawians love to play sports. But did you know they love to bet on sports as well? Undoubtedly, the sports they love to bet on are football, volleyball, basketball, and handball. But Rabona MW has given them the chance to bet on other sports held internationally. 
With this in mind, we have prepared this review for Malawians who are looking to learn about Rabona MW sportsbook and casino. Have an open mind and keep reading. The experience will be rewarding!
Rabona Malawi Company Information
Rabona Malawi is a website owned by Rabidi N.V. which follows the gambling laws of Curacao and has registration number 151791. The company has been operating for a while now but it has made sure that it is incorporating the latest marketing tools to grab the attention of Malawians. 
It seems the strategies are working because many Malawians spend their time sports betting and casino gambling online, and the avenue they chose was Rabona! We can't blame them because the sports market and casino games available on the platform are mind-blowing!
At the top of the site, you can see individual tabs for sports, horse racing, arcade, casino, live casino, tournaments, promotions, live betting, and virtual sports. In fact, there is a healthy rewarding process that works on Rabona MW which helps the players collect cards and points to climb the VIP ladder. 
The payment methods on the site are secure, fast, and processed by Tilaros Limited, which operates under the laws of Cyprus. Therefore, even your payments are monitored to prevent money laundering and fraud through the gambling gateways. 
Rabona Malawi Sportsbook
The Rabona MW sportsbook lets you find your preferences either by selecting the sports events or the type of championships that you want to bet on. You can see the current championship leagues at the top left corner of the page as you enter the website. 
Just below the Top Leagues is the list of all the sports Rabona has to offer its punters. Clearly, the favorites of Malawians are football, volleyball, basketball, netball, and handball. But don't think they are the only sports Malawians are betting on. 
It is true that some sports are special for each nationality, but there are others sports on Rabona MW that are quite fun to bet on. For instance, tennis, snooker, darts, cycling, table tennis, golf, Mixed Martial Arts (MMA), field hockey, and rugby. 
Additionally, there are some interesting sports categories that are too foreign to Malawians but it is worth a shot to try them out. We are talking about Gaelic sports, alpine skiing, speedway, ski jumping, pesapallo, biathlon, Aussie rule, and bowls. These games may be too foreign for the local punters, but it doesn't hurt to try!
Furthermore, the betting types that are available for these punters on Rabona MW are the usuals: point spread, win, outright, accumulators, parlays, teasers, pleasers, money line, totals, handicap, futures, and proposition. 
But not all bets will work on the sports of your preference. Therefore, we recommend you to research the bet types that are suitable for the sports, then proceed with placing bets with real money.
Rabona Malawi Horse Racing
On Rabona MW, the most common horse racing types are thoroughbred racing, greyhound, and harness. Both thoroughbreds and greyhounds are superb animals with great agility, speed, and durability. Even though horse racing is not a popular sport in Malawi, the bettors here find the sports very entertaining!
Since they may not get a chance to witness and bet on actual horses and greyhounds in Malawi, Rabona MW gives them the opportunity for entertainment through its site. 
Having said that, punters can bet on horse racing events from all over the world. For example, Japan, Argentina, Canada, the United States of America, the United Kingdom, Chile, Ireland, Germany, France, and so much more!
Even though some people may struggle to understand how horse racing works, some research and practice can get them a long way. In saying so, the bet types that are often used for horse racing are quinella, each way, win, place, trifecta, duet, first four, quaddie, big6, and parlay. 
Live Betting in Rabona Malawi 
Live betting is a popular feature in online sportsbooks. In fact, you can determine the standards of the sports betting site by checking whether it has a live betting option or not. Many punters these days prefer live betting over traditional pre-match betting because of the thrill and unpredictability. 
On Rabona Malawi, you can access the live options by clicking on the sports icons with a red label next to them that says LIVE. Or, just click on the Live Betting tab at the top of the page and select your sports from there. 
Unlike pre-match betting, live betting or in-play betting lets you place bets while the game is still on. Therefore, you don't have to stick to a bet decision that you made before the match. You can also change your bets depending on the shift in odds. 
Even if the outcome looks bleak for you, you can cash out part of the bet money in live betting before the match even ends! As a result, the losses on the bet are reduced!
Now don't go trying to bet on sports that don't have a live betting option. In fact, there may be other rules associated with live betting sports, so make sure to give the Terms and Conditions a read before betting with real money!
Rabona Malawi Casino Games
The casino games on Rabona MW are divided into a few sections, namely live casino, table games, slots, and jackpots. Slots are the favorite pastime of many because they are fairly easy to play. As long as the Return to Player (RTP) is high, anybody can win good money by playing online slots!
Another popular casino games on Rabona MW are the jackpots. The wagering requirements on these games are high, but the winnings are high at the same time. So, if you want to play the jackpots, be prepared to win some money if you consider yourself particularly lucky! 
Maybe not as popular as the slots and jackpots, the live casino and table games are classics of the gambling world. You can't create an online casino site without including these games. 
Having said that, the usual live casino games are Super Sic Bo, Craps Live, Music Wheel, Lightning Dice, Peek Baccarat Live, Casino Hold'em, Gonzo's Treasure Hunt Live, Cash or Crash Live, Mega Ball, and Mega Wheel. 
Since we mentioned the live casino games, we also want to mention some regular casino table games like 10s or Better, Blackjack Multihand, Deuces Wild, Casino Solitaire, Sic Bo, Roulette, High Card Flush, Tri Card Poker, and lots of other famous ones!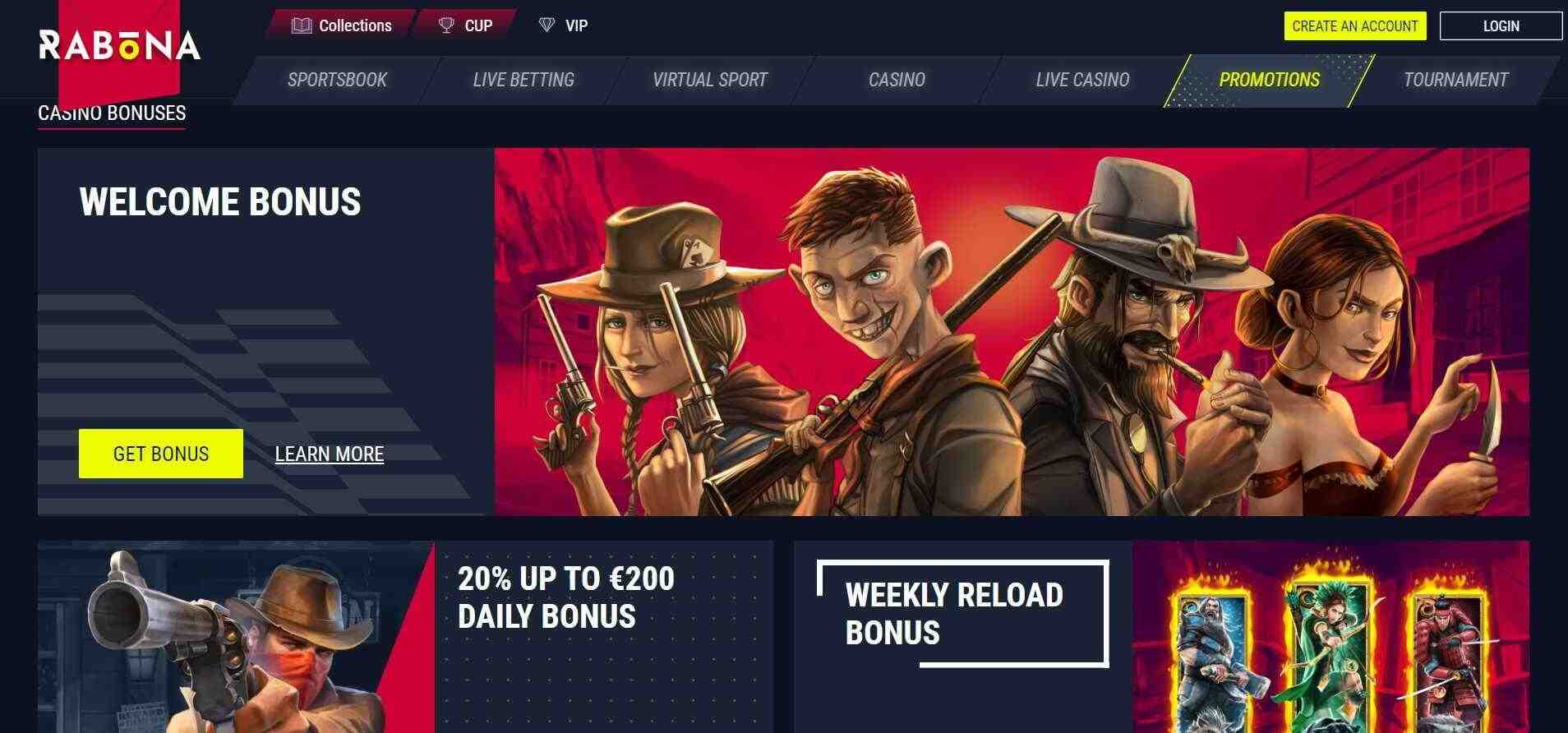 Mobile Compatibility of Rabona Malawi 
Some top sports betting sites don't have a mobile app, but Rabona MW does. However, you can't download it from just anywhere. It has to be from the main website of Rabona. 
Just scroll down to the end, and you will find 2 buttons for Android and iPhone. QR code scan is allowed, so you can download the app instantly to your mobile phone! The iPhone should not cause much trouble during installation, but your Android phone might. 
Android phones prevent the installation of third-party software for the protection of the device. For this reason, before downloading the Rabona MW app, tweak your Android settings. Go to Settings, then Software, and place a tick next to Unknown Sources.
Once this is done, your Android phone won't block the Rabona MW app from installing on your device. Now you can sign up with the online gambling platform, make deposits, claim bonuses, and win crazy money! 
Rabona Malawi Bonuses and Promotions
Just like the sportsbook and casino, the bonuses offered in Rabona Malawi are extraordinary. Don't expect just a few bonuses each week. In actuality, you have access to a bunch of them every day! 
To start with sportsbook bonuses, you can enjoy free bets, first deposit bonus, cash bonus, weekly reload, daily VIP offers, stake back, odd boost, jackpot, boosted parlays, and cashback. See? That's a lot of bonuses in one place!
But that's not all. Even the Rabona MW casino has its own list of bonuses that are up for grabs! The welcome bonus is worth 769,700 MWK along with 200 free spins! You can also get mystery drops cash prizes worth 1,539,400 MWK and roulette price rewards equal to 15,394,110 MWK!
Rabona MW reward system also works in a unique way. You can either collect cards or points. Points can be earned by participating in challenges that are held every now and then on the site. 
The weekly challenges have an expiration time of 1 week and must be fulfilled according to the Terms and Conditions of the sportsbook. Completing all the challenges of the week can help you earn 100 points!
Moreover, you get 1 point for 1 MWk deposited on the online sports betting and casino site! But if you cash out your bet money before the game ends, you won't get any points. So, beware during live bettings!
Finally, you can reach the VIP level and claim the Cup after reaching 180,000 points. The reward for reaching this level is worth a cash winning of 5,986,600 MWK!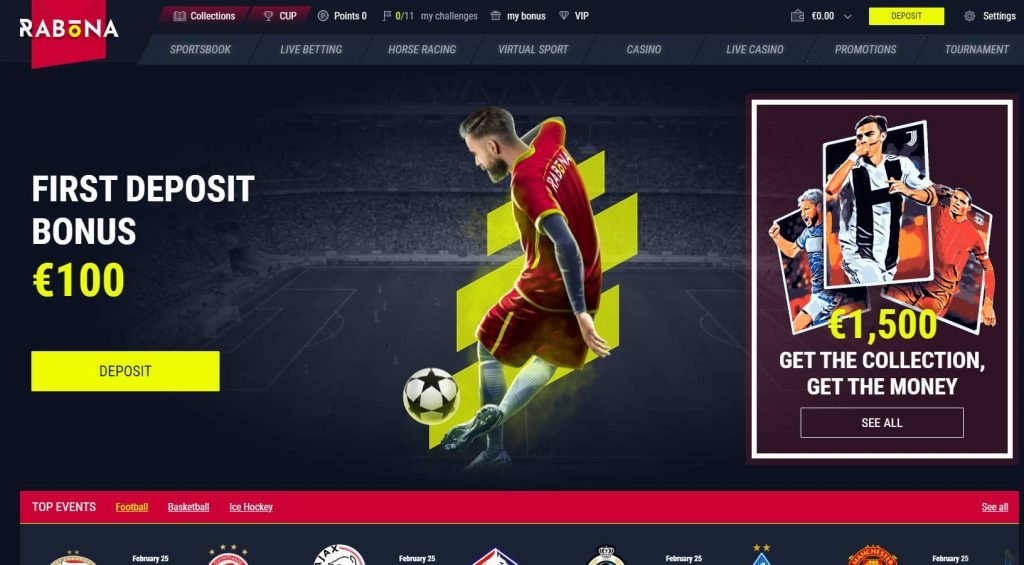 Payment Methods in Rabona Malawi
The available deposit methods for Malawians on Rabona MW are ripple, Mastercard, ethereum, bitcoin, litecoin, Jeton, and VISA. The currency will be converted from Euro, so make sure you know how that works. 
Also, the minimum deposit amount on the platform is 10,720 MWK while the maximum is 5,361,930 MWK for all deposit methods, except VISA and Mastercard. Card payments have a lower maximum deposit amount, which is usually 2,144,770 MWK. 
On the other hand, VISA and Mastercard payments are not accepted during withdrawals on Rabona MW. So, the available options for you are ripple, ethereum, litecoin, Jeton, and bitcoin. The minimum withdrawal amount is the same as the minimum deposit amount. 
Nevertheless, there are some variations in the maximum withdrawals that are allowed on Rabona MW. It is 5,361,930 MWK for Jeton and 10,723,870 MWK for ethereum, litecoin, bitcoin, and ripple. 
Setting these factors aside, there are no extra charges for processing payments with Rabona MW unless your payment provider imposes a fee. We know that VISA and Mastercard have a processing fee of 2.5%. About the rest of the bunch, you have to contact the customer service team for assistance. 
Customer Support in Rabona Malawi
The customer support team of Rabona Malawi are highly trained, professional, and knowledgeable about all the features of the gambling platform. No matter what you ask them, they have the solution for you. 
Although it would have been much better if the solutions were available on the FAQ page, we are still not complaining. That is because the live chat support is forever present at the bottom right corner of the website. You can click on it and ask about anything to the bot, and the answers will be shown to you immediately. 
Even though there is no phone number to speak to a customer service representative, you can contact them by email as well. Besides, requesting the Rabona MW team to put up a detailed FAQ page would be a good idea!
Rabona Malawi Responsible Gambling 
Maintaining control during online gambling is crucial, especially if the absence of it can lead to problem gambling, financial losses, and life troubles. Rabona MW educates its punters that gambling should only be treated as entertainment and not as a source of income. 
Restraint must also be practiced when placing wagers become toxic and start to ruin the bettor's life. All these things and more are talked about on the Responsible Gambling page of the sportsbook.
Furthermore, there is a self-assessment questionnaire presented there that can greatly help a person determine whether he or she has indeed developed a gambling problem or not. Besides, the names of organizations that are proficient in dealing with gambling problems have been listed so that Rabona gamblers can contact them personally. 
More into the situation, Rabona MW's responsible gambling page strictly discourages minors from using the platform. The bookie even suggests parents take the help of parental control software to prevent children from engaging in illegal gambling.
Read more
In-play Betting Strategy
European Handicap in Basketball
Betting Odds Conversion Table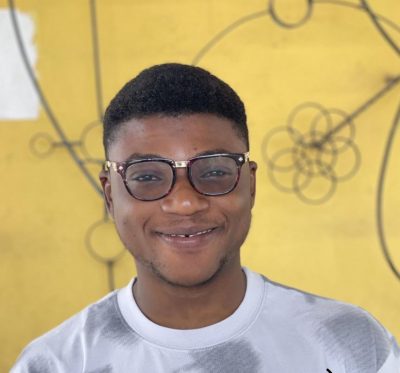 Professional casino content writer with 5 years of experience. He has been privileged to work with many popular casino brands, which are mostly ghostwritten. He's a casino player and punter too, and has helped many players to get most out of gambling.