Online sports betting is now a distinguished form of entertainment. People from all over the world have adopted it as a viable alternative to walking into a physical bookmaker. Needless to say, the paradigm has reached Africa too. 
When we think about Africa, we think of a lot of diversity among cultures. And the massive wilderness. But is that what Africa is all about? Absolutely not! In the last 2 decades or so, the continent has progressed massively in contrast to the first-world countries. It goes just as much for gambling. 
Ghana, officially known as the Republic of Ghana has a very progressive economy compared to many other African countries. They're also very active in the gambling scene. According to studies, every 3 people in 10 participate in gambling and the offered bonus, whether legally or illegally. 
We want absolute safety for your experience at an online bookmaker in Ghana. And that's why we're doing the Rabona Sportsbook review for you. In this Rabona review, we're going to explore everything there is about Rabona and try to figure out whether it's a good option for you or not. 
Rabona Ghana Review: Company Information
So, what is Rabona? Is it good? Is it legit? It's only normal for you to ask all of these questions if you're not familiar with how online gambling works. 
Online gambling in Ghana is still unregulated. It means the government hasn't brought the online gambling paradigm under the umbrella of jurisdiction yet. But land-based gambling is totally legal and regulated in the country. 
In all of the big cities across Ghana, you'll find plenty of betting shops that deal in all kinds of sports. Except for bloodsports, of course. The regulatory board in the country is the Ghana Gaming Commission. It has authority over all kinds of betting components in the country, except for the National Lottery. It's run by the National Lottery Authority (NLA). 
As you can see, Ghana is not a "de facto illegal" jurisdiction. That means you can participate in horse race betting, live betting, or casino games on Rabona Sportsbook without any problems. 
Rabona is owned by Rabidi N.V. in Curacao. Rabona is also licensed by the government of Curacao under Antillephone N.V. authority. So, Rabona is a fully regulated company no matter how you look at it. You can rest assured that ensuring your safety is one of Rabona's primary concerns.
Rabona Sportsbook
So, why are you here? Reading our Rabona review? You're looking into suitable online betting sites for yourself, aren't you? Well, you're exactly where you should be because the operator in question has one of the most inclusive sports betting libraries we've seen. 
Before we go into the details of the betting markets, you should know that Rabona is not only a betting site. Rather, it's a full-fledged gambling platform where you can play casino games, bet on virtual sports, play arcade games, participate in the VIP program, and so on. We'll get to those services in due time. 
Coming back to the sports section, your options are pretty much limitless. Well, not technically. But when you consider the fact that Rabona has actually added almost all the available sports as well as the tournaments in one place, you can't help but appreciate the efforts. 
Your choices at Rabona include Gaelic Hurling, Ski Jumping, Waterpolo, Snooker, Rugby, Rugby League, Golf, Handball, Field Hockey, Darts, Boxing, Cycling, Biathlon, Aussie Rules, MMA, Volleyball, American Football, Basketball, Baseball, Tennis, Soccer, and so on. 
Not only that but you get all the major tournaments for each of the sports to choose the markets. For example, Tennis gives you options to choose between ATP, WTA, Challenger Cup,  Men's ITF, and Women's ITF. 
Ice Hockey, on the other hand, has leagues like Champions Hockey League, Finland Liga, SHL from Sweden, NHL from the USA, etc. Soccer leagues from the United Kingdom are something a lot of punters look for. In fact, United Kingdom leagues draw the most punters. 
Similarly, American football is an extremely popular sport to deposit on when it comes to betting from all around the world. Your options at Rabona include NFL, NFL Preseason, NCAA FB Bowl Season & Playoff, and USFL. You can also bet on the Canadian Football League (CFL). 
Interestingly, there's a section in Rabona labeled "Specials" on the sports menu. The subcategories for that particular section include "Entertainment", "Sports", and "Politics". Consider these your bonus markets.
Under the Entertainment section, the event at the time of writing is Nathan's Hot Dog Contest. And it's going to change throughout the year. Award shows as well as reality TV like the Oscars, Masterchef, Love Island, etc. are also subject to betting on Rabona. 
Politics is another huge area of betting among customers. UK Political events like Next Prime Minister, US Presidential Election 2024, UK General Election, Brazilian Presidential Election, etc. are some choices. 
From what we can see in our Rabona review, pretty much anything and everything you can think of are open for betting lines. All you have to do is open an account with the operator and wait for the right time of the year to find the bets. 
Rabona Review: Casino
As promised, we're going to explore the other betting components apart from the sporting events on Rabona. The biggest paradigm after the sportsbook is the online Rabona casino. Rabona Casino is located on the same website as the sportsbook. It means you can use the same Rabona account credentials to play the games. 
The most important aspect of an online casino is the software provider portfolio. It's because the games you see on the casino page are supplied by the providers. The casino website itself only works as a medium to bring the games to consumers. 
Rabona Casino boasts games from Microgaming, Yggdrasil, NetEnt, Playson, BF Games, Hacksaw Gaming, Nolimit City, Push Gaming, Pragmatic Play, Evolution Gaming, Gamomat, 1×2 Gaming, Just For The Win, BGaming, Big Time Gaming, Fugaso, Habanero, Amatic, and plenty of other providers. All of them are industry leaders for both RNG casino games as well as live casino games. 
Speaking of the live casino, Rabona has a dedicated section for the live dealer games. It's mostly powered by Evolution Gaming and Ezugi, two of the top contenders. You can play Club Royale Roulette, Lightning Roulette, Sweet Bonanza Candy Land, Monopoly Live, Lightning Roulette, Megal ball, Gonzo's Treasure Hunt, Roulette Azure, Fan Tan, Andar Bahar, and hundreds of other games with a valid deposit! 
As for table games, all of the game types we just discussed are available. Table games are the popular casino games you know but with an RNG twist. It means these titles are software-driven instead of a real human dealing in the game. 
All in all, the online casino at Rabona is as good as it can be. It's a full-on online casino and not a part of the sportsbook. The casino customers even get dedicated bonuses designed for them. More on it later in our promotional section.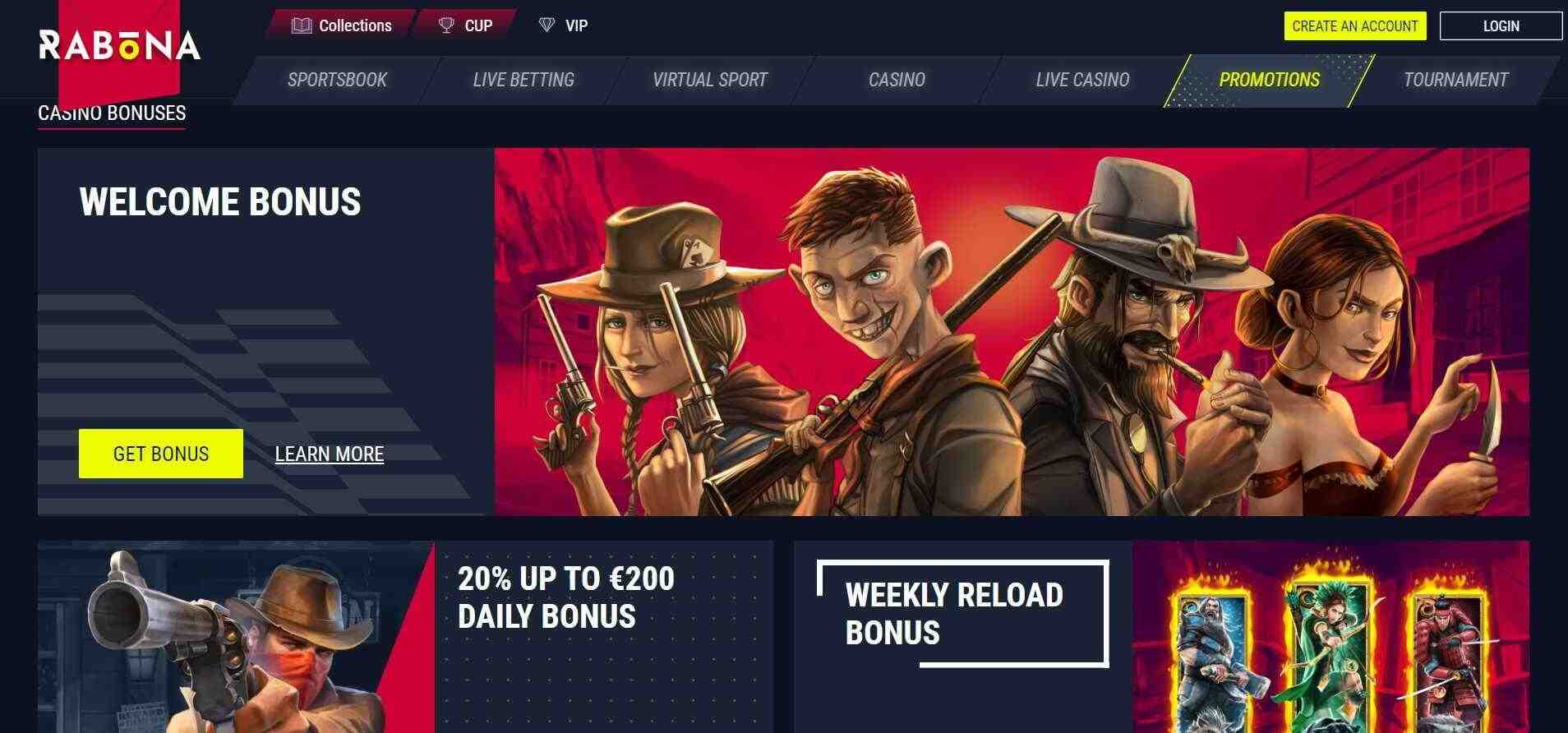 Rabona Virtual Sports
The term "Virtual" is defined as "not physically existing as such but made by software to appear to do so". The definition is pretty explanatory and so is the concept of betting on virtual features, don't you think? Virtual sports simply means software-driven games where humans have no control over the outcome. And that's how the virtual features became a part of the betting paradigm. 
You may think why would customers bet on virtual features while there are so many real world options to choose from. Well, it's not always about the availability. Sometimes, you can't find explanations for every phenomenon in the world. The craze for virtual sports betting is one of those phenomena. 
The sportsbook at Rabona has a massive library of virtual sports for many countries. The features include all of the popular ones you know of. We're talking football, tennis, table tennis, motorsports, golf, and so on. When you click or tap on any of the virtual features and sports events on the Rabona website, you'll come across a stream for the game. The great thing about the streams is that you don't have to log in to get access to them. 
As for the betting markets, the library is pretty much the same as real sports. Because at the end of the day, virtual sports follow the same scoring system as well as rules as the traditional ones. 
Rabona Arcade
Arcade games are almost never associated with gambling. Maybe that's why Rabona wanted to check out the paradigm by including arcade games on its betting site. There's even a dedicated tab on the main menu where you can access all the popular games. The game library includes names like Cash Smash, Galaxy Wing, Speedy Candy, Candy Prize, Casino Blocks, and so on. 
The mechanics of the games are exactly what you'd expect from arcade games. It's just that instead of accumulating points, you'll accumulate real money winnings for your deposit. The deposit just works as the "coins" you use on arcade machines.
It's one of the highlights of our Rabona review because it's not every day we come across an arcade section on an online bookmaker like Rabona.
Rabona Horse Racing
Horse racing has always been a major part of sports betting. Before sports betting became how we know it today, it meant only bets on horse races. Modern bookmakers often separate the activity from regular sports to showcase its importance to the industry for a customer account. Rabona is no different. 
On the main menu, you'll find a section labeled "Horse Racing". It's the same menu where other options like "Sportsbook", "Casino", "Arcade", "Live Betting", etc. are located. 
On the horse racing page, you also get the opportunity to bet on Greyhound races. The races are very nicely categorized into Gallops, Greys, and Harness. These are different types of races that follow different sets of rules. You can find races from the United Kingdom, Australia, and even Ghana! Most live streaming events are also offered on races. 
Most Popular Markets
Sports betting is incomplete without the concept of markets. Betting markets are often misunderstood as the collection of sports on a sportsbook. That's not the case. Rather, a market is an event that you bet on. And no, the "event" is not the match itself. 
We're aware it's a little hard to distinguish, especially if you're new to betting. That's why we've decided to cover some markets in detail. As football is the uncrowned king of sports in Ghana, why not start there?
1×2 Bets 
1×2 is the most common bet for football. However, it's not exclusive to football games only. Any sport that can have a home team, an away team, and the possibility of a tie can have 1×2 bets. 
In football, "1" is the home team, "x" is the draw, and "2" is the away team. In a match between the Ghana football team and Ivory Coast National team being held at the Baba Yara Stadium, the odds for "1" is referring to how much you can win if Ghana wins. "2" projects your winnings for Ivory Coast. And the odds on "x" shows what you can gather if the match is drawn. 
In all cases, "x" will have the longest odds which means you can win a massive return on your bet for this market. However, it's very unlikely for a football match to draw in most cases. So, you shouldn't waste valuable bankroll on "x" unless you know something most other customers don't. 
Double Chance 
Double chance is another quite common market for the football market. If a sportsbook offers 1×2 bets, it's very likely to offer double chance markets for your account as well. This is simply including two outcomes into one selection. 
So, the odds for a double chance market will be on 1x, x2, and 12. It means you can win the bet if either of the two outcomes is true. 
Totals
Total bets are also known as over/under. The "total" is referring to the total score of a match, half time, or even the total number of goals scored by a particular team. The sportsbook determines a score for any of these sports events. And then, it offers two sets of odds. One is for "over" and the other one is for "under". 
Taking the same example as the previous bet, if Rabona says the match will have a total of 3 goals, you can bet that "it'll be over 5 goals" or "it'll be under 5 goals". 
Even/Odd
This market is also associated with the number of goals. Your job is to predict whether the final number will be an even number or an odd number. Whatever you think is true, you place the bet accordingly. 
Live Betting in Ghana with Rabona
Considering the popularity of this paradigm, our Rabona review would be incomplete if we don't include the live betting options for your account. Live betting allows Ghanaian customers to bet on live matches instead of deciding on what to choose before the match starts. 
There are numerous benefits to live betting. Primarily, you don't have to shoot arrows in the dark. You can easily understand what's going on in the match and pick your selections accordingly. Also, you can settle the bets at any time at the current odds. So, if you see your prediction is going wrong, you can cash out before it's too late. 
And of course, the thrill. One of the main reasons football matches are popular all over the world is the nail-biting excitement. When you introduce the joy of betting, Rabona becomes pretty much incomparable. 
We're using football only as an example considering its popularity in the country. Pretty much all the sports available on Rabona sportsbook have live markets. The "Live Betting" tab is right beside the "Sportsbook" tab on your account. 
Once you land on the live tab, you can sort between Football, eSoccer, Tennis, Table Tennis, Basketball, E Sports, Ice Hockey, Basketball VR, and lots of other options. 
On the middle section of the page, the matches are listed. The list will update based on what sport you select from the top menu. 
Another reason customers love in-play bets so much is that there are so many options. Most pre match bets have only a few outcomes that you can place money on. But live bets are not limited by any parameters. As long as the match is running, the sportsbook can generate betting markets out of thin air. 
Live Streaming Features
Live bets and live streams make your betting experience whole in any online sportsbook. Just imagine. You're watching the match live on the same Rabona website that you're betting on. Unfortunately, the live streaming options at Rabona in Ghana are quite limited. 
Most of the live streaming events are offered on selected horse races. So, if you're not betting on horse racing in the first place, you're very unlikely to find markets. 
For traditional sports, however, you get 2D scorecards. These are not your usual scorecards. These are updated in real time. In fact, most cards are animated which means you can see what's happening on the field. 
For example, a scorecard for tennis shows the servers and what happened on that server. The odds for that game are displayed right underneath. It's surely not as good as live streaming but something is always better than nothing. 
Software Compatibility Features 
When betting online, most customers don't think about compatibility. We've reached a point in the technological timeline where we take compatibility for all kinds of devices for granted. But operators actually have to work hard to make a platform usable for the mass audience. 
Mobile compatibility is often the first thing that comes to mind when you think about it. However, let's start with desktop compatibility. We've tested the Rabona site from all kinds of browsers. It just runs. The site is graphically intense but it manages to load very quickly. It goes to show what the developers did in the background.
What shocked us the most is that Rabona offers a downloadable app for desktops too! Most operators have walked away from the path of downloadable applications to make the platforms more accessible. But for the split section of the audience who still wants a software can get it on Rabona!
You'll find the download links for both Windows and Mac on the footer section of the website. When you click on the button, the application will download automatically. Then, you install it in the same way you install any other software on your computer. If you already have a Rabona account, you can login using the same credentials.
Rabona Mobile App & Rabona Site Compatibility
The number of mobile users has grown exponentially in the last decade. People are more active on their mobiles when compared to desktops. To make the Rabona site more accessible to all those people, the operator has designed a fantastic mobile site. 
Moreover, you can download separate mobile app for both Android and iOS. The download links are adjacent to the desktop application download button. Simply click on them if you're on your phone. Or, if you're using your desktop to view the site, hover your cursor over the download buttons and you'll see QR codes. Scan the codes using your phone to start downloading the app. 
Bonuses & Promotions
Whether you're accessing Rabona from Ghana or any other country in the world, the promotions are one of the main attractions. Sports betting in Ghana is incomplete without promotions. So, what promotions do Rabona boast about? Let's find out.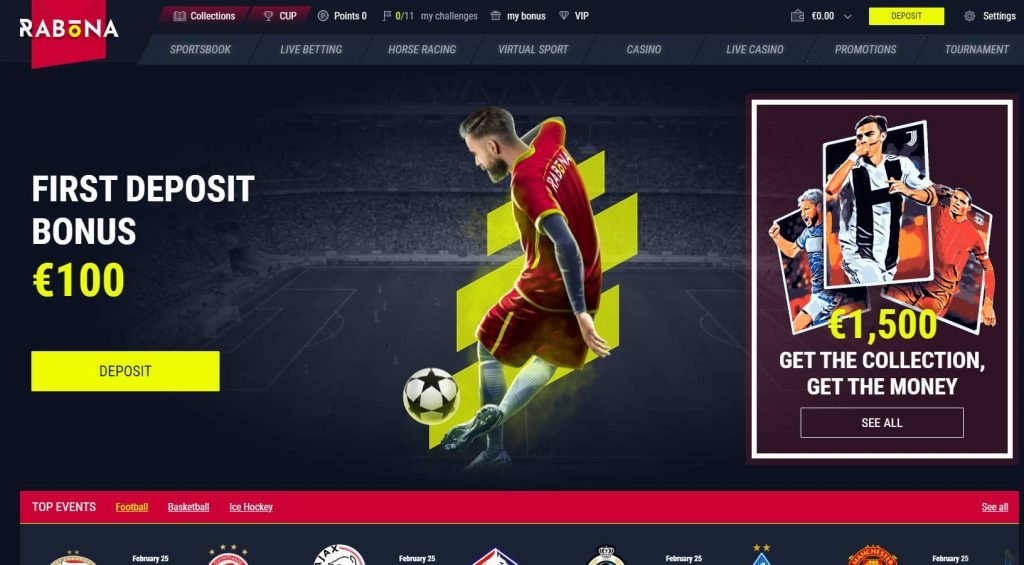 First Deposit Bonus/Welcome Bonus
When it comes to iGaming bonuses and promotions, the first deposit bonus or the welcome bonus gets the most traffic. It's a tactic by the best betting sites to bring in new customers. Rabona offers a 100% match deposit bonus. You don't have to use any promo code to claim any of the bonuses or promotions on Rabona. 
It might not be a world-class bonus as we've seen on other bookmakers as it only goes up to €100 equivalent in Ghanaian currency only. Rabona doesn't state any minimum deposit requirements for this bonus. But it's a very user-friendly first deposit bonus because you only have to wager it 5 times before withdrawal. However, Skrill and Neteller deposit options are not suitable for the welcome bonus on Rabona. 
As for odds, stick to 2.00 minimum odds for single bets and 1.50 odds for multi-bet. If you mess the odds up in your account, you'll lose the bonus entirely. 
Other Free Bet Bonus Promotions 
A free bet as a welcome bonus or any other deposit bonuses means only one thing – you can use it to place bets! A free bet is not withdrawable. If you're familiar with casino free spins, a free bet is very similar. 
Rabona offers various bonuses on sports that are prominent during that time. At the time of writing this review, Rabona offered tennis. So, you get free bets for Wimbledon as well as other tournaments based on your deposit. 
VIP Bonus & Promotions 
The moment you make a deposit on Rabona, you become a part of the VIP program. You start as a beginner and you can make your way up to "Legend". It's a high-grade real money promotion in our opinion. 
Also, your withdrawal limits are associated with what level of VIP you are. You also get further perks like personal managers, special free promotions on your deposit, and added financial privileges. 
Payment Methods on Rabona Sports Betting Site
To successfully make a deposit or to claim a bonus at Rabona, you'll need to use an online payment method. Banking options at this sportsbook are quite abundant. As Ghana is quite well-known among iGaming operators, your options are also abundant for both deposit and withdrawal. 
You're free to make a deposit using payment methods like EcoPayz, Visa, Skrill 1-Tap, Rapid, Neteller, MiFinity, Jeton, MuchBetter, and Neosurf. At least, these are your fiat currency options. You can also use cryptocurrencies as a payment method too. Rabona offers Bitcoin, Bitcoin Cash, Litecoin, Ripple, Ethereum, Tether, Dogecoin, and USDCoin.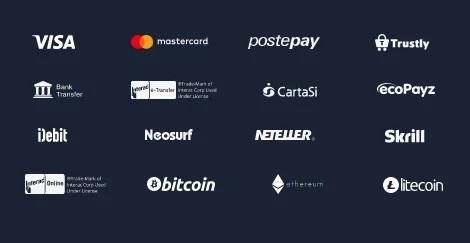 Although the Rabona site says there are no minimum deposit requirements and it's going to assign one according to your account status, we can find limits on the payment page. 
You can deposit from €10 and go up to €5,000 for all the payment methods, except for MiFinity payment method for absolutely free. The same minimum deposit goes for the bonuses as well. 
Withdrawal methods have pretty much all the payment options we discussed with a few differences. For starters, you can use bank transfer for a withdrawal. As for withdrawal limits, you can withdraw upwards of €20,000 in a month if you're a legend in the VIP program. For new customers, the limits are €7,000 a month. 
For all the countries, Rabona only processes real money withdrawals during working days. It means you should visit your account between Mondays and Fridays. Also, make sure that you're doing it between 6 AM and 5 PM GMT. 
Another great thing about the methods at Rabona is that there are no fees. You can get instant results, as in a withdrawal without spending anything extra. 
Free Customer Support
Whether you face a problem regarding your deposit options, betting options, sporting events, betting experience, a withdrawal, or a bank transfer, you can contact the support service without any hesitations. The sportsbook has done an excellent job of making the support paradigm instant for the customers. We did a deep analysis of the site support for this review. 
You can primarily contact Rabona via live chat and email from your mobile for free. The live chat button is right on the footer section. You'd be glad to know that the live chat option runs 24/7 which means you can contact Rabona any time you want. 
The other channel to contact Rabona customer support is email. The customer support email address is [email protected] if you're using English. The customer support agents are very knowledgeable about what they're doing. We asked some questions about a payment method, the free bet promotions, how to create an account, bank transfer options, Rabona mobile support, and lots of other things. 
To our surprise, the customer support agents managed to answer all the questions. So, it's safe to assume that you're going to have a wonderful time with this betting site. 
Final Words
Rabona is a modern-day bookmaker with an excellent free welcome bonus amount for Ghana. Rabona might not accept local Ghanaian payment methods just yet but you can expect that too very soon. You get a dedicated mobile app as well as an excellent library of Rabona bonus. No promo code is needed for any of the bonus after you create an account.
The owner might be Rabidi N.V. but the affiliate program is run by Araxio Development. Araxio Development is also a company in Curacao boasting the same license. What we're trying to say in our review is that Rabona is your one-stop betting experience no matter what you want.
Read more
Effective Strategies in Sport Betting
What is Asian handicap in Sports Betting?
Why is sports betting more profitable than playing in the casino?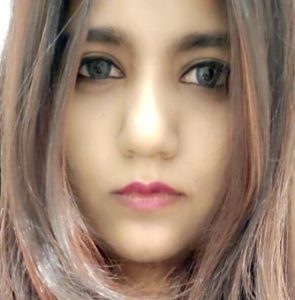 Like many aspiring writers, Jarin focuses on bringing life to the text for her readers. She is an avid sports lover, growing up in a family obsessed with bookies. She is an expert in the iGaming niche and has secondary obsessions with Gardening and cooking.