When you think about Africa, or see a documentary about the wildlife of Africa, you see vast meadows and wild animals with their own territories. Every time that happens, there's a chance that you're looking at Tanzania. This country in East Africa is widely known across the world for its wilderness.
But everyone knows about how big and wild Tanzania is. What most people don't know is that TZ is one of the very few countries in Africa where online gambling is legal and regulated. "Online" is the keyword here because a lot of countries have legalized gambling during their colonial days but have yet to update the online betting options.
The legalization of online gambling has allowed various international brands to enter the paradigm. Parimatch is one of those brands and it has a dedicated URL for Tanzanian punters. This is our Parimatch TZ review where we plan to take the platform out for a spin.
Throughout this journey, we're going to explore the betting options for pre-match events, live events, virtual events, bonuses, payment methods, and everything else that matters for an online bookmaker.
The reason we're going with Parimatch is that it's one of the few operators who accept players from TZ, despite proper regulations in the country. Parimatch also happens to be a renowned name all over the world thanks to its widespread operation.
Parimatch TZ Sports Betting
For a sportsbook review, it's only obvious that we're going to look into the sports betting features before anything else. Thankfully, the sportsbook is Parimatch's primary platform in Tanzania. So, when you land on the website, you actually land on the sports page.
The interface for the page is very similar to the global website. It means the issues we've previously faced with that domain are also going to be prominent in the TZ extension. Our biggest concern is the sports library. It's a massive section with lots of sports, sports tournaments, and country names slapped together.
While an experienced punter will instantly know what they're looking at, we can't expect the same from rookie punters. It's often intimidating at the very least to look at all these options.
On the left-most section of the page, you have the menu to switch between different sports. In Tanzania, Parimatch offers football, table tennis, cricket, Kabaddi, basketball, ice hockey, tennis, volleyball, UFC, American Football, Badminton, Baseball, Beach Volleyball, Boxing, Darts, Field Hockey, Futsal, Handball, MMA, Motor Sports, Water Polo, and a few other options.
If you've read one of our reviews on Parimatch global, you may have noticed the similarities as well as the differences. The biggest difference we see is that in TZ, there are no political markets. And you get Kabaddi which is only present in the Indian domain apart from the Tanzanian domain.
The adjacent section to the sports menu is "Top Championships". It's further categorized into football, basketball, esports, tennis, volleyball, and UFC. This section is subject to change based on what sports are getting the most traction from punters at any given time.
Under the "Football" section, you can find tournaments like Tanzania Premier League, Argentina Primera Division, Brazil Serie A, China Super League, USA MLS, and Japan J1 League.
Similarly, under the "Basketball" section, it's only Cyberbasketball at the time of writing. Tennis Grand Slam for both men and women, Volleyball national teams, and UFC events are also present in that section.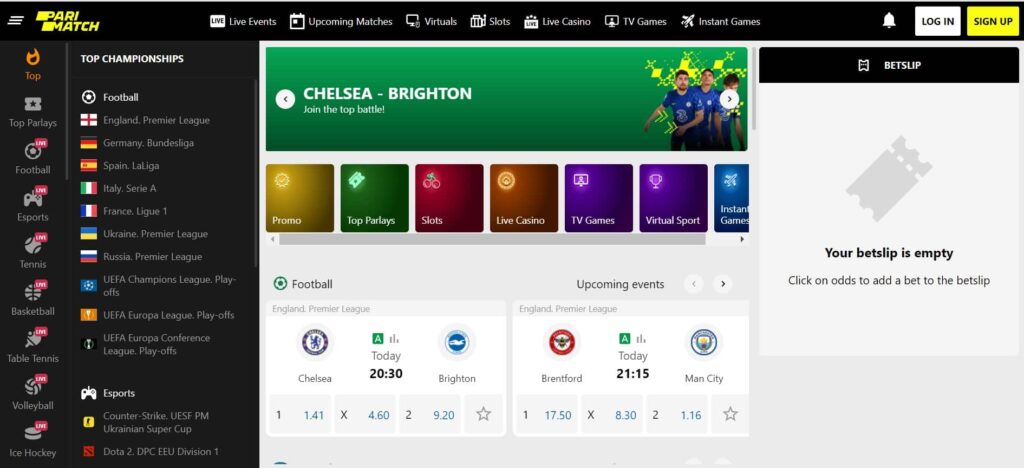 Parimatch Virtual -C
This section might be labeled differently but you already know that it's the virtual sports section, right? These sports look and play like real sports. But the games are not actually being played on fields. Rather, these are computer-generated simulations that work with an RNG in the backend.
[parimatch TZ virtual sports]
While the audience for virtual betting is still small in Tanzania as well as in the rest of the world, it's quickly rising in popularity. And when you spend some time in the Parimatch Virtual-C section, it's not hard to understand why.
At the time of writing, we can choose from Spin2Win, Spin&Win, Virtual Football League Mode, Spin and Win, Virtual Basketball League, English League, Football, English League, Virtual Tennis in-play, horse races, Champions on Demand, Germany League on Demand, and plenty of others.
These streams or simulations are generated by reputed software companies like BetRadar, Global Bet, 1×2 Gaming, Kiron, Edge Gaming, Highlight Games, etc. Casino players may not be familiar with these brands because they specialize in virtual sports betting for the most part.
One of the best features of the Parimatch virtual betting section is that you can find games for Football, Basketball, Ice Hockey, Tennis, Horse Racing, Greyhounds racing, and a few other sports. All of these are extremely popular among punters all over the world. The same can be said for Tanzanians too.
Esports Betting
On the primary sports section on Parimatch TZ website, there's a section for esports. We're creating a separate section for this because the betting paradigm for esports is a little different from traditional sports.
The available games for betting at the time of writing this Parimatch Tanzania review are Counter-Strike: Global Offensive, Dota 2, League of Legends, and Rainbow6.
Each of the games has its own tournaments that you can pick from. For CSGO, the popular tournaments are RB Cup, Elisa Invitational, EsportsBattle 2×2 Division 2, Esports Tour Series, and Superbattles.
Similarly, for Dota 2, you have DPC WEU Division 1 and Champions League. And for League of Legends, the only tournament available now is LCK. But this section has room for growth as more tournaments become operational with time.
The markets for esports bets are also very unique. For instance, in a League of Legends competitive match, you get a match winner and winner for different maps individually. You can also bet on things like who's going to get the first kill, who will have the highest K/D ratio, and many other interesting bets.
Sports Markets at Parimatch
A "market" in sports betting is the bet you're selecting on your slip. For different sports, the markets are going to vary. Parimatch has tried to include as many markets as possible for the Tanzanian audience.
On top of the sports section on the website, the top tab is literally "Top". This section houses all the best markets from all different sports. Let's explore these "top" markets from the "top" sports.
1×2 for Football Betting/Basketball
1×2 is the most common betting market for football or basketball matches. It's essentially including both teams to win as well as the draw as an outcome in a single bet. If you place your money on "1", it means you're rooting for the home team. The opposite is true if you place the bet on "2". And you're rooting for the match to draw if you bet on "x".
"Double Chance" is a similar bet to 1×2 but it includes 2 outcomes in a single selection. The three possible outcomes are 1x, 12, and x2.
Match Winner for Tennis/Table Tennis/Volleyball/UFC Fights
These are the simplest markets. You can put your faith in either of the teams to win. There should be two sets of odds. As Tanzanian punters are most comfortable with decimal odds, you can tell between the favorite and the underdog just by looking at them.
Map Winner for Esports
Instead of playing on the field, most esports titles take place on maps. So, instead of the "match" winner market, Parimatch Tanzania offers a map winner market. The same concept goes for all of the esports Parimatch TZ is offering at any time.
Parlays
Also known as Accumulators, these bets don't belong to any single category. When you add more than one selection in a single bet, it's considered a parlay. On the Parimatch TZ website, the tab right below "Top" is "Top Parlays".
All the matches where you can place a parlay bet are listed in that section. The maximum odds Parimatch allows for parlays is 2000. While these bets sound awesome for winning big for the same wager, you also have to consider that you must win all of the selections for the bet to win. If a single selection fails, you lose the wager.
Live Betting Options on Parimatch Tanzania
Similar to the main Parimatch website, the Tanzanian website has a dedicated section for live betting. It's labeled "Live Events" and you can find it on the main navigation bar. Remember the sports section on the left-most section of your screen? You can see live tags there as well. But ideally, you should access the live matches from the live events section.
Just like many of the other countries in Africa, Football is the most popular sport for viewing as well as betting in TZ. That's why the majority of events you find on the live section are from football.
The section where you can see the tournaments for each of the sports will update on the live page to fit your needs. Instead of accessing all the tournaments, you get to directly sort between the events that are active at that time. It's an excellent feature in our opinion.  
Speaking of excellent features, Parimatch offers lots of live streams in the country! Live streaming is extremely helpful if you want to unlock the true potential of live betting. The matches that are available for streaming are marked with a play button on the side.
Bonuses for Parimatch TZ
If iGaming bonuses are something you want to spend time with, Parimatch in Tanzania could be an excellent option. It offers four different bonuses at the time of writing. Three of them are for the sportsbook while the other one is the casino welcome bonus.
The sports welcome bonus is the most lucrative one where you can secure up to TZS 1,000,000! It's a free bet bonus which means you're not actually getting the money. Rather, you're getting betting credits for placing real money bets. It's a 100% match on your first deposit so the more you deposit, the more value you can get from the bonus.
For the wagering, Parimatch Tanzania doesn't impose any minimum odds or wagering requirements for the winnings. The only thing you need to keep in mind is that you can only keep the winnings from the bet and not the free bet.
The casino welcome bonus, on the other hand, is a 150% match bonus up to TZS 3,500,000!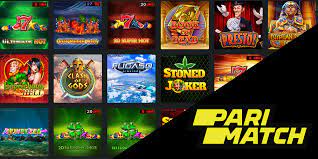 Usability and Compatibility on Mobile
Parimatch in Tanzania has one of the strongest mobile sections we've seen in Africa. In most jurisdictions, Parimatch only has an Android app that you can only download from the website. But in Tanzania, you get both Android and iOS apps. The current app version is 21.11.2.
The fact that the operator is stating the app version means it's updated regularly. You don't have to be a rocket scientist to know that updates are crucial for a seamless app experience.  
Apart from the apps, you can use the mobile website too. It's packed with all the features you can enjoy on the desktop site as well. Compared to the global website, the Tanzania website is better optimized.
Deposit & Withdrawal Methods
In most African countries, mobile payment methods are the primary choice for punters. They barely use credit cards or debit cards, let alone e-wallets. Parimatch knows it as well. That's why it's providing payment options like Vodacom, Tigo Pesa, Airtel Money, and Halo Pesa for both deposits and withdrawals. Needless to say, you can use the same methods for deposits as well.
Withdrawals at Parimatch TZ take up to 48 hours to process. The benefit of using mobile money methods is that they don't take any time to credit the funds to you. As soon as it's processed, you can expect it in your account.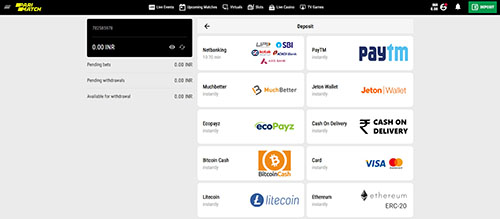 Customer Service Channels on Parimatch Tanzania
Customer support has always been a major issue for our bookmaker reviews. We want our readers to have the most seamless experience possible. Parimatch has done a wonderful job in terms of customer support.  
You can access the live chat, Telegram, What's App, email, and telephone line from the "Support" page on the main menu. Call the operator at 0-800-78-78-78 or send a What's App message at +255 766 880 026. You can send emails to [email protected] as well.
Read more
Effective Strategies in Sport Betting
European Handicap in Basketball
Betting in football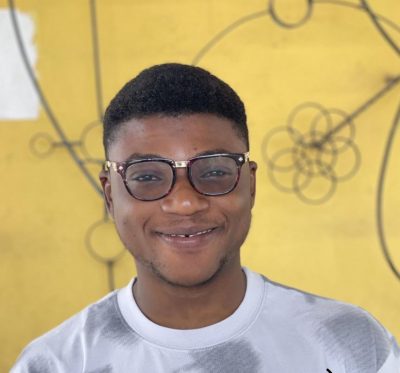 Professional casino content writer with 5 years of experience. He has been privileged to work with many popular casino brands, which are mostly ghostwritten. He's a casino player and punter too, and has helped many players to get most out of gambling.