When you hear "The Islamic Republic of Pakistan", gambling is not one of the first things to cross your mind. This South Asian country has a long-standing history with surrounding countries. But let's not go into that. Rather, let's focus on the Parimatch Pakistan review we're doing today.
Gambling in Pakistan is illegal. As simple as that. According to the Gambling Act 1977, all citizens are prohibited from participating in all sorts of gambling activities. Be it casino games or sports betting. The interesting factor here is that this legislation is based on the Public Gambling Act of 1867, the preceding act during Pakistan's British colonial era.
It's "interesting" because none of the acts mentions anything about "online" gambling. It's understandable because the concept was not even introduced back then. The government is yet to proceed with updating the laws. Also, there are no regulatory bodies in the country that can oversee or grant licenses to operators.
The resulting phenomenon is known as "de facto illegal". It simply means that while gambling is illegal on paper, online gambling is not. As an unregulated jurisdiction, offshore operators like Parimatch can accept players from the country.
The punters of Pakistan should be glad to know that Parimatch even has a dedicated domain. It's pk.parimatch.com. The site also offers 2 versions of Urdu along with English as the universal language.
Now, let's move forward with our Parimatch PK review and see what features this international operator brings to the table.
Parimatch PK Sports Betting
Parimatch as a gambling company is primarily known for sports betting. It also offers online casino games in Pakistan. But let's stick to the sports section for this review. The page you land on when you navigate to the site is the sports page. In fact, there are no labels or buttons that you can use to come back to this page. All you have to do is click on the Parimatch logo in the top left corner to get back to the sports section.
On the page, all of the available sports are listed in the left-most section. If you're on a small screen, your phone perhaps, you won't get this menu. You'll have to click on the "Sports" button at the bottom of the page to get to this page.
The listed options at the time of writing include Cricket, Football, Tennis, Field Hockey, Basketball, Table Tennis, UFC, Volleyball, Ice Hockey, E-sports, American Football, Badminton, Baseball, Beach volleyball, Boxing, Darts, Futsal, Handball, MMA, Motor Sports, Rugby, Snooker, and Water Polo.
Although Parimatch doesn't state it anywhere in its branding, we have a suspicion that it lists the sports in the order of popularity. In most African countries, Football is the first sport on the list. In India and Pakistan, Cricket is the first one. As a Pakistani punter, you need no introduction to the craze of cricket in both countries, do you?
Listing the sports is not the end of Parimatch's efforts to make the experience seamless. It also adds the "Top Championships" right beside the list. Cricket is yet again the dominant entity in this section.
All kinds of ODIs (One Day International), T20 (Twenty-Twenty), and Test tournaments get listed in this section. After cricket, football makes the 2nd position where you can find events from Argentina, China, Japan, the USA, Brazil, etc. countries.
Right after Football, you get Tennis Grand Slam events. As there are 4 different grand slams throughout the year, the list rotates with time. Some of the other entries are Basketball, Table Tennis, UFC, Volleyball, and esports.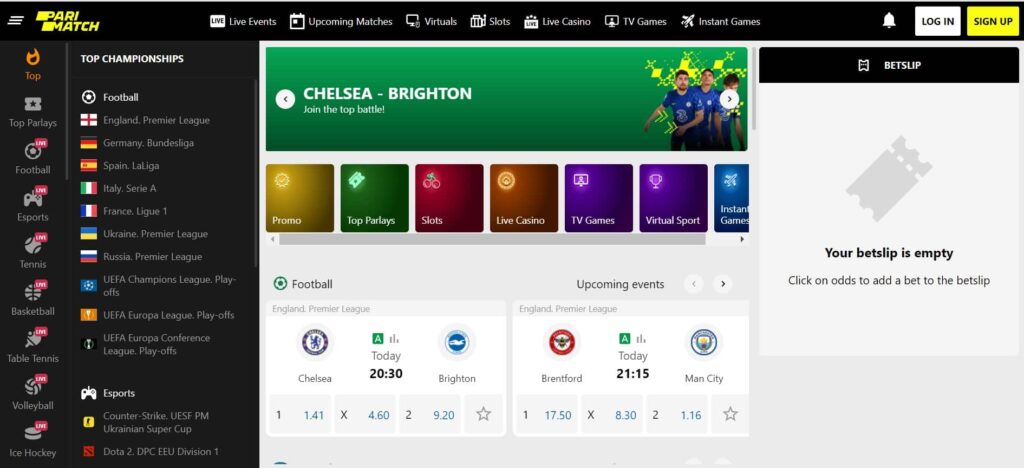 Parimatch PK Virtual Sport
For virtual sports lovers, Parimatch Pakistan has a dedicated section on the main navigation bar. If you're not familiar with virtual sports yet, let us help. You've played computer games, right? FIFA or Don Bradman Cricket? Virtual sports on Parimatch Pakistan look very similar to those games.
The only difference is that there is no "gamer" playing the game. In fact, these are not even games. Rather, these are computer-generated simulations of real sports punters' love. So, you get a similar range of betting options and odds without the game ever being played on a field.
The virtual section contains titles like Virtual Cricket, Spin2Win, English League, Real Fighting, Virtual Basketball League, Instant Horse Racing, Virtual Football, Virtual Tennis In-Play, Horse Races, Supercars, and plenty of others.
All of these titles are considered the best virtual sports betting options all over the world. The supplier portfolio includes names like Leap, Bet Radar, Highlight, 1×2 Gaming, Kiron, Edge, Golden Race, and Global Bet. Experienced punters know very well what these names mean. These are the top guns when it comes to generating simulations for virtual sports.
Esports Betting
Esports have become a global sensation in the last few years. The gamer community is one of the strongest in the world and it created an insane market for both viewers and punters. If you look at the statistics of Twitch or any other streaming platforms' traffic, you'll understand what we're talking about.
But our focus for this Parimatch Pakistan review is the betting paradigm. Esports betting is equally accepted across the world. Parimatch PK mostly offers events for Counter-Strike: Global Offensive and Dota 2. There's doubt that these 2 are the most popular games in the world right now. It goes for both the participation rate in tournaments as well as the number of markets for betting.
At the time of writing, the markets are for EsportsBattle 2×2 Division 1 for CSGO. And for Dota 2,  Khaz Modan Cup and DPC SEA Division 2 are the offered tournaments. However, for
Sports Markets at Parimatch
Since the beginning of our Parimatch PK review, we've used the term "market" quite a few times. If you have betting experience under your belt, you know what we're referring to. But for the newcomers, it might be a bit confusing.
A "market" is simply the outcome you place a bet on. If it's still hard to understand, worry not because we're going to cover a few markets as examples right now. We've picked cricket as our test subject as most of the betting in Pakistan is done on cricket matches.
Match Winner
This is the simplest market of all and it goes for pretty much all sports in the world, including cricket. When you land on the cricket betting page on Parimatch PK, you'll see odds for "1" and "2". These are essentially referring to the participating teams. If you tap on the match, you'll see the odds with the name of the countries. Or, clubs if it's a domestic tournament.
Toss Winner is also an interesting and quick market when it comes to cricket betting. The concept is identical to match winners. You place your money on the team you think is most likely to win the toss.
Tied Match
The thing with the match winner market is that it doesn't include the possibility of a tie. That's why this market exists on Parimatch. The odds are offered for "Yes" and "No". If you think the match might tie, you can bet on Yes. And if you think the opposite, bet on No. Obviously enough, the odds for "Yes" are incredibly long because cricket matches barely tie.
Runs Total Even/Odd
Whether the final run of the match will be an even number or an odd number of a market for Pakistani punters. The odds are very close for both outcomes in this case because it only takes 1 run to change the result of the bet.
Live Betting Options on Parimatch Pakistan
The last decade has been an uprising in the online gambling industry. Renowned global operators have started to offer various unique features to stand out from the competition. Some of those features have become so popular that all operators from all over the world started offering them.
Live betting is one of those. It's exactly what it sounds like. You bet on "live" matches. The benefit is that you don't have to predict the outcome of a match before it starts and stick with it. Rather, you can choose what you want to bet on based on the current status of the match.
Parimatch PK is an excellent platform for Pakistani bettors if they want to utilize the opportunity for live betting. And just like the pre-match betting paradigm, cricket has the most number of markets.
Another amazing thing is that pretty much all of the offered sports have a live component to them. You can access all of them by clicking on the "Live Events" option from the main navigation bar. The odds of the matches change right in front of your eye. The Parimatch website is optimized enough to reflect those changes in real-time so that you don't miss out on an opportunity.
At the time of writing, some of the tournaments you can use for live betting include Jharkhand T20 and European Series T20. You can even place live bets on Virtual Cricket as well as for Simulated Reality League!
The collection of markets for live bets is significantly larger when compared to pre-match bets. A simple example would be "Australia total runs. Innings #1. Over #26". It simply means that in a cricket match between Australia national team and any other team, you can bet on what the total runs would be after 26 overs if Australia is batting the first innings.
These types of niche markets are only possible in live betting. No wonder why the world of punters goes crazy over them.
Bonuses for Parimatch PK
The only bonus Parimatch PK audience can enjoy is the welcome bonus. Unless you're absolutely new to online gambling, you should know about welcome bonuses. Even if you don't, it's right in the name! These bonuses are designed to "welcome" you. And Parimatch welcomes Pakistani bettors with a whopping PKR 15,000!
This is a 100% match bonus on your first deposit. The first thing about this bonus is that you don't have to use any promo codes to claim it.
However, the drawback is that there isn't even a T&C section on the Pakistani website. So, you have no way of knowing what the minimum deposit requirement is to qualify for this bonus. Of course, you can always reach out to the customer support in your jurisdiction to get the most accurate information.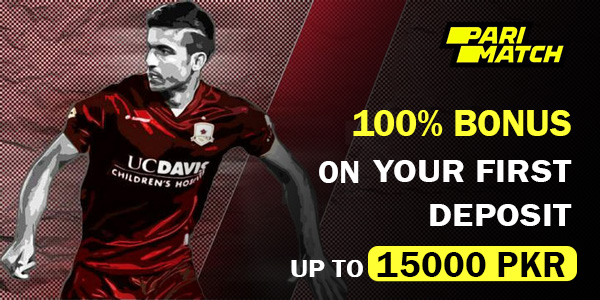 Usability and Compatibility on Mobile
Similar to how you access the Parimatch PK website on desktop, you can do the same on mobile. It doesn't matter whether you use an Android, an iOS, or even a Windows. The website runs flawlessly on all small screens. As we mentioned near the beginning of this review, the layout for small screens is a bit different. It's done by the developers to create the most immersive experience for the punters possible.
As for app support, Pakistani punters only get it for Android devices. On the main menu, the option "Apps Android" will take you to the download page. You have to click on the link to start the download. In most countries including Pakistan, Google Play doesn't allow betting apps to be listed.
Before you download the app, make sure you go into your device's settings and enable the permission to install apps from unknown sources. Otherwise, your device will return an error that it can't install the Parimatch PK app.
Payment Methods in Parimatch PK
The payment options for Pakistani punters are somewhat limited on Parimatch. Also, it's hard to procure information as the website practically has no footer section. But on the withdrawal page, we could find mentions of CashMaal, Neteller, and Ethereum.
CashMaal is Pakistan's very own payment method and you can withdraw as little as 800 PKR with it. Neteller allows a minimum withdrawal of 1500 PKR while Ethereum allows 2500 PKR. All of these methods along with Bitcoin Cash, Bitcoin, and Litecoin are suitable for deposits.
Customer Service Channels on Parimatch Pakistan
Parimatch in Pakistan offers 3 channels for contacting the support team. You can use the live chat option on the website 24/7. You may send messages on What's App at +18577887070. Or, you can send emails to [email protected]
Read more
In-play Betting Strategy
European Handicap in Basketball
Betting in football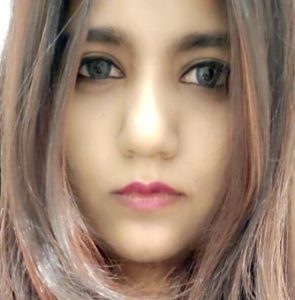 Like many aspiring writers, Jarin focuses on bringing life to the text for her readers. She is an avid sports lover, growing up in a family obsessed with bookies. She is an expert in the iGaming niche and has secondary obsessions with Gardening and cooking.