Pros
Banking methods are internationally supported
The bookie can run on both desktop and mobile device
Live betting and live streaming are supported
The most populated sports market and sports betting platform
Cons
No phone service, live chat, social media links, or FAQ page available
Lack of information about the sportsbook
Lack of promotions on the platform
Parimatch is a legitimate online casino and sportsbook that has been on the gambling scene for a fairly long time. Established in 1994 in Ukraine, the sportsbook currently holds licenses in several countries not limited to Kazakhstan, Cyprus, Tajikistan, and Belarus.
Currently, Parimatch has spread out in hundreds of countries, and has a strong global presence unlike any other sportsbook in the world! Do you want evidence? Just Google search the term Parimatch, and you will automatically be directed to its globally optimized website. 
We have prepared this review for our Kenyan residents who would like to engage in online entertainment during leisure hours. This Parimatch Kenya KE review contains everything you need to know about this casino and sportsbook! 
Parimatch Kenya Sports Betting
Just looking at the website has given up plenty of ideas about what Parimatch Kenya is all about. In fact, the sports betting site is always working on improving its sportsbook, which you can see from the different features that are available on the site. 
The online bookmaker is aware of sports events from all over the world, even parts of the world other online bookies don't dare to cover! Some examples are live football from Malawi, Ethiopia, Malaysia, Bhutan, and Indonesia. 
If Parimatch Kenya can cover sports events from rare parts of the world, then covering popular sports is nothing! Therefore, if you are looking to bet on National Hockey League (NHL), Women's National Basketball Association (WNBA), Australian Football League (AFL), World Cup, International Cricket Council (ICC), and English Premier League (EPL), you can find everything on Parimatch! 
Besides the main sports attractions, the online bookmaker also lets punters bet on motor sports, snooker, water polo, MMA, field hockey, ice hockey, darts, boxing, baseball, badminton, volleyball, tennis, table tennis, and cricket.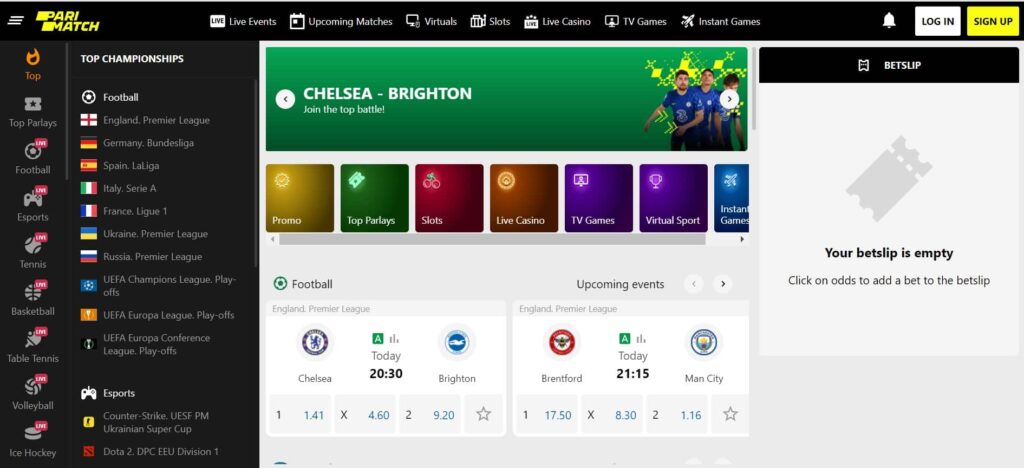 Parimatch Kenya Sports Markets
The Parimatch Kenya sports market is as rich as its sports collection because the platform has a global outreach. Pre-match and live bets can be made on a vast number of sports occurring in Mongolia, Kazakhstan, Germany, England, France, Italy, Bangladesh, Belarus, Bhutan, Denmark, and pretty much all other countries of the world. 
Having said that, the sportsbook has to follow a universal betting format designated for specific sports. For example, in football, the accepted betting types are last goal scorer, first goalscorer, normal time definition, half time or full time, full-time result, correct score, total goals, and football accumulator. 
On the other hand, the types of bets you can place on basketball are parlays, money lines, point spread, point totals, player propositions, teasers, pleasers, and futures. Likewise, the betting types for each sport will vary due to the nature of the sports and also because of the bets allowed by Parimatch. 
Therefore, to understand what type of bet to place on your favorite games, select the games, and then do a quick Google search of the types of bets allowed for the sports. Unfortunately, Parimatch Kenya doesn't provide a proper guideline on the types of bets on different sports. So, you have to conduct the research yourself.
Parimatch Kenya Live Betting

Live betting means you can bet on the sports game before it has even started. So, this is a complete turnaround from the traditional rule of betting before the match. Ever since online sports betting became a thing, live betting has become the go-to choice for punters all over the world. Kenyans don't have to be an exception here! 
In pre-match betting, you were stuck with the bets that you made until the end of the match. Even if you knew that you were going to lose, you had to sit tight and watch things go downhill for you. But live betting gives you a chance to save your losses!
Modern sportsbooks like Parimatch became aware that they can greatly improve user experience on their platforms by including live betting along with the cashout option. Be aware that live betting can sometimes be referred to as in-play betting or betting in running. 
Since the odds can change throughout the game, you can change your bets, or even cash out before the game ends. To keep up with live betting, you can adopt a few strategies to stay ahead of other punters. 
You are allowed to start with a pre-game bet, then change later on when things are not looking favorable. Know your limits as well because it is easy to get carried away during the game, especially during multiple bets. For yourself, take a breather and watch your bets carefully. 
Additionally, don't forget to watch the entire game. Keep gaining knowledge about sports betting, and accept that losses are part of life sometimes. 
Sportsbook Promotions and Casino Bonuses
Various promotions and bonuses are available on the Parimatch platform at different times. In fact, for residents of Kenya, the available promotions may differ from someone living in another country. 
Having said that, the best way to find out which promotions you are eligible for is by logging into your Parimatch Kenya account and navigating to the Promo page. If you see nothing on the Promo page, that means Parimatch is not offering any bonuses to its punters right now.
Furthermore, Parimatch may offer promo codes for its loyal punters. To get a hold of them, keep any on the Promo page!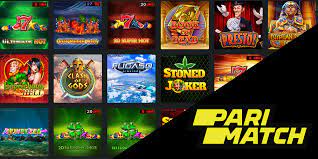 Parimatch Kenya Mobile Compatibility
The Parimatch Kenya mobile app is a heavy app that takes up 132.3 MB of your phone, which can both be a good thing and a bad thing. The good thing is that the app has many features and add-ons that can enhance your user experience in the sports betting app. 
On the downside, you may need to maintain enough space in your phone to help the Parimatch app run smoothly without lags. Because of the international nature of Parimatch, the app can be accessed in different languages, such as German, Azerbaijani, Greek, Indonesian, Turkmen, and 30 more! 
Besides, for marketing purposes, the developer Pari-Match N.V. may collect your personal information after you install the app on your phone. Some of the elements that they may collect are related to your identifiers, contact information, and phone diagnostics. 
So, to download the Parimatch Kenya mobile app, you have to visit the Parimatch global website and get yours from there. Make sure that you are either using an iPhone or Android phone. Otherwise, the app may not work on other mobile devices. 
Parimatch Kenya Banking Methods
The banking methods recommended for Parimatch Kenya are Skrill, Neteller, VISA, MasterCard, and bank transfer. However, to make deposits and withdrawals through Neteller, Kenyans may have to use M-Pesa mobile wallet. 
Of course, you need to make sure that your debit and credit cards are valid and that there are no restrictions imposed by the local bank to carry out transactions for online gambling. 
The minimum deposit on Parimatch Kenya is 25.27 KES. No matter how much money you deposit on the Parimatch bookmaker, VISA, MasterCard, and bank transfer may take about 2 to 5 business days to process your deposits. Withdrawals can take 1 more day since the Parimatch team has to review where they are sending money. 
When it comes to Neteller and Skrill, no other payment methods can beat them because they are almost always instant! However, you may be charged a processing fee for each banking method mentioned here. 
Credit and debit card provider charges can reach up to 2.5%, Neteller charges 3.99% for currency conversion, and Skrill processing fees may range between 2% to 4.99%. 
Parimatch Kenya Customer Support
Parimatch is a platform that has been on the gambling scene since 1994. Although it took some time for the bookmaker to reach the Kenyan market, the platform made sure that customer support is also available to these people.

However, you can only contact the sports betting website by email, live chat, and WhatsApp. There is no specific phone number or email address allocated for Kenya, so you have to use the ones provided for Parimatch Global. 
Since a valid FAQ page or social media support is not provided by the internationally-acclaimed site, it is hard to get quick fixes to any problems that you may be encountering on the sportsbook. 
Live Chat: Available
WhatsApp: +12515722856
Line: https://line.me/R/ti/p/@953pshtw
Email: [email protected]
Parimatch Kenya Registration Process
Registering with Parimatch Kenya is a piece of cake as long as you are following the instructions effectively. For you to qualify for registration, you must be 18 years of age or older. If you are underage and you are accessing gambling platforms, then your account may soon be suspended and shut down. 
Having said that, just click on the yellow

Signup

button located in the top right corner of the screen. The platform will ask for basic information, such as your full name, email address, password, date of birth, residential address, and postcode. 
To ensure that you are not part of any money laundering and fraudulent syndicate, Parimatch will ask you to verify your account after registration. This is an essential step to authenticate your residential address and legal age.





If you skip this step, your account may become invalid at some point, and you won't be able to place wagers on casino games or sports.

After signing up with the sportsbook, please follow the rules and regulations of the site. Otherwise, you may be penalized for illegal activity or cheating. For this reason, we suggest you go through the terms and conditions of Parimatch displayed at the bottom of the webpage before proceeding with bets and games. 
Parimatch Kenya Responsible Gambling
Check out the responsible gambling help you can look forward to receiving from Parimatch Kenya! 
Prevention of Underage Gambling 
According to the Constitution of Kenya, anybody under the age of 18 is considered a minor. Online or land-based gambling is prohibited for minors in the country, and Parimatch Kenya ensures that this rule is strictly maintained on the platform. 
With that being said, the responsible gambling team on the Parimatch platform is always monitoring account and transaction activity to check for minors illegally betting on sports or playing casino games. Accounts that are suspected of being run by a minor are immediately shut down. 
On top of that, parents who use the Parimatch Kenya bookie are encouraged to be careful when using mobile phones and personal computers. They can install parental control software like Net Nanny, Cyber Sitter, and Gamblock to prevent minors from accessing gambling websites.  
Compulsive Gambling Test 
For those of you who are not sure whether you have a gambling problem or not, you can take the self-assessment test available on the Parimatch Kenya responsible gambling page. A series of questions will be thrown at you and you have to answer them honestly. 
The questions will also give you time to review your situation, and consider whether you should take a break from sports betting and casino gaming. In no case should you consider gambling as a source of income or a way to avoid the hardship of reality. 
If you think you do have a gambling problem, then contact the Parimatch customer support team for assistance. Moreover, there are dedicated organizations in Kenya that are experts in treating people with gambling addiction. 
Visit their websites, learn about their processes, and get in touch with them today! We have provided their contact information below:
Gamhelp: 

Responsible Gambling Federation of Kenya:

Gam Aware: 

Johnika Responsible Gambling Foundation: 
Self-Exclusion  
After conducting the self-assessment test, if you feel like your gambling habits have gone through the roof, it is time to consider self-excluding yourself from the gambling community. When you choose to self-exclude yourself, it means that you will be on a long break from sports betting and casino gaming. 
Once you choose to take this path, you won't be able to access your Parimatch Kenya account until your self-exclusion period is over. That means that you won't be able to bet on any sports or withdraw any funds pending on your account.
Read more
Sports Betting
Betting Odds
Why is sports betting more profitable than playing in the casino?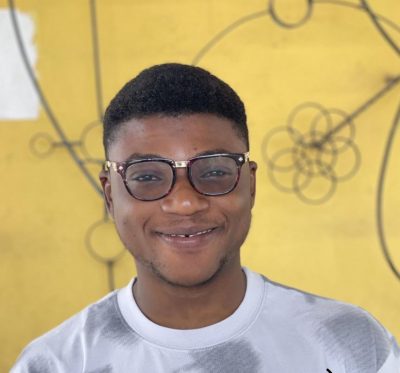 Professional casino content writer with 5 years of experience. He has been privileged to work with many popular casino brands, which are mostly ghostwritten. He's a casino player and punter too, and has helped many players to get most out of gambling.