Pros
A large pool of betting options
Worthwhile bonus rewards and promotional codes
Includes live betting and cash-out features
BlueBet blog is informative and useful
The app is versatile and easy to use
Responsible gambling support is provided
Secure payment methods
Cons
The sports market does not include esports
Speed maps are not available yet
Looking for the best sportsbook in Australia to wager on AFL NRL that also provides high security in terms of financial transactions and storage of personal information? BlueBet has got you covered and even more! In this Bluebet review Australia, you will find out that gems like BluBet are quite rare to find, even in the world of bookies! 
In fact, this sportsbook has incredible bonuses, rewards, betting options, sports market, racing market, safe transactional options, a great app, excellent customer service, and responsible gambling initiatives. When you consider all of these, why won't the survivors of the America gold rush (now Aussies) become fans of BlueBet? 
Let's backtrack a little before you dive into the BlueBet review Australia! 
Licensed and regulated by the Northern Territory Racing Commission, BlueBet began its journey in Australia's sportsbook industry in 2015. It has grown a lot since then with not hosting more than thousands of sports and horse racing events on the platform! 
The website even went public on the Australian Stock Exchange in 2021, and its shares doubled after that. Even though BlueBet Australia has intense competition in the sports odds department, in the racing scene, it is one of the best establishments in the country!
Having headquarters in Darwin and Sydney, BlueBet is now an Australian publicly listed company managed by Executive Chairman, Michael Sullivan. With that being said, the platform promotes 100% secure betting and payment services and operates 24 hours a day 7 days a week. Even the telephone conversations with the customer service representative are recorded for higher security purposes.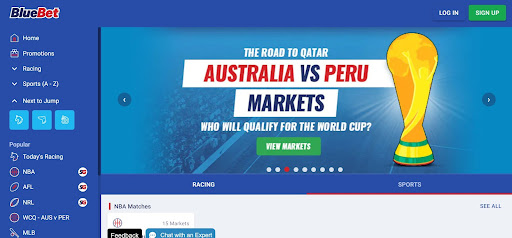 BlueBet Promotional Offers and Rewards
Just so you know, BlueBet Australia is not allowed to offer any welcome bonuses to its platform users, and this is the same for other betting sites in the country. Even though the gambling law has prohibited the platform from giving sign up promotions, it has a range of top-notch promos waiting for its bettors once they log in to their accounts. 
You also don't need a BlueBet promo code to enjoy the benefits of the offers, but you do have to meet the requirements of the special promotions. Most of the time, the requirements are related to certain deposit amounts and utilising them on time. 
Having said that, to redeem your BlueBet bonus bet, click on the balance menu, and type Bonus Bet Code in the box provided. Then, follow the steps displayed, and soon enough, the bonus amount will be credited to your account. However, to avoid any confusion and misunderstanding, read the terms and conditions about bonus bets first. 
If you are thinking that Australia's top sports betting site is going to let you off with just a few BlueBet bonus codes, you are wrong! There is more waiting for you in the form of rewards! Let's have a look at what all these rewards are about in the next part of BlueBet review Australia! 
Owners Reward
As a BlueBet user, you can enjoy the best price on all offers that are presented occasionally. You get whichever is the best between the Best of Three Totes or the Best Fluc! 
Protest Payout
Even if your favourite horse gets beaten in a protest despite winning the race, you will still come out as the bet winner, especially for Australian thoroughbred races. 
BlueBet Mates
Now, you don't have to bet on sports and races on your own because you can bring your friends into the fun! This feature lets you share tips, bet together, and enjoy the thrills with your best mates! 
Best Tote + SP
The best tote + starting price is the best price calculated from the dividends obtained from the 3 Australian totalisers. But this feature is offered on selected horses only, so make sure you are betting on horses that can get you this reward!
Win and Place Tote 5%
This special feature lets BlueBet bettors receive a dividend payout that is 5% higher than the Victorian TAB (STAB). 
Same Game Multis
You can prepare your own multi-bet by combining various single bets provided you have the experience to back it up! Remember that even though the odds rise with each leg that you add, the payout is just as high!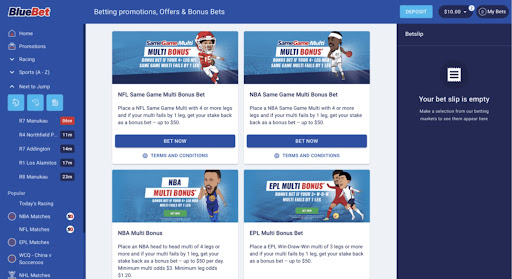 Types of Betting Markets on BlueBet
BlueBet's homepage is filled with many racing and sports markets that are not limited to local events but reach far and wide to international events. In this BlueBet review Australia, there is more to the bookmaker than just the markets it is connected to. 
The platform showcases all major domestic and international sports including Australian Football League (AFL), National Rugby League (NRL), soccer, golf, cricket, National Football League (NFL), National Basketball Association (NBA), boxing, martial arts, hockey, netball, politics, handball, tennis, table tennis, volleyball, surfing, ice hockey, cycling, and many more!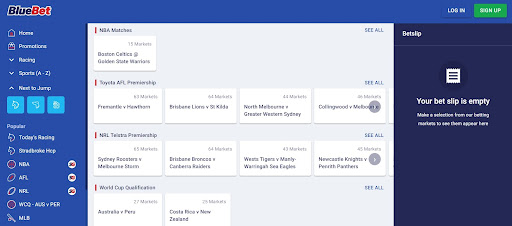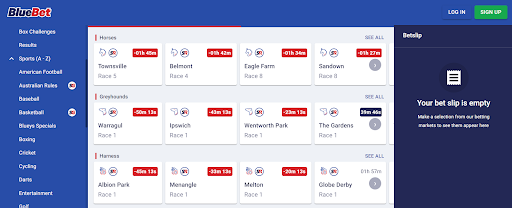 BlueBet Review Australia: Betting Options
The horse racing and sporting markets offered by BlueBet are comprehensive, and you won't have any trouble finding what you are looking for in this online sports betting company. Not only are there local sports and racing events, but also special games and championships from all over the world!
Nevertheless, the sports and horse racing betting site has to rely on the New South Wales Office of Liquor, Gaming, and Racing (OLGR) for approval and authorisation of the betting list. For that reason, it is better for new bettors on the site to check out the Glossary of Terms and Applicable Forms of Betting from BlueBet Australia's homepage.
Aside from that, BlueBet lets its bettors engage in different betting options on the platform. 
For races, there are futures, doubles, treble, quaddie, super 6, win/place betting, quinella, first four, exacta, trifecta, place cards, jockey challenge, pre-posts, multis, head-to-head, odds vs. evens, and so much more. 
As for the sports, the site allows point spread, future, teaser, accumulator, parlay, proposition, total (over/under), handicap, money line, and others. New and exciting features are added frequently. Hence, to get the most out of the sports betting establishment, better keep an eye on your account page! 
Live Betting, Live Streaming, and Cash Out
It will be hard to imagine a top-performing horse racing and sports betting site such as BlueBet not having a live betting feature at its disposal. But it does!
So, Australian punters can bet on sports and races while the game is still on! You can change your bet when the odds are not favouring you as well. Also, if things are looking bad for you, and you know you will lose, you can just cash out your bet amount before the game even ends!
Although live streaming was not available initially, it is now since many Aussie bettors love to watch live sports and races before they decide to place bets on them. In short, BlueBet hasn't left any space for competitors to win over! 

Payment Options at BlueBet
Payments are an important factor in our BlueBet review Australia. And lucky for you, they can be processed through several methods. Deposits can be made through numerous channels. However, the withdrawals can only be made by bank transfer. Find out more in the following sections.
Deposit Payment Options
Luckily, BlueBet accepts several deposit payment methods on its platform. Some of the common ones are cheque, cash, Electronic Fund Transfer (EFT), credit card, POLi, and BPay. It is disappointing that BlueBet is not supporting PayPal, Neteller, or Skrill e-wallets, but POLi and BPay are perfect Australian alternatives to them. 
If you want to deposit cash to your BlueBet account, then you have to visit any NAB branch to get that sorted. But make sure you log in to your BlueBet account, select EFT, and download BlueBet NAB bank account number. On the other hand, BlueBet's Biller Code is 250738 for BPay. 
Deposits may take 1 to 3 business days to reach BlueBet's account. But if you are using POLi and credit cards, the transaction may speed up!
Withdrawal Payment Options
For now, bank transfers are the only withdrawal payment options available for BlueBet users. This is to ensure that the sportsbook funds are not sent to any anti-money laundering syndicates.
There is no processing fee charged from the bookmaker, but your bank may keep some fees to itself. Also, depending on the bank you are signed up with, your withdrawals may take between 1 to 3 business days to reach you. 
BlueBet Mobile App 2022
Any Bluebet review Australia would be incomplete without covering the base with mobile apps. If you want to have Bluebet Android app downloaded on your phone, or on your iOS device, you can expect the following perks below.
BlueBet Apple App
BlueBet has developed a sophisticated app for Android iOS devices that ensures its fellow bettors are not missing out on any of the fun! With that being said, both the iOS and Android mobile apps include features like rapid multi, live chat, high-powered bet slip, blackbook, social betting, cash out, and instant notifications. 
BlueBet Android App 
The BlueBet Apple app is also compatible with the app free download Android on the website, App Store, and Google Play Store. However, you may need to change some settings on your Android phone after the Android app is downloaded. Just make sure that your phone accepts Unknown Sources in the Settings. 
You don't need your desktop to build a quick multi on the bets, add bets to your bet slip, bet with your mates, cash out on live betting, and interact with the customer support team. In fact, the blackbook sends you SMS alerts so that you can keep track of your runners!
BlueBet Responsible Gambling
While the gambling operations in South Australia are monitored by the South Australian Gambling Codes of Practice, the ones in the north are regulated by the Northern Territory Racing Commission. Having said that, BlueBet takes responsible gambling policies very seriously and strives to educate all the visitors of its platform about it. 
The sportsbook wants its bettors to enjoy wagering on sports and races instead of treating it like a source of income or a form of escape from their harsh reality. Sad but true, some Australians are more susceptible to problem gambling than others due to their mental, physical, and genetic conditions.
For this reason, the site lets all bettors take a survey questionnaire to determine whether they really have a gambling problem or not. Other measures taken by BlueBet to prevent problem gambling are deposit limits, time limits, pre-commitment limits, self-exclusion options, gambling help online resources, and prevention of minors from getting access to the site. 
Additional resources are provided on the website for those who are curious. Some of those resources are supplied by Gambling Help Western Australia Amity, Gambling Support Tasmania, Problem Gambling South Australia, Gambling Support, Gambling Help NSW, and Gamblers Anonymous.
BlueBet Customer Service
The customer service platform of BlueBet is well put together and therefore scores highly in our BlueBet review Australia. Unlike other sports betting sites in Australia, BlueBet is actually serious about communicating with its beloved customers. 
They have a live chat, a few phone numbers, FAX, email, and enough resources at their disposal so that bettors can reach out easily. If you are calling from overseas, make sure your gadget is set to the current time AEST. 
24/7 Customer Support Number: 1800 797 644

Racing Enquiries: 1800 797 066

Sports Enquiry: 1800 797 558

Email: contact@bluebet.com.au

FAX within Australia 02 9571 0033

FAX outside Australia +61 2 9571 0033

Website:

www.bluebet.com.au

Postal Address:




*PO Box R1316, Royal Exchange Post Office, 38 – 40 Pitt Street, Sydney NSW 2000




**PO Box 370, Parap, NT 0804, Darwin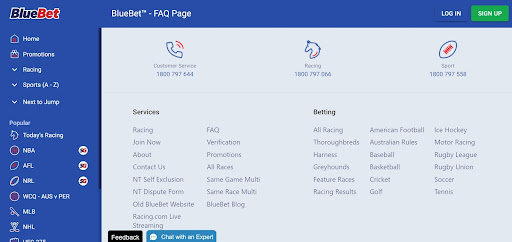 How to Create a BlueBet Australia Account
To start betting on AFL NRL on BlueBet Australia, find the Sign-Up button on the homepage. It is located on the top right corner of the screen in green, and it is quite easy to find. Fill out the information required, and hit Confirm to move forward with the sports betting site.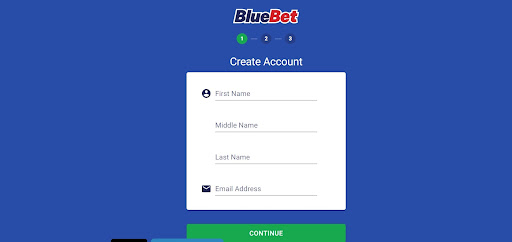 Some of the information you need to provide are your full name, phone number, address, and security Q/As. If you have a bonus code, you will have a chance to use it once you are done filling out all this information.
Finally, you can watch live sports, wager on different bet types, and enjoy the occasional bonus promotions! And that is how you set yourself up for the online sports betting company BlueBet.
BlueBet Review Australia FAQ
1. Why is BlueBet a good betting site?
BlueBet can be considered one of the best betting sites in Australia because it has competitive odds arrangements, especially for races, futures, and underdogs. Also, it tops its competitors in betting options and security. 
2. How do you download the BlueBet app?
The BlueBet app can be downloaded from Google Play Store or the BlueBet website for Android phones, and for Apple devices, download it from the App Store or the BlueBet website. 
3. What are BlueBet's payment options?
The deposit and withdrawal payment options at BlueBet are account credit debit card, POLi, Electronic Fund Transfer (EFT), BPay, Cheques, and cash. 
4. What is the BlueBet withdrawal time?
Depending on the payment method of your choice, the Australian owned BlueBet can take 1 to 3 business days to process your withdrawals.
5. How do you contact BlueBet Australia?
There are several ways to contact the customer service team of BlueBet Australia- by phone, email, live chat, fax, and post. Refer to the contact us page of the betting site to get more information about how you can reach out to them. 
6. Is there a BlueBet bonus code?
The BlueBet bonus codes are available for both new and existing users of the sports betting platform. The main BlueBet bonus offer is the welcome promo that is state-specific. 
7. How do I see the BlueBet promotions?
To view your promotions on the Australian owned sports betting site, BlueBet, you have to log in to your account, and visit the Promotions page. 
8. Who is Michael Sullivan from BlueBet?
Michael Sullivan is the man behind BlueBet's success. He is the Executive Chairman of the horse racing and sports betting site.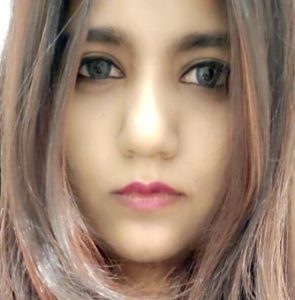 Like many aspiring writers, Jarin focuses on bringing life to the text for her readers. She is an avid sports lover, growing up in a family obsessed with bookies. She is an expert in the iGaming niche and has secondary obsessions with Gardening and cooking.