Pros
Satisfactory range of sports and horse racing events
Different types of bets are acceptable
Plenty of ways to get in touch with the customer support team
The app is awesome
Attractive new features, like Bet Description, Follow Others, Copy Bet, and Banter
Cons
The desktop version is not available
Minimalistic deposit and withdrawal options
More responsible gambling tools may be added
A limited number of promotional offers
Tired of traditional online sportsbooks that offer the same boring feature and bonuses to get new punters? Here is a change that you probably have been waiting for! Dabble is a new online bookmaker in Australia that likes to do things a bit differently.
For instance, it likes to have a social and friendly platform where punters can follow, comment, share, and copy bets from each other. Punters with a high social presence naturally attract more Dabble followers and are able to generate more Rocket Boosts promotions.
The bookmaker even makes sports and horse racing betting easier for newbies by allowing them to copy from the bet slips of top bettors. It gives them a new way to learn how to bet and win smartly!
If all these features are appealing to you, you have come to the right place. Let us help you explore all the wonderful aspects of using Dabble!
Background of Dabble
Initially, Dabble was created as a social experiment, and it was specially designed for modern punters of Australia. The sportsbook is licensed and regulated by the Northern Territory Racing Commissions (NTRC), which makes it proudly owned and operated by Australians.
By now, Dabble has offices in Darwin, Adelaide, Brisbane, and Albury. The platform boasts its ability to bring together the betting community of Australia all in one place. Since sports betting and horse racing are traditional modes of entertainment for Australians, Dabble takes its brand reputation a tad bit further for this sake.
Having said that, the bookie by no means considers a negative experience even though problem gambling has become a concern in the modern era. The platform enjoys the experience of bringing people together with sports, which is why it has created the copy, share, follow, comment, and chat features on its platform.
Let's find out together all about this incredible sports betting app!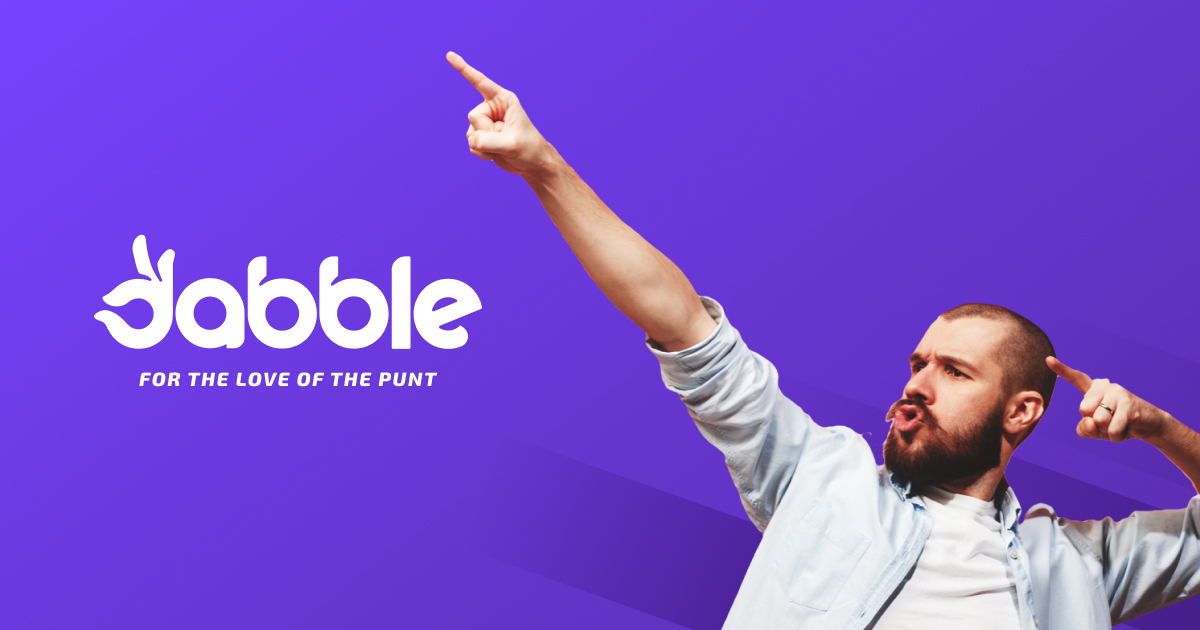 Promotional Offers of Dabble
Being still so new to the betting market, Dabble has to unleash more of its promotional features to the public. As of now, it has a handful of good bonuses that you can only see once you are logged into your account.
Notice this important fact that most sportsbooks in the world try to entice customers through bonus programs, but Dabble has come up with something else. It has upgraded its features to suit modern savvy punters!
Having said that, Dabble has upgraded its platform with Copy Bet, Bet Description, Follow Others, and so much more. Among all these upgrades, you will see the Rocket Boost feature which is actually a promotional offer for Aussie punters.
The Rocket Boost allows bettors to boost their odds on bets. The Rocket icon on the right-hand corner of your bet slip. From there you can check how many Rockets you still have left to boost potential odds.
If you are wondering how you can get the Rocket Boosts, then you have to be an active user on Dabble. To increase your chances to get the odd boosts, include Bet Descriptions to your bets, follow others and let others follow you, take part in Banters, comment on other bettor's posts, and make others Copy Bet from your bet slip.
Furthermore, each Rocket Boost comes with Max Available Boost, which is calculated based on the odds on your screen at the time, and whether you hit the Rocket or not before it expires. That is why it is impossible to calculate the Boosted amount until you have placed bets on horse racing or sports.
On the downside, the Rocket Boost is presently available only on horse racing Single Fixed Odds Win with odds of $2 or higher. Dabble team promises to make this offer available on other bets as well in the coming future, so don't feel hopeless!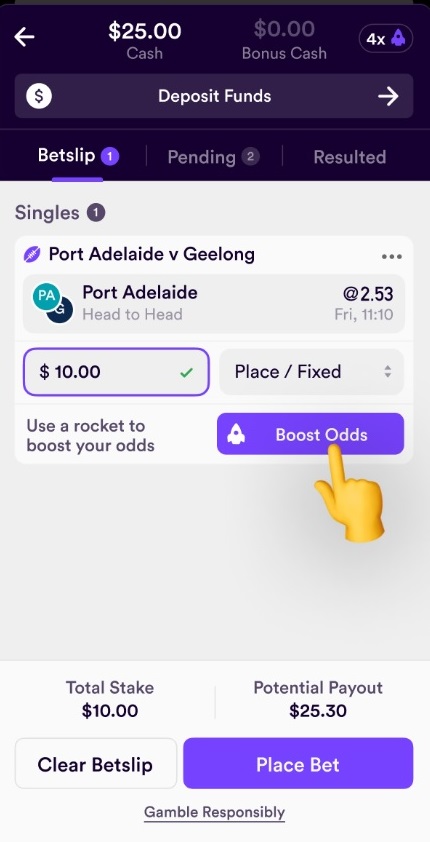 Types of Bets and Markets on Dabble
Both sports and horse racing markets are performing at full throttle on the sports betting app, Dabble. With that being said, you won't get bored looking for sports or races to bet on while you are on the Dabble platform!
To give you a glimpse into the amazing sports betting world of Dabble, check out what you may be missing from the outside!
Betting Markets
Dabble lets punters bet on sports according to regular betting categories that include point spread, money line, parlay, accumulator, teaser, future, over or under, and a few other options.
As for horse and greyhound racing, you can place bets on quinella, first four, exacta, and trifecta. The condition is that each race must have at least 6 runners for the punters to become eligible for these bets.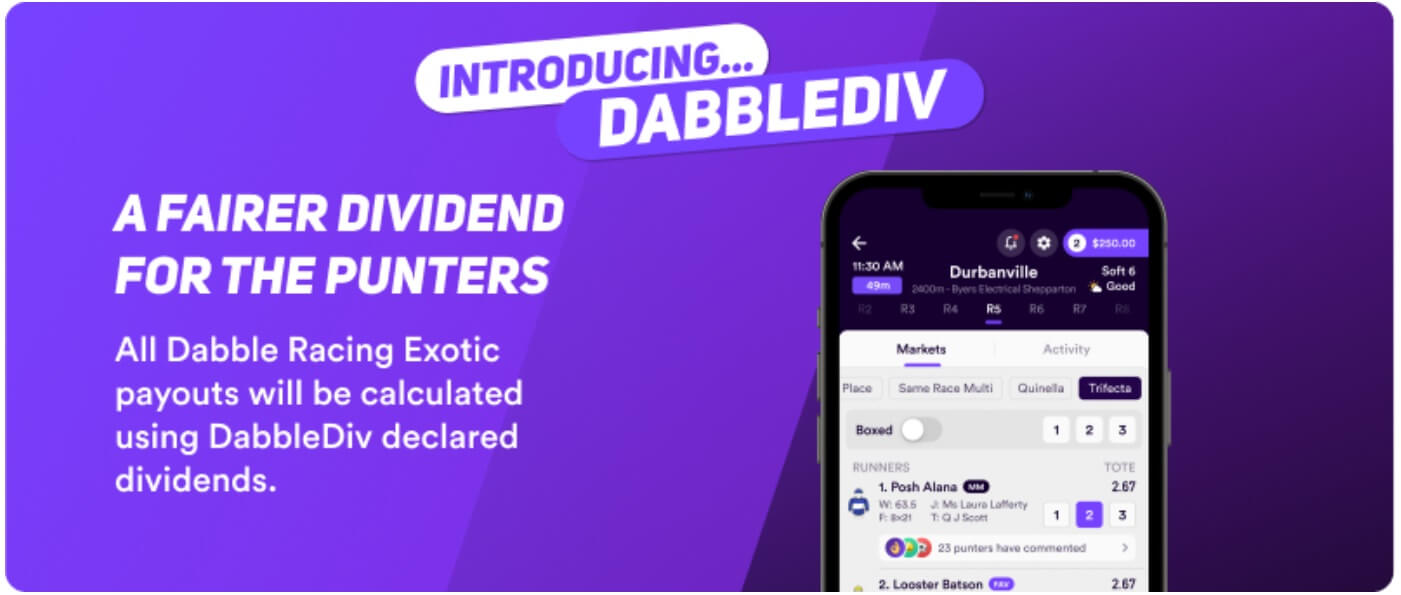 Available Sports
The sports market of Dabble is as unique as the brand. Yes, the spotlight is on the popular events such as Major League Baseball (MLB), Australian Football League (AFL), National Hockey League (NHL), National Basketball Association (NBA), English Premier League fantasy (EPL), National Rugby League (NRL), International Cricket Council (ICC), Australian Open, the Olympics, and the World Cup.
But there are other sports that you can place bets on, like baseball, swimming, soccer, cycling, darts, Gaelic sports, Mixed Martial Arts (MMA), Formula 1, table tennis, tennis, boxing, handball, volleyball, boxing, motorsports, and more.
Available Racing Events
Since horse racing is a popular pastime of fellow Australians, Dabble made sure that its racing platform is top-notch! Having said that, a wide range of horse racing options are available that are not limited to harness, greyhound, and gallops.
On the app, you can see the list of current horse racing events that are taking place, plus a ticker for future events. Domestic races are not the only ones that you can bet on.
There are plenty of chances to bet on international racing from Japan, Hong Kong, France, Ireland, Great Britain, and the United States of America.
You can share all these races on your profile and let people follow you! The more people you have following you, the more chances you have to get Rocket Boost and other promotional offers!
Dabble Payment Services
Dabble payment services are pretty humble compared to its vast sports and racing markets. Both deposits and withdrawals are processed through the mobile app as that is more simplistic, convenient, secure, and transparent.
The betting platform thinks that it will be a hassle for the customer support team to process deposits and withdrawals over the phone, which is why mobile banking policies were adopted.
Deposit Options
Currently, the bookie only allows 2 payment options for Australian punters if they want to deposit funds to their Dabble account, which are debit or credit cards.
It is disappointing to see that such an incredible betting platform has a minimum number of deposit options. Truth be told, it can even be a hindrance to some people to use the bank cards, especially for international bettors who are presently living in Australia.
Generally, sportsbooks that allow international bettors on their platforms like to have more deposit options, such as Neteller, Skrill, PayPal, and Paysafe cards. It seems that Dabble is only focusing on the Australian market, which is why it is happy with debit and credit card deposit options.
Regardless, to deposit funds to your account, log in to your Dabble account on your mobile phone, and click on your fund balance which can be found on the top right-hand corner of the screen.
Tapping on that option will open the Deposit window on the app. Select the Deposit Funds option, and then the Add New Card option. If you already have a debit or credit card selected, you can skip this step.
A new window will open where you have to fill out your card details, such as cardholder name, card number, and CVC. In the next step, the app will ask you to enter the amount of money you wish to deposit to the Dabble platform.
You can select from the given options, such as $10, $25, $50, $100, and $200, or enter your own amount. Then hit Deposit, and you will have your funds transferred to your Dabble account within 1 to 5 days depending on the banking service.
Unlike e-wallets, credit and debit card transactions take days to process, which is why you should load your Dabble account beforehand. Although the delay is helping you practice responsible gambling, the waiting time can also be daunting.
Withdrawal Options
When it comes to withdrawals, Dabble only allows them to happen through bank transfers. It does make sense for an Australian bookie to utilise bank cards or bank transfers to process deposits and withdrawals.
Based on new gambling regulations in the country, licensed Australian sports betting sites must carry out transactions in a way that prevents the chances of money laundering or cyber theft.
With this in mind, bank transfers ensure that Dabble knows exactly who is receiving the withdrawals from the sportsbook.
Therefore, to withdraw your winnings from the betting site, you have to locate the Settings option on your Dabble account. Choose the Withdraw option from the menu, and tap on the bank name that is already listed there.
If there is no bank name listed, you can add it yourself by clicking on the Add New Account. Now fill up the banking information, such as bank name, holder name, BSB, and account number. Then, save the information to the platform.
Now, select the bank, enter the amount of money you wish to withdraw from the platform, review the details, and click on Withdraw to complete the process.
Just so you know third-party withdrawals are not permitted on Dabble, so it has to be you with your one bank account withdrawing money from the platform. Additionally, any deposits made to your Dabble account must be turned over once for you to authorise a withdrawal.
Be prepared to wait for 1 to 3 business days for the funds to reach your bank account from the Dabble bookie. Generally, withdrawals are carried out at 3 pm AEST every day.
Mobile App Features of Dabble
The Dabble app has been made available to suit all modern mobile phones, such as iPhones and smartphones. It is also quite easy to download the app and install it on your phone without needing any extra technical assistance from outside.
Needless to say, the app may collect your financial information, user content, user data, contact information, and identifiers for marketing purposes. Since they won't be collected for malicious intent or to share with third parties, be at ease about it.
However, there is a little bit of adjustment that needs to be made on Android phones before installing the Dabble app. This is because the Android system prevents Unknown Sources from making changes to its mechanism.
So, you have to give permission for the app to be installed on your device. We will tell you all about it in the following sections.
Download the App on iOS Devices
To download the Dabble app on your iPhone or iPad, just go to Dabble's main webpage. The download links are provided at the top of the page, so it is hard to miss! Just click on the App Store download link, and follow the prompts accordingly.
The device compatibility for iOS is version 12.0 or higher. In the case that your iOS device is lower than this requirement, we encourage you to upgrade it. You can use the app on older versions, but some features may not be able to load properly.
Moreover, the app is pretty heavy in size, so make sure you have enough space on your phone to run it efficiently.
Download the App on Android Devices
Punters can't have enough of the Dabble app because of its cool features, especially the fact that you can create your own profiles and interact with other bettors on the platform.
Bug fixes and SGM improvements have been implemented in the upgraded version, which will enhance your user experience on the sportsbook.
Focusing on downloading the app on your Android device, let's do a mini tweak before we get the app. Go to your device's Settings option, and select Software. Find the option Unknown Sources and mark a tick there. Now, your device will let the Dabble app get installed without trouble!
Now, download the app from Dabble's homepage by accessing the site through your mobile browser. You can select the download code or click on the Google Play icon. Then, download the app from there, and install it immediately!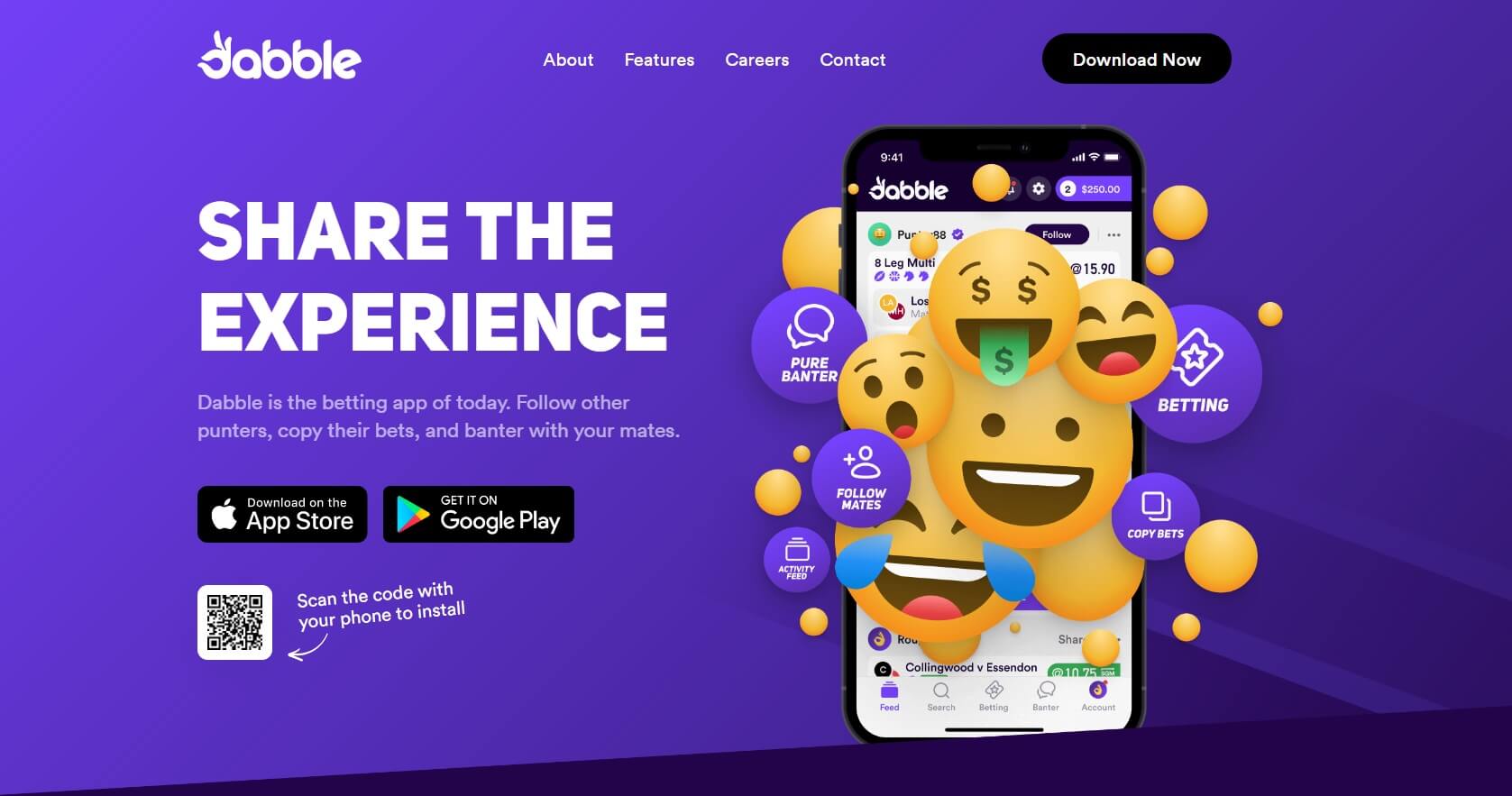 Dabble Responsible Gambling
Responsible gambling has become a serious concern in the modern age because of easy access to online gambling. Some people are more susceptible to problem gambling than others due to pre-diagnosed health conditions and life situations.
By no means, does Dabble support problem gambling in any way, and always encourages its players to take care of their health first. Keeping this in mind, the platform has raised awareness about responsible gambling on its website and app.
Resources and tools have been dedicated to identifying the onset of problem gambling and to helping those affected get the help they deserve. Various tools, such as deposit limits, betting limits, protection of minors, cool-off period, and self-exclusion programs have been employed by the Australian sports betting site.
In fact, all bettors that use the platform are encouraged to use the self-assessment questionnaire, the gambling calculator, and other self-help options to get a reality check of their current situation.
Depending on the outcome of those assessments, users can choose to impose a deposit or time limit to minimise the money and time spent on the betting platform. Additionally, you can volunteer to take a short break from betting by choosing the cool-off period or take a longer break by activating the self-exclusion option.
Gambling Help Online
Relationship Australia
Gambler Anonymous
Lifeline
Customer Support Features of Dabble
You can contact in more than one way, which is how an efficient Australian bookmaker should be conducting business these days. In fact, the sportsbook is available to serve Aussie bettors from Monday to Sunday. So, you can just contact them by email, live chat, phone call, or online form any day of the week!
Furthermore, if you are a social media person, you can knock them on Facebook, LinkedIn, or Twitter when you get a chance. It seems that Dabble really likes to interact with sports fans!
Moreover, if you feel like Dabble Australia is lagging behind in customer service or has been unable to solve an issue of yours, you can lodge a complaint to the Australian gambling authority for review of the matter.
For that purpose, a gambling dispute form has been attached to the Making a Complaint section of the bookie. It is not recommended for bettors to casually use that form as most problems can be solved by Dabble.
Phone: 1800 322 253
Email: support@dabble.com.au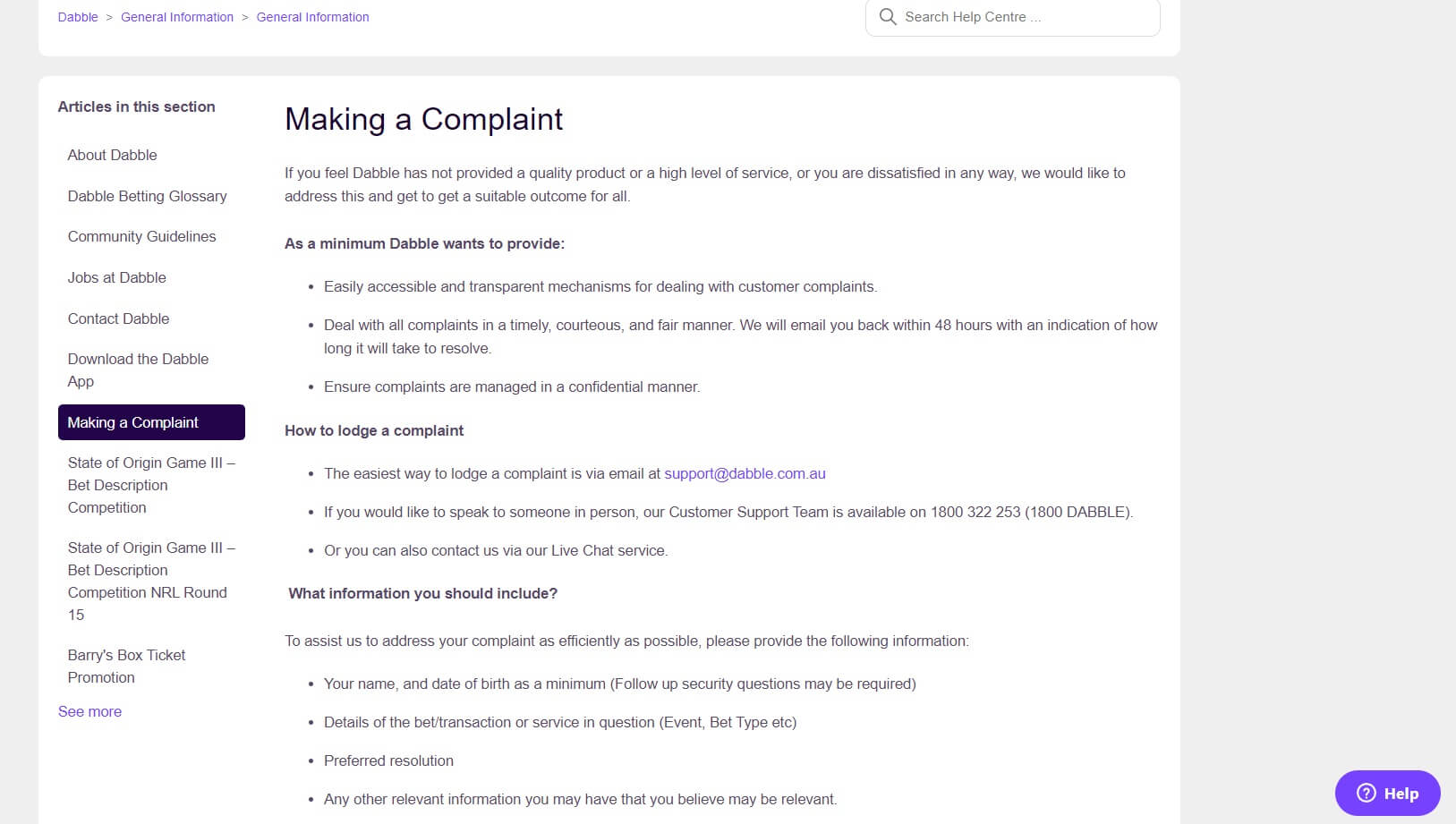 How to Create a Dabble Account
The Dabble platform is as exciting and quirky as its name because there are so many features that are extraordinary in the bookie industry of Australia. For instance, the app lets users use their social media profiles side by side with betting on the same platform!
Even if you are a newbie in the betting industry, you can follow top punters from Dabble, and copy their bets to get started. Moreover, the bookie lets you follow other celebrities so you can see what they are betting on!
When you hear all these interesting things happening on Dabble, it is hard to keep yourself from not registering with the sportsbook to become part of all these goodies.
Having that in mind, we are going to show you how you can open an account with Dabble as soon as possible so that you can enjoy all that this wonderful Australian bookmaker has to offer!
Provided you have successfully downloaded the Dabble app, click on the Join button located on the right side of the screen.
Enter your email address, password, and personal details to make an account on the platform.
The Dabble team will ask you for your phone number so that they can confirm your phone number for verification. This is pretty much it for the sign-up process. Wasn't that easy?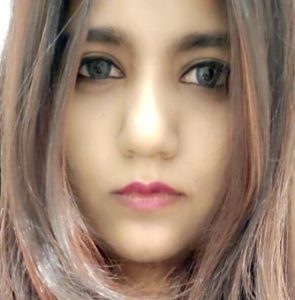 Like many aspiring writers, Jarin focuses on bringing life to the text for her readers. She is an avid sports lover, growing up in a family obsessed with bookies. She is an expert in the iGaming niche and has secondary obsessions with Gardening and cooking.