Pros
Live betting and live streaming options are available
Broad range of sports and racing markets
Several payment methods available for deposits only 
Mobile app is compatible with both iOS and Android phones
Offers multiple ways to practise responsible gambling 
Several ways to reach out to the customer service team
Cons
No welcome bonus or promo code
Only 2 options for withdrawing money
Betfair started its journey in 2000 in the United Kingdom and has expanded to reach the coastal continent of Australia by 2015. Betfair even has a branch in the United States after complying with the United States Commerce Clause. 
It took the platform several years to bring about its current success, and we are delighted to discuss this betting platform based on fair Betfair ratings of the general public. In this review, you can learn all about the background, betting market, payment methods, customer service, app development, and responsible gambling of Betfair. So, please enjoy!
Background of Betfair 
Getting back to the root of things, Betfair Pty Limited first began operation in 2000. The founders of Betfair had an innovative mindset and wanted to come up with a gambling platform where the bettors can set the odds of the match, whereas traditionally, it was the job of the bookmakers. 
Being from Europe, the founders naturally focused on expanding on the betting scene in the United Kingdom where soccer was a way of life. With the 2 gambling licenses from Malta and the United Kingdom, Betfair has big plans for the future!
If you didn't know it is pretty difficult to obtain a United Kingdom Gambling license due to strict protocols and document requirements. But appealing to European punters after obtaining the license was another challenge for Betfair. 
Therefore, the company went public on the London Stock Exchange so that it can raise enough capital to compete with other horse racing and betting sites in Europe. 
However, it was not until 2014 that the Betfair betting exchange was able to enter the markets of the United States of America, especially in New Jersey. This happened thanks to the United States Commerce Clause.
Then in 2015, Betfair Australia began its journey under the umbrella of Crown Resorts. Since then, it has become the best peer-to-peer wagering platform in the country!
Promotional Offers of Betfair
According to the new regulations of the Australian government, Australian betting sites are prohibited from issuing welcome bonuses or promo codes to new bettors who sign up with the platform. This policy has been passed to discourage fellow netizens from wasting their money on online gambling.
However, bonuses and promotions are available in a great deal on a daily, weekly, or monthly basis if you stick to the Australian betting website. Hence, it is not so bad when you think about it!
The policy has also allowed bookies in the country to focus more on providing value to punters instead of attracting them with sign-up offers. 
In fact, the primary focus of Betfair Australia is to allow bettors to place bets on their favourite sports and races in the easiest way possible. It makes sense because, after the launch of live betting, odds can vanish very quickly in today's fast-paced betting market. 
Moreover, there is a healthy commission of 5% offered on every bet that you place on sports, politics, or races. You can even increase this commission percentage after signing up for a membership with the platform. 
Types of Bets and Markets on Betfair
In this section of the Betfair review, we will get to know the massive sports and racing markets of this incredible betting platform.  
Sports Market
Betfair ratings are highly influenced by the extensive sports market of the Australian betting site. You will see all the popular games of the modern time displayed on the left-side panel of the website.
Illustrated in plain white and blue combo, you will notice the following sports and games: football, soccer, hockey, ice hockey, tennis, table tennis, golf, boxing, Mixed Martial Arts (MMA), Gaelic games, eSports (like Counter-Strike: Global Offensive, Dota 2, League of Legends), netball, snooker, volleyball, cycling, darts, basketball, baseball, motorsport, and cricket. 
As for the big leagues on whom you want to put your Australian dollar pound on, Betfair Australia showcases the Australian Football League (AFL), National Basketball League (NBL), National Rugby League (NRL), International Cricket Council (ICC), and the Olympics. 
Race Market
Now coming to the race market, Betfair Australia has a greyhound, harness, and thoroughbred horse racing. These are also the usual variety in horse racing. You can find better odds on all these races on the Betfair app than anywhere else in Australia. 
Based on per capita, the horse racing industry in Australia is one of the strongest in the world. Truth be told, Betfair rating has gone up because of the horse racing market. With that being said, it will be hard to find Aussie punters who are not betting on horse racing from time to time.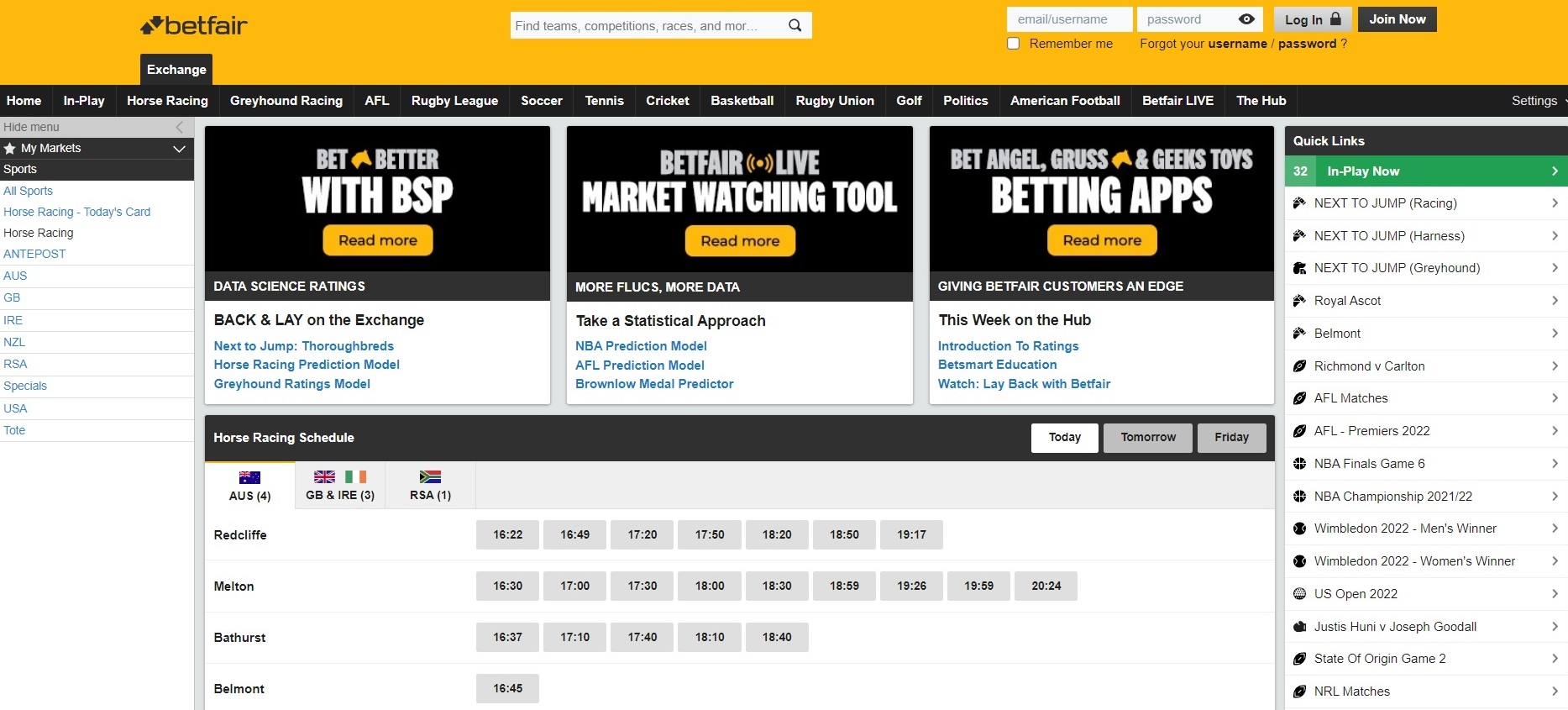 Politics
Don't fret when you see the politics tab on the Betfair app, because for some people, this is a great source of entertainment to bet on the next mayor or president in Australia, the United Kingdom, or the United States of America!
On the Australian betting platform, Betfair, you can bet on state elections, party leaders, house of representatives, senate elections, legislative elections, and so much more! You can filter the participants of the election based on the winning party, election winner, the party of the popular vote, gender of the election winner, Democratic nominee, and Republican nominee.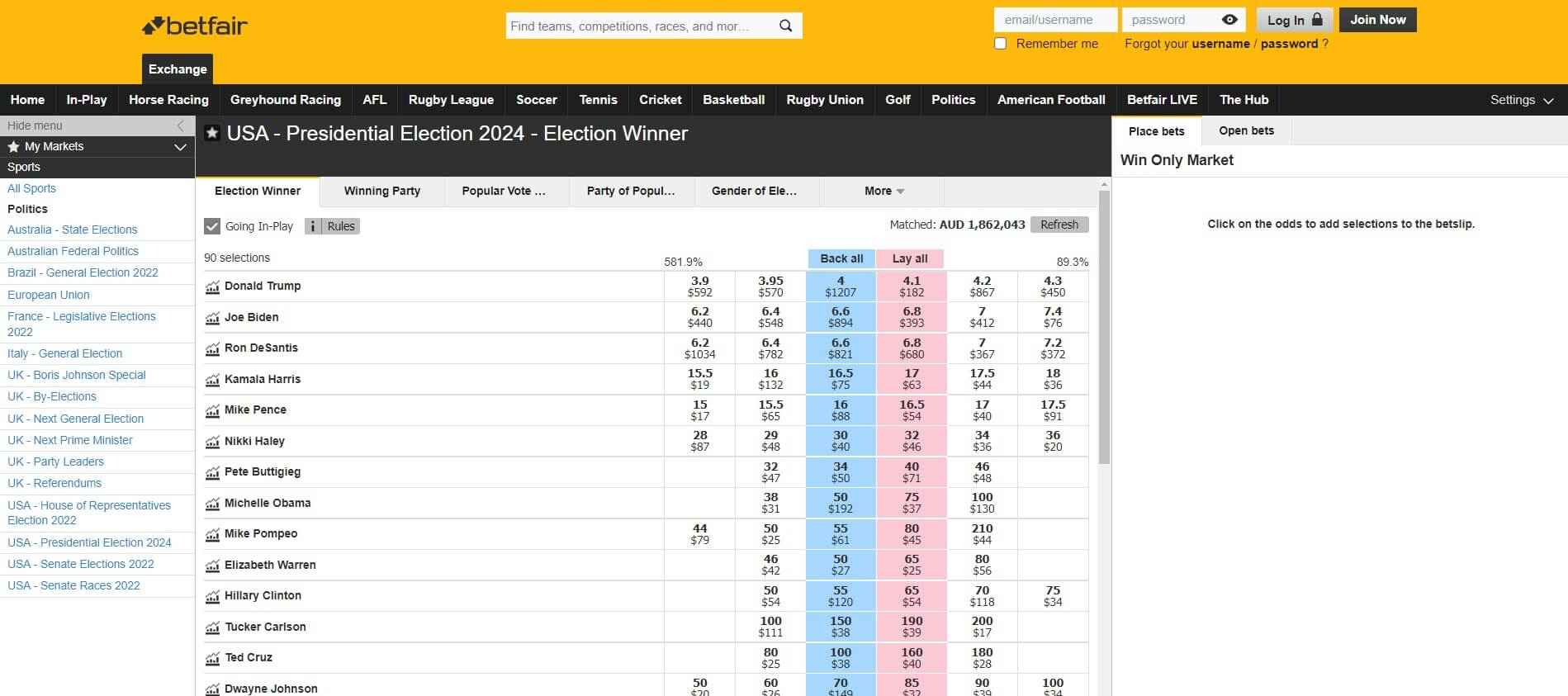 Betfair Live Betting
The live betting option is available for all types of races and sports on this Australian betting site. With the live betting feature activated, Aussie punters can bet on anything like Adelaide Football Club AFL or the Flemington Melbourne Cup Carnival after the game has started, instead of placing wagers beforehand. 
Traditionally, people had to bet on events a few hours or days before the actual event, but modern Australian betting sites beg to differ from that rule. Once live betting has become popular with a few top gambling platforms in the world, competitors began to adopt this system to their establishments as well. 
Arbitrage situations are common in live betting because bookmakers can't track the changes in matches quickly and alter the odds. Therefore, it gives Aussie punters the opportunity to place bets after observing numerous strategies adopted by sportsmen on the gaming field!
Nevertheless, there are significant drawbacks of live betting that are often not discussed in the Betfair review, but we will. Especially newbies tend to make the mistake of not analysing the pre-selected matches and other related factors and end up betting on the wrong team or individual.
The rapid shift in odds may confuse beginners of the online betting exchange who are betting on the Adelaide Football Club AFL or the Flemington Melbourne Cup Carnival. For this reason, unless a bookie has a wide range of sports and races to offer clients, there is no need to include a live betting feature on the platform. 
Betfair Payment Methods
We also discuss the deposit and withdrawal options available (such as bank transfer credit card) to Australian bettors in this Betfair review. Let's have a look together!
Deposit Options
Betfair Austalia permits several deposit options on its platform, such as VISA, MasterCard, PayPal, POLi, BPay, bank transfer, Neteller, Skrill, PayID, and Osko. If you already have any of these payment methods, then you can go ahead and place bets right away!
The lowest minimum deposit is offered by POLi which is just $5. You can get away with a $10 minimum deposit for credit and debit cards. For PayPal and Skrill, Betfair offers a minimum amount of $15, whereas, for Neteller, it is $25. 
Any deposits you make to the Australian betting site go through instantly with Skrill, Neteller, PayPal, POLi, VISA, and MasterCard. PayID and Osko may take 12 hours at most, while bank transfer and BPay takes 1 to 5 working days. 
From the outline, you can already decide which payment method you will be opting for based on the time it takes for the deposit to reach your betting account. Who would wait 5 days to place a wager on sports or races, right?
Luckily, the Australian betting site doesn't charge Aussie punters for making deposits, and it will be unfair to do so. However, your payment system may have its own fees and charges that apply when you make money transfers. 
Withdrawal Options
Even though Betfair offers a range of payment options when it comes to making deposits, it falls short in the withdrawals department. Believe it or not, the site only has 2 withdrawal options available for its fellow punters, which are PayPal and bank transfer. 
PayPal can transfer money from the Australian betting page to your banking account in 24 hours, but the bank transfer may take about 3 working days. Positively, you won't be charged for this transaction. Besides, the minimum you can withdraw from your Betfair app account is just $15. 
Now, considering national regulations regarding gambling, Australian betting sites must use caution when transferring funds to bettors in the form of withdrawals. The reason only 2 forms of withdrawal methods are available to the Australian sports betting websites is so that the authorities can keep track of where the money is being sent. 
This is done in order to prevent money laundering and cyber theft in the gambling industry. Therefore, even if it takes a little longer to receive your winnings, put up with it for the sake of ethical money transferring. 
Mobile App Features of Betfair
Designed from scratch, this Betfair review also wants to put the mobile app into the spotlight. Apparently, you can get better odds and faster payouts if you use the app over the desktop version.
Having an app has become compulsory for all Australian betting sites, and the competition is intense because they are all wrestling to add new and improved features all the time!
According to current Betfair ratings, the app is quite sophisticated in terms of features, usability, and engagement. It is free to download, incorporates all the attributes of a great mobile app, and can be used on both iOS and Android devices. 
The best advantage of the app is that you can bet on the go, starting from taking a stroll in the park to laying on your couch! In all, you can enjoy the new betslip design, quick market refresh, fast navigation, better bet management, interact with the customer service representative, pay with Australian dollar pound sterling, and get results from all over the world on the app version. 
iOS
Now that we know all the amazing new features of the Betfair mobile app, we will proceed with exemplifying how you can download and install it on your iOS and Android phones.
Starting with iOS, click on the download link provided on the Betfair Australia website. It will direct you to the App Store, where you can read about the device compatibility of the app. 
Click on the download button to download the app on your iOS phone, and install it immediately. If you are a new user, you have to create a new account with the platform to use all the stellar features we talked about earlier!
Android
Betfair Australia has designed its app for smartphone users as well. Installing the app on this device can be a bit tricky because you have to make sure that the Unknown Sources box is ticked in the Software Settings tab. 
Once you do this, your smartphone won't stop the Betfair Australia app from installing on your device. Then, you can go ahead and register for a new account, or browse the betting market for events to place bets on!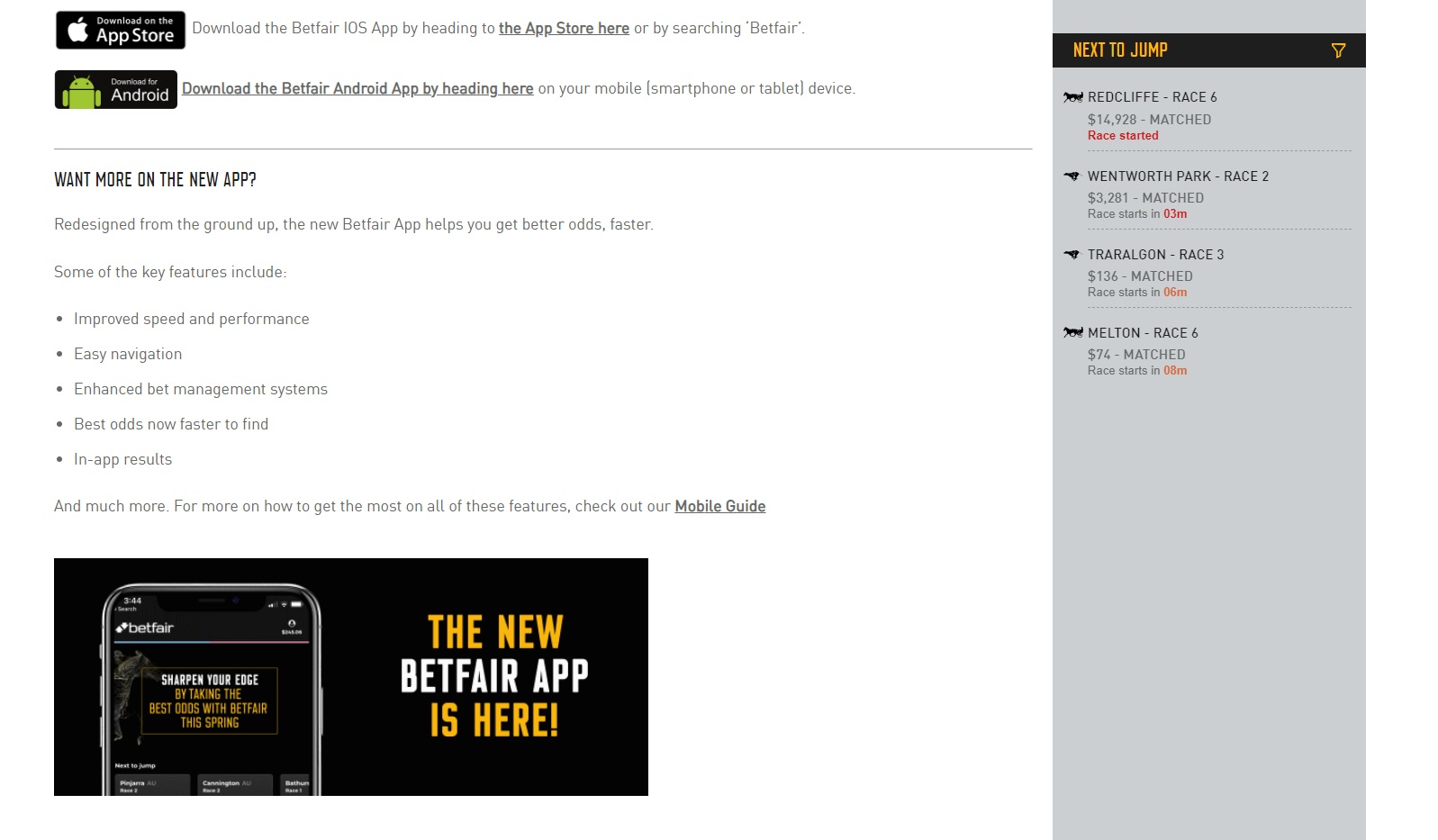 Betfair Responsible Gambling
Frankly speaking, we were quite impressed with the responsible gambling page prepared by Betfair Australia. Therefore Betfair ratings are quite high on our scale. Betfair has not just dedicated a significant portion of its service to educating the mass about problem gambling but also helping the community by preventing minors to access the services of the platform.  
Having said that, let's explore all the useful aspects that have been added to the responsible gambling code page of Betfair Australia. 
Budget Calculator
There is a budget calculator that helps you work out your monthly expenses on horse racing and sports betting. Also, a list of the questionnaire can be accessed through the responsible gambling page, which aids you to assess the level of your gambling problem as of now. 
Online Counselling 
On top of that, you can even acquire assistance with counselling and support via email, phone, or peer-to-peer, face-to-face, non-English speakers, and live chat. In the questionnaire, if you have honestly answered 'yes' to most questions, that means it is time for you to get some help regarding your gambling addiction. 
Pre-Committed Limits
Besides, pre-committed limits can be set by you to take control of your gambling habits while you bet Betfair Australia. The deposit limit helps you set a limit on the amount of money you deposit at a time to bet on sports and races. On the other hand, the loss limit helps you to stop engaging in betting once you have made a certain amount of losses at a time. 
After going through the responsible gambling questionnaire, you may have gotten a reality check of your circumstance. Instead of stressing over the truth, you can just choose to get a time-out, self-exclusion, or total exclusion from Northern Territory online gambling operators. 
Time-Out 
The time-out period lets you take a short break from the Australian betting Betfair app from a period of 24 hours to 30 days. You can do this by going to your Australian betting site account, clicking on Player Protection, and selecting Time Out from the menu. Alternatively, you can speak to a customer service representative to discuss the best strategy for your gambling problem. 
Self-Exclusion
Moving on, the self-exclusion option lets you take a longer break from gambling ranging from 6 months to 5 years or over. You can access the self-exclusion option the same way as the time-out period. Additionally, any online betting exchange that you may have with the company will either be cancelled or refunded if you choose to commit to self-exclusion. 
Protection of Minors
Gambling can become a severe problem for minors if they start engaging in this activity from an immature age. For this reason, the Australian betting site, Betfair advises parental supervision and the use of filtering systems at home to prevent minors from opening an account with the Betfair app or placing any wagers. 
Problem Gambling Helpline
For further information about how Aussie punters can practise the responsible gambling code without overindulging in the betting exchange and Australian betting, a few helpful resources have been shared with the visitors of the Betfair app and desktop site. You can find phone numbers or website links to the problem gambling helpline Australia in the space below:
Australian Gambling Helpline
Phone: 1800 858 858
Phone: 1300 364 277
Website: https://relationships.org.au/
Gambler Anonymous Australia 
Website: https://gaaustralia.org.au/
Gambling Therapy Australia
Website: https://www.gamblingtherapy.org/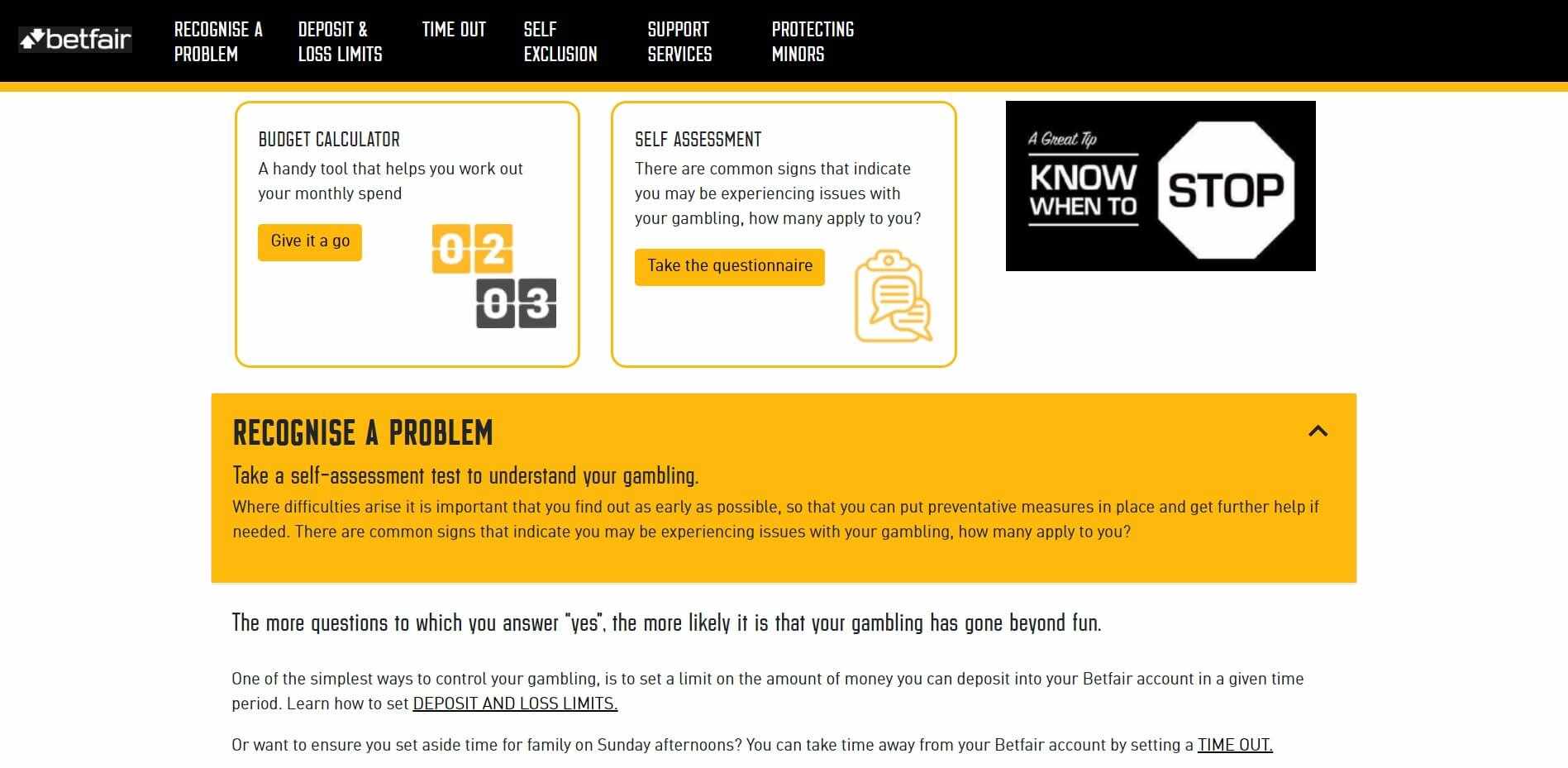 Betfair Customer Service
Betfair Australia has kept itself open to all sorts of enquiries from Aussie punters whether it is about account verification, responsible gambling, telephone betting, payment methods, or the sports market.
The FAQ or Account Help page is quite thorough, so answers to most questions can be found there. Having said that, the most common questions are related to opening an account, account verification, deposits and withdrawals, responsible gambling, lost username or password, account security, Betfair exchange, and starting price. 
General Support Email:

service@betfair.com.au

Pricing Support Email:

pricingenquiries@betfair.com.au

Helpdesk Australia:

1300 238 324

Helpdesk New Zealand:

08 0023 8324

Helpdesk International:

+61 8 8912 2333

Telephone Betting Australia:

132 238

Telephone Betting New Zealand:

0800 567 002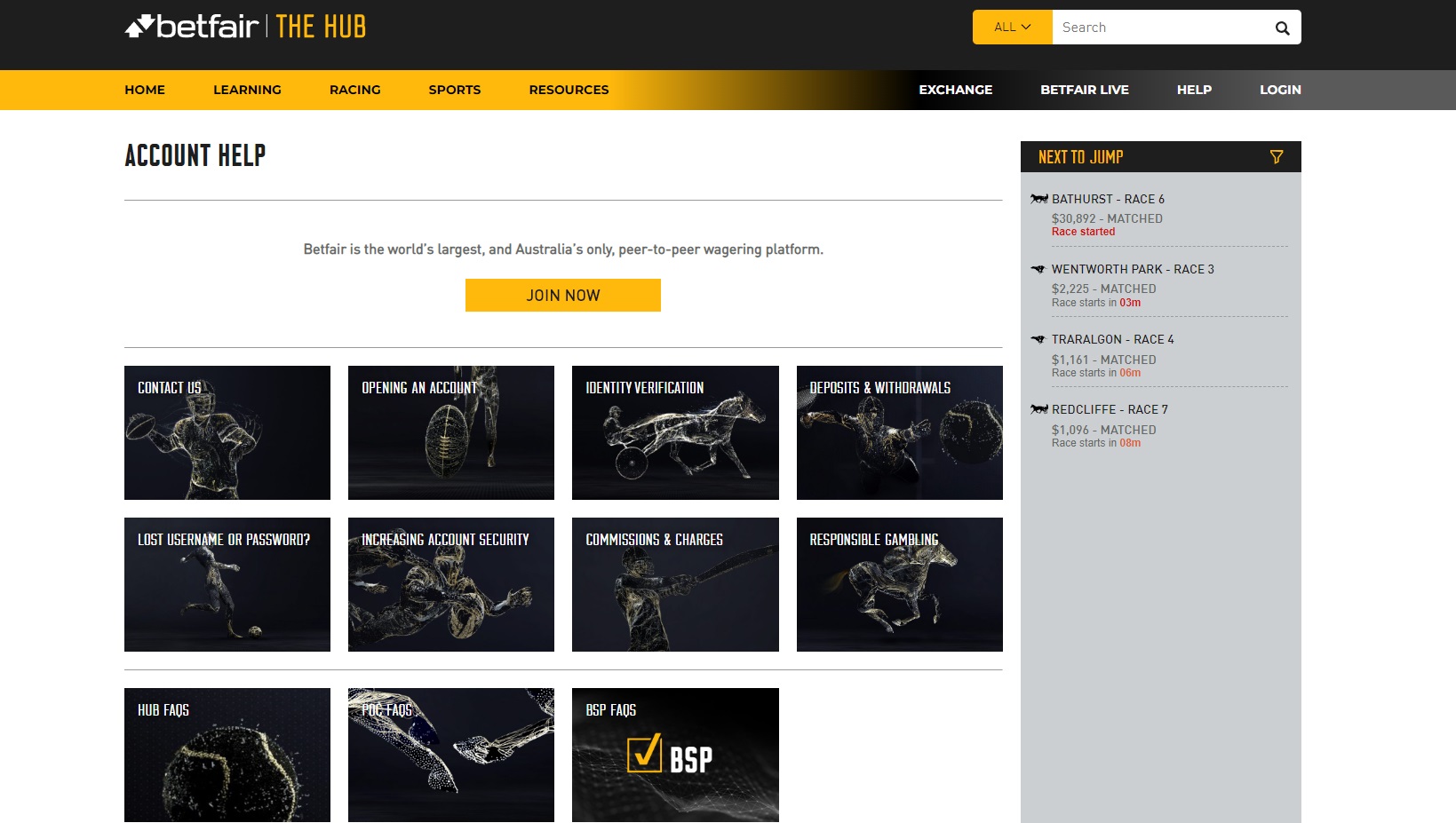 How to Create a Betfair Account
Creating a Betfair account involves the same process as creating an account with any other sportsbooks in the industry. Without an account, you won't be able to place bets and observe the betting market. In fact, you will miss out on a lot of features. 
So that you are not deprived of all the goodies Betfair has to offer, we will show you the steps required to make this bookie account.
You have to fill up an online registration form to create your betting account with Betfair. The website needs your full name, country of residence, local address, phone number, email address, password, security question, desired currency, and deposit limit.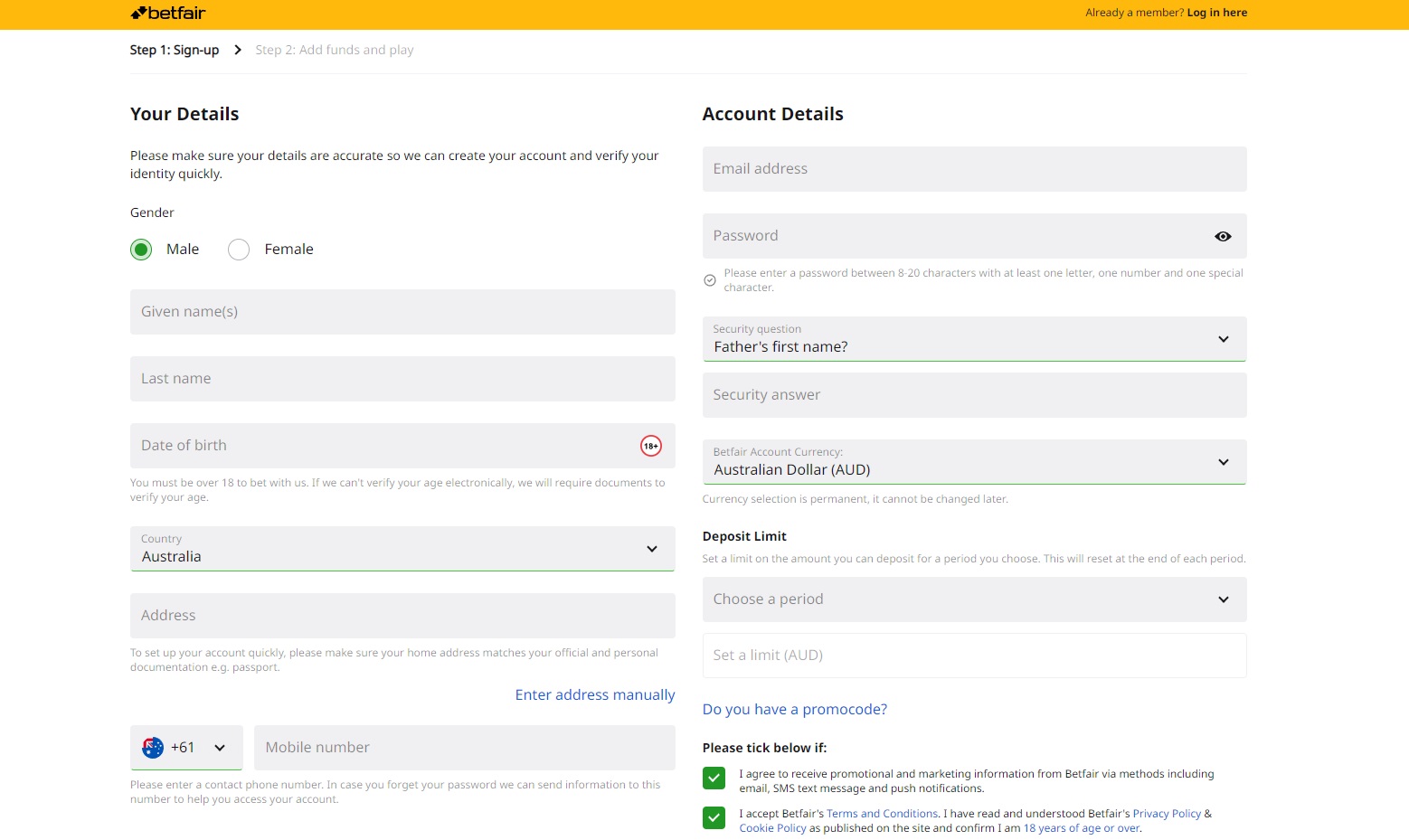 Betfair FAQ
1. Can I place a bet on Betfair over the phone?
Yes, you can place bets on Betfair with the Telephone Betting Service which is 132 238. When you call the broker over the phone, just refer to your Telephone Account Number (TAN). Betfair Australia telephone service is available 24/7. 
2. Does Betfair Australia have a results service?
The results service team of Betfair induce results from the market settlement that is conducted 24/7. In fact, the results are made available within minutes of settling a market. 
3. Can I earn commissions from Betfair Australia?
You can earn commissions from your bet winnings which are calculated by multiplying the winnings by Market Base Rate (MBR). However, there is no commission given for losing the bet. 
4. How do I find out that my bet is matched based on Betfair ratings?
Login to your Betfair account, click on Settings, and check the Profit and Loss Box to find out if your bet has matched or not. You can also check it by looking at the My Bets option on the right-hand corner of the screen. 
5. What is the maximum payout on Betfair Australia?
By the book, the maximum payout on Betfair is $250,000. Moreover, the greyhound or horse racing market can have a maximum payout of $50,000.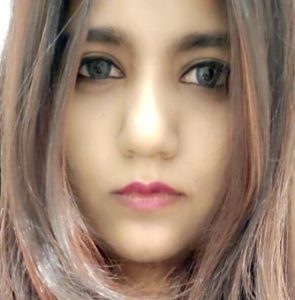 Like many aspiring writers, Jarin focuses on bringing life to the text for her readers. She is an avid sports lover, growing up in a family obsessed with bookies. She is an expert in the iGaming niche and has secondary obsessions with Gardening and cooking.