Pros
A complete collection of sports and race betting events
Live betting feature is included
Can be downloaded on both iOS and Android devices
A decent number of deposit methods
A responsible gambling platform is useful and informative
Esports, politics, and novelties are included in the sports market
Cons
A limited number of withdrawal methods
There are restrictions on the betting market
No welcome bonus
Australian punters like to bet on betting sites that are wholly owned and licensed in Australia, and we get the feeling. Even now that BetStar has been taken over Ladbrokes, the originality of the sportsbook still remains.
In fact, the bookmaker is modified and upgraded every day to appeal to punters who are residing in Oceania. Why not when horse racing and sports betting are such an intricate part of Australian life?
Having said that, this BetStar review has been prepared just for those fanatics who want to continue to live the Aussie sports and racing dream! So, buckle your seatbelts for this ride!
Background of BetStar
BetStar is an online betting platform that was established in 2007 and is located in Melbourne and Darwin. However, in 2014, the bookie was acquired by the Ladbrokes Coral which is a British bookmaker. The original founders of BetStar were Alan Eskander and Michael Eskander.
Initially a family business, the sportsbook has grown so big and caught the eye of the Ladbrokes. This bookie not only has a great sports betting platform, but also offers sports news, competitions, and commentaries on the niche market.
Now that it is a part of Ladbrokes bookmaker, the platform has reached the height of fame unlike any other. As evidence, you can see the commercially-optimised features and marketing implemented on both the desktop and mobile versions of the platform.
Overall, we are quite impressed with what BetStar has to offer its punters living in Australia. To find out more about what we are talking about, keep reading until the end!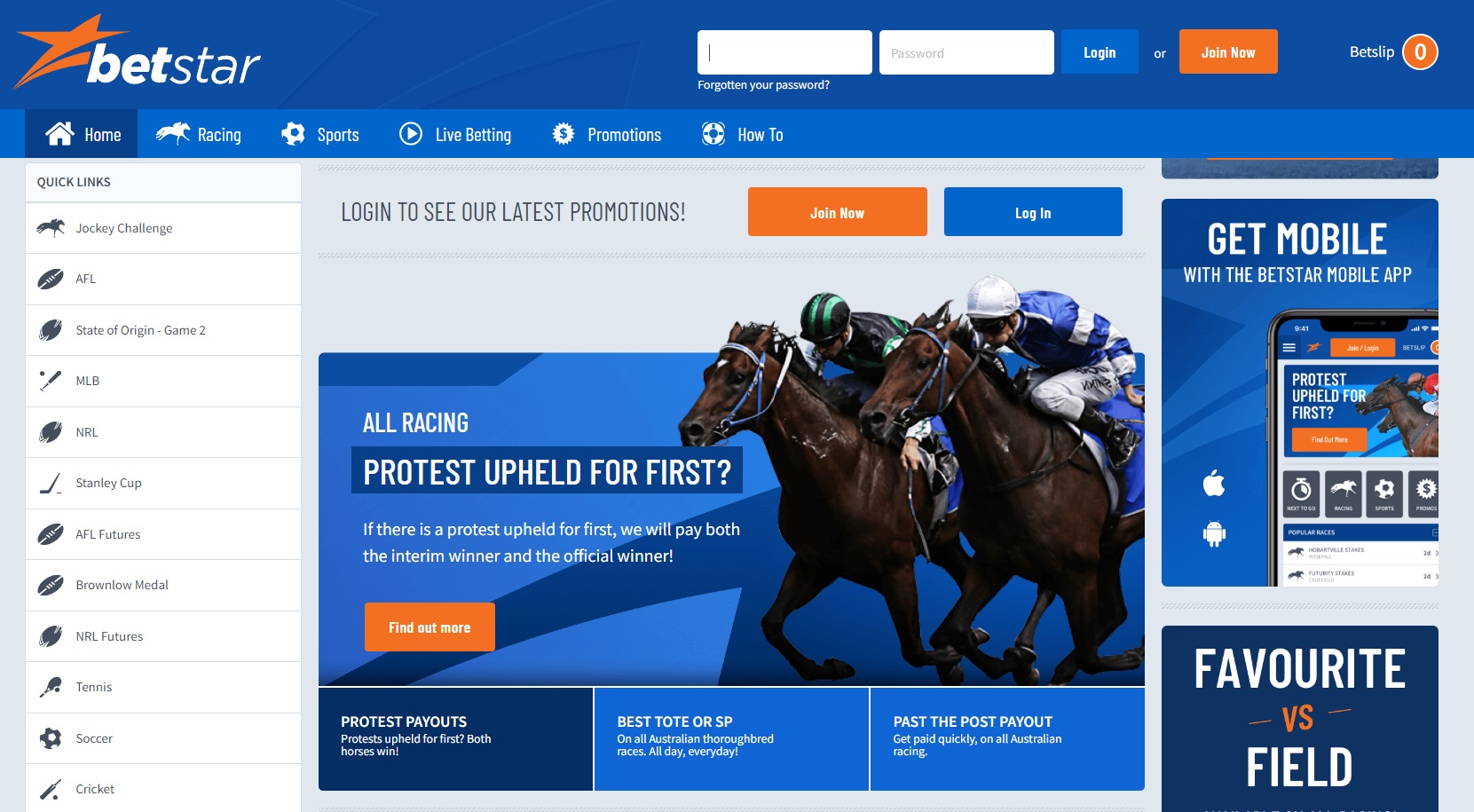 Promotional Offers of BetStar
Welcome bonuses are no longer provided by Australian bookmakers due to restrictions imposed by the Australian government. However, that didn't stop the bookies from spoiling their bettors with hundreds of other promotional offers, such as cash bonuses and risk-free bets.
Regardless, you can still use promo codes that are made available from time to time to enjoy all the goodies the site has to offer. Additionally, you can check what promotions are available to you by clicking on the Promotions tab of your BetStar account.
Certain bonus bets can be obtained after you place a qualifying bet and meet the wagering requirements. However, there may be restrictions imposed based on your location as to whether you are eligible for particular bonus deals or not.
Types of Bets and Markets on BetStar
BetStar offers many great deals to its Aussie punters but price boost is not one of them. However, the platform can still stand proud because of all the other great features it provides to its account holders every day.
The bookie has a large sports and racing market that covers all of Australia and beyond. You can estimate the number of sports betting followers in the world just by observing the numbers on this betting site.
Additionally, both the desktop and mobile platforms are easy to navigate, use, and place bets on. The interface is beautifully designed on top of the wide-scale betting market. So, let's find out all about it in the upcoming sections!
Betting Markets
The betting market on the sports betting platform is beautifully organised into 3 categories, namely Win, Place, and Exotics. Under Win bets, you can see Best of the Best, Fixed Price, Nom Tote, Mid Tote, Best Tote, Starting Price (SP), Top Tote, Victorian Tote, Steals per Game, Top Fluc, and Mid Tote + 5%.
Moving on to the Place bets, the included bet types in this category are Top Tote, Mid Tote, Victorian Place, Fixed Price, and Default Tote. Finally, the last horse betting type Exotics contains the following bets: First Four, Exacta, Multi bets, Quinella, Trifecta, Quaddie, and Fixed Price Exotics.
If you are new to the betting types, the BetStar website provides a comprehensive explanation of each betting option. Hence, take a look at the glossary before you place bets with real money!
Available Sports Events 
The sports market scene of BetStar is quite impressive as it showcases most of the popular sports in the country. Having said that, there is something for everyone on the platform. There are 2 types of football- American Football and Australian Rules.
You can find familiar names like baseball, basketball, hockey, ice hockey, tennis, table tennis, motorsports, darts, cycling, Mixed Martial Arts (MMA), boxing, cricket, handball, netball, rugby, pool, snooker, and surfing.
Moreover, Gaelic sports, novelty, politics, and esports are trending betting events that many Australians love to take part in. So, if you want to have some fun betting on trending figures in the entertainment or political industry, go ahead! BetStar will make that possible for you!
Available Racing Events 
When you go through the website, you will be able to see that the racing events are categorised into harness, thoroughbred, greyhound, and jockey challenges. Locally, regular racing events are held in Queensland, Victoria, New South Wales, West Australia, and New Zealand.
Based on what is displayed on the BetStar homepage, the countries that usually take part in horse racing betting are Japan, the United Kingdom, the United States of America, France, Argentina, Ireland, China, Mexico, and Sweden.
It seems that horse racing events throughout the world are quite popular among Aussies as you can see in the image provided after this section.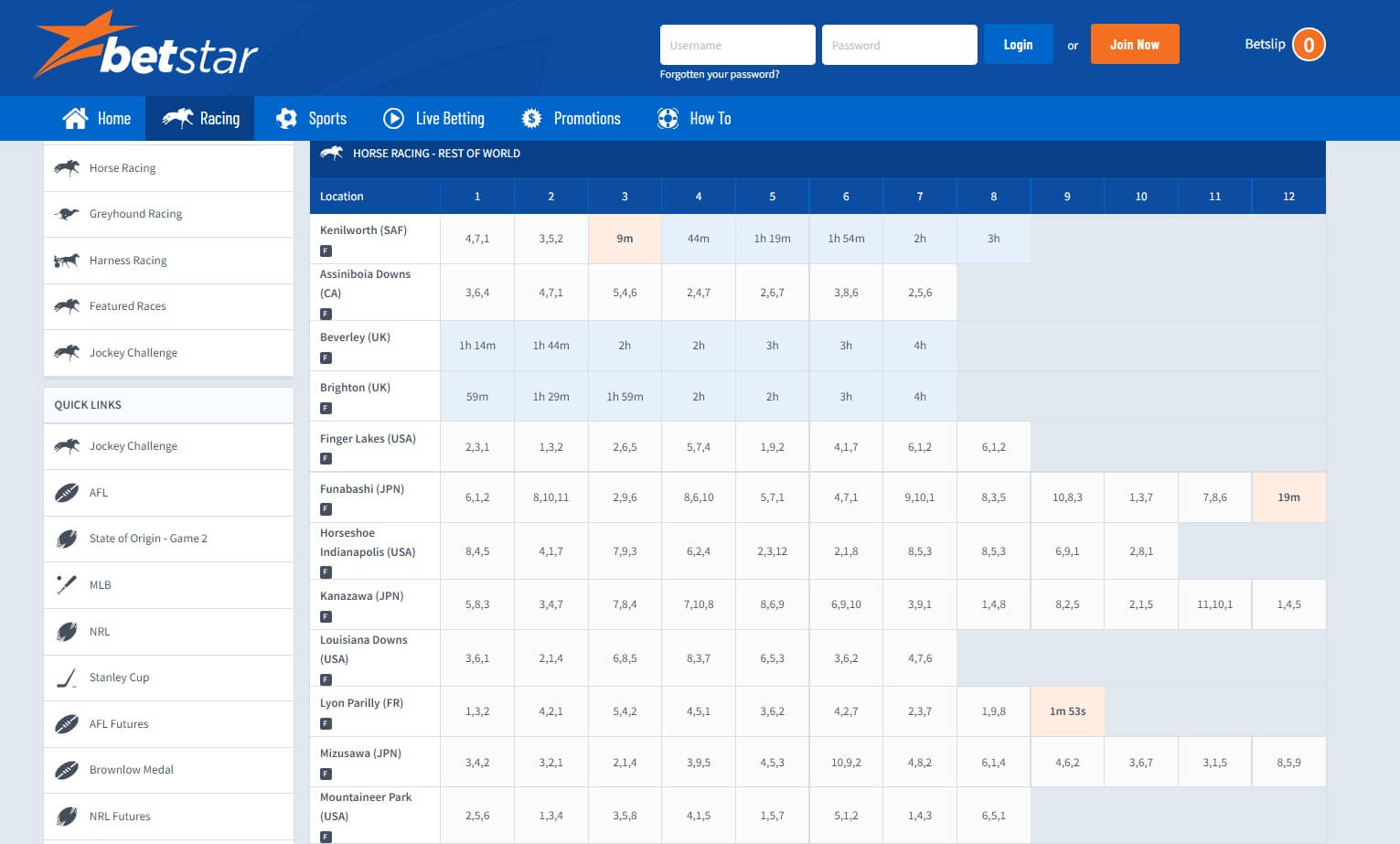 BetStar Payment Services
Payment services in Australia are quite different from the rest of the world. The most common ones are BPay, PayID, PayPal, and POLi, but not all Aussie betting sites are accepting these payment methods.
However, it will be hard to find an online sportsbook that doesn't allow bank transfers, VISA, or MasterCard because honestly, these ones are universal in a sense. With that being said, new changes in the gambling regulations of Australia have put measures to prevent money laundering in the gambling market.
One of those measures is to verify the identity of the person receiving withdrawals from sportsbooks. But with e-wallets like Skrill, Neteller, and PayPal, it is hard to detect who is taking the funds.
For this reason, a bank transfer is the most common withdrawal method applied by Australian bookmakers. BetStar has adopted the same strategy, and you will get to know more about it in the following sections.
Deposit Options
Luckily, there are several methods available for Australian punters who want to deposit real money to their betting account and place wagers. This is good news because many sportsbooks in the country choose to limit their deposit methods for regulatory reasons.
For sure, the Electronic Fund Transfer (EFT), VISA, and MasterCard are acceptable for depositing funds into your betting account. Moreover, PayPal, POLi, Flexepin, and BPay are also available for bettors who don't want to disclose their personal information too much.
Mostly, to deposit money to the betting site, you have to go to My Account, click on Banking and Transaction, and choose Deposit. Among the list of available payment methods, you can choose the one that is most convenient for you.
For Flexepin deposits, enter the voucher code, and click on Redeem Voucher. Again, for bank transfers, after you are done filling out all the essential information, use your reference code before you finalise the payment.
Withdrawal Options
We somehow knew that the withdrawal methods allowed on the sportsbook will be limited as most Australian bookies follow the same rule. The withdrawal methods are few in order to prevent money laundering syndicates from misusing the sportsbook services, and this regulation is imposed by the Australian government.
Anyhow, PayPal and BetStar Card are your options other than bank transfer when it comes to withdrawing funds. PayPal only deals with casinos and betting sites that are legal, licensed, and standardised. That is the reason you see it on BetStar.
To withdraw your winnings from your betting account, go to My Account, choose the Banking and Transactions options, and select Withdrawal. Enter the amount of money you wish to withdraw, and hit Confirm to complete the process.
BetStar Card
The BetStar Card is something you should make an investment in if you see yourself hanging around betting sites for the long haul. Your BetStar account must be verified in order for you to request this card.
It takes about 21 days to arrive at your doorstep. Then, you can activate it to withdraw your winnings from your bets. But this card has more purpose than just getting your withdrawals. It can even help you purchase grocery items and pay for petrol!
Moreover, you can use the PayPass option at retail outlets. Practically, you can use the BetStar card anywhere where MasterCard is accepted. Nonetheless, you can't deposit money to your betting account with this!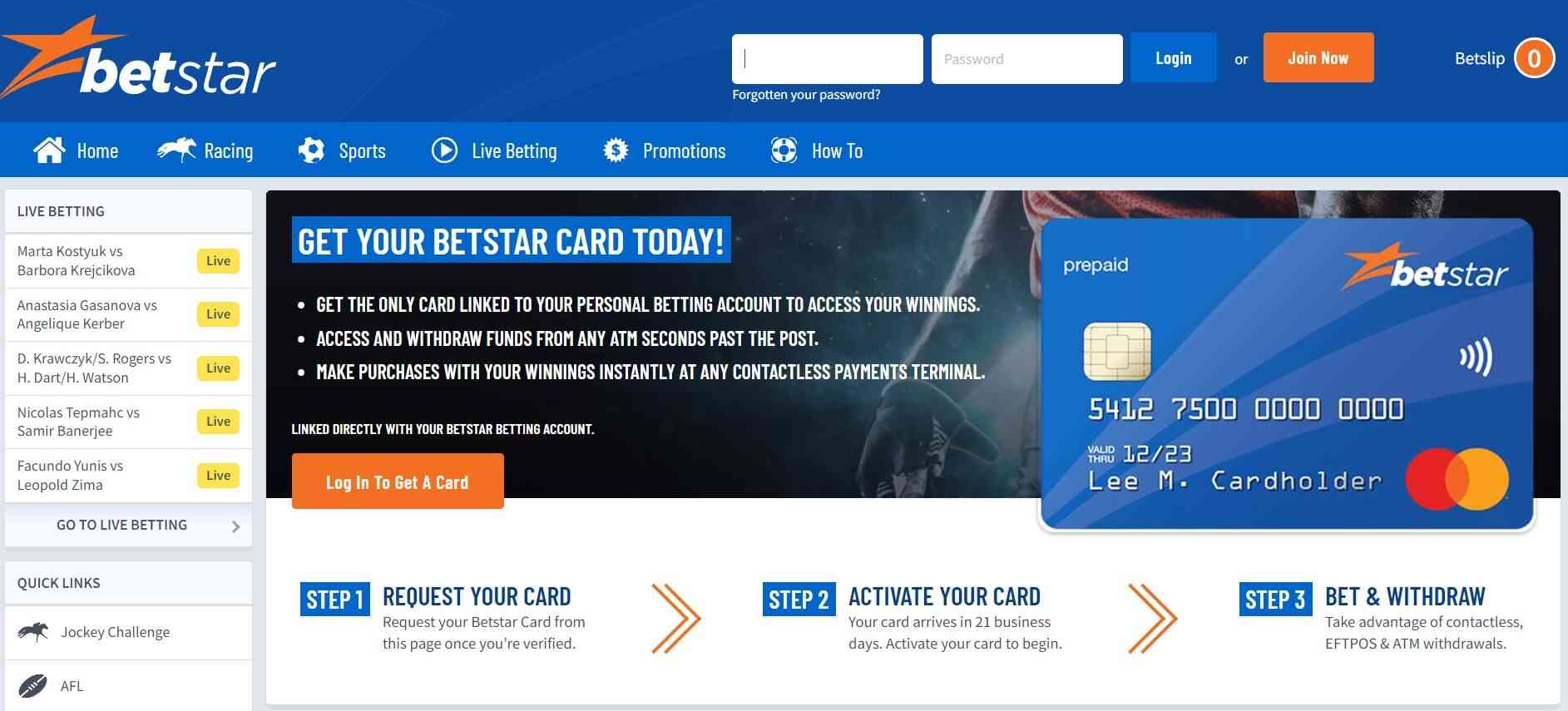 Mobile App Features of BetStar
Not many online sportsbooks provide instructions about how you can download their apps, but BetStar does. It just shows how advanced the platform is and that it takes customer service very seriously.
With the BetStar mobile app in your pocket, you have access to hundreds of sports and races in the country and from all over the world. You can freely place bets, check your results, make deposits, and get withdrawals- all in one place!
In fact, there are bonuses that are strictly reserved for BetStar mobile app users. You surely don't want to miss out on that!
Download the App on iOS Devices
Developed by Ladbrokes Digital Australia Pty Ltd., the BetStar app is very light, so it won't take up too much space on your iPhone. But to enjoy all the new features of the app, your iPhone or iPad must be 11.0 or higher in version.
For now, the app is free to download and install. Also, you must be 18 years of age or older to create an account with the BetStar app. In fact, the app is even available for Apple Watches!
Besides, no information has been provided about whether the app collects your personal data for marketing research or not. Therefore, contact a customer service representative to clear out this confusion.
To download the app, just click on the download link provided at the bottom of BetStar's homepage. Once you click it, your browser will take you to the App Store where you can read about the app, and download it.
There is no trouble in installing the app on your iPhone because you don't have to make any additional changes in the settings. You can sign up or log in and start betting right away!
Download the App on Android Devices
The BetStar app designed for Android consists of the same features as the iPhone devices. However, the original settings of Android phones can prevent third-party software from installing on the device.
Even the solution is provided on the mobile app download page of BetStar. We really appreciated the guidance for download and installation. Having said that, firstly, go to your phone's Settings options and select Software.
Check if there is a tick next to the selection Unknown Sources. Place a check there if you see none. Now, your Android phone won't prevent the BetStar app from installing on your device. Therefore, go ahead and download the app from BetStar's download page. You can install it immediately.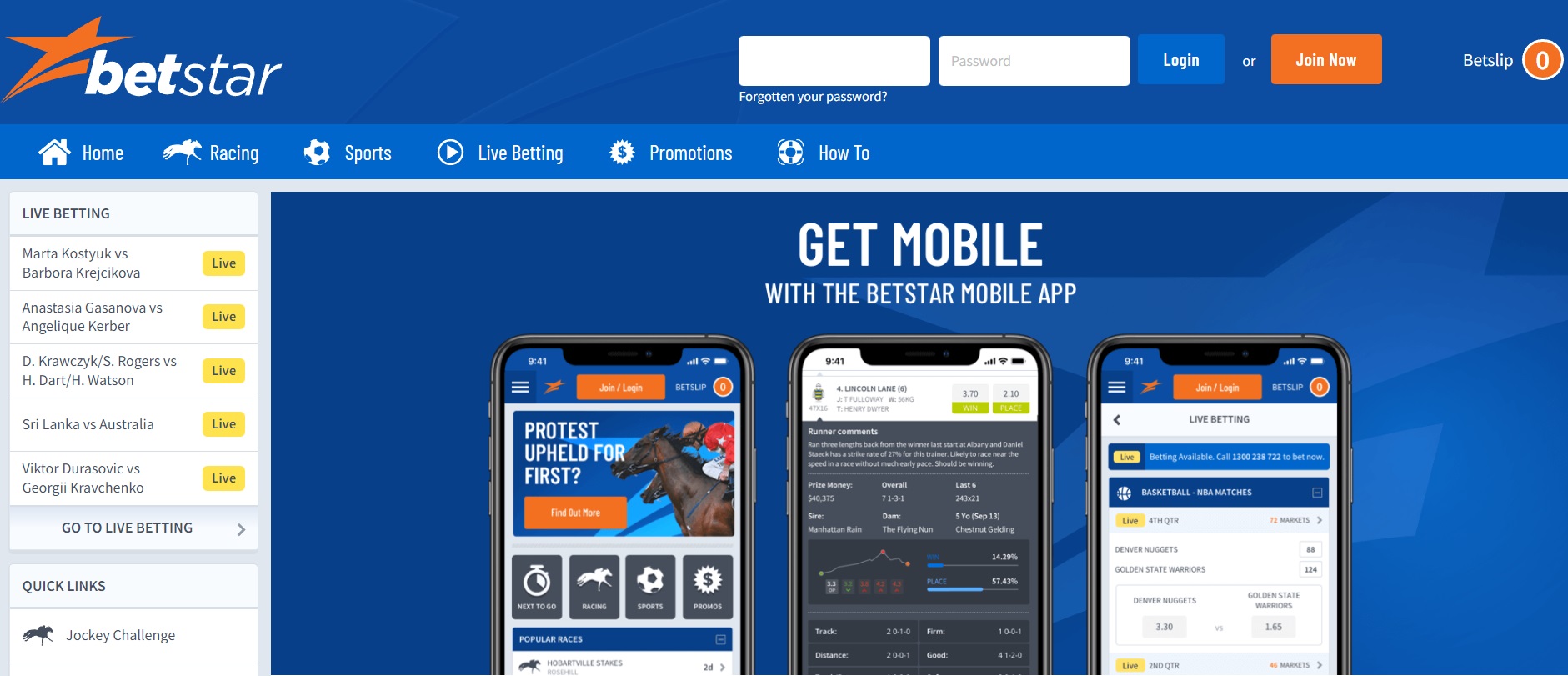 BetStar Responsible Gambling
BetStar is cooperating with the Entain Group when it comes to responsible gambling. Therefore, whenever you click on the responsible gambling option located at the footer of the webpage, you will be automatically directed to the Entain Group.
There, you have thousands of tools, resources, and options to educate yourself about responsible gambling and get the help that you deserve. Some of the functional tools that you get over there are curfews, block out, deposit options, session timer, deposit limits, pending withdrawals, take a break, market control, account closure, activity statements, and check-in.
Having said that, we can only discuss a few of them in this section. But hopefully, they are informative and helpful to everybody who is reading this review!
Pre-Commitment Limit
Pre-commitment limits are within reach of Australian bettors who think their gambling habits are getting out of control. You can set a maximum deposit amount with this feature for 1 day to 1 year.
To activate this feature, you can go to My Account, click on Punter Assist, and select Deposit Limit. Just so you know, if you want to reduce your deposit limits, the changes will be made immediately on your betting profile.
However, to increase the betting limit, the BetStar team will make you wait for 7 days for the changes to take effect. This is done in order to discourage punters from increasing their deposit limits.
Self-Exclusion
The pre-commitment limit is not the only responsible gambling tool you can use to control your problem gambling habits. Self-exclusion can be temporary or permanent depending on which option is suitable for you.
There is a form that you have to fill out if you want to self-exclude yourself from several sportsbooks under the Northern Territory Racing Commission. Later, you can submit this form to BetStar's customer support team or directly to the NTRC.
Furthermore, the self-exclusion option can be found in your betting account. Just click on My Account, select Punter Assist, and then Responsible Gambling. We encourage all punters to assess their gambling habits through a self-assessment tool and then think about self-excluding from the platform.
Parental Control 
BetStar is not only trying to help bettors who have developed a gambling addiction, but also minors who are not legally permitted to engage in gambling activities. Since accidents are possible if you have children at home, adults are encouraged by the sportsbook to use filtering software for parental control.
Having these tools installed on your desktop and mobile devices will ensure that your children are not exposed to gambling at an unsuitable age. Because this may develop into problem gambling in the long run.
Some of the best parental control software that BetStar recommends are Net Nanny, 27 Labs, Force Point, Gam Block, and Bet Filter.
Helpful Resources
BetStar doesn't end its responsible gambling services to netizens over here though. The site lets you access multiple gambling resources available in Australia so that you can get the help that you need. Here are a few links and phone numbers that may be of help to you or someone close to you:
Customer Support Features of BetStar
Fortunately, BetStar has left multiple channels of communication for its bettors which you will be able to see on its customer support page. Several phone numbers,  email address, and a request form are provided on the site, along with a detailed FAQ page.
Although most questions and concerns of yours are addressed by the FAQ section, you can get more help from the customer service representative when you call or email the platform. Furthermore, even though the office address is provided, the BetStar team requests all punters to get an appointment before visiting.
24/7 Betting Line: +61 8 7918 7311; 1300 238 722
General Enquiries: +61 7 3184 9322; 1300 238 782
Email: suppot@betstar.com.au
Address: PO Box 3321, Newstead, QLD, 4006, Australia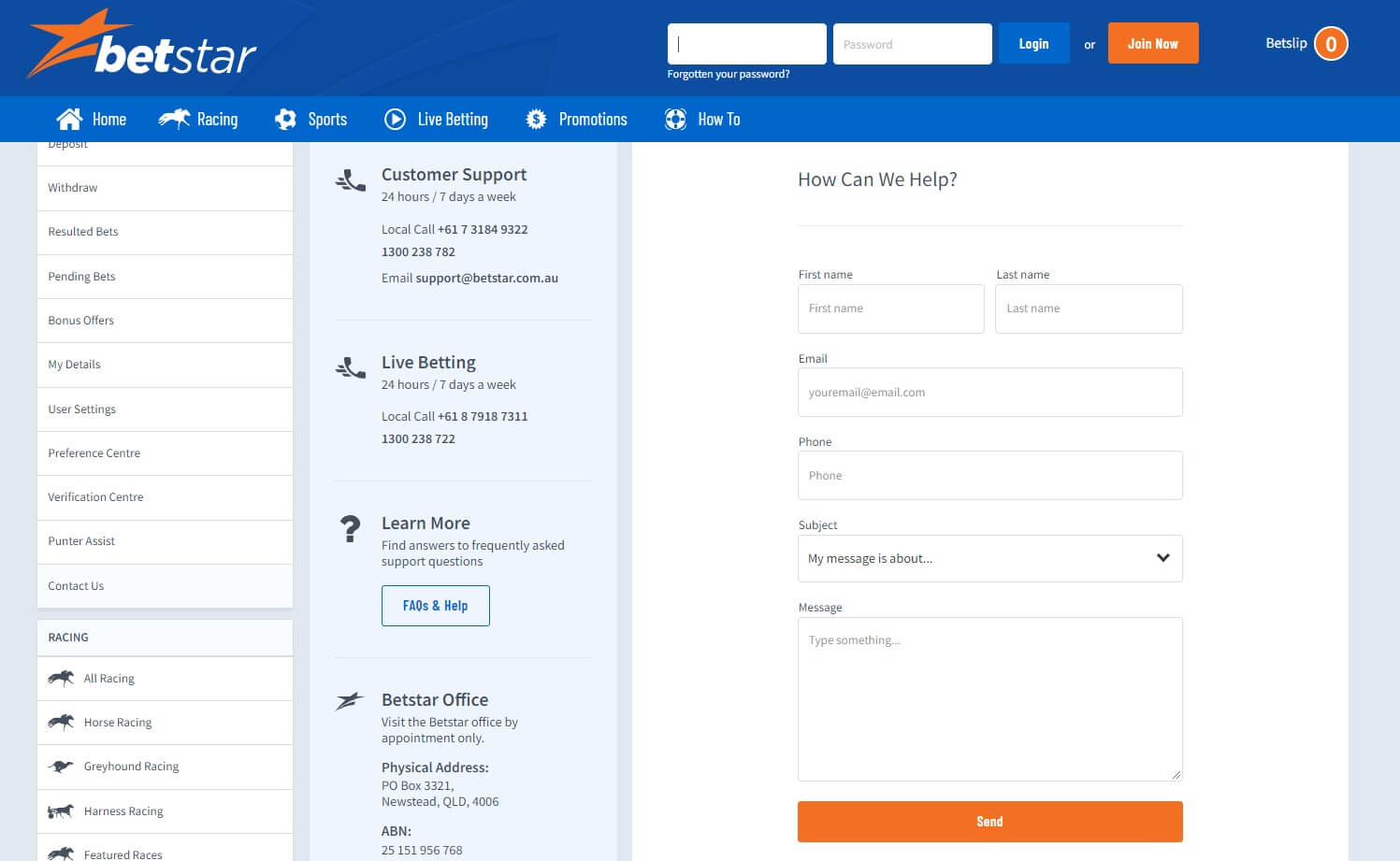 How to Create a BetStar Account
For you to create an account with BetStar, you must be at least 18 years of age. If you are a minor and still continue to register or place wagers with the sportsbook, then your account will be closed soon enough.
On the other hand, if you are of legal age, then you can go ahead, and click on the orange Join Now button on the top right corner of the screen. The system will ask you to enter your full name, email address, password, and phone number.
Once you enter all this information, your account is ready to be verified! Just so you know, you must verify your account within 14 days of registration. Therefore, before you miss the deadline, make sure to verify your account with the right documents.
The usual documents that BetStar will ask of you for ID verification are a passport, driver's license, or Medicare card. If you are missing any of these documents, you may have to submit your birth registration, utility bills, or other documents.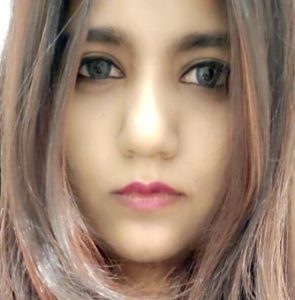 Like many aspiring writers, Jarin focuses on bringing life to the text for her readers. She is an avid sports lover, growing up in a family obsessed with bookies. She is an expert in the iGaming niche and has secondary obsessions with Gardening and cooking.