Pros
Licensed in both Northern and Southern Territory
Offers plenty of sports and markets to bet
Boombet is one of the most experienced in the country
Reliable payment methods
Rotating promotions every day
There's a Boombet blog for the latest news
Plenty of tools to gamble responsibly
Best priced bets with awesome odds
Features the biggest race events
Social media support
Cons
Races are hard to understand
No Boombet mobile app
Colour scheme could be better
Australia may not make as much noise in the iGaming industry but it's certainly there. Both online casinos and online bookmakers are regulated in the country, making it a full-fledged betting destination.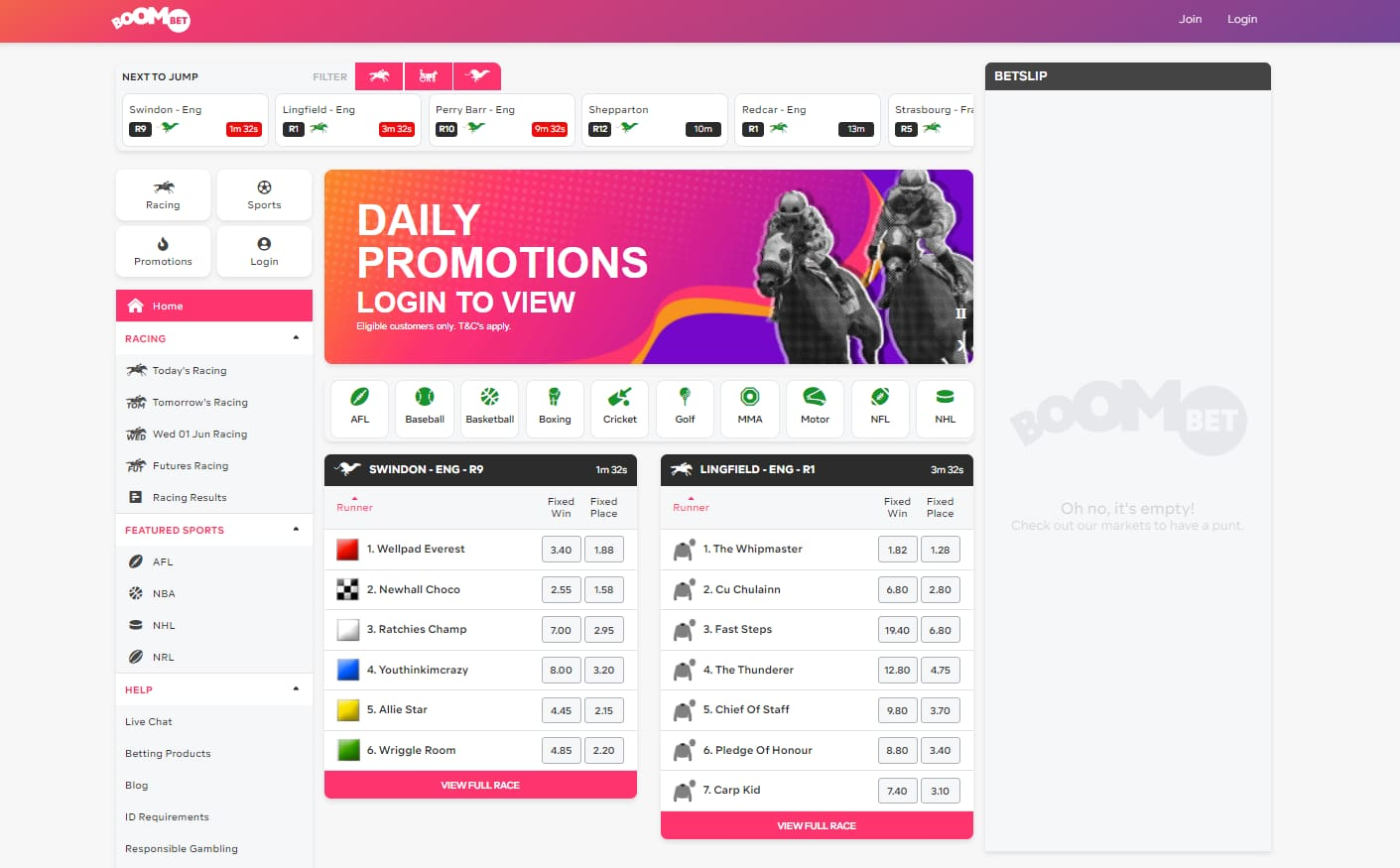 This is our Boombet Australia review, based on the Boombet and its sports betting features. Throughout , we're going to cover Boombet features, how it stands when compared to other betting sites, what sports betting markets it offers, what payment methods you can use, and plenty of other information.
Boombet Australia Background
Well, if you're an Australian reading this, you might know Boombet as sportsbetting.com.au. It recently changed its name to Boombet. It's always been one of the most prominent Australian bookmakers, despite the name.
Currently, the Northern territory of the country is regulated by the NT Government of Australia and while the Southern Part is regulated by the South Australian Gambling Codes of Practice. Boombet is strictly one of the many online sports betting sites in the country so you can't play casino games on the platform. But you can expect the best of the racing and sports worlds at your fingertips.
You'd be glad to know that Boombet is one of Australia's oldest bookmakers, starting back in 1998. Well, it was known as sportsbetting.com.au at the time.
As of now, this online sportsbook is Australian owned and operated. It has operations in Melbourne, Sydney, and Darwin.
Keep reading our Boombet review to learn more about fixed odds betting, horse racing betting, live betting, and all the other features that matter.
Promotions Boombet Offers in Australia
Boombet offers lots of bonuses to the betting audience. But then again, what online betting site doesn't? On the Boombet website, there's a section labeled "Promotions" along with sports and racing. That's where you're going to find all the promotions designed for the punters. These promotions are rotated on a daily basis and you'll need to join the website to learn about a bonus.
The bonus or promotions might be a deposit bonus, a no deposit bonus, cashback, offers on races, boosted odds, fixed odds, sign up bonus, free bets, and everything else you can imagine getting from an online bookmaker.
Similar to the betting promotions, the wagering requirements are also going to vary quite dramatically. So, it's best if we don't include any in our Boombet website evaluation. You can find out on your own what promotions are available when you do the Boombet sign up.
Fixed Odds Boombet Sports Library
Needless to say, the sports library at Boombet is the most important section for any of the online bookmakers. How many sports it offers and what types of markets are there for the punters are what makes a bookmaker good or bad.
Being one of the most experienced bookies in the country, Boombet knows what the punters want. That's why you see major leagues like the AFL, NBA, NHL, NRL, MLB, and whatnot. You'll find this big leagues on the left hand side of your screen.
When you're on the sports homepage, you'll find the complete list of accepted sports. The list includes odds for American Football, Australian Rules, Baseball, Basketball, Boxing, Cricket, golf, Ice Hockey, MMA, Motorsport racing, Rugby League, Rugby Union, Soccer, Table Tennis, and Tennis. Based on what time of the year it is, the sports betting library may change as well.
The Boombet betting platform also has a section on the top section of the homepage where you can find the latest events. Some of them might be already live while others are supposed to start very shortly. It's a very neat feature in our opinion because you get to quickly select what match you want to bet on. You can expect some great fixed odds for these matches.
If you're into horse racing betting, Boombet has a separate section. All of the horse racing matches are listed in that section with incredible details. Both local racing and sports events, as well as international events, are present. Let's learn more about Boombet horse racing markets in an upcoming section of our review.
Boombet Types of Bets & Markets
So far, we've covered the sports and odds you get to start betting at Boombet. Although it does paint a picture of what you can expect, it's not a complete picture. For that, you'll need to learn about the betting markets this bookmaker offers.
A "market" in sports betting is individual bets you can place. For example, if you place money on which team is supposed to win the semi-final match of AFL, that's a market. Similarly, how many goals there will be is also a market.
The nature of the markets is to change from sport to sport. So, the markets you find for Australian Rule will not be the same as the markets you find for football.
When you're in the sports section of the website, you can click on any sport to see the available tournaments. If we take cricket as an example for the Boombet website, some tournaments are ICC Cricket World Cup, ICC ODI Championship, International Test Matches, Ashes, etc. It's understandable because cricket is an extremely popular sport in the country and very few teams in the world are as capable as Australia.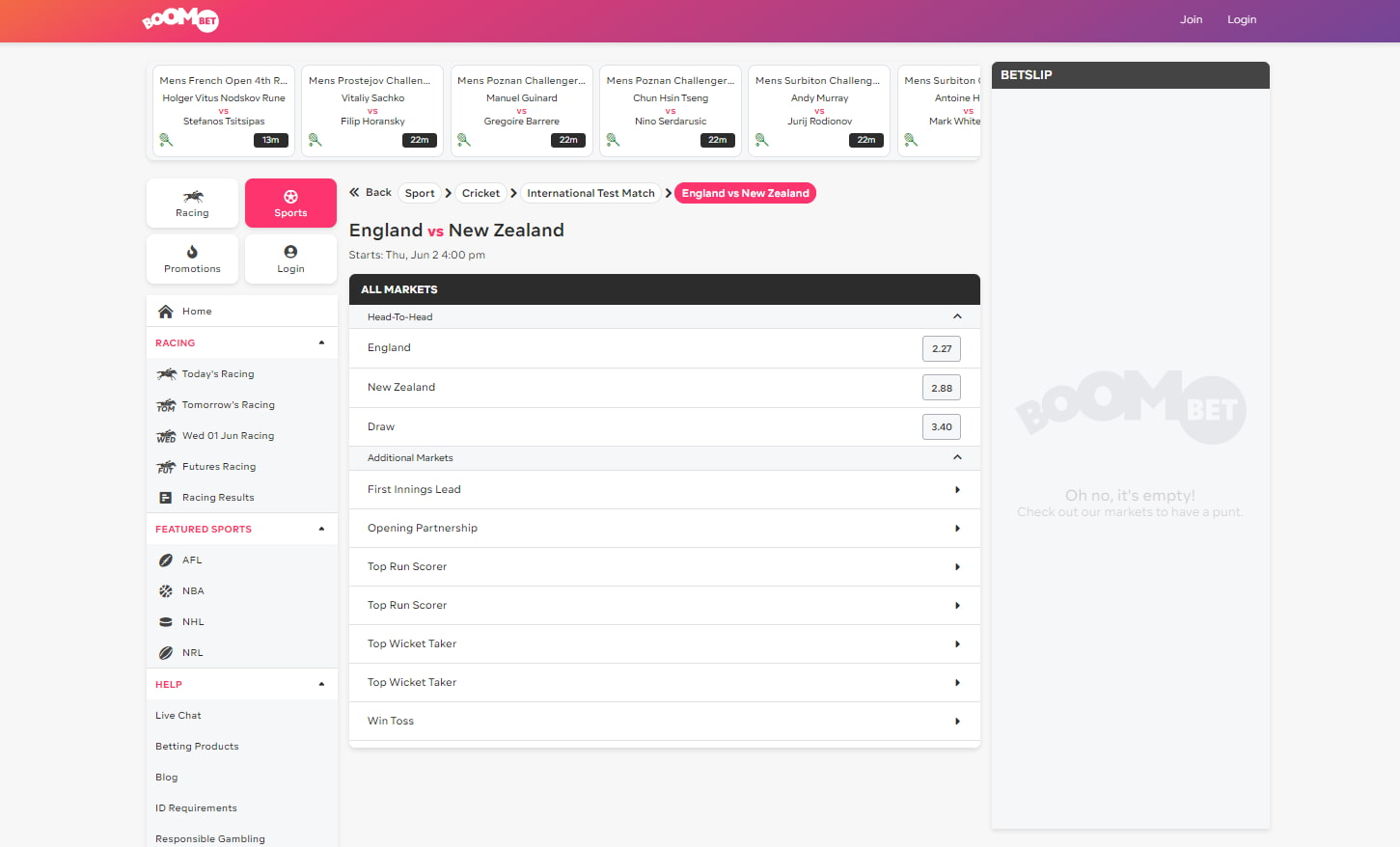 As you go deeper into the website, you'll see the matches. Finally, when you click on a match, you're going to find the markets along with the odds for that.
Some very common markets for cricket offered by Boombet's platform in Australia are 1st wicket dismissal, innings runs odds even, most match sixes, win toss, highest opening partnership, and so on.
As you can see, anything and everything can be a market as long as the bookmaker is creative enough. From what we've seen, there are very few online bookmakers in Australia as creative as Boombet.com.au.
Just like cricket, all of the other sports have plenty of markets for the punters. Universal ones like outright, over/under, points spread, handicaps, racing odds, etc. all offered for Australian punters across all sports.
Under the help section, there's a page labeled betting products. You'll find explanations for all types of bets and how to use the service to your benefit.
Horse Racing
Before we close on the markets, we promised that we're going to dive a little deeper into horse racing. Let's just do that.
The reason horse racing and sports betting are separate on this Australian owned bookmaker is that betting on horse racing is not the same as betting on sports. You'll get the idea as soon as you look at the interface.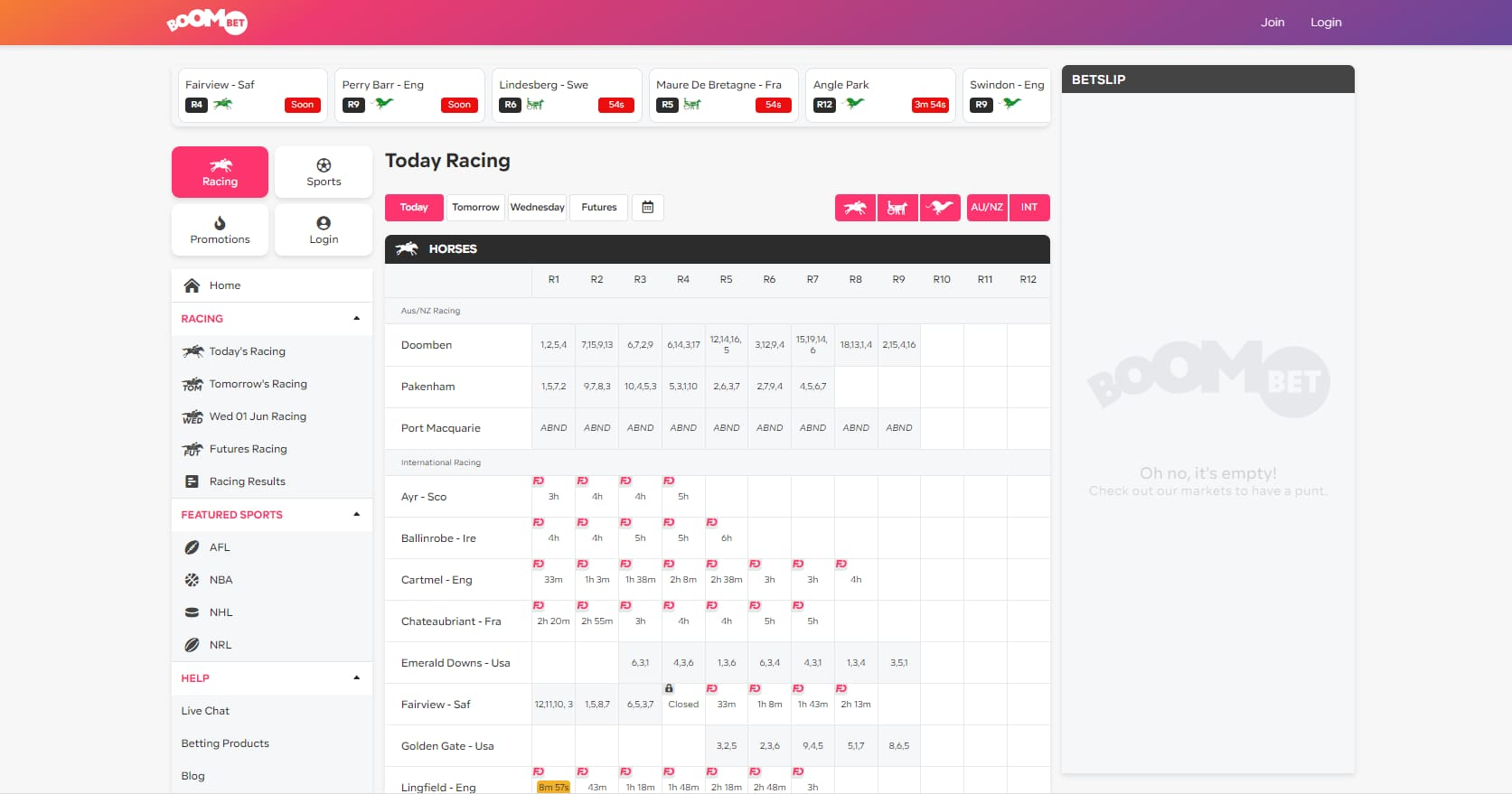 On the left hand side of the interface, you'll find the names of the horses. There are markets like a fixed win, fixed place, best tote, and middle tote. The odds are in decimal format as Aussie punters use it most often.
Real Money Payment Service
In our Boombet review, we're going to explore the deposit and withdrawal methods quite thoroughly. It's because you won't be able to participate in any of the bookie activities without a real money deposit first. So, what methods does BoomBet Australia offer to the punters?
You'll find all payment-related information in the T&C section. It's actually a PDF document that contains the support information and rules for the races and the sports.
On that page, the listed deposit methods are POLi, credit/debit cards (Visa, Mastercard), BPay, and Bank transfer. If you're using BPay, use code 23580 for Boombet's payment. As for the bank transfer, you can only do it from Monday to Friday between 8 AM and 3 PM. This service may take up to 3 business days to credit so we recommend sticking to the other ones.
The minimum deposit at the bookie starts at $10 only. The same goes for the withdrawal service as well. However, you can't use the same methods for withdrawals. You're only limited to Visa, Mastercard, and bank transfer. For the account transfer, you must pay a $30 fee. You must also verify your identity to become eligible first. Withdrawals are processed every day during the week so make sure you don't put in a request right before the weekend.
Boombet Mobile App & Features
Mobile compatibility is something we don't seem to think about much. Mobile devices such as smartphones and tablets are so common that we take it for granted that any website will run. While that's true to a certain extent, it doesn't apply to apps.
Well, if you're looking for the Boombet app, sorry to disappoint. You're not going to find any app. Boombet is a web-based online bookie with a very nice colour scheme on the website, the website you can run from your mobile devices. But a mobile app is out of the question for the time being. It's something we don't like about this bookie because it's been in operation for over two decades. It should know what the punters want.
For testing, we opened the Boombet page from both Android and iOS devices. There might not be an app but you can't deny how awesome the platform runs. It's like you don't even need an app in the first place.
Boombet Customer Support Features
Customer support is and always will be an important section of our evaluations. The Boombet review is no different. To know about Boombet's support structures, you'll need to navigate to the "Contact Us" page.
On that page, you'll find the live chat button for Boombet, social media links, telephone number, and email address. The problem with the live chat is that it doesn't run 24/7. It's another drawback in the Boombet's account because live chat is supposed to run 24/7, that's the point. Instead, it runs from 8:00 AM to 10:30 PM every day of the week.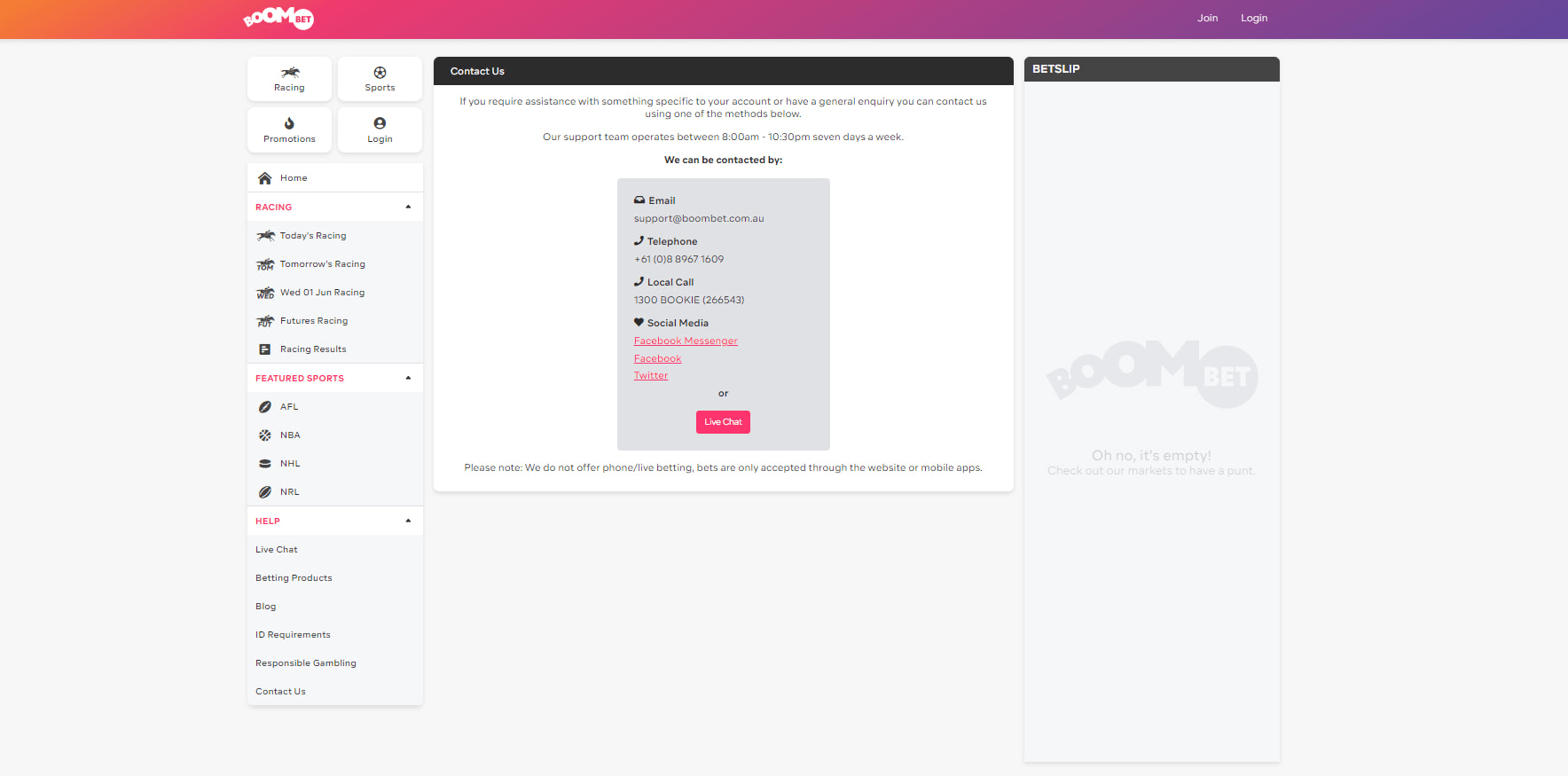 If you want to call the Boombet bookie from inside Australia, dial 1300 BOOKIE 266543 or +61 (0)8 89671609. Social media support includes Facebook and Twitter.
As you can see, the bookmaker has covered pretty much all the bases a punter might need in the country to reach out. So, you shouldn't worry about how good the service is. It's excellent.
How to Create A Boombet Account
To participate in gambling, you'll first need to do your Boombet sign up. Opening a Boombet account is identical to opening accounts with any other platform on the internet. Just follow the steps below to get started with this bookmaker.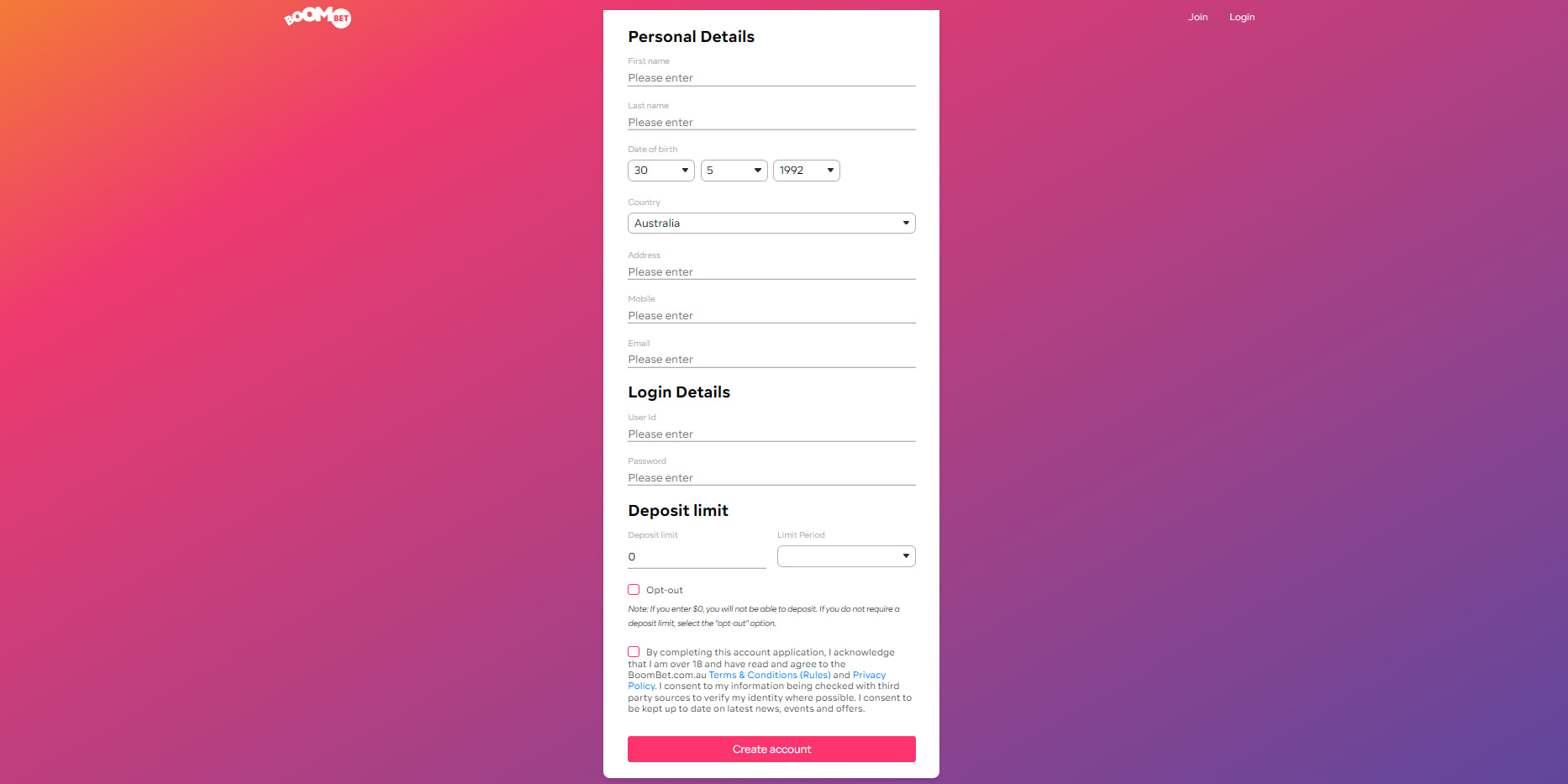 Visit the Boombet customer homepage. Located the "Join" button in the upper right corner of the website.
On the registration form, enter your name, date of birth, country, login details, deposit limits, etc. information. If you have any Boombet offer code, now would be the time to enter it.
Verify your phone number and email address before your account can be activated. Once your account is verified, you can start with the minimum deposit to access the full range of service from this one or any other bookmakers in the country.
Although there is no Boombet app, you can use the Boombet mobile interface to deposit, contact live chat, enter racing codes, harness racing, racing and sport, or anything else you want to do on Boombet. An app is not necessary.
Wrapping Up the Service of Boombet Australian Bookmaker
Betting sites in Australia are not very hard to come by. But finding one as amazing as Boombet doesn't happen very often. opening the account is simple, funding it is simple, and finding the best priced bets are simple even for racing and sport events like horse racing and greyhound racing. Of course, how can we forget the promotions, the excellent mobile support without the app, all the races, and everything else?
Overall, we really like Boombet in all its glory. If you're looking for a reliable option in the country, it doesn't get any better than Boombet.
And don't forget to gamble responsibly.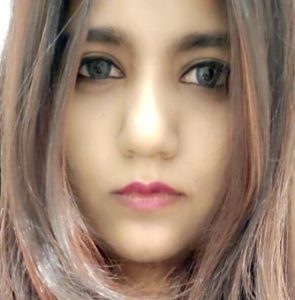 Like many aspiring writers, Jarin focuses on bringing life to the text for her readers. She is an avid sports lover, growing up in a family obsessed with bookies. She is an expert in the iGaming niche and has secondary obsessions with Gardening and cooking.