Pros


Licensed and regulated by Northern Territory Gaming Commission

 

Assorted betting options for daily fantasy sports players

 

Live stats of every season available for AFL and NRL games

 

Innumerable collection of daily fantasy sports and racing

 

Both desktop and mobile app support

 

Proper responsible gambling policies are practised

 

Big cash prize pool contests are hosted on its Twitter profile


Cons


No bonus promotions are available

 

No live chat support

 

Limited options for deposits and withdrawals


Draftstars is one of Australia's favourite sports platform when it comes to Daily Fantasy Sports (DFS) Leagues. The fantasy sports platform was created by the combined effort of CrownBet, Fox Sports, and Seven West Media, and it has been a success ever since!
Based in Melbourne, Victoria, the betting site is owned and powered by PlayUp Interactive Pty Ltd. You can check the stats of all the major AFL, NRL, NBA, and MLB players of the country on the website and its social media pages like Twitter.
Creating a profile on the site is also easy. You just have to meet some minor criterias. With that being said, we can't wait to share with you all the juicy details of this fantasy sports site in this review!
Draftstars Promotional Offers 2022
The promotional offers available on Draftstars are unique and multifaceted. These contests are frequently posted on its Twitter profile with big cash prizes and a limited timeline to participate.
Generally, the cash prizes range from $5,000 to $40,000 and are assigned before big fantasy games like NRL and AFL. These daily fantasy promotional offers attract many top players in Australia who are experts in analysing team stats and betting for the win!
Make sure you check Draftstars Twitter profile in 2022 so that you don't miss out on any of the round today. Apply for the contest as soon as possible to increase your chance to win $5,000 in fantasy sports!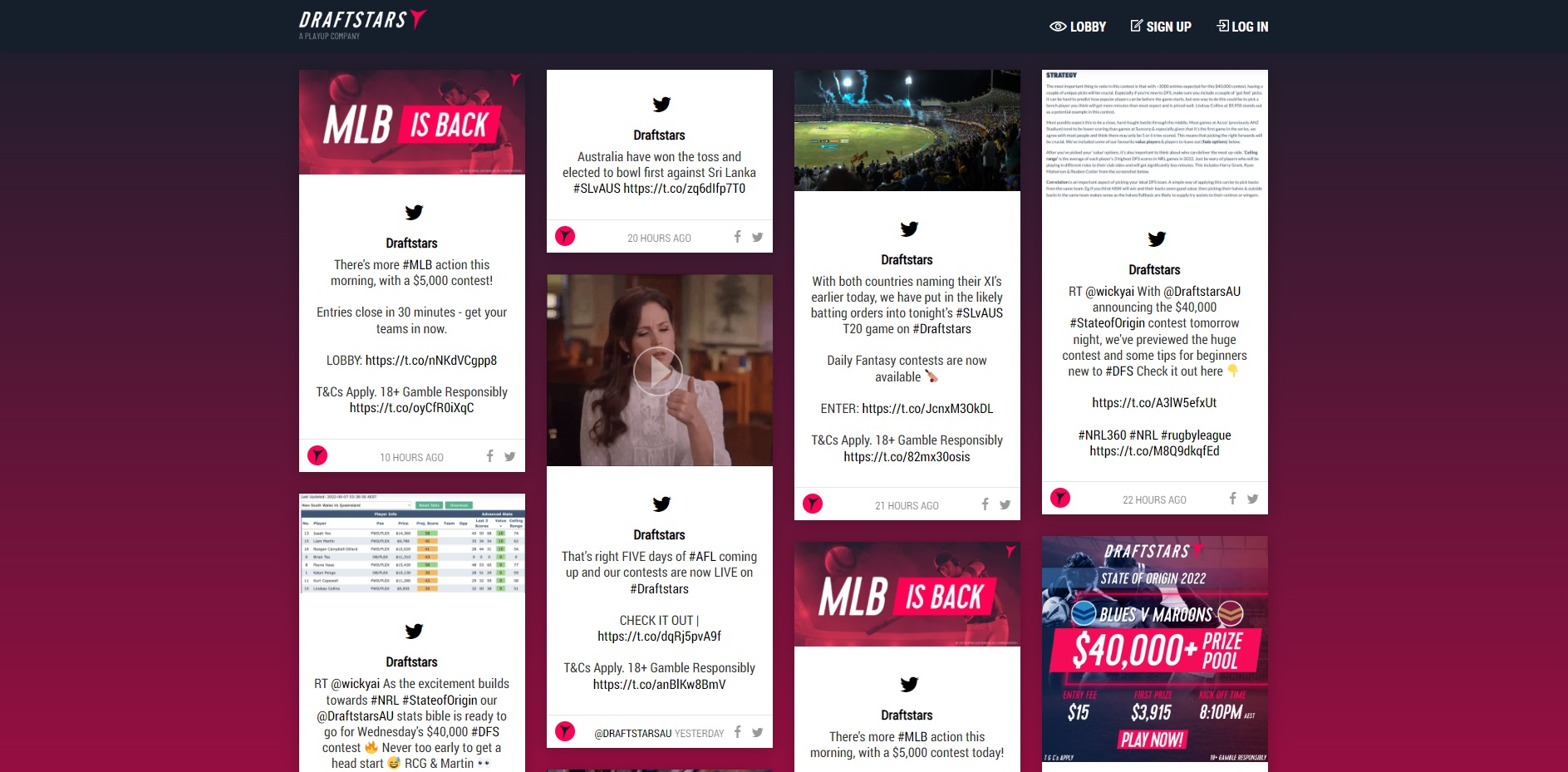 Betting Options on Draftstars
The fantasy sports betting options on Draftstars Australia can be classified into 3 major areas: Classic, Head2Head, and Rapid Fire. There is another option that is coming soon to the Play Up community, which we will touch on at the end of this section.
Classic
The Classic game round involves choosing a fantasy sport from the lobby and creating your lineup. Here, the higher your daily fantasy sports points, the more cash prize you can win from the sport pool. Your players accrue game points based on stats as well.
Head2Head
This betting round is really fun in the sense that you can go head-to-head with other Draftstars members. Visit the lobby and select a contest, and get creative with it! You can build your own match, the number of contests, and the lineup. The more entries there are, the more chance you have to win!
Rapid Fire
Another way to win a huge cash prize pool is by entering the Rapid Fire contest to score more daily fantasy points.
To elaborate, in Rapid Fire 3, the profile user must choose 3 fantasy sports participants with the highest scores, and win. In this round, there is a 1.8x return on your entry fee.
In Rapid Fire 5, the user must select 5 fantasy sports participants with the top scores. In this round, you get a return of 20x of your entry fee.
When the player is dealing with the fantasy sport Formula 1, the driver who finishes the race first wins 1 point, and the one who finishes in second place gets 2 points. As a result, if you bet on the driver with the lowest stats, you win.
Tip King
Tip King is a new contest that Draftstars is launching where customers will compete with each other over tips. We still don't know how this platform will take off, but we are looking forward to it!
Draftstars Fantasy Sports Market 2022
When you visit the lobby of DFS service in 2022, you can see a huge lineup of Australia's number 1 team, such as the Australian Football League (AFL), National Basketball League (NBA), National Football League (NFL), Major League Baseball (MLB), National Rugby League (NRL), golf, cricket, World Cup sport games. and horse racing.
In fact, there are more than 15 different fantasy sport betting lineup that covers both Australian and international games. Check out the game stats, top players, big games, and contest round from available Draftstars news and articles before wagering on the daily fantasy sports and games.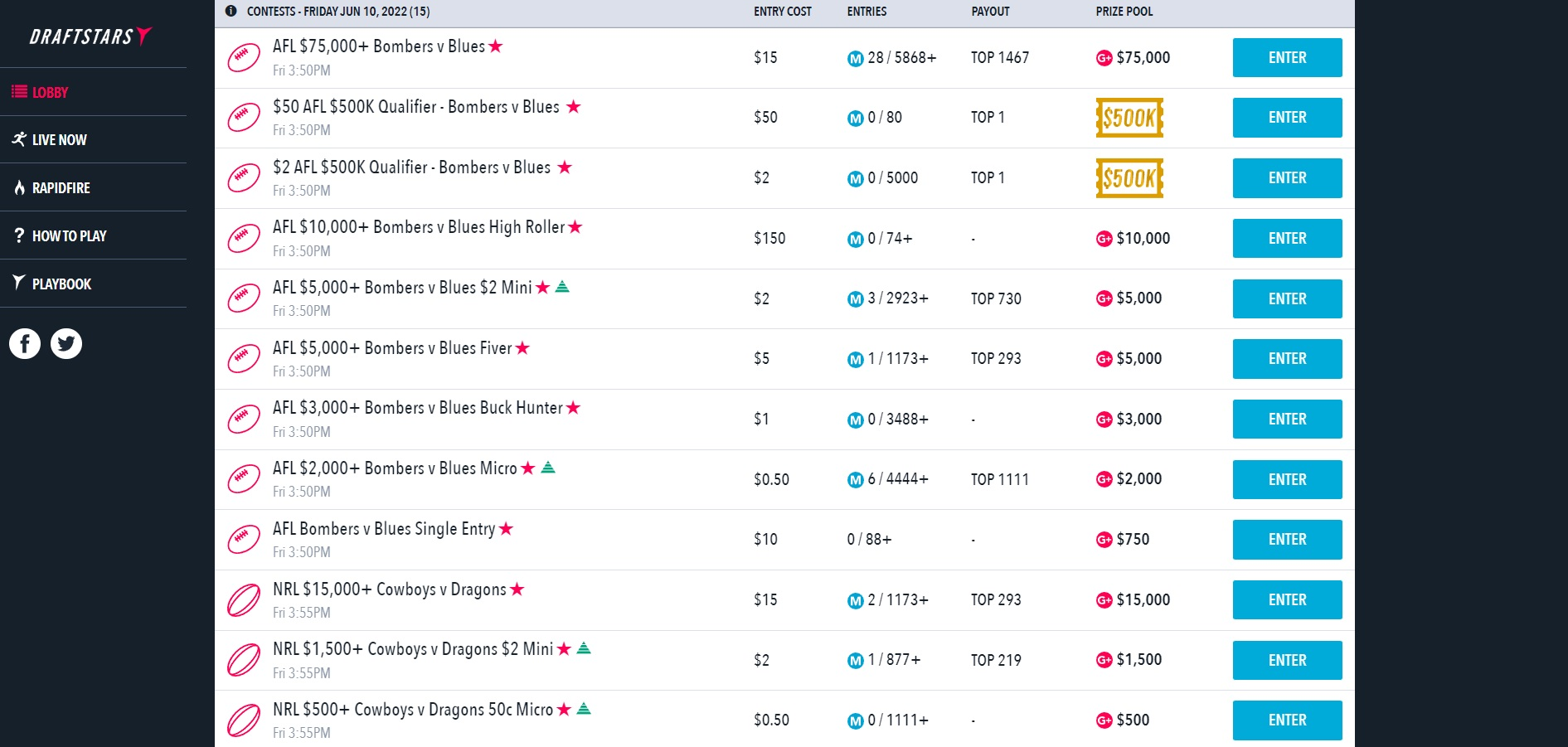 Draftstars Fantasy Racing Market 2022
In 2022, Draftstars daily fantasy sportsbook also allows horse, greyhound, and harness racing for the Australian betting community. Pick 1 horse from each leg of the contest, and you will receive fantasy game points for a Win and Place.
The contest also involves you competing against other punters for the cash prize in 2022. You can even boost your chance of winning by adding multiple entries. Draftstars offers free tools to help in this case. The Play Up swap tool can modify your lineup if you choose to change it before the race.
Furthermore, the horse racing terms and conditions are updated from time to time. To keep up with the latest rules and offers, you have to keep an eye on new changes.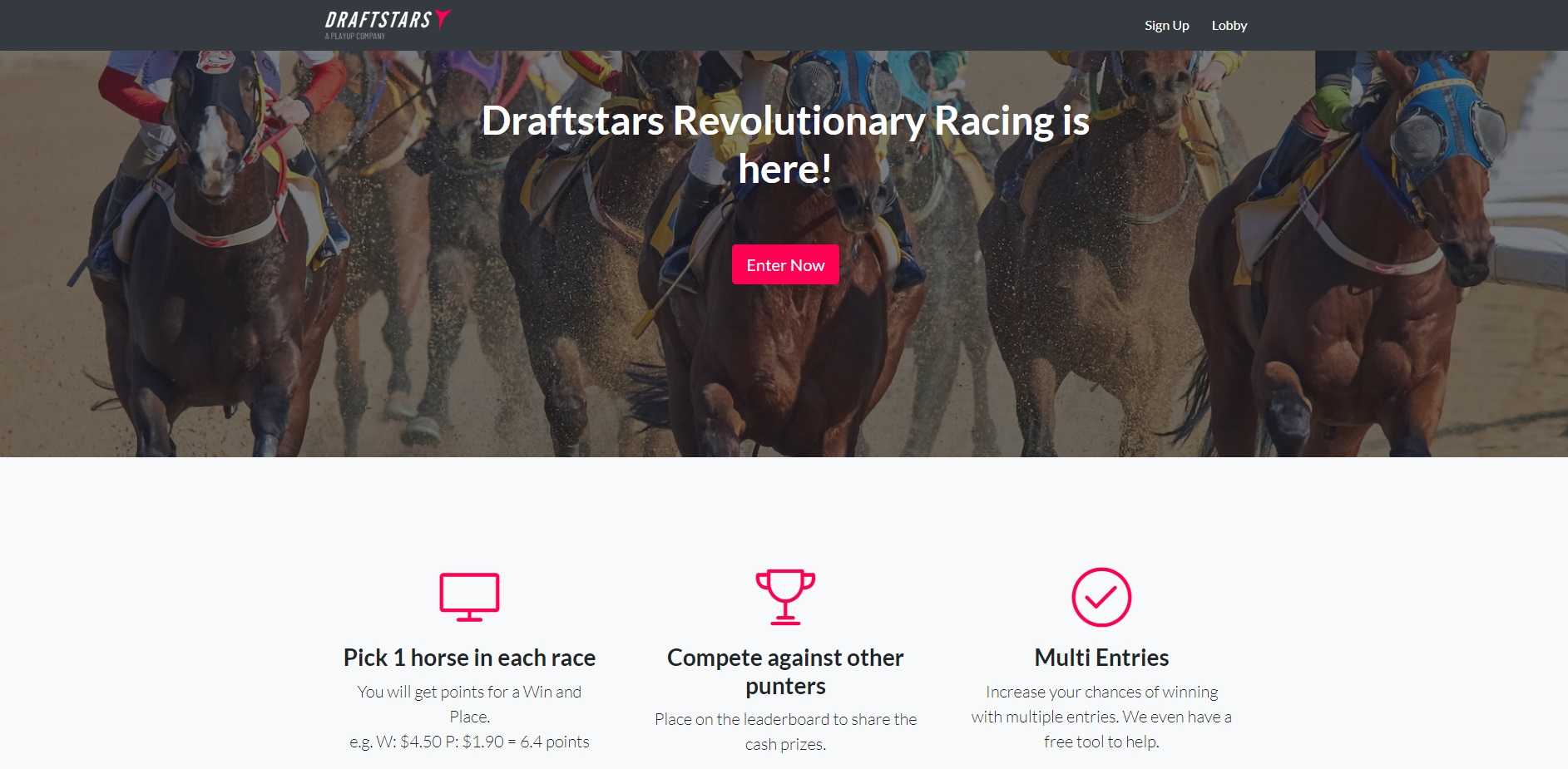 Draftstars Payment Services
In order to get your hands on the fantasy sports site's massive prize pool winnings, you have to select your cash payment methods from your player profile.
First, you have to apply for an account with Draftstars Australia with a username and password. Let the Draftstars team check your profile for authenticity, and then you can deposit cash to place bets on NRL and AFL games each season in 2022.
Just so you know, Draftstars doesn't have a wide range of payment services for deposits and withdrawals at its disposal. So, make sure that you are currently using the payment services offered by the sports site.
Now, we will explain to you what you can do to deposit and withdraw money from your Play Up profile.
Deposit Methods
If you want to join and play in the AFL and NRL daily fantasy contests of the season, you need to have a VISA, MasterCard, or POLi to make deposits from your profile.
It is true that in 2022, a big company like Play Up can come up with more deposit methods for their players, but we have to work with what we have for now.
Deposits made through VISA, MasterCard, and POLi are instant, and the daily fantasy website won't charge you for it. Also, the maximum deposit you can make per day is $1000, per week is $5000, and per month is $10,000. Moreover, the minimum deposit amount is only $5!
Withdrawal Methods
The only available option for players to withdraw cash from their daily fantasy profile is in the form of a bank transfer. To apply to NRL and AFL game round in 2022, you must draw your winnings through this one option only. However, the minimum amount that can be drawn by Australian citizens is $20, whereas, for New Zealand citizens, it is $100.
Draftstars Mobile App 2022
What drew up to the Draftstars app the most is the simplicity of the daily fantasy sports app. As such, users don't have to waste time understanding how different features work on the mobile application. Filters make it easier for customers to find contests, the best games, tips, and big prize pools.
In fact, a red button on the screen allows users to create their own betting contests regarding AFL, NBA, NRL, and other Australian sports relevant to the season in 2022. Having said that, the Draftstars app is a great alternative to the desktop site.
So, let's read about how well the app can be downloaded and installed on the best mobile devices of today.
Download on iPhone
Since there are lots of praises about the Draftstars app in the country, we couldn't wait to try it out ourselves. The download link is provided at the bottom of the site along with established partners of the bookmaker.
You can download the app from the website, and also from the App Store. When you proceed to download the app, you will see that it has been developed by Draftstars Pty Ltd., and it takes up less space on your phone as it is only 19.2 MB.
Besides, make sure that your iPhone or iPad has a device version of 9.0 or higher to be able to use all the best free features of the sport application.
Download on Android
Again, the download link for the Draftstars application is displayed at the bottom of the welcome page. But there is a little bit of work involved before you install the application on your Android device.
Go to your phone's Settings, then Software, and put a tick next to Unknown Sources. After this little adjustment, you can now download and install the application for free and without complexity on your phone.
Thereafter, open your player profile with your username and password. Observe the best betting stats, select your favourite daily fantasy sports team from the game pool, and confirm the selections. Subsequently, check the live betting options to see if you have won any prize pools from the previous round!
Draftstars Responsible Gambling
Just as any other established fantasy sports bookmakers in 2022, Draftstars also encourages and educates its players to gamble responsibly. You can change the deposit limit on your fantasy sports profile on the Menu. Just choose Limits, and apply for the adjustment today.
You can check your stats and decrease the limits by yourself. But to increase the limit, you have to contact the customer support team. Even so, the site will put you on a cool-off period for 7 days before the new profile changes are applied.
Furthermore, to gamble responsibly, Draftstars have dedicated a page to responsible gambling that includes information to check if you have a problem gambling, how you can maintain control, where you can find help if you do suffer from it, and what you can do to limit your profile so you can gamble responsibly.
A Draftstars profile user can impose time limits, deposit limits, and wager limits, self-exclude, and request a cool-off period so he can gamble responsibly. Additional information is provided to prevent minors from creating a profile with the daily fantasy sports website.
If you need to know more about how you can gamble responsibly, reach out to Gambling Help Online below:
Website: www.gamblinghelponline.org.au
Phone: 1800 858 858
How to Sign Up with Draftstars Australia in 2022
You don't have to do much to sign up with Draftstars. You just need to enter your username, password, mobile number, address, email, date of birth, and get the account verified, and then commence with daily fantasy sports and games displayed in the lobby. You must be a citizen of Australia or New Zealand to apply for a profile with the fantasy sports bookmaker.
The available daily fantasy games in 2022 are Australian Football League (AFL), National Basketball League (NBA), National Football League (NFL), National Rugby League (NRL), cricket, World Cups, and all the top Aussie season games users love to binge on!
After the free account has been created, you can enter the contest to claim prize pools after depositing the required cash amount. Just so you know, customers can check their transactions and transfer their transactional history, if they wish.
For the most part, make sure that you are 18 years or over to join the DFS community, and knowledgeable about the daily fantasy sports entries.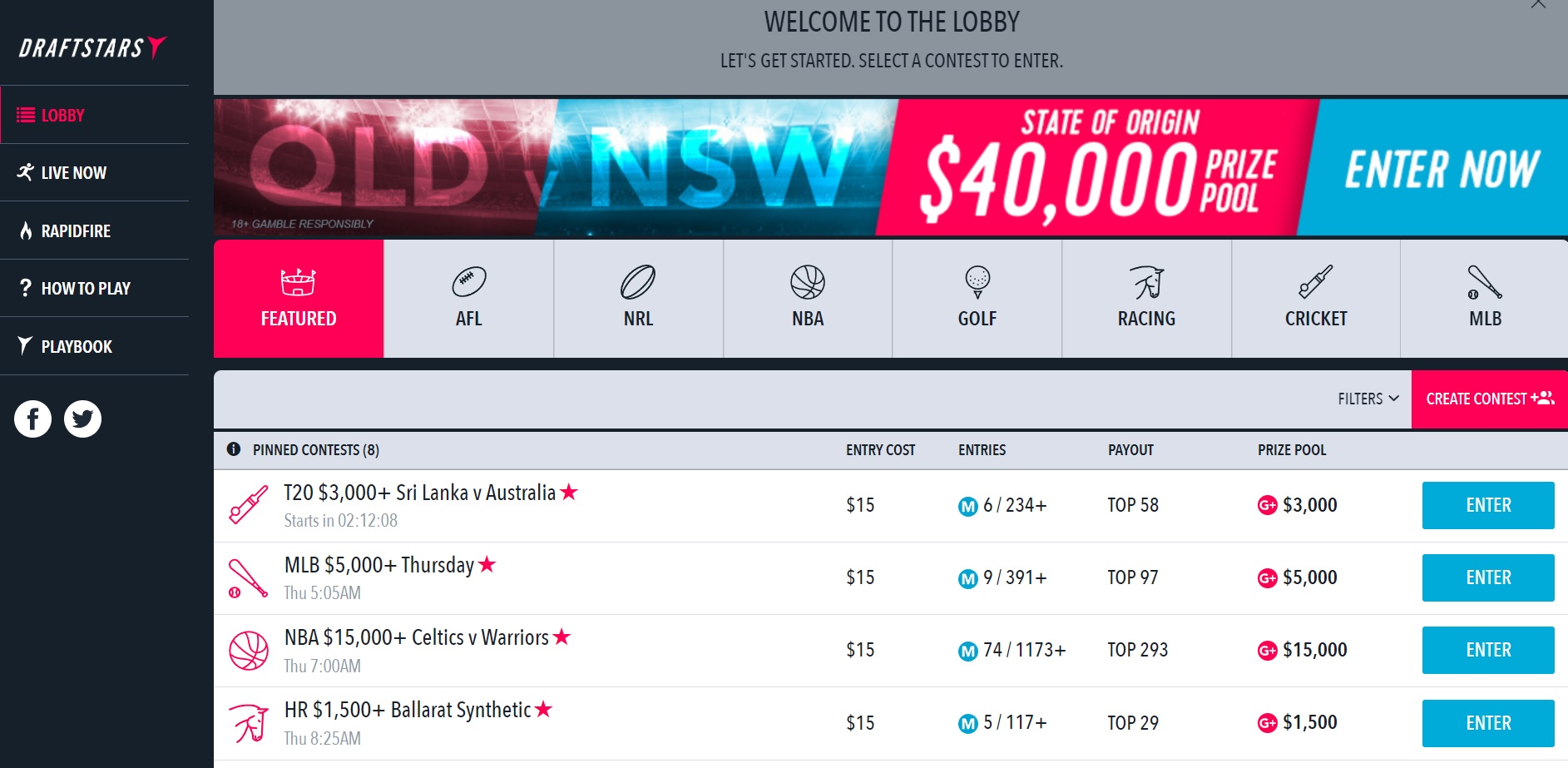 Draftstars Customer Support Features
Officially, Draftstars operates from Monday to Sunday 6 am to 12 am. However, you won't find any live chat support on the daily fantasy sportsbook, but email, form request, and FAQ options are available in 2022.
Email responses take about 4 hours, so customers requested to be patient until a customer representative reach out to them with a solution to their problems. Be that as it may, reach out to the customer service team via the following channels:
Phone: 1800 131 939
Email: support@draftstars.com.au
Headquarters: Level 27, 120 Collins Street, Melbourne, Victoria 3000, Australia
Twitter: @DraftstarsAU
Draftstars FAQ
Is it possible to see the teams selected by my opponents on Draftstars?
Generally, the player lineups stay hidden until the beginning of the contests to maintain the integrity of the match. However, you can easily view them after the fantasy games start in the live section.
How do I verify my account on Draftstars Australia?
The DFS site verifies user profile to confirm the information provided by them. In case the information doesn't match, an email will be sent for further collection of data. If you don't verify within 45 days of opening your account, your profile will be shut down.
Who owns and runs Draftstars?
Draftstars Australia is owned and run by PlayUp Interactive Pty Ltd, a company that is an expert in daily fantasy sports and games.
What is the lineup cruncher tool on Play Up?
The lineup cruncher tool lets you build your DFS game without compromising your bankroll. There are several articles available on Draftstars Play Up community that teaches you how to use the tool to check the stats, organise your bets on the fantasy sports contests, and aim for the win!
What are the payouts like in Draftstars tournaments?
The fantasy sports bookmaker has different payouts for each tournament of AFL, NBA, EPL, NBA, and NRL. You will find plenty of ways to win big money. Just check the terms and conditions on the Draftstars website or Twitter page for details.
Our Final Verdict on Draftstars
In any event, we are quite impressed with the promotional offers, betting options, horse racing market, fantasy sports market, customer service team, and mobile application of Draftstars.
Undoubtedly, no other bookmaker can beat this site when it comes to fantasy sports for sure. To enjoy the latest promotions and betting deals from this fantasy sports site, check its terms and conditions from time to time. That's all, folks!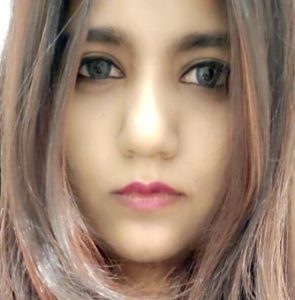 Like many aspiring writers, Jarin focuses on bringing life to the text for her readers. She is an avid sports lover, growing up in a family obsessed with bookies. She is an expert in the iGaming niche and has secondary obsessions with Gardening and cooking.