Pros
Wide-ranging markets for sports betting and horse racing
Different types of betting options and racing code promotions
Ladbrokes offers an extensive range of deposit options
Fast, secure, and optimized mobile app
Live chat, phone calls, and email support for customer care
Online race promotions and odds are competitive
Cons
No initiative was taken to offer sign up bonuses
Limited withdrawal options
The app is exclusive to Australian punters
Located in Bowen Hills, Queensland, Ladbrokes is one of the best betting sites Australia has to offer to both local and international punters. However, you have to be an Australian or New Zealand citizen to sign up with the bookmaker and enjoy promotions and bonus code from your account page.
In this Ladbrokes review, we focus on the bookmaker and its performance in the racing markets over the years through thick and thin. We will go through components like promo code and bonus options, types of bets Ladbrokes allows, markets for sports and races, payment review, responsible betting on odds and markets, and customer support.
We hope you enjoy all we have to offer in this comprehensive review of Ladbrokes. More can be found on ladbrokes.com.au.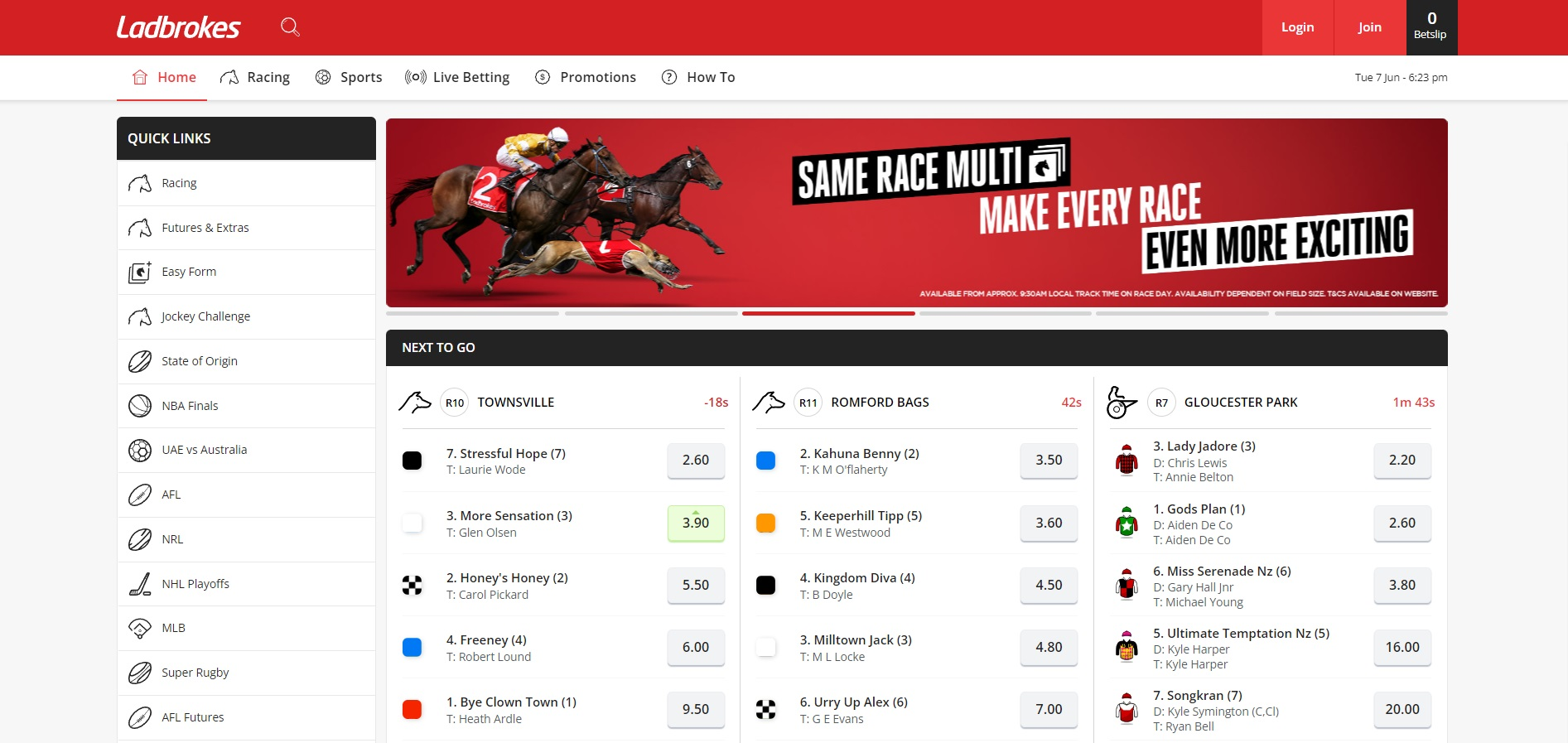 Promotional Offers of Ladbrokes
Ladbrokes Australia is part of a huge horse racing and sports industry. Therefore, to maintain order, laws have been passed regarding in-play betting on the betting markets of online bookmakers. Although individual territories have their regulations, restrictions have been imposed on Australian betting markets.
This has been done to encourage Australians to gamble responsibly for their own sake on Ladbrokes. Having said that, attractive promotions are still offered by the gambling website, Ladbrokes even though no sign up bonuses are currently dispatched.
So, let us look at what interesting promotions punters have access to on Australia's best betting site, Ladbrokes.
New Customer Offer
It is a customary act of Australian online bookmakers to offer new customers welcome bonuses, and Ladbrokes is no exception. Nevertheless, the laws have changed, and bookmakers are no longer allowed to provide new bettors with a sign up bonus.
Ladbrokes customer can still enjoy the other daily promotions that are made available by the racing and sports betting site. We will get to them in a few seconds. Just keep scrolling!
Odd and Price Boost
Honestly, Ladbrokes give their punters the best live betting experience with a minimum deposit through its online page. Instead of showering new bettors with free Ladbrokes bets and chances to win big cash money, the company helps you increase your odds on any betting market in Australia.
So, you should always keep a lookout for what is going on in the racing and sports scene by logging into your Ladbrokes account. Additionally, you can continue to learn more about sports betting while practising on Ladbrokes.
Mystery Boost
Who wouldn't love it when their favourite sports betting company offer them a mystery boost on the Melbourne Cup, AFL, MBL, or AHL? Just attending the game is enough, but Ladbrokes makes it more special by showering you with special gifts!
Ladbrokes mystery boost feature of lets you bet on easy races and sports every single day for competitive prices! To find out more about this incredible present, visit the Ladbrokes website (ladbrokes.com.au.)
Best Tote or Starting Price
Let's get clear about what the best tote really is. It is a type of bet that payouts with the highest dividends obtained from the 3 national totes that are the New South Wales TAB, the Victoria TAB, and UBET.
The dividends are changeable, so they are calculated separately in pari-mutuel betting pools on Ladbrokes. With that being said, Starting Price is the final fixed price that Ladbrokes is ready to give away to the winners.
The daily betting products offered by the bookmaker ensure that punters can bet with favourable odds without needing to use any Ladbrokes promo code.
Protest Payout
Protest payout is an occurrence when your betting horse finished the race first but gets demoted after a supported decision. Despite this incident, Ladbrokes will consider your victory in horse racing, and send out your cash prize via bank transfer, credit card, debit card, or other payment methods.
Types of Bets on Ladbrokes
Sports betting is fun on Ladbrokes because there are so many ways to bet on the sport and racing games. It is not just about which team you are betting on, but also the total points scored, the margin of the victory, and so many other options!
Let us give you a brief introduction to how each of them works on Ladbrokes.
Point Spread Odds
This occurs when you bet on a team or individual's margin of victory instead of the final outcome. The favourite team is identified by a minus symbol, whereas the underdog is indicated by a plus symbol.
Money Line Odds
Money line is as popular as point spread and total in the betting markets. In simple terms, you are betting on the team or individual's propensity to win the race or sport on Ladbrokes.
Parlay Odds
Parlay bets are made on multi sports bets on Ladbrokes. For you to win a parlay, all the legs in the bet must win. So, if you have bet on a 4-leg parlay and only 3 of them won, you will lose the bet.
Now you may be wondering why punters even resort to this type of betting. It is because you can win a large sum of money by placing a small wager! Complete the Ladbrokes sign up process, and start practising parlays.
Over or Under (Totals)
Totals are betting on a combination of odds scored between both teams or individuals. The over or under signifies whether you are betting on a total over or total under on Ladbrokes. In other words, you win when the combined score of both the teams is over the total, whereas you lost if it is otherwise.
Propositions
The proposition bet on Ladbrokes is not directly related to the final result of the game. But it does have 2 categories- player prop and game prop. A player prop is when you watch and bet on the performance of the player, whereas a game prop is when you bet on events that may occur in the game.
Teasers
A teaser is also like parlays and deals with multi bets. However, the teaser is only applicable for point spreads and the payout is handsomely large! In another word, this bet is teasing the spread of multiple games in the favour of the bettor.
Futures
Simply put, a future bet is when you wager on the future outcome of a race or sport, say the total number of wins of a team, wins at a league championship, winning a Most Valuable Player (MVP) award, the average points of a player or team, or how many yards a quarterback will throw.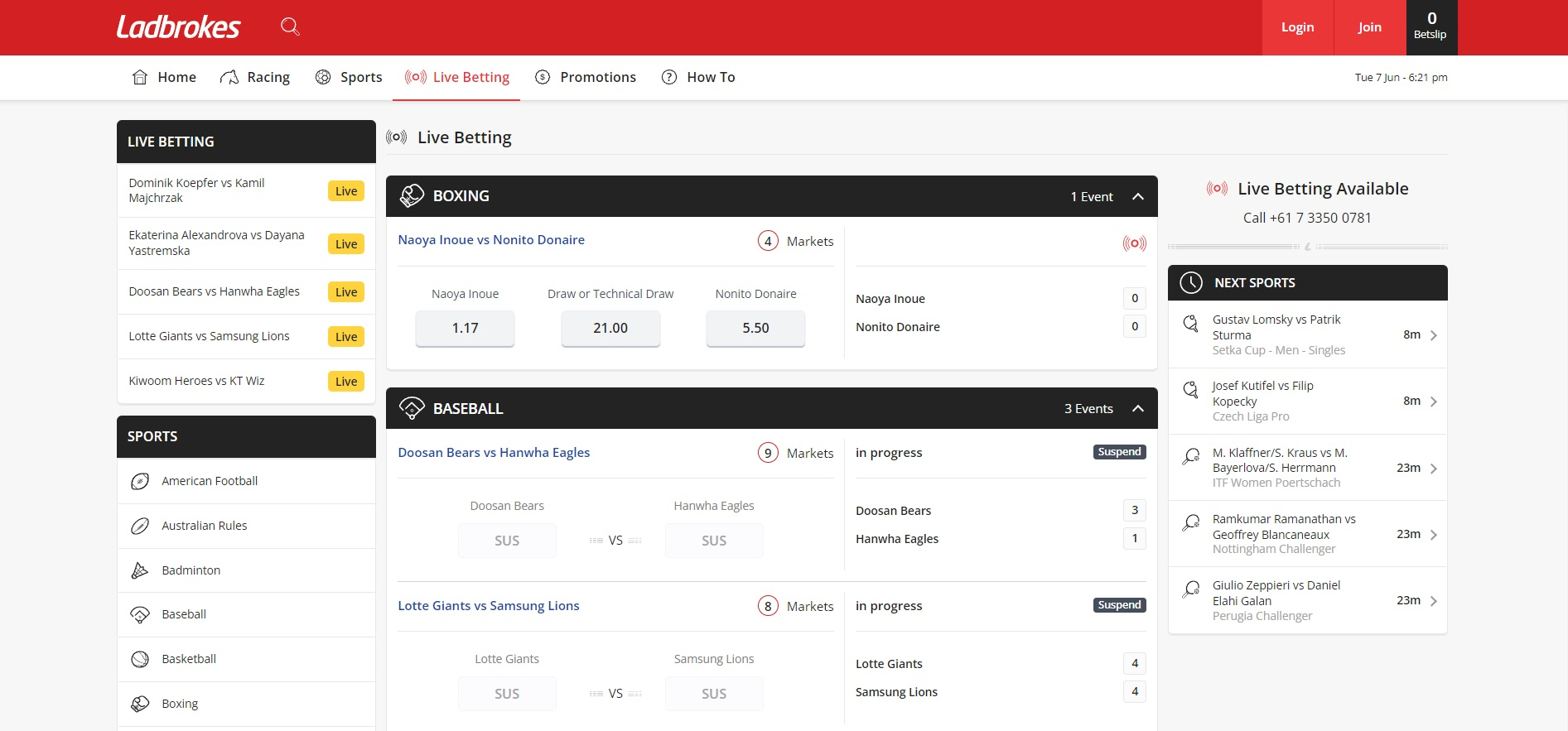 Ladbrokes Sports Markets
The sports market of Ladbrokes Australia is better than other bookmakers in the country! Let's start naming them one by one so you can get a hang of the sporting events Ladbrokes like to pride itself about!
American football, Australian Football League (AFL), basketball, boxing, cricket, cycling, darts, esports, Gaelic sports, ice hockey, handball, motor sport, netball, pool, National Rugby League (NRL), rugby union, table tennis, surfing, tennis, volleyball, Mixed Martial Arts (MMA), National Hockey League (NHL), Major League Baseball (MLB), and snooker.
To place a bet, you can choose from the popular or the upcoming options. Also, to build a quick multi, you can either choose from the favourite or the outsider selection. You can see all the sports events that will be hosted for the next 6 hours on the bookmaker.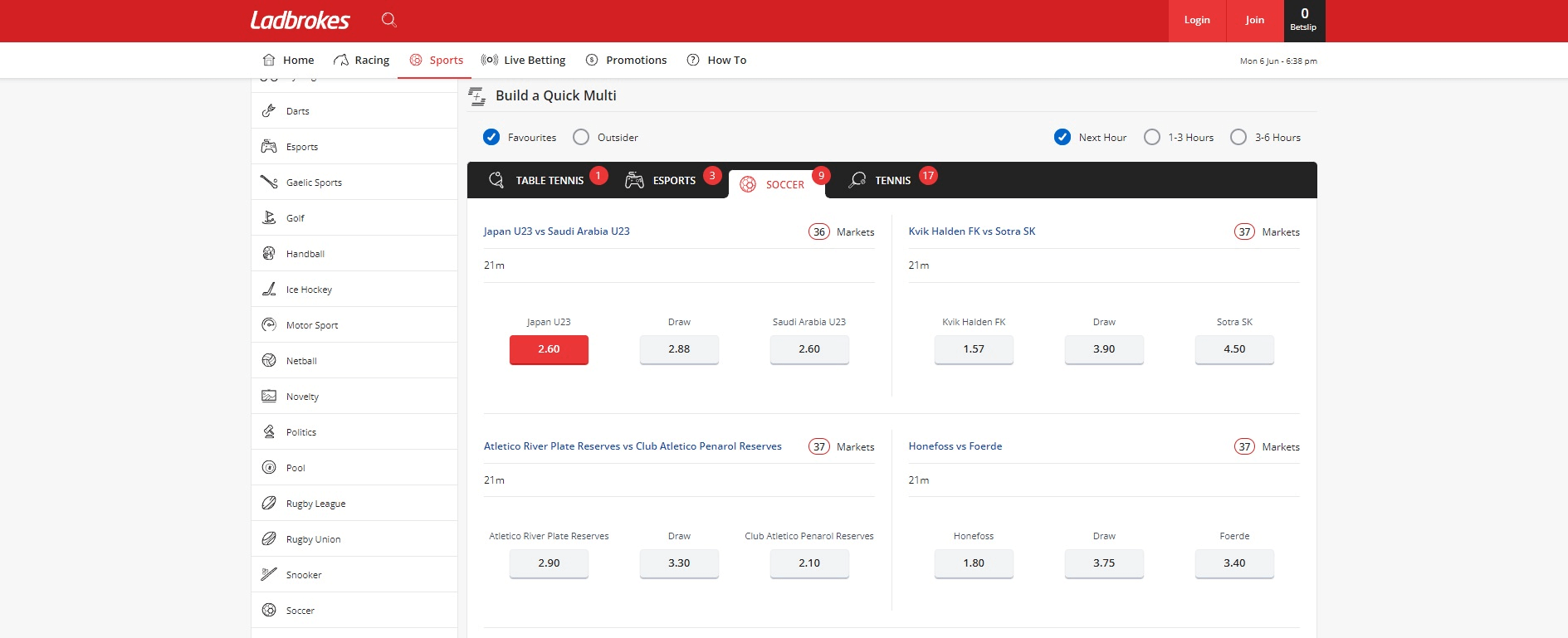 Ladbrokes Racing Markets
The Australian sports betting site Ladbrokess hosts online betting on races such as jockey challenge, harness racing, greyhound racing, and horse racing. To bet with Ladbrokes, you must complete an easy form where you can select your choices of racing, such as harness, greyhound racing, or horse.
You can choose from the following options: Won at Track, Won at Distance, Won Last Start, Placed Last Start, First Up, Favourite, Second Up, Top Trainer, Top Jockey, Barrier/Box, and Most Rides.
Besides, the runner can be chosen based on the percentage of wins, career prize, and place. To look for the best jockey, you can select from jockey place percentage, trainer win percentage, jockey win percentage, and trainer place percentage.
Furthermore, the track can be chosen based on the country, venue, and won on track condition. Not only does Ladbroke offers racing events held in Australia, but also the ones occurring in other parts of the world, such as Hong Kong, the United States of America, Sweden, Germany, United Kingdom, France, Canada, Ireland, Uruguay, and Japan.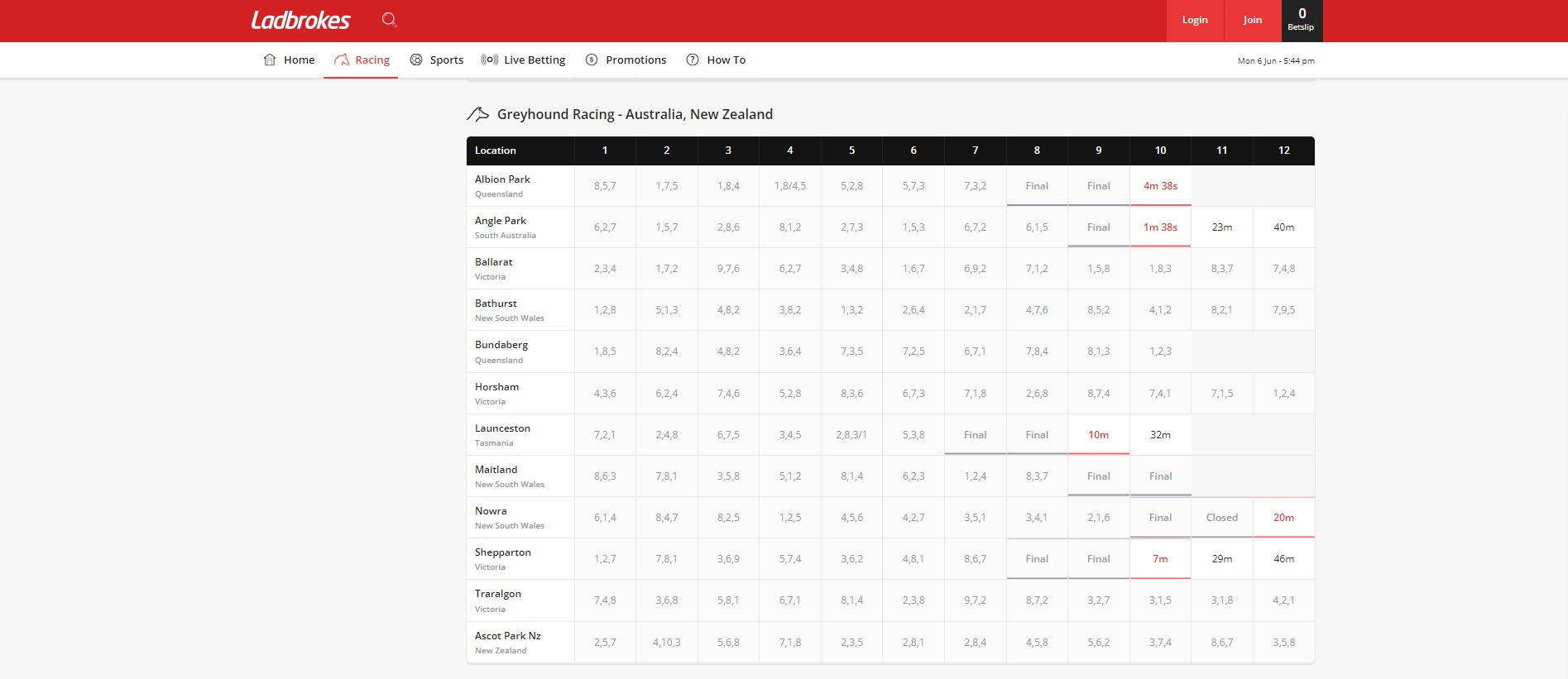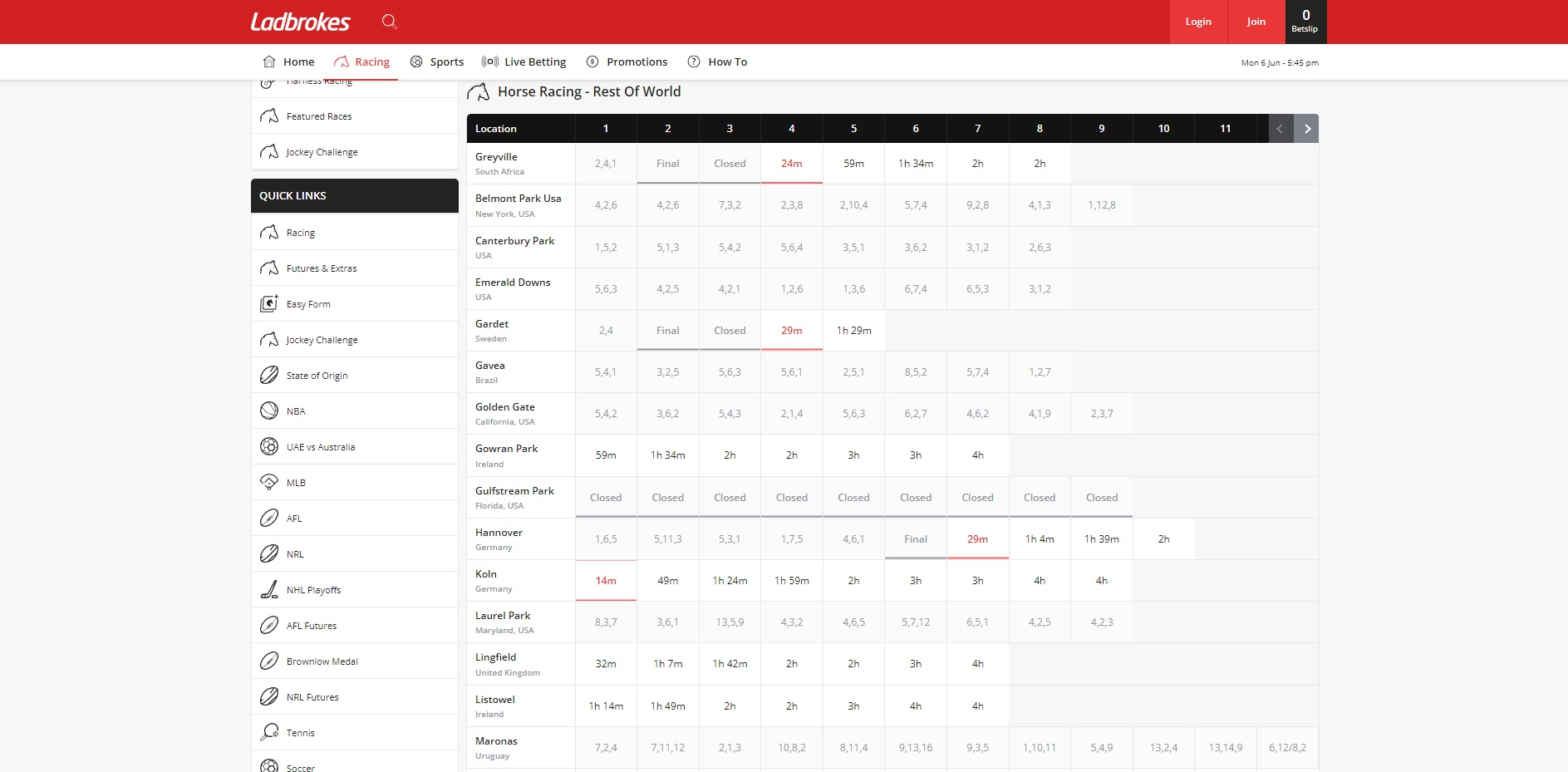 Ladbrokes Payment Services
Once you have passed the protocols of the Ladbrokes sign up page, you have to fix your payment methods for deposits and withdrawals. Let's look at your options below.
Ladbrokes Deposit Methods
Compared to all the options available to a Ladbrokes customer when drawing out money, there are more deposit options to explore to place a bet on Ladbrokes mobile and desktop. Currently, the applicable deposit methods are cash-in, Ladbrokes card, Flexepin, BPay, Electronic Fund Transfer (EFT), Pay ID, POLi, PayPal, VISA card, or MasterCard (both credit card and debit card).
Deposits are usually instant with bank cards, PayPal, POLi, Ladbrokes official card, Flexepin, cash-in, and Pay ID. EFT bank deposits and BPay may take 1 to 3 business days to process. The minimum deposit amount at Ladbrokes Australia is $10, just in case you have forgotten.
Now, let's talk about the maximum deposit limits of Ladbrokes cash and credit. PayPal only lets $12,500 per transaction, POLi lets $$100,000, the Ladbrokes Australia card lets $5000, the cash-in option has a $100 limit, and Flexepin has a $1000 limit for each transaction.
Things are a bit different when it comes to BPay, Pay ID, and EFT. The minimum amount you can deposit on BPay is $200, whereas the maximum is $25,000. The minimum deposit for EFT is $10 and the maximum amount is $500,000. Pay ID amounts are subject to the rules of the bank.
Ladbrokes Withdrawal Methods
Ladbrokes allows only 3 forms of withdrawal options, namely Ladbrokes Card, PayPal, and bank transfer or EFT. It may appear strange that a top bookmaker like Ladbrokes will only give limited options to their punters when it comes to funding withdrawals.
PayPal is a popular e-wallet service that all Australians are familiar with. There is a small processing fee applicable, but it is within the limits of 1.9% to 3.5%.
Bank transfer is also a common method to withdraw Ladbrokes cash from your bookmaker account. But it takes 1 to 3 business days for the funds to reach your account.
Ladbrokes MasterCard
Ladbrokes MasterCard can only be activated by bettors from their Ladbrokes account. After activation of this card, it will take about 7 to 10 days to arrive at your doorstep. Through the Ladbrokes Card, you can engage in contactless payment, ATM withdrawals, and Electronic Fund Transfer at Point of Sale (EFTPOS).
The Ladbrokes Card is not only limited to the sports betting company. You can use it to purchase anything online from any other store that is not even related to other bookmakers! Besides, any amount withdrawn from your Ladbrokes account to the Ladbrokes Card takes minutes to process!
Nevertheless, there are certain charges applicable to sign up for the Ladbrokes credit card. The card can only be used by Australian citizens within Australia and overseas. Also, you can't use the card for any illegal cash transactions.
Ladbrokes Mobile App
Ladbrokes mobile has a beautiful layout with comprehensive details so that punters can easily find what they are looking for. The race betting platform also informs you how much time you have spent on the games for a safer experience on the page.
Loading time is fast, and the horse racing app accepts about 11 different currencies for financial transactions. Ladbrokes mobile is fully licensed and regulated to gamble responsibly on horse racing and sports betting markets.
Downloading the Ladbrokes Australia app is fairly simple and involves no complications. With that being said, the app is perfectly optimized for mobile phones. Therefore, whether you use Android or iPhone, it won't disappoint you!
Download the Ladbrokes App on iPhone
You can download the app from Ladbrokes official website (ladbrokes.com.au) or from the App Store. For iPhone users, make sure that your phone is iOS 11.0 or above because that is the device compatibility of the Australian betting platform.
After installing the app, go to Ladbrokes sign up page and create your races and betting account. Fill up the form properly and with true details, and then start wagering on the page.
Download the Ladbrokes App on Android
To download the app, visit Ladbrokes official website or the Google Play Store. Just type the name 'Ladbrokes', and it should appear immediately. The device compatibility of the Ladbrokes betting site for Android is version 5.0 or higher.
Even if you don't have this version of an Android phone, you can upgrade it. If you don't want to upgrade though, some features of the app may not work on the older version of the phone. Make sure to sign up with your true identity.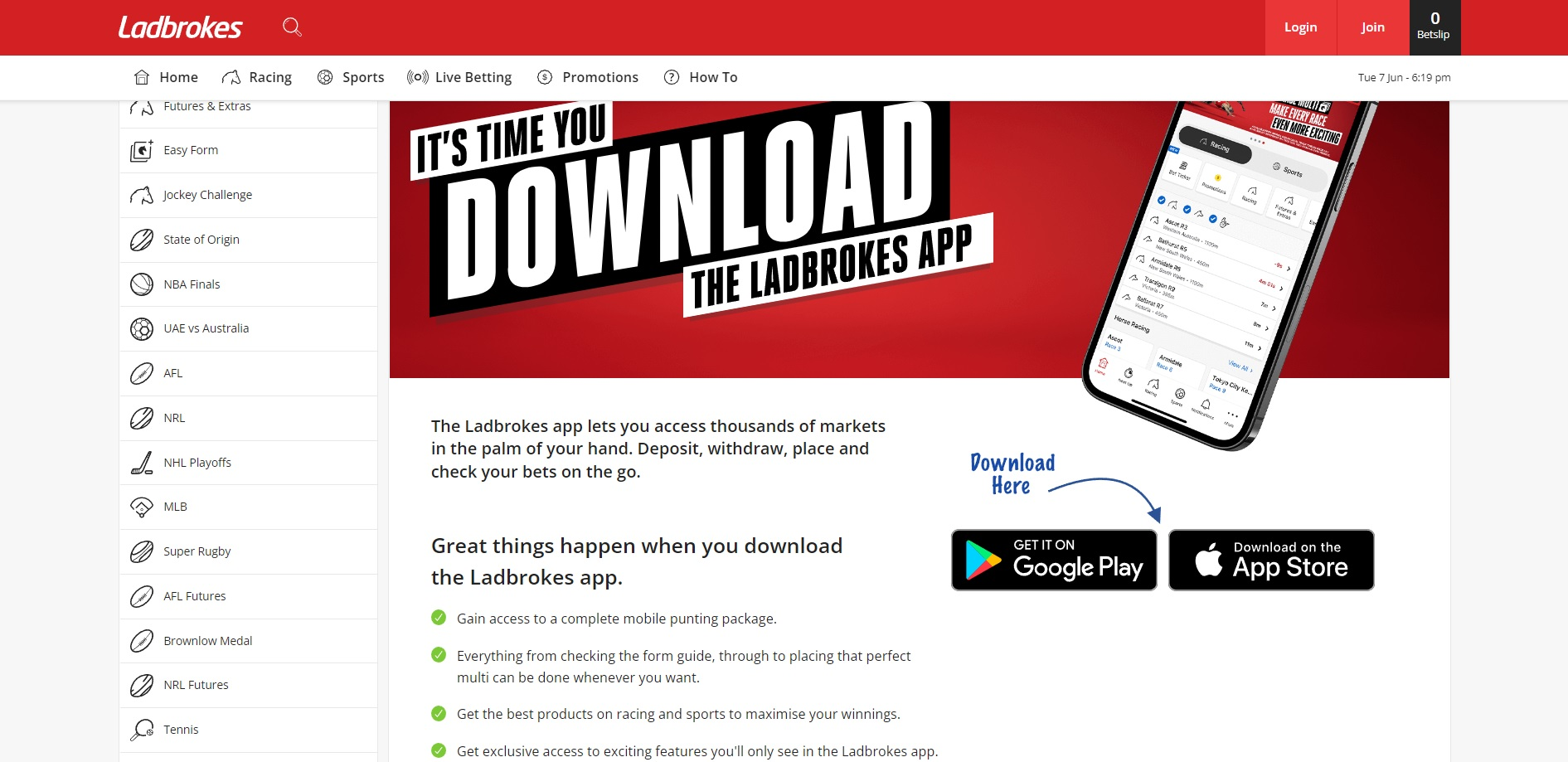 Ladbrokes Responsible Gambling
Even though gambling is a leisurely activity that most people engage in, it can have negative repercussions if used for the wrong reasons. Often, people use gambling as a source of income or to get away from their miserable reality. This behaviour results in gambling addiction, which has severe consequences in the long run.
Having said that, every sports betting site operating in Australia must practise these codes when it comes to encouraging bettors to gamble responsibly. The gambling service providers must include features like time limits, deposit limits, wagering limits, cool-off period, and a self-exclusion program on their platform.
The betting sites must also take steps to exclude minors under the age of 18 from using the Ladbrokes betting services. Parents are urged to use parental control software to prevent minors from accessing the Australian live betting page. They can use software like Net Nanny, GamBlock, Bet Filter, and Force Point.
Gambling Help Online Website: gamblinghelponline.org.au
Gambling Help Online Phone Number: 1800 858 858
Ladbrokes Customer Support Features
As expected from one of the leading betting sites in Australia, Ladbrokes's customer support team works round the clock to cater to the needs of Aussie punters. Common queries and troubleshoots concern account opening, account verification, easy form, sign up bonus and code, bank transfer, visa card, live chat, app features, copyright 2022, deposit methods, withdrawal methods, racing promotions, website review, and Ladbrokes card.
Since all of these questions can't be answered by phone, live chat, or email, the company dedicated a page to FAQ.
Website: ladbrokes.com.au
Local Calls: +61 7 3184 9343,
24/7 Call Support: 1800 523 276
International Calls: +61 7 3350 0782
24/7 Betting Line: +61 7 3350 0781
Ladbrokes FAQ
What services are provided by Ladbrokes Australia?
The bookmaker supplies a wide range of betting services to fellow punters that are mostly sports and race related. It also offers a Daily Tipping Competition for real cash. Also, Ladbrokes offers competitive odds better than any other bookmakers in Australia.
What documents do I need to verify my Ladbrokes account?
The documents that you need for account verification at Australia's Ladbrokes betting website are an Australian driver's license, Australian passport, international passport with an Australian visa, Medicare card, New Zealand passport, or New Zealand driver's license. For any complications, call Ladbrokes customer support at 1300 523 276.
How do I cancel a pending withdrawal at the Ladbrokes Australia website?
If you want to cancel a pending withdrawal at Ladbrokes betting and horse racing site, log in to your Ladbrokes account, then select Withdrawal. Find the option Pending Withdrawals, and click on Cancel. For more information, visit ladbrokes.com.au.
What other options are there other than Australia's Gambling Help Online?
To gamble responsibly on the Australian racing and betting sites, get help from the following selections:
Gambler's Anonymous: https://gaaustralia.org.au/
Lifeline: https://www.lifeline.org.au/
National Debt Online: https://ndh.org.au/
How do I place a bet on Ladbrokes bookmaker?
First, sign up with the bookmaker, and navigate to the betting markets page. Watch the odds before choosing from the racing markets. Take advantage of any bonus promotions and code if available. Then, review the bet slip before confirming the wager.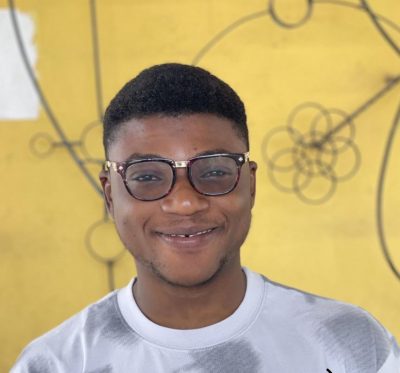 Professional casino content writer with 5 years of experience. He has been privileged to work with many popular casino brands, which are mostly ghostwritten. He's a casino player and punter too, and has helped many players to get most out of gambling.