Pros
Offers great competitive odds with $1.95 lines
A huge number of sports betting markets
Well designed and dedicated mobile app for Android and iOS devices
Regulated by the NSW Office of Liquor, Gaming, and Racing
Excellent betting service on horse races
Deposits via credit card, e-wallets and other banking methods
Cons
No live betting service
Lack of live streaming features
Customer support does not have live chat features
One of the most common names when it comes to online betting sites in Australia is Palmerbet Australia. This Australian owned and operated bookmaker has been active since the 60s. So you can be sure that it knows what it's doing.
Even in the past, Aussie punters could place their bets and trust in Palmerbet. You can also do the same with the new Palmerbet, as it promises to deliver a new and improved online betting experience at Palmerbet, the likes of which have never been seen in Australia.
Starting off, Palmerbet was already known for race bets on horses. But as the years have gone by, things have just gotten better. It also has sports to bet on. So what can you expect from the new and improved Palmerbet? That's what we're here to find out in this Palmerbet review.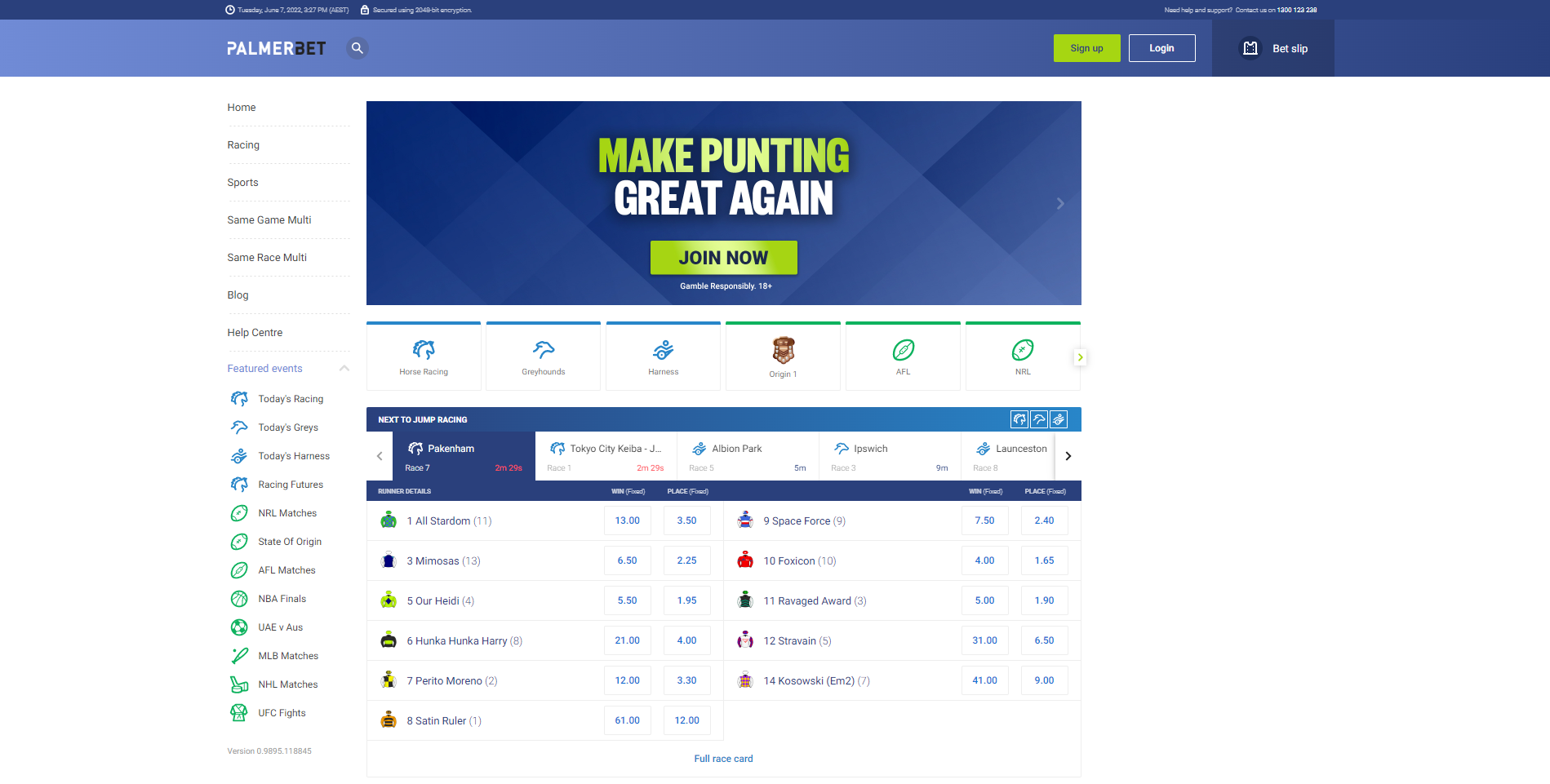 Background of Palmerbet Australia
Palmerbet Australia has some great things to offer. Before we dive deep, here's a quick look before the actual review. There's so much more to cover. Keep reading to find out!
Palmerbet offers some of the best odds on the market. The interface is powered by Bet Technology which is known for delivering a great online betting experience through its well-designed systems. They have ensured a 2048 bit encryption, so your personal information is safe and secure.
A very unique feature about Palmerbet has to be the $1.95 lines. Usually, in bookmakers across Australia, you will find lines ranging anywhere from $1.88 to $1.91. But it's only Palmerbet that offers a great deal at $1.95 per line.
Palmer bet is the brainchild of the current owners, the Palmer brothers, Grant and Andrew Palmer. They have followed in their grandfather Ted Palmer's footsteps and have taken the business farther than he could have ever imagined.
With over 30 years of experience, the brothers decided to launch Palmerbet as an online platform in 2013. Since then Palmerbet has kept growing larger and larger. Right now Palmerbet not only offers online betting on race, but it also offers sports betting as well.
Throughout this Palmerbet review, we'll be taking a look at the odds offered, the different features, and the betting markets offered. We'll also focus on some of the more important aspects such as customer support and banking.
Promotional Offers of Palmerbet
The Australian owned and operated sportsbook offers many promotional offers to its punters. These promotions can be of many kinds. Palmerbet betting is fun because of these promotions. We know that punters just love these so we had to include them in our Palmerbet review.
Palmerbet offers a wide range of promotions. There are multiple daily promotions in place at Palmerbet. You can also enjoy weekly promotions too. Dedicated bettors can also find some really personalized bonuses courtesy of Palmerbet.
You can find the promotions that apply to you by checking the notification center of the Palmerbet website. If you want a list of all the available promotions, just head over to the promotions section of Palmerbet.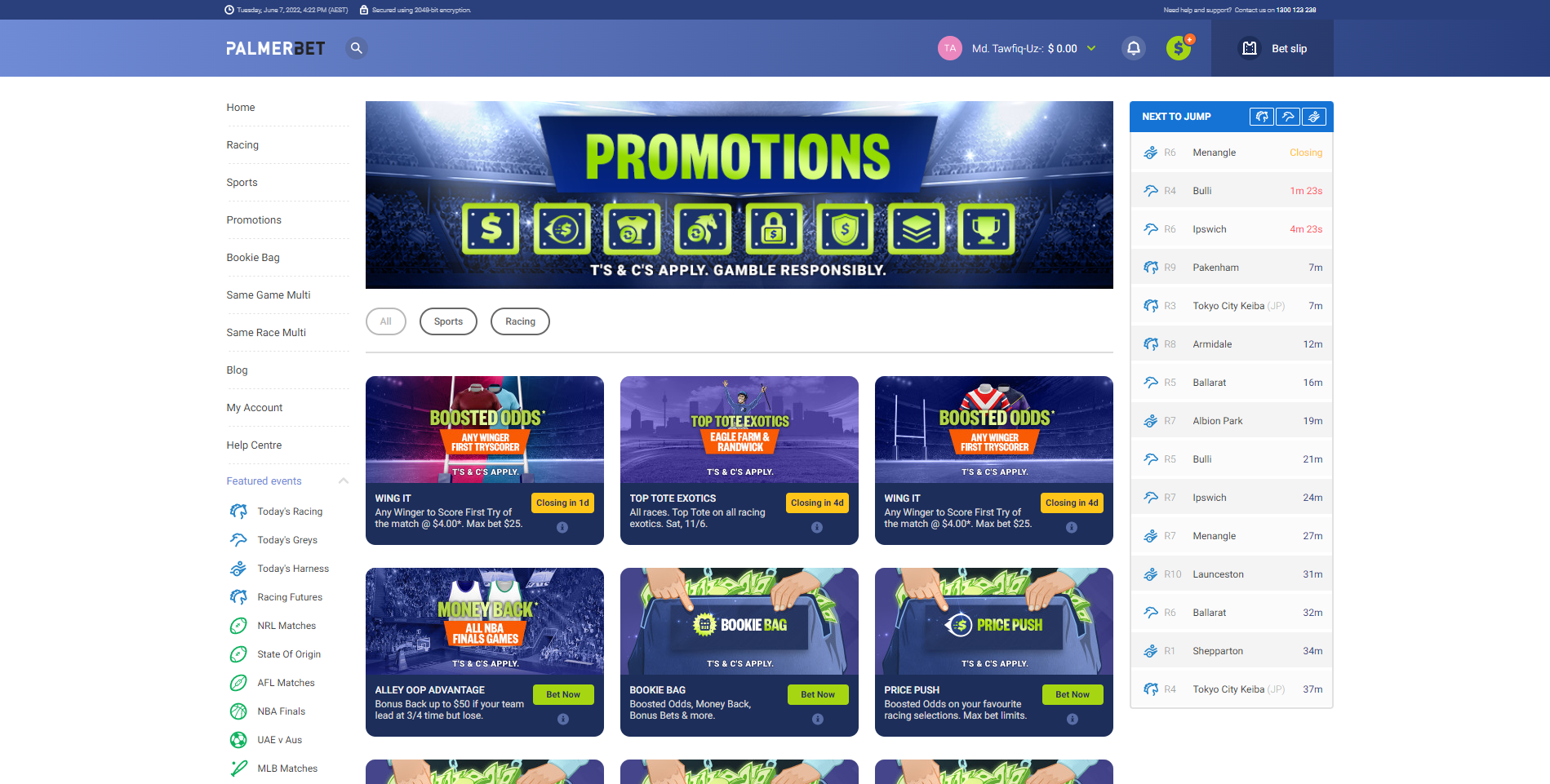 A thing to keep in mind here would be that you can't view these promotions unless you log in. You must comply with the rules of Palmerbet and the Australian authorities when you open your account. Only then you can view the promotions and all the conditions.
So what are the promotions offered at Palmerbet? Let's take a look, shall we?
Wing It
This is a daily bonus offered to the players. Eligible customers can find this bonus in their notifications. You win this bet if any winger can score on the first try of the match. You must bet a minimum of $4 up to a maximum of $25. Palmerbet gives boosted odds for this promotion.
This offer has an expiration period but returns frequently. So before enjoying this promotion be sure to check the time of expiration.
Top Tote Exotics
This promotion is applicable to select races only. You will get a payout on the highest of the 3 dividends declared. These 3 dividends will be chosen from Quibesllas, Exactas, Trifectas, First Fours, and Quadrellas.
You can't use any bonus money on this promotion. If you do Palmerbet will consider your bet to be null to enjoy this bonus.
Alley Oop Advantage
This bonus applies to the final matches of NBA Games. It's a great bonus if the team you're backing loses the match. But as a pre-condition, your supported team has to lead in the third quarter. You can get a bonus bet matching your wager up to $50 with this promotion.
Price Push
Palmerbet offers increased odds on select events. You'll see this apply to most racing bets. Simply select the "Price Push" option when you're placing your bets on the race to boost your odds.
You can bet a maximum of $500 with Price Push. It's only available on single fixed odds "Win bets" and "Multi bets". The promotion doesn't apply to Exotic or Future bets.
Race Rescue
This bonus acts as an insurance policy for the punters of horse racing. Just like Price Push, this bonus only applies to select bets. If you chose to enjoy this promotion, Palmerbet will refund your money back on the race if your horse comes 2nd or 3rd.
The amount you get back will be specified on your bet slip. But for South Australian (SA) residents, the bonus amount is capped at $100.
Price Protect
This is a daily bonus and acts as a voucher. Aussie punters can check how many vouchers they have in the notifications. Any unused voucher will expire after the time is up and there is no roll-over to use it later.
If you use this voucher, Palmerbet will reward you with the highest price based on the 3 Australian Tote dividends. The wager has to be placed on a fixed-odds WIN bet. Anything other than this is not applicable.
Game Saver
This is a sports betting exclusive bonus and can apply to multiple sports. Palmerbet give you your money back if you back a team in a match and they lose it. But there are some conditions you need to be aware of.
You can only get this bonus if the team you're backing leads the match but loses in the end. There is a leading time condition for each sport which you can find in the Palmerbet promotional terms.
The amount that you get back as the bonus is determined by Palmerbet and will be available on your bet slip. But as always for SA residents, that amount will not exceed $100.
Multi Guard Protect
Palmerbet offers some great multi-game betting options, similar to a parlay bet. Well, there is a bonus for that too. You can get your money back if you lose one of your legs in a multi-bet of 3 or more legs.
So for a bet with 3 legs, if you lose 1 leg but win the other two you will receive a bonus bet refund. Palmerbet will inform you of the refund amount on your bet slip.
Protest Payout
You can enjoy the perks of this bonus if you bet on a horse and it loses the race in the Protest. Unlike other bets, there is a fixed maximum amount that you can win in this way. That payout is capped at $2000.
The bonus only applies to protests between the 1st and 2nd place in a particular race. Any other protests are not applicable to enjoy this bonus.
Types of Bets and Markets on Palmerbet
The Australian owned bookmaker specializes in horse racing. But Palmerbet also offers betting markets on sports and racing. And you can tell when you visit the Palmerbet site. The majority of the homepage is occupied by the listings of upcoming races.
But is racing all that the bookmaker offers? Palmerbet's dedication to making it the number one platform of betting will not be possible if it focuses only on horse racing. And the owners know this fact.
That's exactly why when they launched the online site for Palmerbet, they knew they also had to utilize the sports betting markets in order to realize their goals.
And all of its markets are regulated by the NSW Office of Liquor, Gaming, and Racing (OLGR). You can view all the betting schedules provided by OLGR on Palmerbet's official site.
So let's take a look at the review of the markets that the bookmaker offers to Aussie bettors in a bit more detail.
Horse Racing Betting Markets
A great thing about Palmerbet betting when it comes to racing is that it not only offers domestic races but also have multiple international racing markets too. You can find markets from Hong Kong, the UK, France, and even South Africa.
As for domestic races, you can find the markets for thoroughbreds, greyhounds, and harnesses from all across Australia and New Zealand. Palmerbet lists all the certified races and meets Aussie bettors like yourself to bet on. So you can pick and choose whatever tipples your fancy.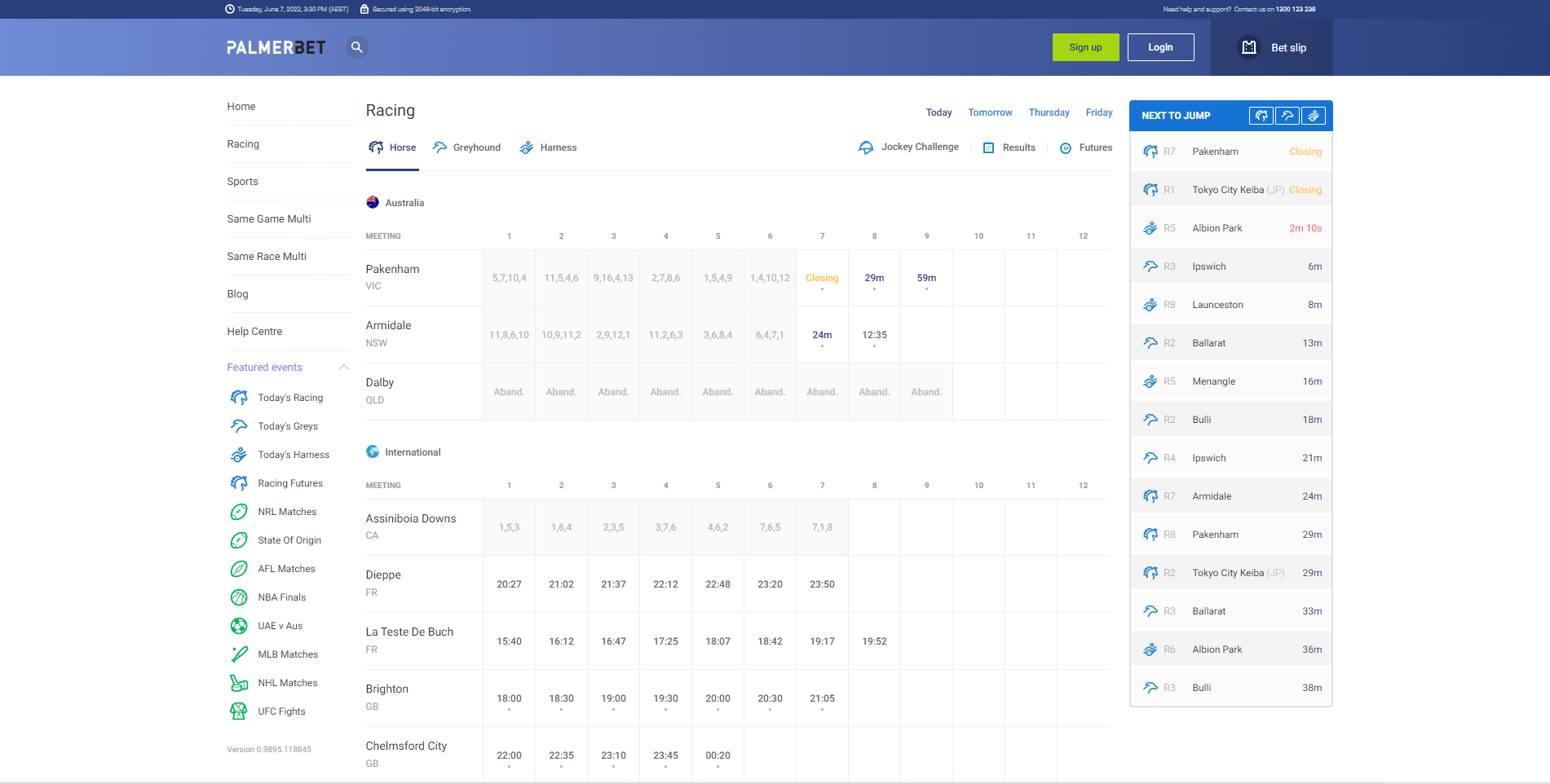 Almost all the bookies in Australia offer a similar racing market for horse racing. So why should you choose Palmerbet? Two reasons. Great promotions and better odds. You get some of the best marginal odds for racing in Australia if you decide to go with Palmerbet.
Palmerbet offers midweek and weekly promotion on the big thoroughbred meets. But what does it mean for you? It means that you have a bigger advantage over your competition if you choose to bet with Palmerbet.
Sports Betting Markets
Although the bookmaker specializes in horse racing, like all the other Australian bookies, Palmerbet Sports is focused on offering some great sports betting markets. The collection of sports you can find in its library is pretty impressive, to say the least.
Palmerbet offers more than 30 sports that you can choose from. It also offers a large range of markets that you can choose from. And as we stated before, you get some of the best marginal odds at Palmerbet. So you can always expect to get a bigger payout on sports betting at Palmerbet.
You can find great odds in almost all the sports. You can choose from sports like darts, cycling, soccer, cricket, hockey, and even esports too. AFL NRL aren't just the only leagues you can find. And the list doesn't end there, you can find all the sports that are offered by visiting the "Sports" section of the Palmerbet site.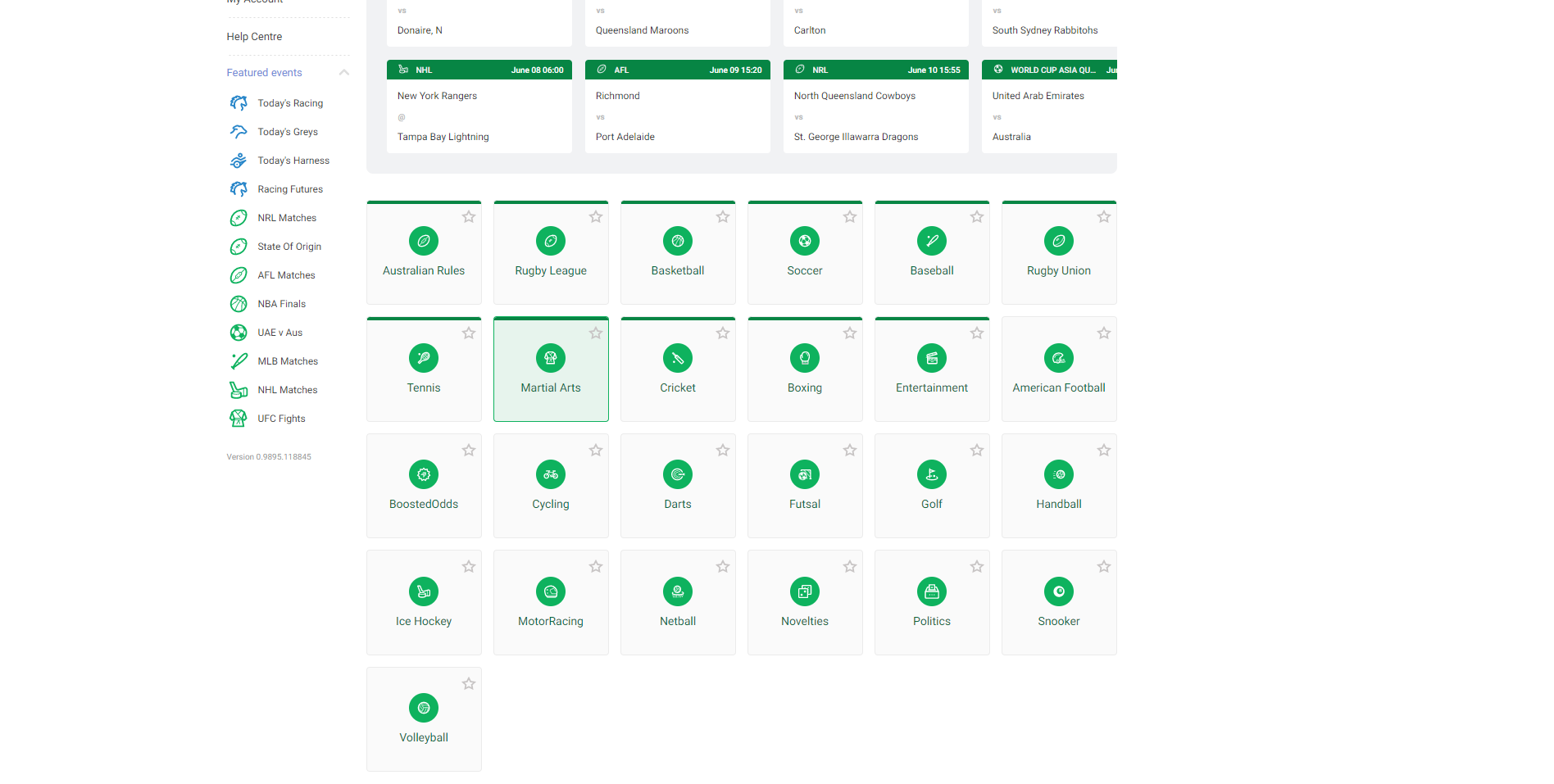 The sports betting interface is also something that deserves a mention. Normally you'd expect a shoddy interface from a bookmaker that specializes in horse racing. But that's not the case for Palmerbet. You get an interface, that's simple and easy to use, and still doesn't compromise on functionality.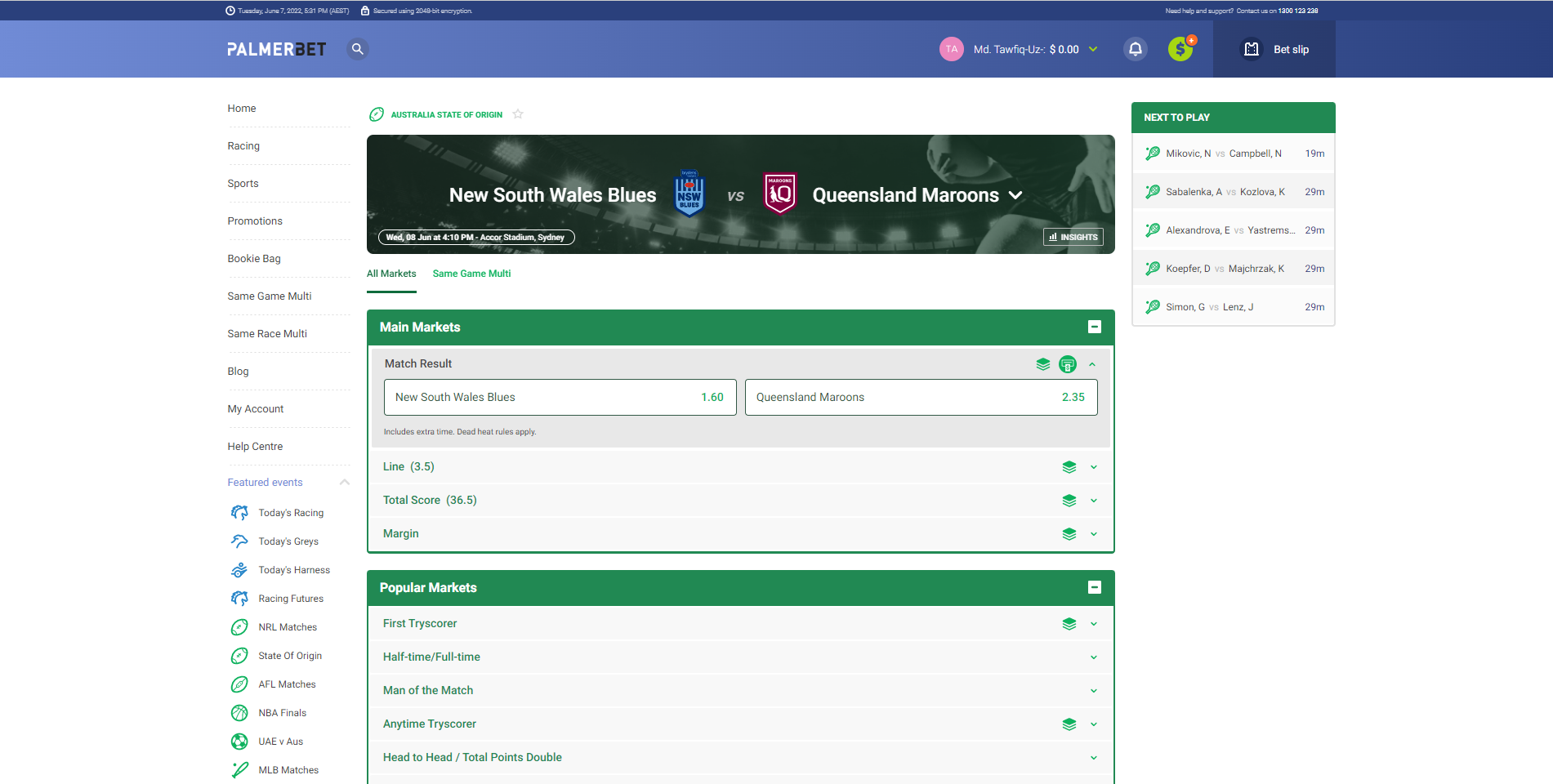 Palmerbet Payment Services
One of the things that punters worldwide are concerned with always is the payment services. You want your payment to be smooth. You don't want to have to wait for days just for a transaction.
Well, good news for you, unlike other Aussie bookies, the payment at Palmerbet doesn't take too long. There is a wide range of payment options that you can choose from.
To give the Aussies a great time, Palmerbet has included several payment options. You have great withdrawal methods as well as deposit methods too. And making payments to your Palmerbet account is as easy as it gets.
Deposit Methods
There are several deposit options that you can choose from at Palmerbet. You can choose debit or credit card, POLI, PayPal, OSKO, BPAY, or just transfer directly from your bank.
If you're thinking of using a credit card, you can expect to see the funds in your Palmerbet account within seconds. In fact, almost all deposit methods don't take any time at all. You can use any of the methods by accessing the payment option of your account.
In the case of BPAY, OSKO, and bank transfer it might take up to 48 hours. If you want our recommendation, stick to your credit card for instant deposits.
To deposit funds, go to the accounts page and deposit the funds from there. You can also find this option by checking the top of the page on the website. There you should see a "Deposit Funds" method which you can use.
There's also a minimum deposit requirement at Palmerbet. Punters need to make a minimum deposit of $10 into their account. Any less than that and your transaction will be denied.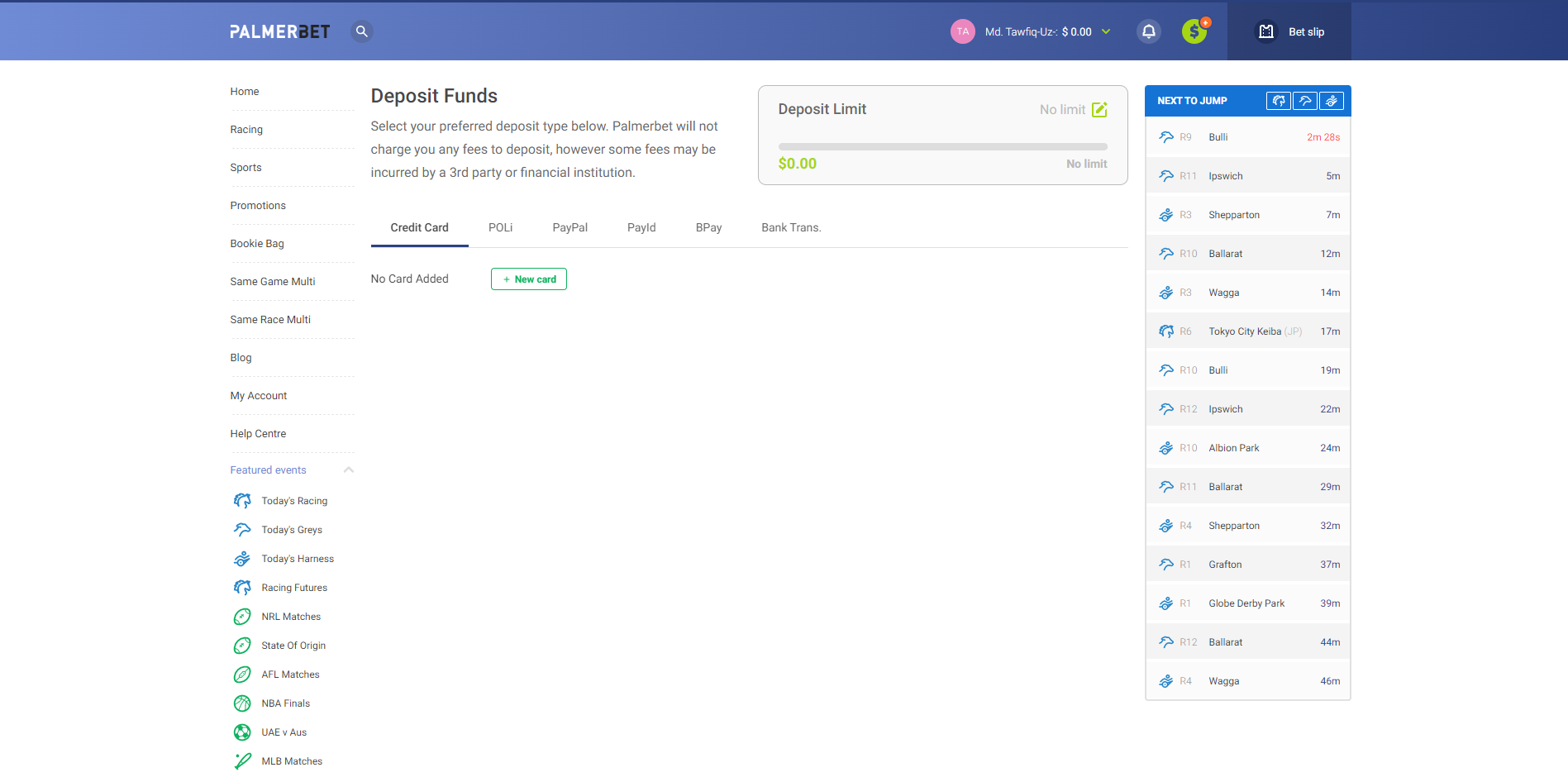 As part of Palmerbet's commitment to Responsible gambling, you can set a deposit limit. This is to ensure you don't get carried away. You can also set this limit when you open your account.
Withdrawal Methods
You've already seen the range of options you can get for depositing at Palmerbet. But it's a real shame that you can only withdraw funds from your account using bank transfer only.
It would have been nice for Palmerbet to include other withdrawal methods too. Having the option to withdraw using a credit card, for example, would make things easier.
A typical bank transfer should take you no more than 1-2 bank workdays. But depending on your bank, the bank transfer might take longer. In our experience, we haven't found any bank where the withdrawal through bank transfer took more than 5 days.
There is also a minimum withdrawal amount for punters. Palmerbet's adamant that your minimum withdrawal shouldn't be lower than $10. You can find the withdrawal option for your account on your account page on the website.
Mobile App and Features of Palmerbet
There is a dedicated mobile Palmerbet app. You can find this app on both Android devices and iOS devices. Using the app you can enjoy the Palmerbet betting service and features on the go.
You can download the app from the website or from the application stores of your device. If you're looking to download it from the website, check the footer section to get started.
The Palmerbet app is also not that demanding on your device. You can run Palmerbet's app on almost any mobile device.
Downloading the app is easy for both Android devices and iOS devices. Let's see how you would do it in more detail.
Download the Palmerbet App on Android
To get the app from the website, you need to visit Palmerbet's official site from your mobile browser. Once you're there you can scroll over to the bottom of the page.
There should be an option that says, "Get it on Google Play". Tapping on that will take you to the app page on the Play Store. From there you can simply download the app and enjoy.
Be sure to provide the app with all the permissions to be installed on your device. Once you're done, sign in to the app and enjoy the best betting odds as well as racing odds that Australia has to offer.
If you don't want all that hassle you can also download the app directly from the Play Store.

Download the Palmerbet App on iOS
Just like you downloaded the app for Android you can follow the exact steps for iOS. Simply visit Palmerbet's official site to get started on the download process.
If you run into any trouble while downloading, customer support is always there to help you out.
Palmerbet's Commitment to Responsible Gambling
This is something that's taken seriously by the commission of Racing NSW and OLGR. The commission tries to ensure that punters do not get carried away on betting sites.
OLGR also asks Australian bookmakers to enforce responsible gambling. Palmerbet's way of doing it is really thoughtful. To maintain this, when you open a new account, you are asked to set a deposit limit.
You will also find this deposit limiter in the deposit menu under your account. This lets you set a limit with a time frame to stop you from going overboard.
Betting is something that's addictive and there are stories of people losing a lot to betting. That's why Australian bookmakers are asked to put a stop to it from their own ends.
Although all bookmakers are told to follow this, not everyone implements it. You will always find a message for gambling responsibly at any bookmakers or betting sites. But you won't find many that chooses to support the bettors like this.
If you need help with your betting addiction, please seek out the Responsible Gambling NSW. You can call them on their helpline at 1800 858 858. You can also visit the website at www.gamblinghelp.nsw.gov.au.
Customer Support Features of Palmerbet
The customer support at Palmerbet has to be one of its best sides. Although there are a number of options through which you can reach them, live chat is an option that's missing from that list.
The lack of a live chat option can really be felt if you're trying to contact them at an odd time. Bookmakers include the option for live chat to ensure that bettors can reach them 24/7. For that you have to rely on your phone.
You can contact the help center by calling them on the phone. The phone number for contacting them is 1300 124 357. You can also place a bet using your phone too. There's a separate number for that which is 1300 123 BET (1300 123 238).
Aside from that if you have some more queries you can reach them using your email at contact@palmerbet.com.
Help Centre Information
Helpline phone number: 1300 124 357
Place a bet: 1300 123 238
Email: contact@palmerbet.com
Postal Address: PO BOX 1036, Cronulla NSW 223
How to Create an Account on Palmerbet's
To sign up at Palmerbet, Australian punters don't need to do much. They can sign up using the website, or through the app.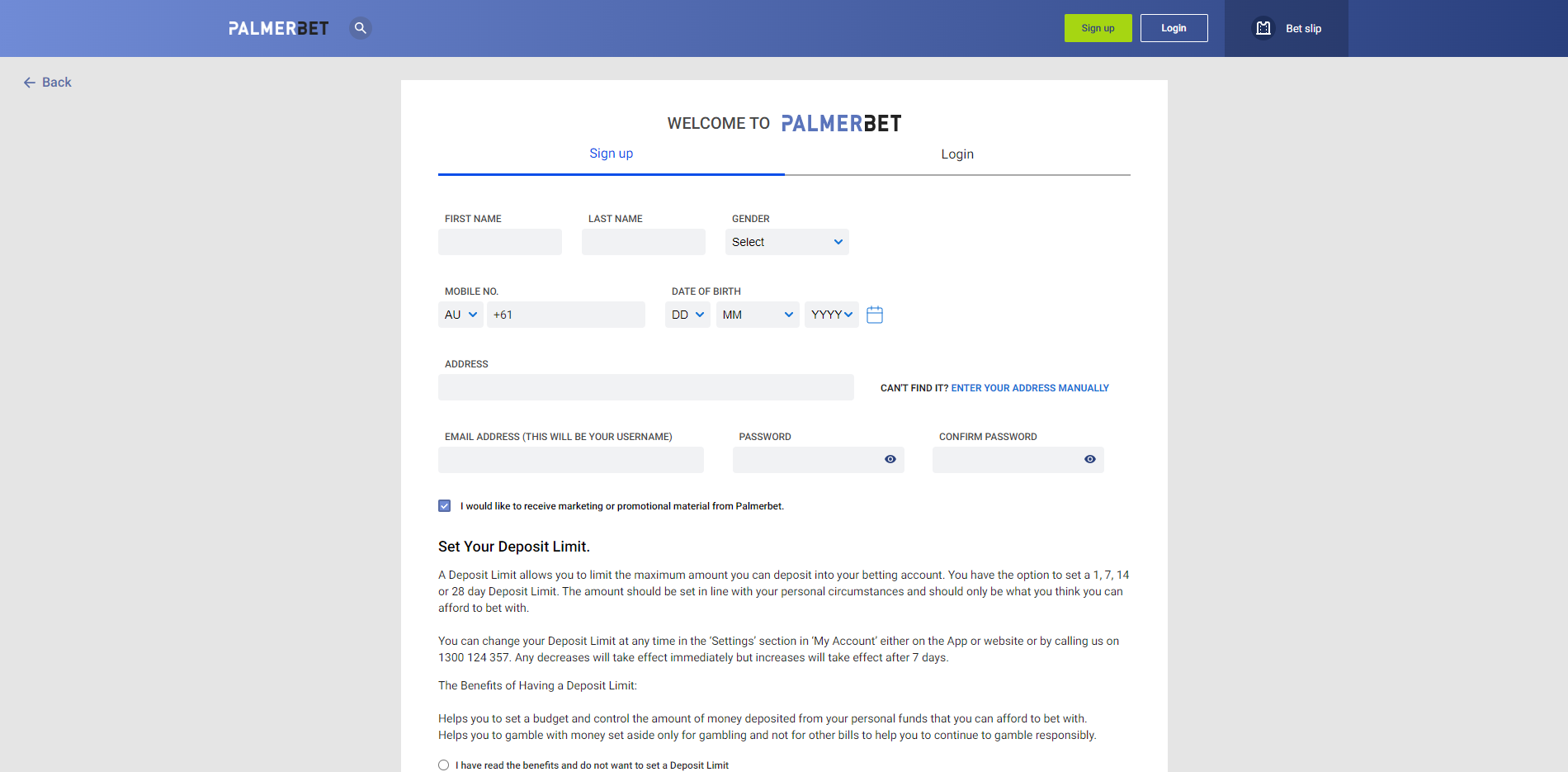 Just fill out the form with your personal information. Always provide valid and legitimate information when you sign up and comply with the rules of the Australian gambling commission.
Once you've created your account you will be automatically logged in. You can now also sign in using the mobile app.
Final Verdict on Palmerbet
What we didn't like about Palmerbet when making this review was the lack of a live betting feature. It also doesn't support a live streaming feature as well. The review could be more positive if we saw an improvement on those features in the future.
But overall, Palmerbet is a great online betting site in its own right. There are plenty of good things that it offers and the range of options makes betting a wonderful experience. So we can safely recommend Palmerbet to any Australian.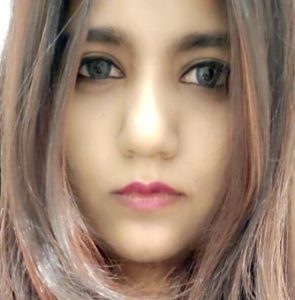 Like many aspiring writers, Jarin focuses on bringing life to the text for her readers. She is an avid sports lover, growing up in a family obsessed with bookies. She is an expert in the iGaming niche and has secondary obsessions with Gardening and cooking.