Pros
The sizeable betting market for sports and races
Owned by Melbourne bookies since 1966
RealBookie TV is available for live horse racing
Fully licensed and monitored by Racing Victoria
Form guide helps new bettors to make informative betting decisions
Cons
No phone number to contact the customer support team
Limited options for payment services
Live betting and esports are not available
When you look around online, you will find many bookies in Australia that are emerging from the ashes due to several setbacks. Also, there are bookies that have renovated themselves to entertain the public who are hungry for online entertainment.
RealBookie is a sportsbook that took this challenge to set up its foundation in 2020 with the hopes of making its name in the gambling industry of Australia. In fact, though there are challenges, there are also plenty of opportunities for RealBookie to stand out from the competition.
In this comprehensive review, we will get to the details about how RealBookie has managed to come this far in such a short time, and all the benefits you can receive by betting on this sports betting and horse racing platform. Hope you enjoy it!
Background of RealBookie
RealBookie is a new sportsbook platform in Australia that just started its journey in 2020 in the midst of the COVID-19 pandemic. In fact, RealBookie made a risky move launching its company when there are hundreds of competitions in the Australian industry.
Since it is located in Melbourne, Victoria, the licensing and regulatory body of the bookmaker is Racing Victoria and it's regulated by the Victorian Commission for Gambling and Liquor Regulation.
Other than providing live streaming, daily price bumps, Bookies Card, operation on Vic tracks, weekly racing promotions, and expert tips, the bookie has been able to establish a very strong platform from scratch!
In this review, we will learn about all the initiatives the sportsbook took to get where it is today in such a short time. To be honest, even though there are areas that need improvement, the platform has done quite well so far.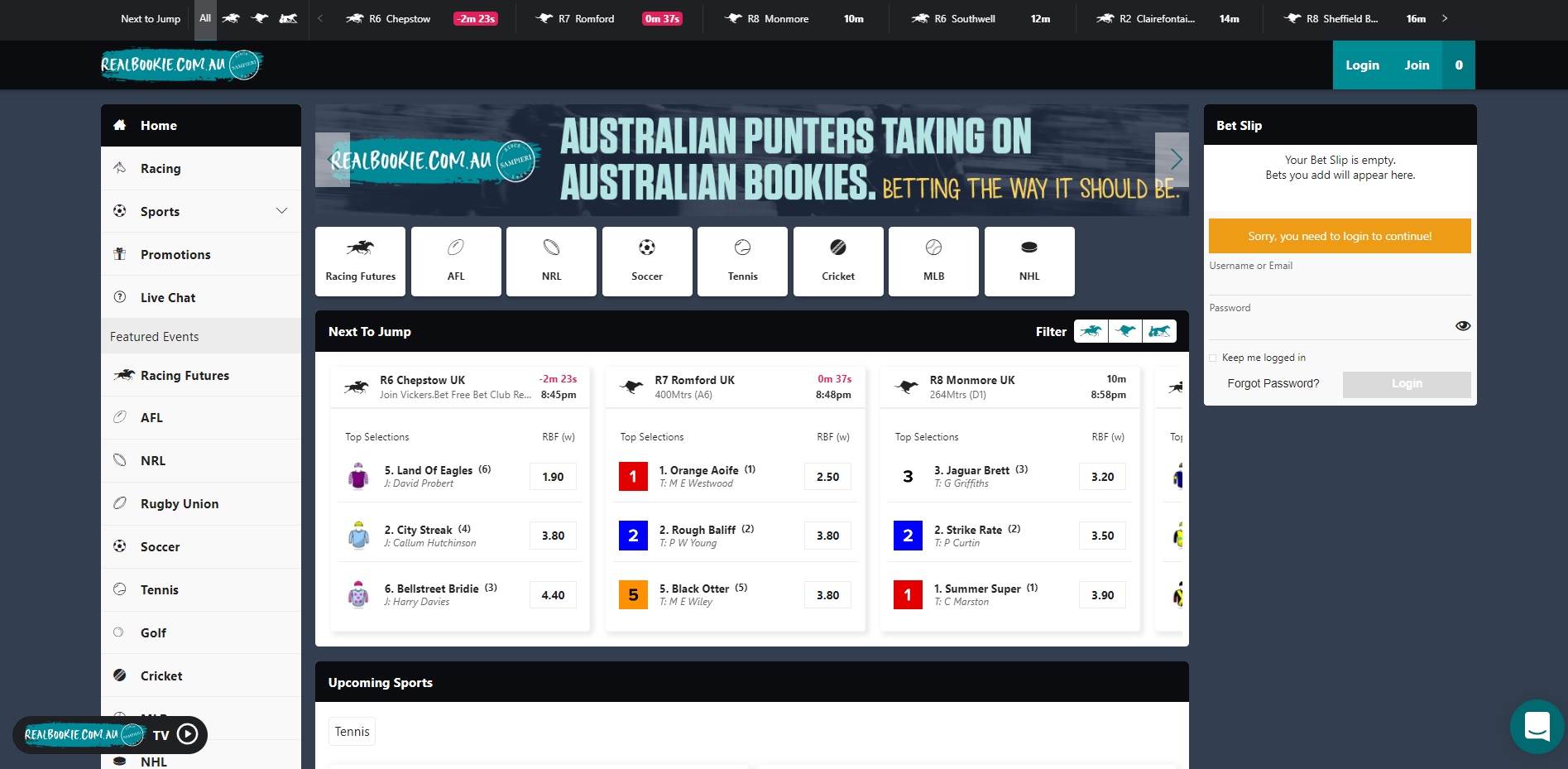 Promotional Offers of RealBookie
RealBookie has incorporated the same technique as other Australian sportsbooks that only display promotional offers to bettors who hold an account with the bookie. This is actually in compliance with the new Australian gambling legislation, so it makes sense.
The promotional offers that are available to punters on RealBookie can enjoy daily price bumps, multi builder, tournament betting, same game multi, same race multi, best Tote, Best of the Best Premium, Top Fluc, trending bets, and form guide.
Unfortunately, welcome bonuses are no longer offered to Australian online bookmakers due to amendments in the national gambling regulations. For this reason, sportsbooks are also not allowed to advertise bonuses on their websites or anywhere else.
Therefore, to find out what type of bonuses you are eligible for, you have to create an account with the bookmaker, and then log in to view the Promotions page.
Even though welcome bonuses are not available openly, you may find several promo codes for discounts, cash prizes, and other awesome offers on RealBookie! You just have to know where to look!
Types of Bets and Markets on RealBookie
For a sportsbook to become successful and noticeable in the gambling industry, it must build its betting market and allow numerous sports and races to grace its page.
Yes, it is important that it has a secure payment service, excellent customer support interaction, an incredible mobile app, proper licensing, and responsible gambling resources and tools to climb up the competitive ladder.
But, professional bettors pay more attention to the betting market. Having said that, let's explore the betting, sports, and horse racing market of RealBookie in the sections below!
Betting Markets
You will be quite impressed with the betting market organised and offered by RealBookie. The platform covers popular sports and horse racing products as well as fixed odd prices.
Accordingly, RealBookie only has 50 betting markets to offer Aussie punters whereas other top bookies usually have 200 or more betting markets. Also, the same game multi option is limited to the main sports events, but the singles, futures, doubles, win, place, each way, and trebles are available for most of them.
Even so, the odds on the sportsbook are super competitive with lines of $1.92, $1.95, and $2.00 for major sports. Corners, fouls, player props, and cards are not accepted on this platform though.
For thoroughbred racing, you will get speed maps, form guides, fixed odds, Top Fluc, Best of the Best, Best Tote, Trifecta, Quinella, First 4, and Exacta bets. As for harness and greyhound racing, fixed odds and Mid Tote bets are your options.
You can choose from any of these bets depending on your knowledge and skill in horse racing. Overall, you can potentially win from the $5000 weekly racing market!
Sports Market
The RealBookie sports market is quite comprehensive because it includes most of the top sports games offered in Australia. Some of the sports that the platform has included are tennis, boxing, golf, football, motorsport, ice hockey, volleyball, Australian rules, baseball, basketball, darts, cricket, and rugby.
To name some of the most popular sports events that Aussies look forward to are National Rugby League (NRL), English Premier League fantasy (EPL), Australian Football League (AFL), Major League Baseball (MLB), National Basketball Association (NBA), and National Hockey League (NHL).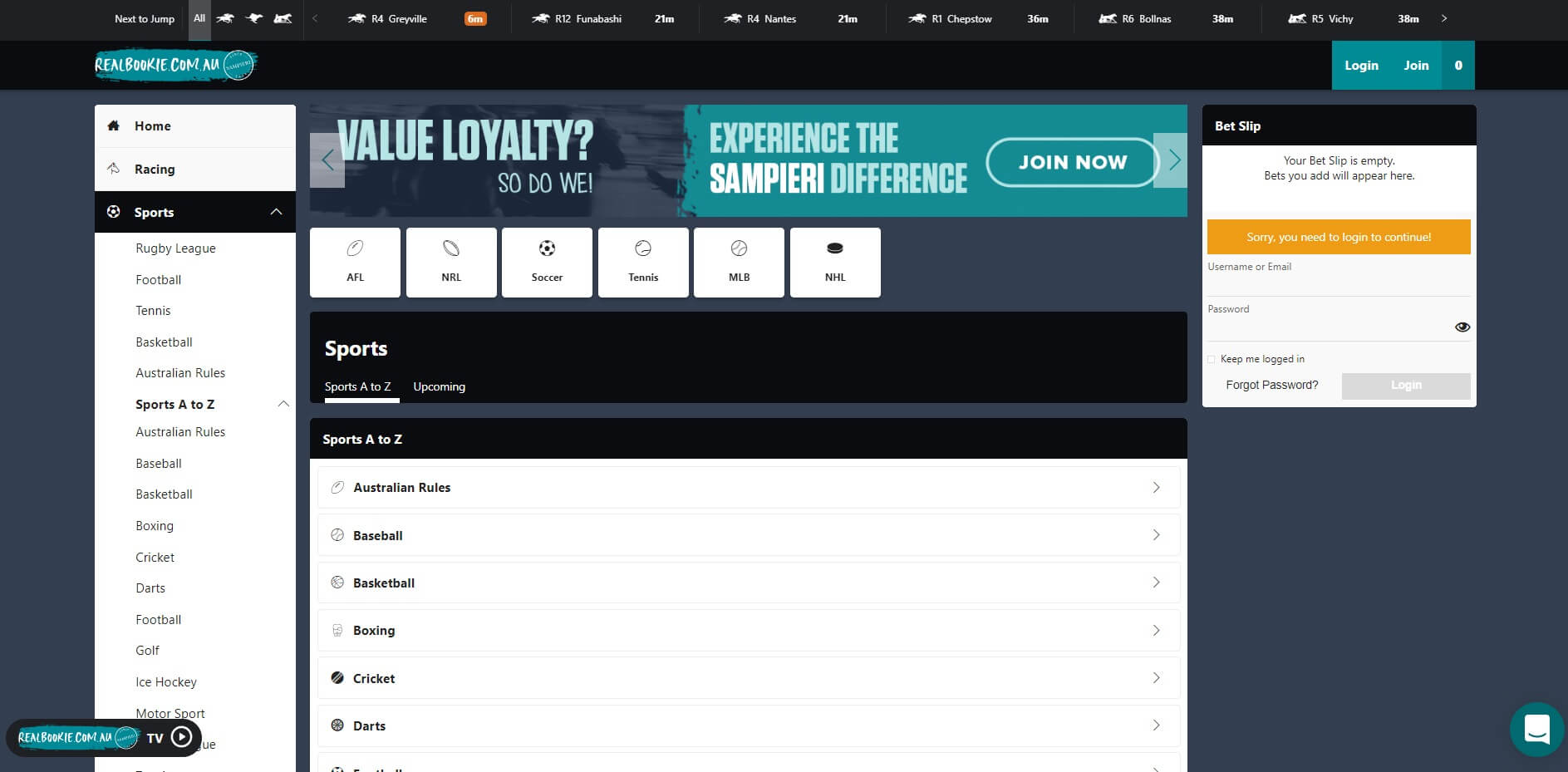 Racing Market
The racing market provided by RealBookie is quite prominent. You have a wide range of gallops, harness, and greyhound racing options to choose from once you get on the sports betting platform.
You can see the runner, their positions, the betting type, win, place, payment, selections, and results all in one place! Nevertheless, don't just assume that RealBookie only covers Australian horse racing, because you can even place bets on international competitions! But the international scene covers only a few available options.
On the other hand, when you look through the Australian and New Zealand racing events in the sportsbook, you can see events from Flemington, Caulfield, Eagle Farm, Randwick, Albion Park, Wentworth, Rosehill, and Moonee Valley.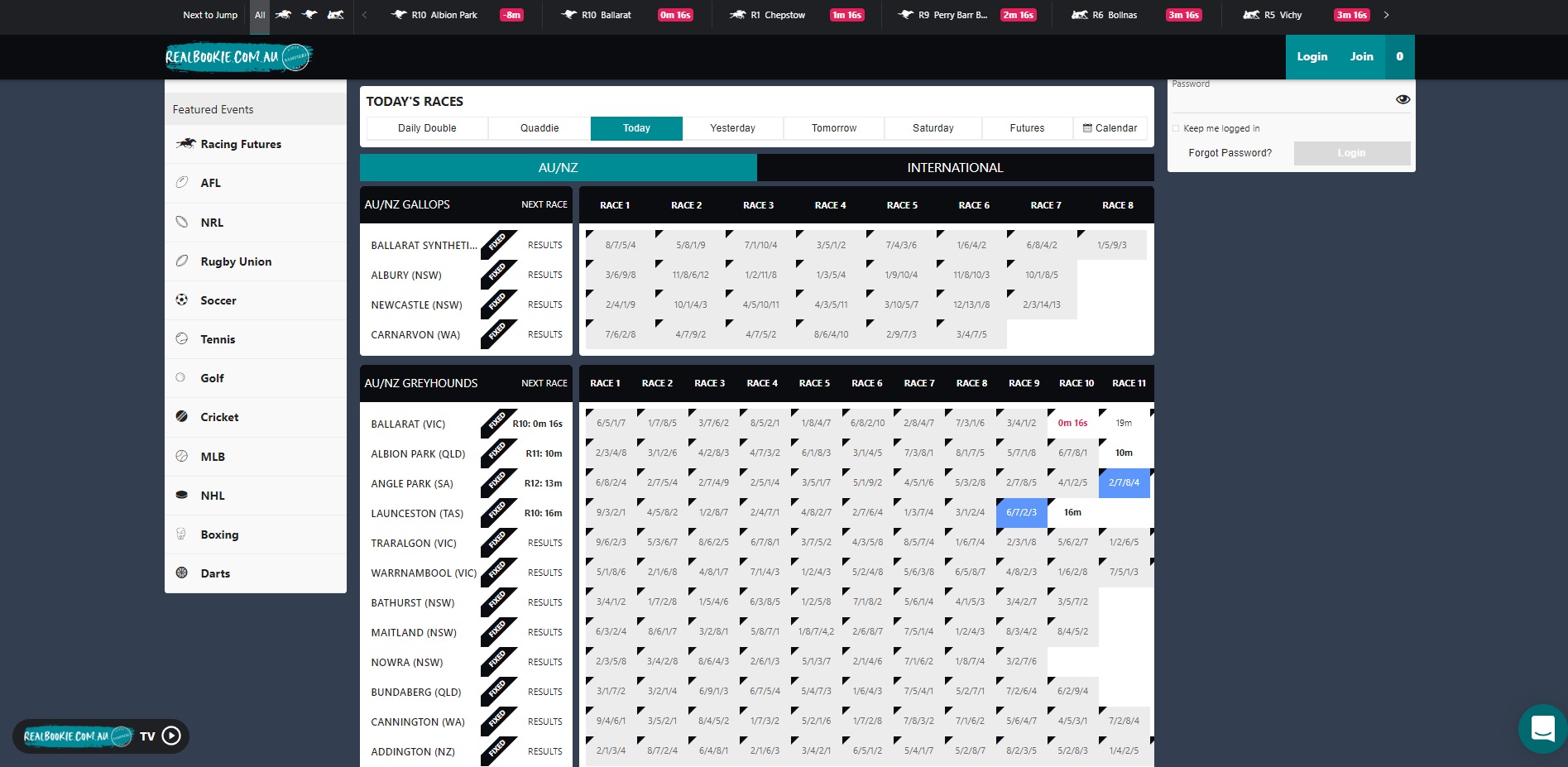 RealBookie Payment Services
There is a valid reason behind the limited number of payment services available on RealBookies. It is because the sportsbook has to comply with the Anti-Money Laundering and Counter-Terrorism Financing Act 2006 for the greater good.
For that reason, if you feel like your deposit and withdrawal options have been compromised, you can at least feel relieved thinking that you are contributing to a bigger cause.
The maximum payout per bet is a whopping $15,000, which is not bad but lower than other top-performing Australian bookmakers. To get into details, the maximum payout for Best of the Best and Top Fluc bets is $5,000, and for multi-bets, it is $1,001.
Setting that aside, the minimum deposit amount on RealBookie is very affordable standing at $1. With that being said, let's find out more about deposit and withdrawal options on RealBookie in the upcoming sections!
Deposit Options
Even though Australian bettors have only one withdrawal method to rely on, they have more options when it comes to making deposits to RealBookie. Currently, the deposit methods that are accepted by the sportsbook are POLi, debit card, credit card, and bank transfer.
Bank transfer and POLi are good choices for local Australians who live in Australia. However, if you are prone to travelling and residing in Australia for the time being, a credit card may be the best deposit option for you.
Besides, except for POLi, you have to enter your financial details to make deposits through credit card or Electronic Fund Transfer (EFT). It is especially true for EFT where you have to enter your RealBookie user ID number as a reference.
All the deposit methods will take between 2 to 5 days to completely process. Therefore, you have to wait for a few days before you can start placing bets on RealBookie.
Withdrawal Options
Just like with other Australian sportsbooks, all withdrawals from RealBookie are sent to your Australian bank account. For some reason, if you have an international bank account, you have to process your withdrawals by contacting the customer support team.
All the withdrawals are processed from 8:30 am to 10:30 am and then from 4:30 pm to 6:30 pm. For this reason, you have to make requests for withdrawals before these times to receive them as soon as possible.
Generally, the processing time for withdrawals takes 24 hours to 40 hours. Having said that, processing your withdrawals on Fridays is a bad idea because it won't hit your bank account until next week.
Bookies Card
However, if you are reluctant to use bank transfer to withdraw your winnings, you can opt for the Bookies Card. This special Card also lets you transfer all your funds from one bookie to another.
You have to register for the Bookies Card first, then link your RealBookie account to the card to withdraw money from here. The amount reserved in the Card can be withdrawn at the ATM or used to purchase other things online.
However, there are terms and conditions attached to the usage of this card, which we highly encourage you to go through beforehand.
Mobile App Features of RealBookie
The RealBookie app has been developed by the platform itself. One great feature of this app is that it doesn't track your personal information for marketing purposes like other sportsbook apps. This one only tracks your identifiers instead of your purchase history, diagnostics, financial information, and location.
Maybe because of this reason, the app is quite light in terms of size, so it won't take up too much space on your phone, whether you are using an iPhone or Android! It is also free to download, so there is no extra cost!
Even though the app can be used by anybody over 17 years of age, the legal age to gamble in Australia is 18. Don't forget that! Besides, daily promotions, personalised services, and competitive odds are some of the best features that you can experience on the RealBookie app.
To find out how you can download and install the app on your iOS and Android devices, keep reading the following sections!
Download the App on iOS Devices
The device requirement of the RealBookie app is 11.0 or higher for iPhones and iPads. Having said that, the download link for the app is located in the footer section of the RealBookie website.
So, scroll down to the end, and then click on the App Store download link button. You will be automatically taken to the App Store where you can read more about the app, and then download it in a few seconds.
There is nothing to change on your iPhone when it comes to installing the RealBookie app. Hence,  you can commence signing up with the platform, and placing bets on your favourite sports or races!
Download the App on Android Devices 
You will find the download link for the app in the footer section of the sportsbook's website as well. Just scroll down, and click on the Google Play Store button which will then take you to the Google Play Store page for download.
Before you begin downloading, make sure that your Android phone is willing to accept third-party software for download. To check this, you can go to your phone's Settings, find the Software option, and then check the box next to Unknown Sources.
Now, your phone's original settings can't stop you from installing the RealBookie app, which is third-party software. With that solved, download and install the app immediately on your phone, and start betting on what you love!

RealBookie Responsible Gambling
Even though gambling is always promoted by sportsbooks around the world, the hidden dangers related to it still need to be disclosed properly. There are many people in the world who may use gambling for the wrong reasons and may even become addicted to the activity at one point.
A lot of problems ensue due to gambling addiction, and the people in question may lose out financially, physically, mentally, socially, and in so many other ways. For this reason, it is mandatory for all licensed Australian bookies to educate and take initiatives to offer responsible gambling tools and resources to bettors that visit their platforms.
Having said that, RealBookie complies with the Victorian Bookmakers Association Responsible Gambling Code of Conduct. Also, there is an assessment tool available on the RealBookie page to self-evaluate whether you really have a gambling problem or not.
Pre-Commitment 
The pre-commitment limits allow bettors to set their deposit limits daily, weekly, or monthly so they can control their bad gambling habits. To activate this feature, log in to your betting account, go to My Account and select the Responsible Gambling option.
Now, choose the Deposit Limit option, and enter the limit amount and period. If you want to raise the deposit limit, you have to wait 7 days for the new change to take effect.
You can also remove this pre-commitment limit from your account. All you have to do is check the box for Do Not Wish to Set a Deposit Limit.
Self-Exclusion
People choose the self-exclusion option when they think their betting habits have gone out of control. But this option can be temporary or permanent. For your information, the request for permanent closure of your RealBookie account is treated the same way as a self-exclusion.
Having said that, you have to get in touch with the customer support team of RealBookie to find out how you can activate this option.
Parental Control 
It is important to have parental control feature set on your desktop or mobile devices so that you can prevent minors from creating an account with RealBookie or using the betting platform in any way.
Parents can use parental control software, such as Net Nanny, Bet Filter, Gamblock, Cyber Patrol, and Safe Kids to restrict underage individuals from getting on the platform.
For your information, it is illegal for minors to participate in gambling, so you may get in trouble with the law if any gambling regulations are breached.
Helpful Resources
Besides offering pre-commitment limits, self-exclusion or permanent account closure, problem gambling self-assessment tools, and parental control supervision, RealBookie also ensures that bettors who visit its platform have access to helpful resources related to responsible gambling.
The link and phone numbers to those helpful resources are provided below:
Gambling Helpline: 1800 858 858
Gambling Help Online: https://www.gamblinghelponline.org.au/
Financial Counselling Helpline: 1800 007 007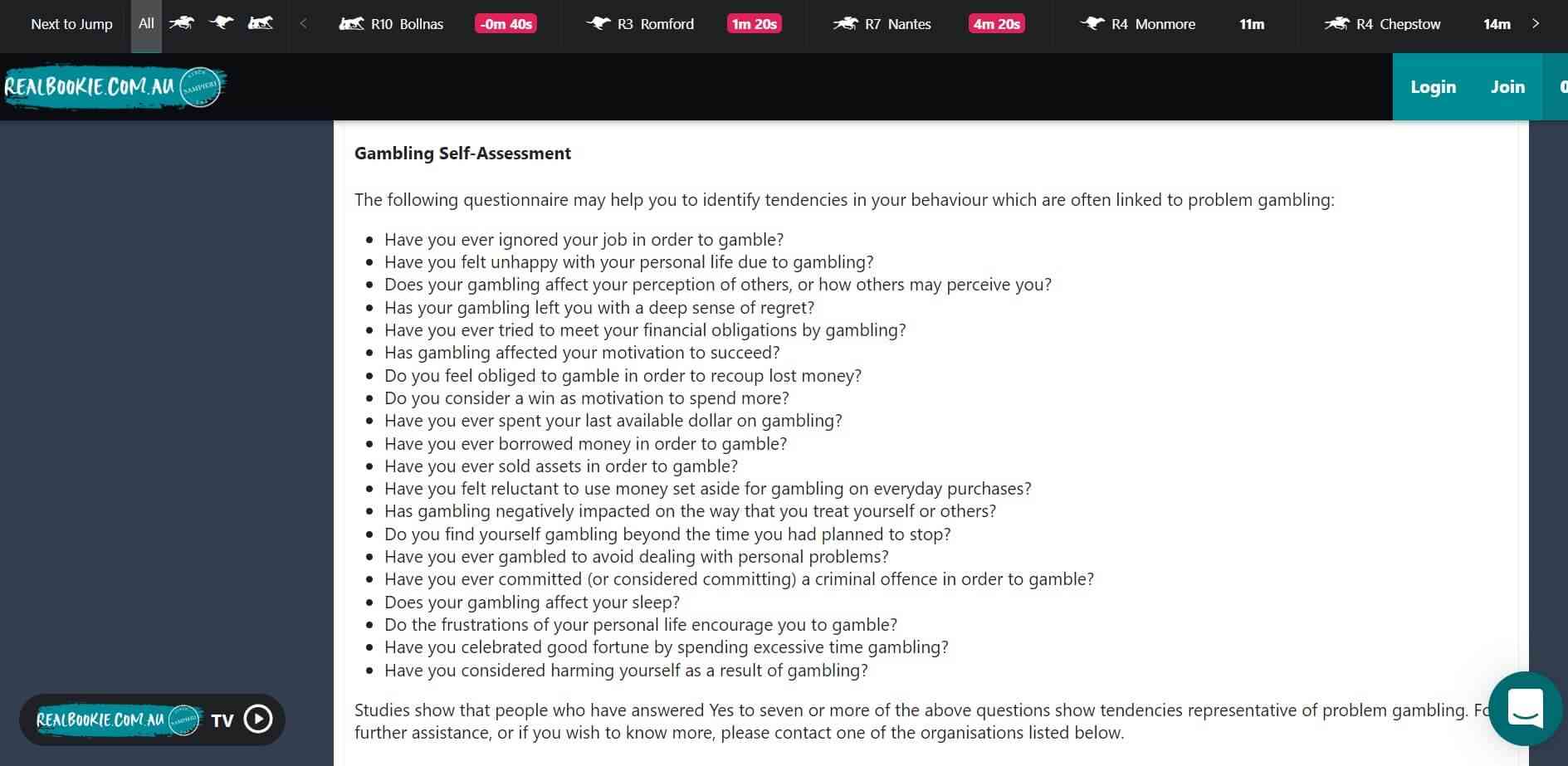 Customer Support Features of RealBookie 
Although the customer service hours may vary, RealBookie makes sure that account holders of the sportsbook get its attention 24 hours a day and 7 days a week. Even though they are offering their undivided attention here, the customer support team of RealBookie lacks a phone number.
The matter is not so grave because you can still get in touch with them over live chat or email. When it comes to interaction and problem solving, the customer support team of RealBookie is professional and thorough.
In fact, the team is trained quite well before interacting with customers, so you can have faith that they can handle all your queries related to the bookmaker.
A phone number is available for the Bookies Card, but not for customer support. With that being said, since the bookie is located in Australia and only serves Australians, a phone number would greatly help!
Email: betting@realbookie.com.au
How to Create a RealBookie Account
Before we start sharing with you how you can create an account with RealBookie, let's get this clear. You must be 18 years or older to be able to sign up with the sportsbook and place bets on sports or horse racing events.
Even if you are a minor and have somehow managed to open an account, your account must be verified within 14 days after signing up. So, you will probably get caught when that happens.
Usually, the verification process is conducted automatically, and the RealBookie team will request important documents, such as a driver's license, passport, utility bills, or birth certificate to verify your identification.
Now, to sign up with RealBookie, click on the Join button located in the top left corner of the screen. Then, enter your full name, email address, password, phone number, and date of birth to complete the signup process.
After that, check if you have any promo codes that you can use to get bonuses. If not, don't worry because you will have plenty of chances to get bonuses in different sports and races!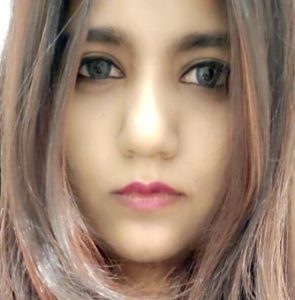 Like many aspiring writers, Jarin focuses on bringing life to the text for her readers. She is an avid sports lover, growing up in a family obsessed with bookies. She is an expert in the iGaming niche and has secondary obsessions with Gardening and cooking.