Pros
Rivalry has earlier experience in the industry
It's a very new service which means you'll get extra attention
Customers get a plethora of methods for transactions
May offer live bets in future
Customers are welcome to bet on esports in 2022
Among many other reviews, it's one of our favorites
The customer reviews are great
Cons
No casino games are offered
No bonus-related information
No telephone support in 2022
Enjoyment may not last very long for seasoned punters
Online betting as a hobby is global now. Sports betting itself is older than casino games and it has a larger audience when compared to casino games. That's why pretty much all prominent gambling companies in the world have a sports betting component on their platforms. It's no different in Australia.
This is our Rivalry review, based on our experience with the bookmaker. Our reviews cover various betting markets, available sports, different types of bet, how you can open an account with the bookmaker, and various other aspects of online betting. We're going to do the same for this company in question.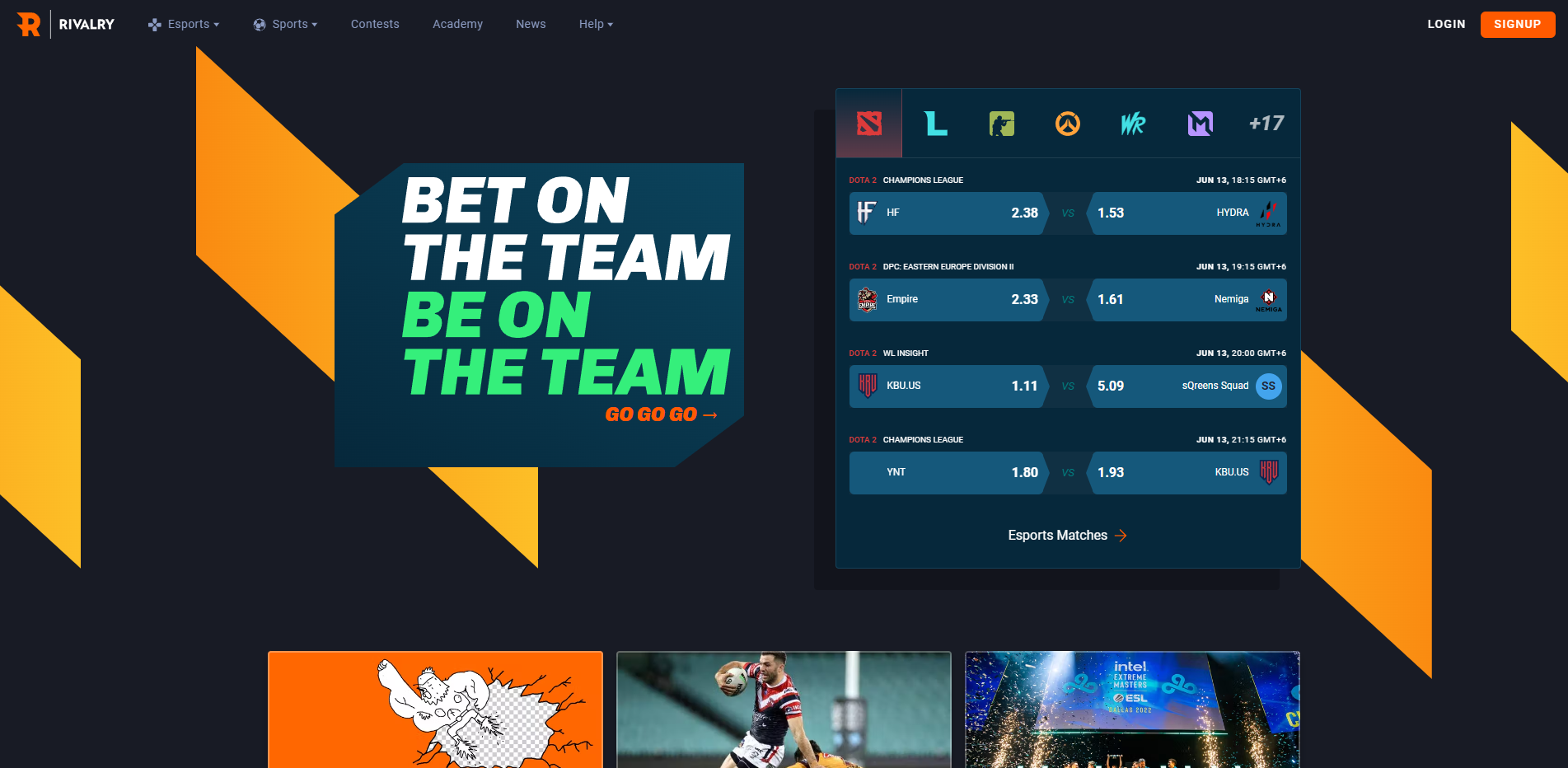 Bonuses You Can Get at Rivalry in 2022
Similar to all the other online sportsbooks in Australia, Rivalry doesn't disclose any bonus information until you open a real money account. The thing is, the Australian government has banned all kinds of deposit bonuses as well as no deposit bonuses in the country. So, whatever bonus you get during your time, it's not going to resemble other jurisdictions in any way.
Although the parent company is based in the Isle of Man, it must follow the rules set by Northern Territory Racing Commission. It's no news, right?
Different Sports Betting Options & Markets at Rivalry
Instead of focusing on the disappointment of not getting a new bonus, let's focus on the good reviews. We mean betting reviews, of course. Rivalry is a fantastic platform and it's quite new among the punters in the country. It has a very nicely designed interface, separated by different tabs to let you access different features on the website.
The primary tabs, in this case, are sports and esports. When it comes to sports betting, these are the two components punters are most excited about. Let's cover them individually.
From the homepage, you can click or tap on the "Sports" tab to trigger your options. It's not going to take you to a different landing page right away. Rather, you'll see a pop-up with all the sports in offering at that time.
You can bet on football, basketball, hockey, boxing, MMA, baseball, tennis, volleyball, American football, Aussie Rules, Rugby Union, and Rugby League. There's another tab labeled "All Sports" and this is going to take you to a different page. However, your sports options remain the same.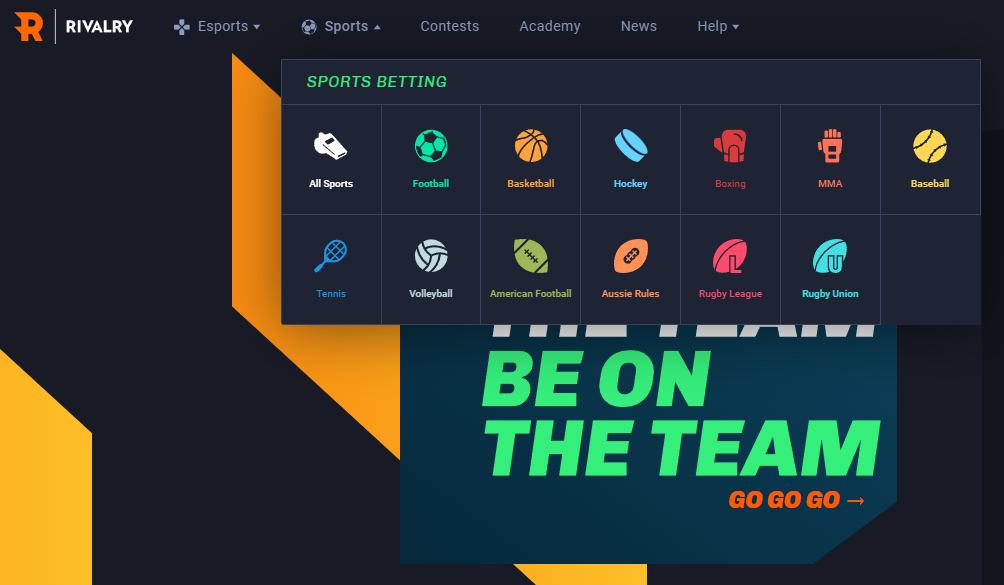 When you click or tap on a particular sport, the middle section of the page will list all the matches for the day. On the left-most side of the screen, you have your tournament name. It's highlighted in green, and it looks fantastic on the dark background. Right after that, you get the name of the market. As this is the main page, you'll only see "Winner" which is technically the outright market.
If you click on a particular tournament, you'll see all the available matches. The number of matches will vary because not all tournaments are structured similarly. On the right-most section of a listing, you should see the number of total markets. If it says "+28", it means there are 28 available markets for that match.
The markets themselves are going to change dramatically based on what sport you choose. Because football and American football are surely not played in the same way, right? Some common markets for football (soccer) are match winner, 1st half winner, 1st half total goals over/under, regulated time total goals over/under, handicaps, and so on.
On the other hand, American football will offer markets similar to those discussed before but with a different scoring system. Some markets are universal for all the sports, and each of them has its own props markets. These are all subject to change with time so let's not get into too much detail.
Odds You May Get from this Isle of Man Company
Odds have been and will always be the backbone of the sports betting industry. It's true in 2022 as well. You can't show the fans or bettors how much they can win if there were no odds. Australians are used to using decimal odds which also happens to be the simplest of its kind. The players simply multiply their bets with the projected odds to calculate the winnings.
Live Betting
To our surprise, the bookmaker in question doesn't provide any live betting options. Australia is a heavily regulated market and the law prohibits the bettors from placing live bets. This information is covered in the Gambling Act of 2001, where "interactive" gambling is prohibited. Live bets are considered interactive in the country. But you never know when you may get the good news. It might even be in 2022.
Esports Betting in Rivalry
Rivalry could be the perfect destination if you consider yourself a fan of esports in Australia. It in fact, offers some of the greatest titles of our time for betting. Most of the other online sports betting sites fail to offer this many events.
You can bet on Dota 2, League of Legends, Counter Strike Global Offensive, Wild Rift, Call of Duty Mobile, PUBG, Rainbow 6, and plenty of other games. Needless to say, the markets for esports are quite different when compared to regular sports. Most of these are team-based sports. In our Rivalry review, we found new markets for the most reputed teams from each of the titles.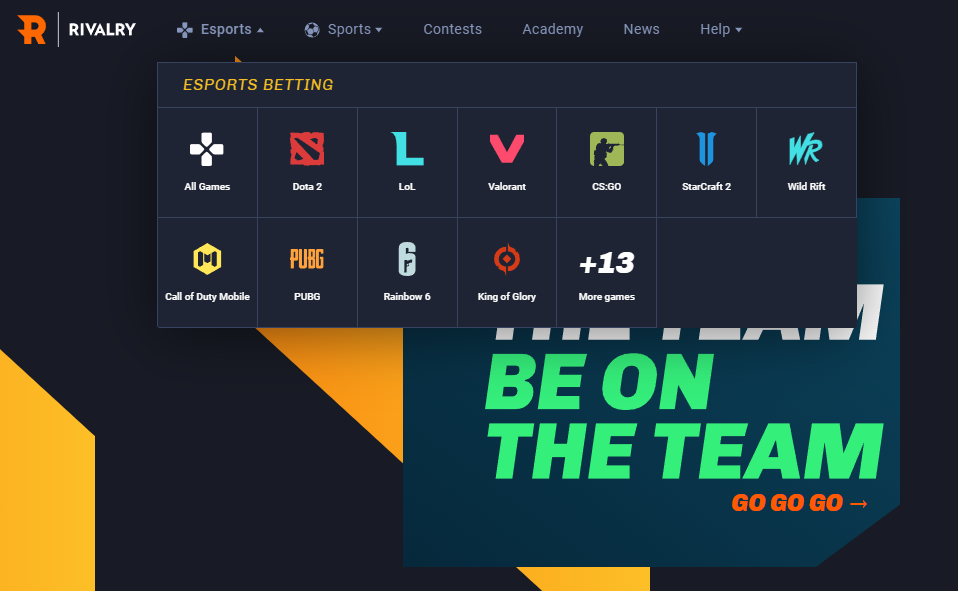 Then, you get tournaments like Champion Korea, BLAST Premier, Circuit Oceania, China LPL, Icons Global Championship, VRL Turkey, etc. are some of the most prestigious tournaments in the country.
Odds for esports games are portrayed in the same way as traditional sports. The customers just need to multiply the bet with the odds to get the final payout.
Counter Strike Betting
Counter Strike is undoubtedly the biggest name when it comes to esports. It has the largest communities all over the world. Also, most major international tournaments include this esports title.
In this game, you get your team together and play against another team. Each member has their own role to play. Some common markets in CSGO gambling are match winner for different maps, handicaps, round handicaps, correct score prediction and so on.
League of Legends Betting
Right after CSGO, it's LOL that draws the most traffic. It's one of the most sold esports title of all time and the community approach is just as vibrant as the previous one. The most popular tournaments for LOL betting are Hitpoint Masters, Liga Portuguese, Northern Championship, LVP SuperLiga, and whatnot.
And if you're looking for the perfect betting market for you, there's no better option than Match Winner. LOL has some of the strongest esports teams of our time so that's going to be the safest market.
Dota 2 Esports Betting
Dota 2 is a name that doesn't need any introduction to the bettors or players. It revolutionized the Multiplayer Online Battle Area (MOBA) genre for the players. It also happens to offer the fans new betting options in Australia.
Dota Pro Circuit, Champions League, WL Insight, etc. are some of the most high-voltage betting options for this esports title. You can get new bets like Map winners, handicaps, kill handicaps, team to slay the 1st Roshan, team to draw first blood, and various others.
Real Money Payment Methods
If an online bookie site creates a dedicated page to list all the payment-related information, we believe it deserves some extra points. Because let's face it, you can't use cash on casino games or a sports bet in 2022. Rivalry is a bet site that offers such a page.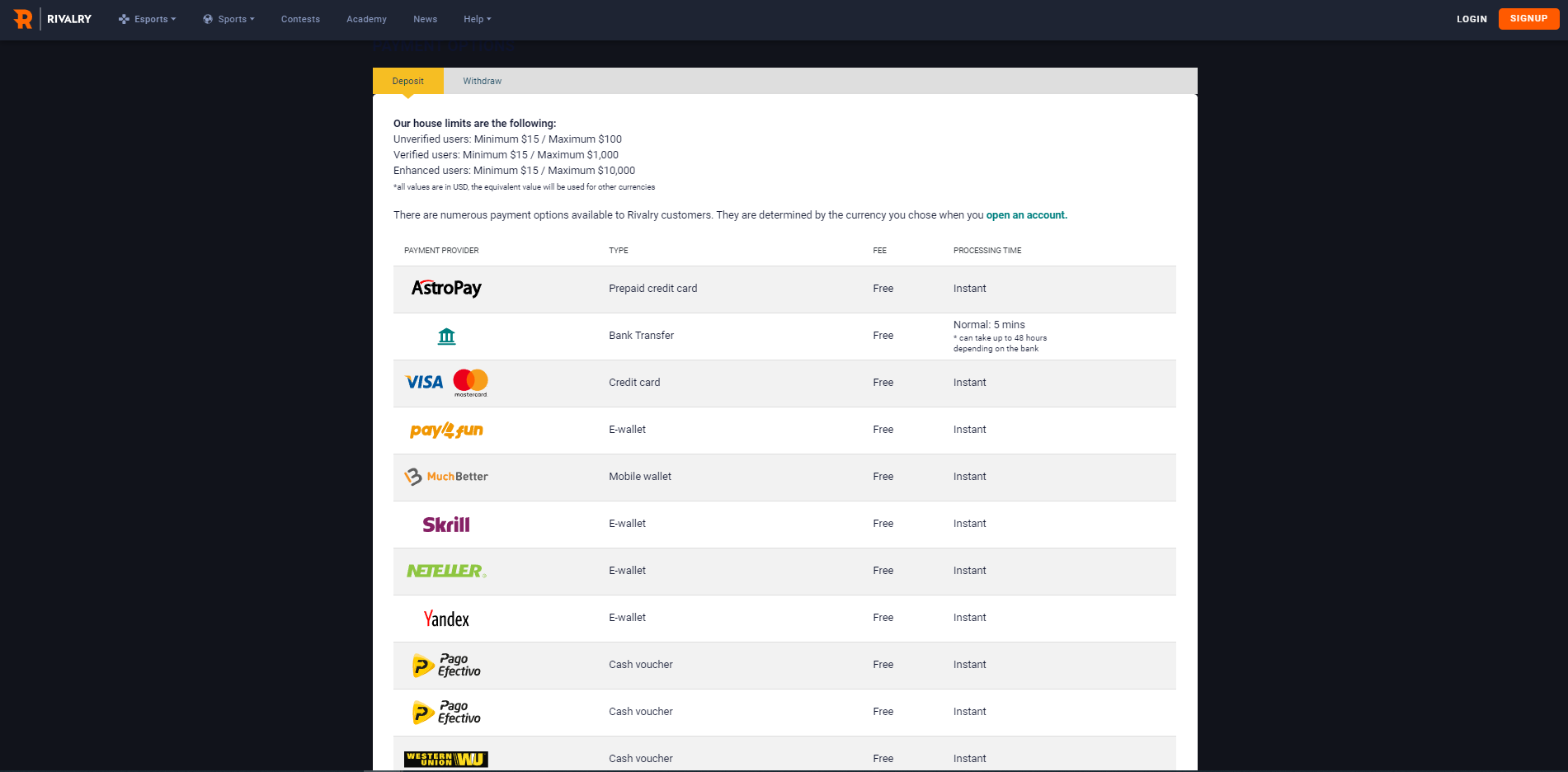 To get to that page, you need to click on the "Help" tab on the main page and then click on "Payment Options". You'll land right where you should. What we like even more is that the page has two separate tabs for deposits and withdrawals! It goes like the following.
Deposit Methods at Rivalry
The first thing you need to do after you open an account is a deposit. Otherwise, you won't get access to the services. Rivalry allows you to use the following methods: AstroPay, Visa, Pay4Fun, Neteller, Skrill, Yandex, Pago Efectivo, Western Union, WebPay, Mach, 7Eleven, InovaPay, EcoPayz, Mastercard, Grab, GCash, Boleto, Pix, POLi, PayPal, etc.
The minimum deposits start at $15 only, no matter what method you use. You can get up to $10,000 deposit limit if you're an "Enhanced" user. Pretty much all deposits are instant. But in some cases, transactions might take up to 5 minutes. For bank transfer methods, it may even be longer.
Withdrawal Methods at Rivalry
Almost all the traditional services you used for deposits are also valid for withdrawals. So, let's not spend your time listing them all once again. Just like the deposit, withdrawals start at $15 only. The upper limits are also the same. One of the things we liked the most about Rivalry is the fact that it promised to process payments within 24 hours!
As you may have already expected, you may withdraw up to $10,000 from the real money account that you've won from bets if you're one of the enhanced customers.
Mobile Betting Process at Rivalry
When it comes to features on our betting site reviews, there's no way to skip mobile compatibility. Rivalry's compatibility is very good if you ask us. The pages are optimized with HTML5 to fit any given screen size. Especially in 2022, it's a must-have feature for any modern site.
If you have to pick on Rivalry, we're going with the lack of a mobile app. Apps are pretty much lifesavers nowadays because mobile websites are somewhat limited in terms of bets. While you won't feel it when using Rivalry, we believe having an app would be nice.
Customer Support
If any business or company wants to succeed, it must offer top-notch support. Not just in terms of sports odds, free bonuses, or different types of bets but also in terms of customer support. It's crucial because the "online" nature of these business models is prone to technical issues from time to time.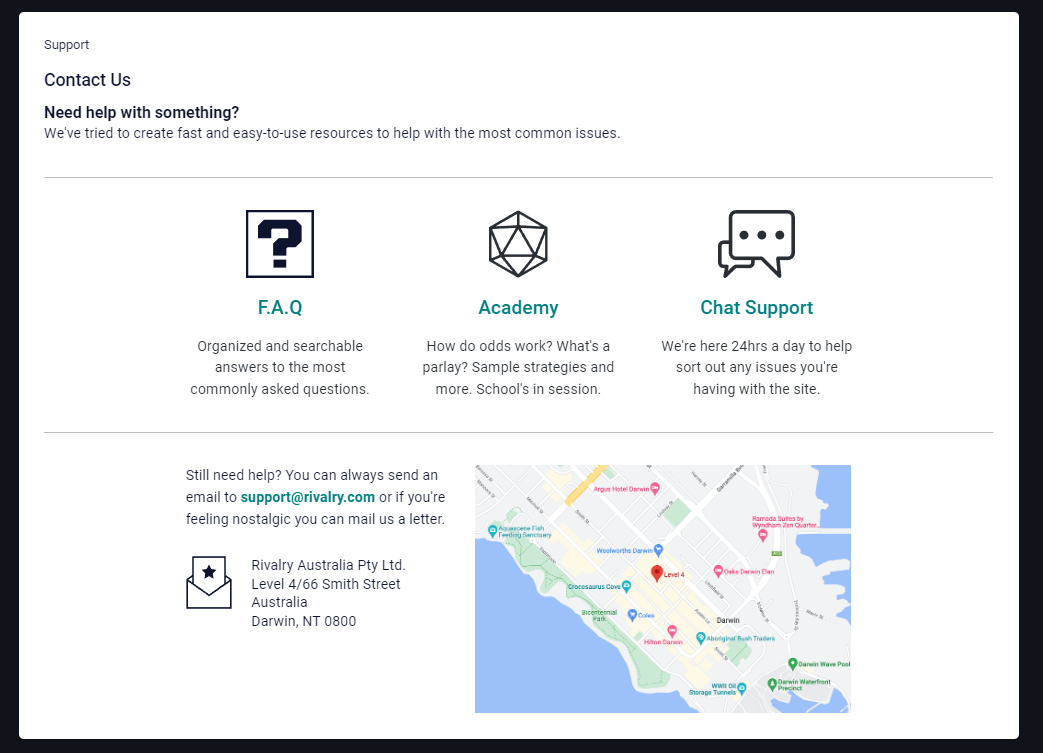 If you've visited the Rivalry website earlier, you may have seen the"contact us" page link. You'll find the live chat, the email address, and even the address for Rivalry's Australia office. These are nothing new, to be honest.
The chat function is open 24/7, so you're welcome to make your queries anytime you want. Or, send emails to support@rivalry.com. Social media channels are also available including Facebook, Twitter, Instagram, and YouTube. However, these channels are for esports support. Also, make a note that you're required to communicate in English.
On the FAQ section, you'll find categories for players accounts, money movement, website usability, wallets, wagering, and overall betting experience on the site.
FAQ
What is Rivalry's biggest strength in Australia?
If we have to make a choice, we're going to go with esports wager. It has done a phenomenal job of including every last of the games punters can think about for betting. It has plenty of additional wager options as well that bettors are not yet familiar with.
What bonus do you get on your first deposit?
Unfortunately, none. The Australian government has banned first deposit bonuses and it has been on the news lately. However, you may get some bonuses that are not considered traditional.
What other gambling services does Rivalry provide?
It mostly offers bet options for esports and regular sports. There are no casino games or casino bonuses at the time of writing. The number of sports is also quite limited but the operator makes it up with the additional esports titles. You'd be happy to know that different contests are also available including real money wager options.
Can I expect something new from Rivalry?
Rivalry has very recently started its wagering service in Australia. So, it's a very new website that may take a while to bring innovation. But your overall experience with the already offered bet options will be great.
Does Rivalry Offer free parlay bets?
It does. If you're not aware, Parlay is a type of bet that includes multiple selections within the same bet. And including the additional bets are free! Both regular sporting events and esports qualify for parlays in 2022.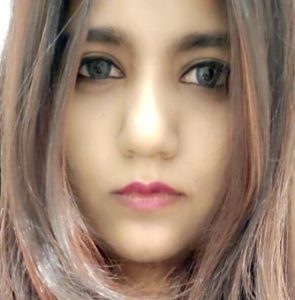 Like many aspiring writers, Jarin focuses on bringing life to the text for her readers. She is an avid sports lover, growing up in a family obsessed with bookies. She is an expert in the iGaming niche and has secondary obsessions with Gardening and cooking.