Pros


Licensed by Racing NSW and the Office of Liquor Gaming and Racing


Offers bonuses on the first deposit


Live streaming on selected events


Fixed odds as well as live betting


Markets for AFL and NRL and lots of other sports markets


Offers game multis


You may get a promo code from time to time


One of the most experienced Australian bookmakers


Ongoing promotions


Excellent mobile site


Lots of types of bet


Cons


Usual promotions like first deposit match bonuses are banned


The bookmaker


Live streaming is very limited


Need to use promo code


If you prefer to bet on horse racing in Australia, we can't think of a better contender than robwaterhouse.com. Needless to say, you get plenty of options for sports betting markets as well. This is our robwaterhouse.com review where we're going to explore its features, betting markets, any promo codes you might need to use, payment methods you can use, and so on.
Rob Waterhouse, the man behind it all is considered a legend in the Australian racing scene. He's been an on-course bookmaker since he was 18 and he has turned his passion into a very successful business model.
During our Rob Waterhouse review, we ensured that the betting site is properly licensed by Racing NSW and NSW Office of Liquor Gaming and Racing.
The Waterhouse family has been in the betting business for 3 generations now. There are very few people who understand racing markets as well as Waterhouse people.
So, it's safe to assume that you're going to have a blast from the moment you make your first deposit.
Without keeping you waiting any further, let's go over what you can expect from our RobWaterhouse.com review.
Promo Code & Promotions at Rob Waterhouse
Bonuses are something you need to be careful about on Australian owned betting sites. It's because according to the latest New National Customer Law, no betting site can offer first deposit bonuses, sign up bonuses, free bets, or any other promotions!
While we don't stand by the decision of depriving the bettors of the joy, there's nothing we can do about it.
However, Rob Waterhouse has a section for promotions. You need to log in to view the content of that page.
You won't find any of the banned bonuses, that's for sure. But you may need to enter a promo code from time to time to become a part of the eligible punters.
BETSAU is a famous promo code at the time of writing. Look for other promo code as time goes by.
Types of Bet & Betting Markets at RobWaterhouse.com
The betting markets and sports betting options are undoubtedly the most important aspect of online bookmakers. You can't expect a mediocre sports library and the bookmaker to be good at the same time.
The landing page first takes you to the horse racing bet page, which Rob Waterhouse made his business out of. This page lists the races on a daily basis.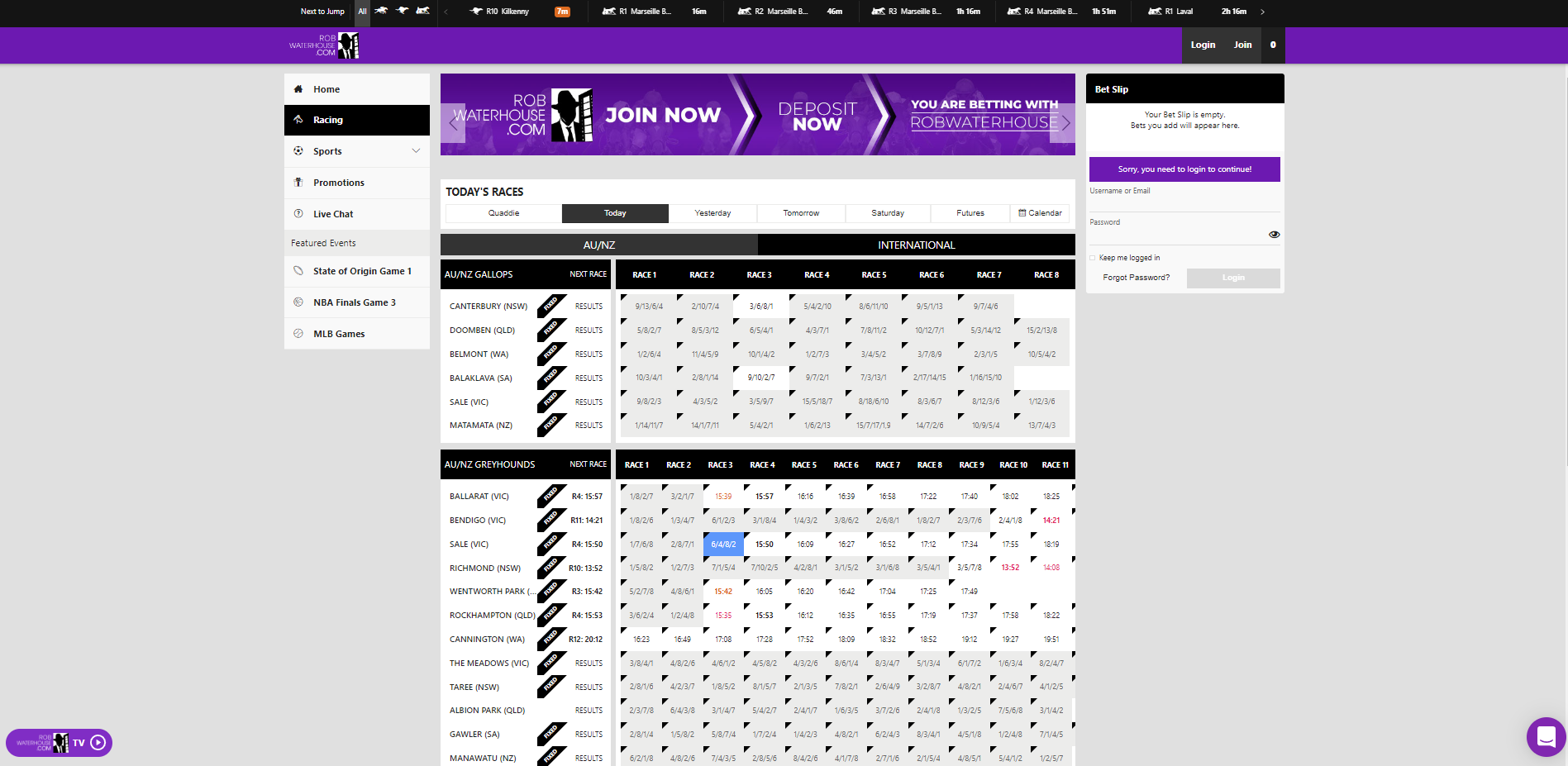 You can also access the calendar to get an idea of what might be coming your way. The middle section of RobWaterhouse.com has a nice matrix with the locations of the race courses and the dates for their races.
There are mainly 3 types of racing markets. Gallops, harness and greyhound. Do we need to spell out that the greyhound section is representing greyhound races and odds?
Once you click on any of the locations, the middle section will show you the details of the races for the day and the markets.
The racing markets includes Fixed winners, Fixed places, Mid Totes, and Starting Price.
Right below the Racing section, you get the sports bet odds section on the Rob Waterhouse website. It includes all the major sports you can think of from all over the world.
The library includes sports like Australian Rules, Baseball, Basketball, Darts, Ice Hockey, Football, Motor Sport, Rugby Union, Sports Futures, Volleyball, Golf, Cricket, Handball, and so on.
Sports Markets in our RobWaterhouse.com Review
A "market" in the betting context is an individual selection you can bet on. It ultimately comes down to how creatively the bookmakers can design the markets for the punters and how good the odds are.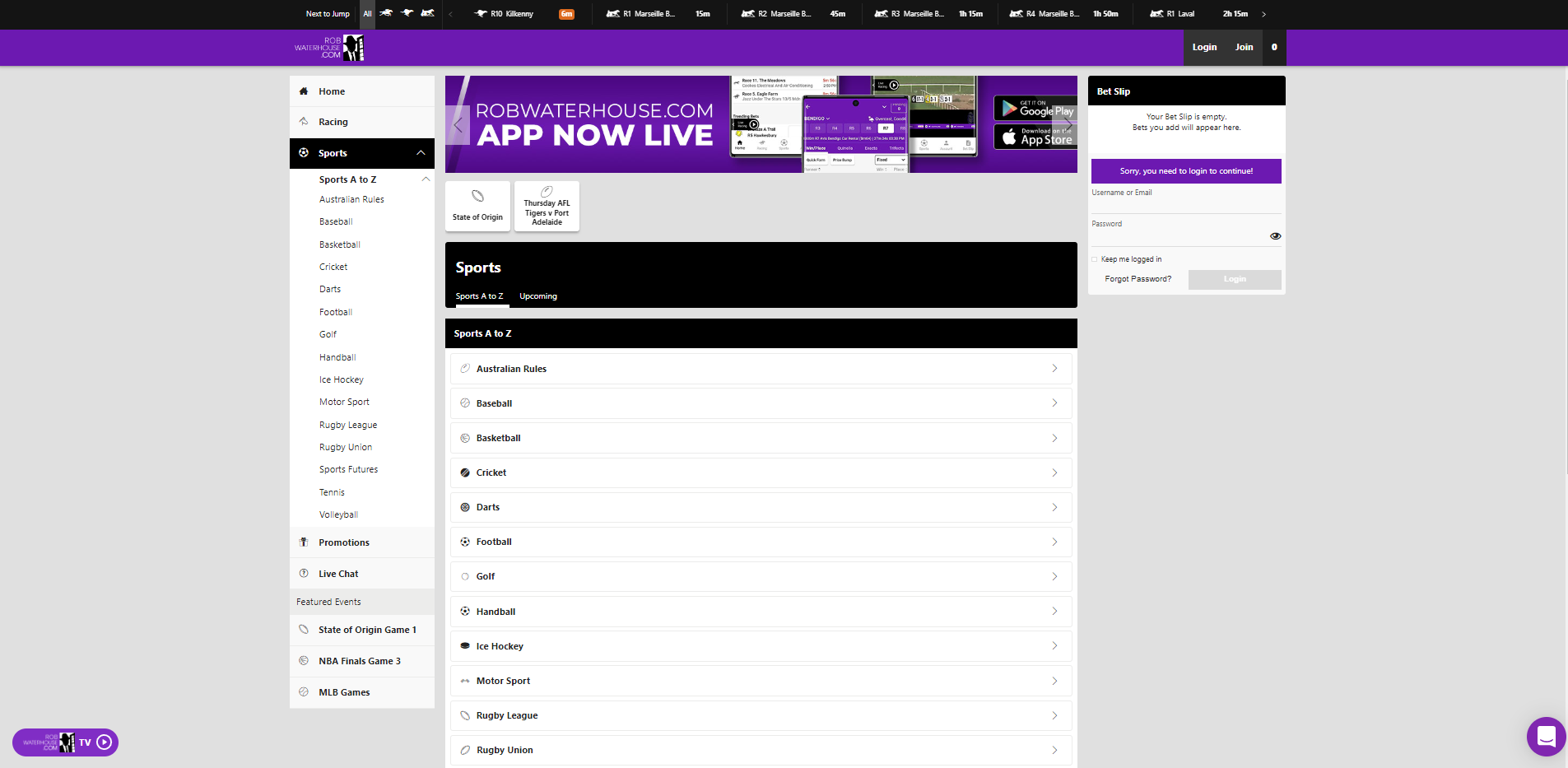 As Rob Waterhouse is from an Australian bookmaking family, he knows how to create markets Australian online punters will love.
If you click on any of the sports from the main menu, it's going to take you to a page where the available tournaments are listed.
You click on a tournament and you'll land on the matches. On the top right corner of each listing, you'll find the number of markets. Just click on it to get a look at them.
For example, at the time of writing this robwaterhouse.com review, Toyota AFL Premiership was happening under Aussie Rules.
A match between Richmond and Port Adelaide had 14 markets. They're nicely categorized between first half, second half, doubles, first goal scorer, odds/evens, and a few other markets.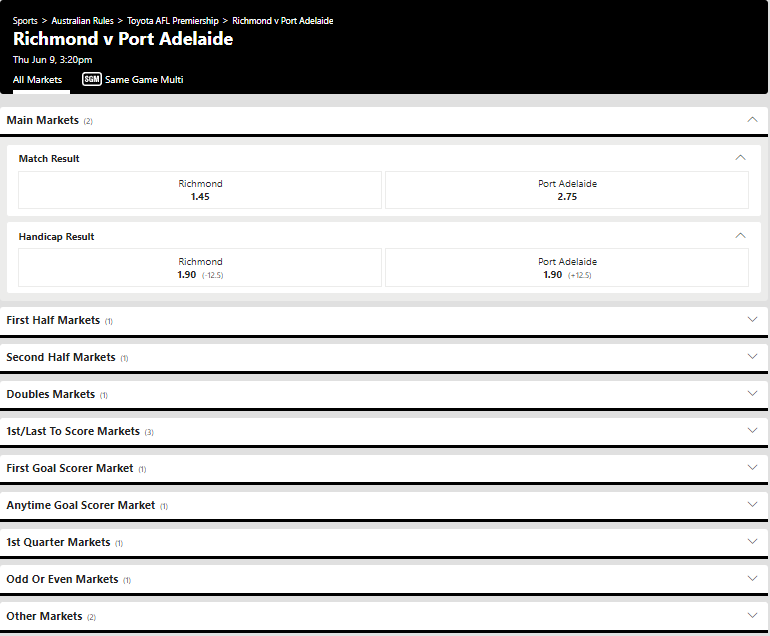 The same is true for any of the other sports you're thinking about going for. There are plenty of props bets as well.
Props or propositional bets are the ones that don't influence the outcome of the match directly. This is one of the areas where you can judge the creativity of the betting sites.
RobWaterhouse.com also offers game multis which means you can go for multiple selections within the same game! Just ask info@robwaterhouse.com to know more.
Robwaterhouse.com Review for Live Betting & Live Streaming
When you're at an online bookmaker, what do you look for? Racing markets? Online wagering options? Minimum withdrawal? or, is it live bet markets?
If you know what you're doing, you should look into the live bets before anything else. Because in the last 5 years or so, various types of live bet have become a fascinating market for bettors all over the world. It lets you place bets on live matches and let you cash out earlier as well!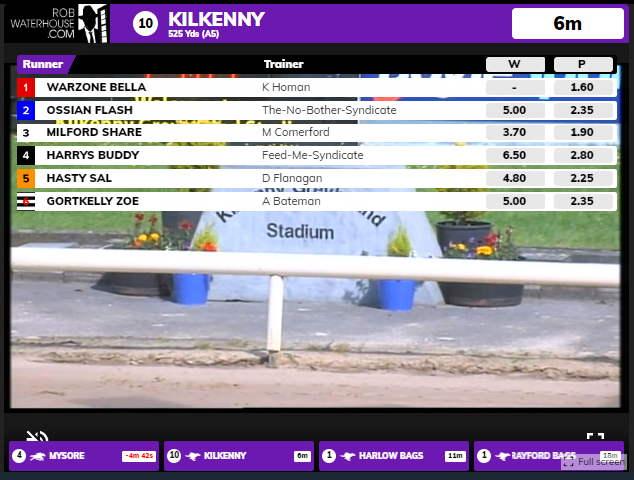 Now, coming to Rob Waterhouse in Australia, you won't find any dedicated tabs for live bets or live odds.
But it doesn't mean the options aren't there. You can see a timer under each of the upcoming events. All you have to do is wait till the match starts and see if you can bet.
Or easier, you can turn up the live chat and ask which markets are eligible for betting and live streaming.
Payment Methods at RobWaterhouse.com
To successfully place a bet before it's too late, you need to have your money ready to go. For online betting sites, online options are the only way to go.
So, what payment options does Rob Waterhouse offer for deposits and withdrawals?
In the FAQ section of the website, there's a very nice guide on how you can get started with real money betting.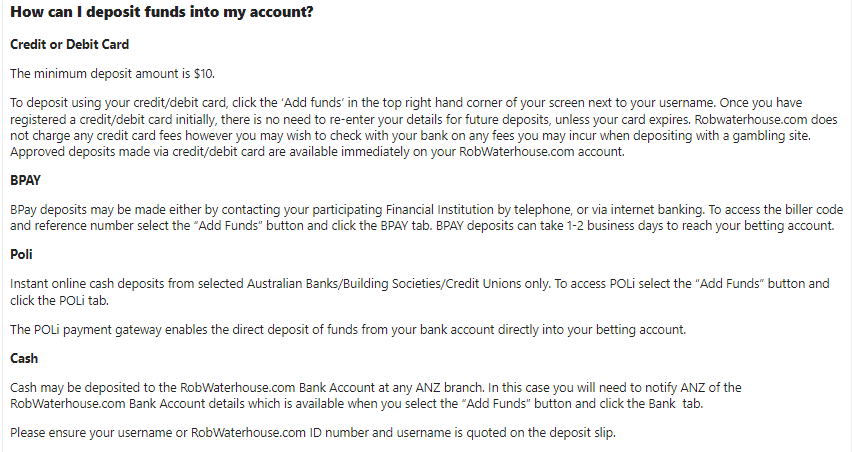 The minimum deposit is $10 only so punters from all walks of life can bet.
You might get exclusive offers at RobWaterhouse.com by using a promo code as well.
The most convenient option you can use is your credit card. Or, a debit card perhaps. Once you enter the details of the card, robwaterhouse.com will save it and you won't have to enter any details in the future.
Unless, of course, your card expires. There are no fees for a credit card deposit but your card issuer might charge an annual fee.
Then there are options like BPay, POLi, and cash deposits. As Rob Waterhouse has been an on-course bookmaker and it still has branches in New South Wales, you can walk into a cage and deposit the money.
For BPay, it might take up to 2 days for the deposit to reach your account. Hence, we don't recommend it.
If your primary concern is racing betting only, we think cash deposits are your best choice. You can also use a bank transfer to fund your payment methods.
Mobile App & Usability at RobWaterhouse.com
Rob Waterhouse learned from his father, Bill Waterhouse, about the dos and don't of being a bookie. Online wagering might not have been a thing when he first started but there's no way to deny that he knows his stuff.
You'll know exactly what we're talking about when you enter the website from one of your devices.
You'll instantly feel the optimization of the platform, whether you use an Android or an iOS.
If you're not happy with the mobile website at RobWaterhouse.com, which is very unlikely if you ask us, you can use the apps.
Just visit the Apple Store if you're an iOS user and download the app right there.
Or, if you're an Android user, you need to download the APK file from the bookmaker's website. It's because Google doesn't allow betting apps on Play Store in Australia.
The app interfaces for both iOS and Android are identical. But the iOS app is quite large in size when compared to its Android counterpart. It's because iOS has a totally different developing environment with lots of additional libraries in the backend.
However, the added storage space doesn't hamper your betting site experience at all, unless your device is already running out of space.
Similar to the desktop site, the portable site and apps have all the features you need. It includes the sports, the horse racing betting markets, live racing, live chat feature, etc. in the iconic RobWaterhouse purple.
You can change the platform from horse racing to sports betting whenever you want. The main menu is right there on the bottom section of the app interface.
How to Gamble Responsibly on RobWaterhouse.com?
In the past decade or so, responsible gambling has been a huge part of the iGaming industry. The nature of the industry has implications and both the authority, as well as the punters, know it.
Easier access to bookmakers or mobile betting means it's more likely for punters to develop a gambling addiction. Such an individual has a gambling problem and wants to spend all their hard-earned money on bets without much thought.
As a result of this phenomenon, every betting site in the world now has a dedicated section for responsible gambling. Robwaterhouse.com is no different.
You'll find the page in the footer section of the website. It goes without saying for new betting sites as well.
The page on Robwaterhouse.com bookmaker is very nicely designed to work as both a learning platform as well as a hub for useful tools.
The first section outlines what the gambling problem is and what are the things you should remember when you gamble responsibly.
In case you don't want to use the tools, you can call gambling help on 1800 858 858 to stay in control.
There's a very nice feature called "Pre-Commitment". You basically go for a deposit limit before you even start betting.
Then, you can increase or decrease it by contacting live chat. You can also go for self-exclusion. It simply means barring access to your gambling account for at least 6 months.
Last but not least, the RobWaterhouse.com website has nice guidelines on how to prevent underage gambling and how to add filters on your devices so no one can access the bookmakers.
If you have that you know has a gambling problem, don't forget to help them stay in control as well.
Customer Support for Australian Punters
For all kinds of real money gambling, having access to proper customer support is very important. Otherwise, how do you know what to do when you face a problem in Australian bookmaker?
In our Rob Waterhouse review, we've gone through the customer support features to help you dial in the setting.
You obviously have the live chat on the site, bottom right corner. However, it doesn't run 24/7, which kind of defeats the purpose of live chat in the first place on the site.
Then, you can send direct emails to info@robwaterhouse.com. It's open for both new and existing customers.
There is a dispute resolution feature on the bookmaker website as well. The regulations are outlined by the Racing NSW directly.
So, you can hope for a swift resolution to whatever problem you have with Rob Waterhouse or his son, Tom Waterhouse.
How to Get Started with RobWaterhouse.com
So, you're ready to create a real money account with the bookmaking family in Australia. Online betting is not as hard as it used to be so you can just do it on your own time.
The sign up process is very much identical to any other sign ups you may have done in the past.
For your better understanding, let's go over the steps on the Rob Waterhouse platform.
Step 1: Visit RobWaterhouse.com
Once you're on the RobWaterhouse.com homepage, locate the registration button. It's a "Join" button on the top right corner. Click on it to trigger the registration form.
Step 2: Fill Up the Form
The process is as easy as filling up the form with email address, password, username, mobile number, and date of birth. This is a 2-step process which means you can only go to the second step after you're done with this one.
On the second phase of the form, you'll need to enter your first name, last name, full address, and so on.
Step 3: Deposit
Once your Rob Waterhouse account is up and running, you can go for the first deposit. You may use any of the methods we discussed previously.
Just make sure you're going with the minimum deposit for any of the promotions you might want. RobWaterhouse will credit the deposit as soon as possible. Of course, gamble responsibly.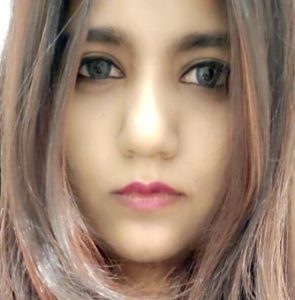 Like many aspiring writers, Jarin focuses on bringing life to the text for her readers. She is an avid sports lover, growing up in a family obsessed with bookies. She is an expert in the iGaming niche and has secondary obsessions with Gardening and cooking.