Pros


Excellent library of sports and racing events


Good quality promotions


Tab Rewards loyalty program


Plenty of payment methods


Only $1 minimum deposit


An excellent racing book


Cons


No live chat


No online casino


Sports betting, at this point, is a mainstream entertainment source for the whole world. Even people who don't like gambling now participate in betting activities. Australia has always been fond of gambling, and the iGaming industry seems to have fueled the fire.
We have one of the many betting sites in Australia for review. It's none other than Tab Sportsbet. It's a horse racing platform, a sports betting platform, a live betting platform, and everything else you want it to be. However, it doesn't offer any casino components to the bettors of the country.
Tab is owned by Tabcorp Holdings, one of the most successful betting businesses based in the country. It primarily specializes in racing and sports betting markets. It has tracks all over the country as well as Tab retail outlets to help you get started.
Tab has been operating since 1964! Yes, that's well before online betting was even a thing. The company went public in 1994. Since then, it has been an uprising journey for the Tab as it bought plenty of gambling companies.
Our Tab.com.au review found that Tab also owns Sky Racing channels, Sky Sports betting, Sky Sports Radio, Ubet, and Luxbet. According to the company, over 300,000 punters are active across these platforms. So, if you sign up with Tab, you know that you're looking at an elaborate betting experience.
It only makes sense for Australian bookmakers to cater to the new customers with betting markets they're going to like. From what we've racing, Aussies are a huge fan of racing, whether it's horse racing or greyhound racing. We're going to cover all of it in our Tab.com.au review.
Promo Codes & Bonus Bets at Tab Sports Betting
One thing Australian bookmakers do is that they restrict the promotions page to valid users only. It means if you don't have a Tab account, you wouldn't know what promo codes or bonuses it's offering. But that's what we're here for.
You might be aware by this point that Australian bookmakers are no longer allowed to offer bonuses to the punters. It includes deposit turnover bonuses, free bets, and no deposit bonuses. Tab doesn't offer any of these, so you shouldn't worry about getting into legal trouble.
The most common promotional material Tab offers is a bonus bet. It's a betting credit, similar to free bets. You use the bonus bet on a range of markets. You get to keep the winnings from the bet, and Tab gets to keep the stake. It's a win-win situation for all.
Types of Betting Markets on Tab Review
Sports betting as a hobby dates back thousands of years. There have been instances of the Greeks betting on different sports during 3000 BC! Later, the Romans picked up on the habit, and they turned gladiator fights into a betting market!
With time, we've come a long way. The approach to betting and horse racing may have changed but the sensation hasn't. You can walk into the betting shops in Australia or any other country to see how crazy punters are about their favorite sports.
When the idea of online gambling was pitched back in the mid-1990s, many didn't believe that it was possible. But it happened, and look where we are now. Tab was one of the early adopters of the paradigm, and that's why it reached the level of success unmatched by others.
In our opinion, the Tab website still looks kind of outdated. But it doesn't hamper your betting experience at all. Instead, it's the clean design that helps you find the betting markets more easily.
If you tap or click on the main menu button on the Tab website, you'll find a few options to select from. You have the Racing, Sports, Multi Builder, and In-Play.
The racing section obviously houses horse racing, harness racing, jackpots, etc., events. Most of the races are concurrent, which means you can dive right into betting as soon as you're on the Tab site or Tab mobile app.
Just like the top racebooks from around the world, the races are sorted based on their track location. You get to participate in fixed odds races from Happy Valley, Great Yarmouth, Haydock Park, Hamilton Park, Cork, or any of the tracks. Needless to say, you can watch all the races in real-time on Sky Racing Channels. The live stream Sky Racing feature is a lifesaver when you bet with Tab.
Tab Retail Outlets and Horse Racing Tracks
By now, you know that Tab has been a betting company longer than the iGaming industry has been around. So, Tab has plenty of retail outlets spread across the country. On the Tab site or Tab app, you'll find an option labeled "Tab Locator". This gives you access to a map where you can find all the Tab retail outlets.
Believe it or not, there are thousands of Tab retail outlets. According to a study back in 2019, there were 4,400+ of them. By now, we believe it should be over 5,000! The map on the website accumulates the total number of land-based points in an area. The more you zoom out of the map, the larger the number you'll see.
On the contrary, the more you zoom in, the number drops as the concentration thins out. If you zoom in enough, you can point out each of the locations for a given area. Now, you might be wondering what is the purpose of a Tab outlet if you already have the website, right?
Well, the physical outlets are designed for people who want quick settlements and quick access to their money. You can redeem a winning ticket from any of the outlets.
Also, there are kiosks in all of these outlets where you can place wagers as well. If you happen to be near an outlet, why not use it, right?
Available Sports on Tab
The sports section is undoubtedly Tab's biggest strength. What good is a bookmaker without a killer sports library, right? You already know about the horse racing stuff so let's not go into that anymore.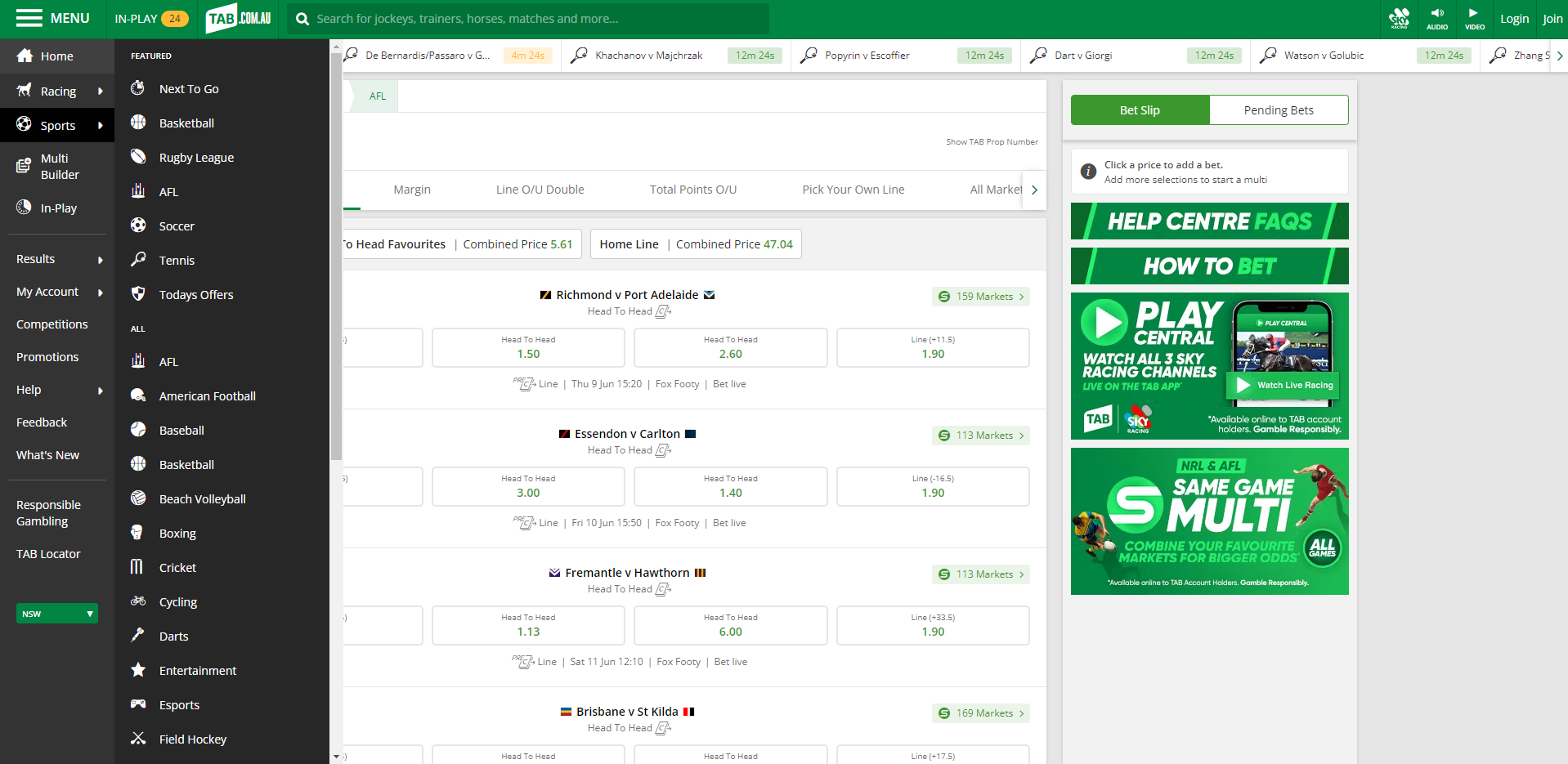 Rather, we're going to focus on teh sports tab. Once you click on it, you get the option to choose the sport you want to bet on. The scrolling time is substantial if you ask us.
You can start with AFL, American Football, Baseball, Basketball, Boxing, Beach Volleyball, Cycling, Golf, Esports, Darts, Cricket, Field Hokcey, Ice Hockey, Netball, Rugby League, various esports, and whatnot!
If you're confused with 2 types of hockey, don't be. Field hockey pretty much follows the same rules as Ice Hockey but it's played on a grass field, much like soccer.
Apart from the mainstream sports, there are plenty of special events that you can try. Take the politics tab for example. High-voltage political events from around the world like the US presidential election, the French Presidential election, etc. are subject to betting.
At the time of writing this review, you can bet on the 2024 US Presidential Election as well. Needless, the odds will shift as the actual election closes in. But you can spread out some bets to improv your odds of winning.
Then, there is the "Entertainment" tab. Global events like the Academy award, Masterchef, Celebrity Apprentice, Big Brother, Logies, and so on. Apart from the pre-match bets that you place on the direct contenders, you can also go for in-play bets.
Last but not least, you have an option to bet on esports. Esports are multiplier computer games where you can play in teams. The best teams from all over the world participate in the tournaments. And bettors in Australia can bet on various games.
League of Legends, Dota 2, and CSGO are 3 of the biggest names in the industry. You get a wide range of markets for these ever-popular titles.
Tab Sports Markets
If you're taking betting service from Tab, you have to look into the range of markets to properly dial in your settings. A "market" is what you actually bet on. So, a football match can have plenty of markets as long as Tab is ready to offer them.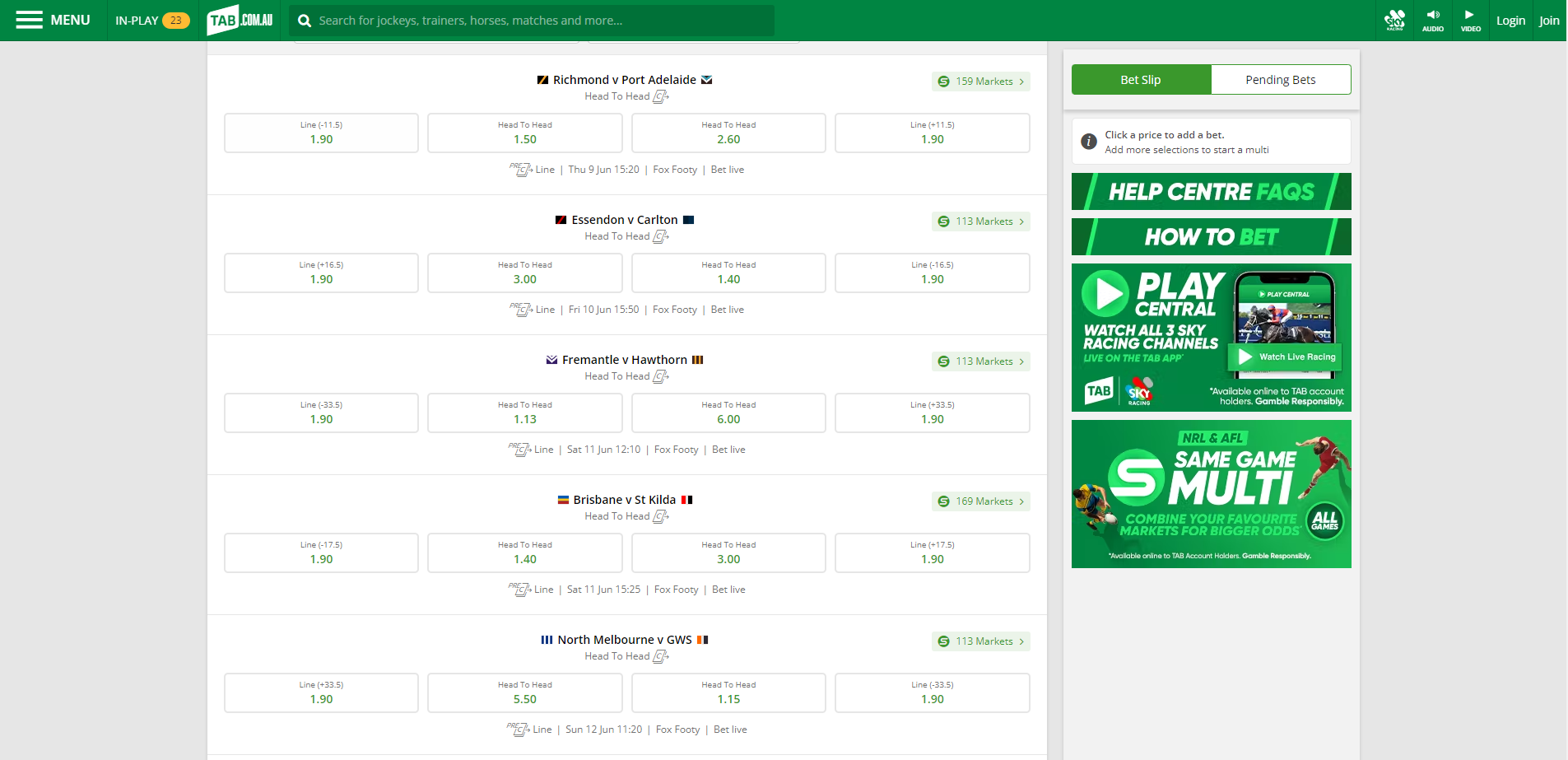 So, let's take a soccer match and explain the most common markets. Soccer is the most popular sport for betting not just in Australia but all over the world. Understandably, the number of markets is the highest for soccer.
For example, a UEFA Nations League Match between Belgium and Poland has 137 markets at the time of writing. All you need to do is click on the "137 markets" button on the top right corner of the listing.
For this match, the markets are further categorized for easier organization. Goals, Margin, Doubles, Correct Score, Players, Corners, Half, Team, Card & Penalty, and Others are the subcategories at the time of writing. Margin basically means spread betting at tab.
Once you click on any of the categories, you'll find the actual markets. So, if you click on "Goal", the markets under it are over/under a certain number of goals, both teams to score, 1st half goals over/under, 1st half exact goals, half total goals o/u, team to score, goal in both halves, exact goals, total goals odd/even, match goal odd/even.
Siimlar to this, you'll find a very organized page filled with various markets and bets from the most popular sporting events from around the world.
Keep in mind that the markets are going to vary quite drastically from sport to sport. So, if you try to find the football or soccer markets for a boxing match, it's not going to work. Boxing is an individual sports while football is a team sport. You can't compare them in any way.
Live Betting & Live Streaming at Tab
The sportsbook by Tabcorp Holdings has an excellent itinerary of live bets. It's labeled as in-play betting on website so don't be confused. You'll find the tab right beside the main menu button.
On the page itself, there are 2 fields you can select. The "in-play" tab houses all the current events. As in the matches that are live at that exact moment. The tab right beside is "Next to Go" and it houses the upcoming matches that offer live betting service.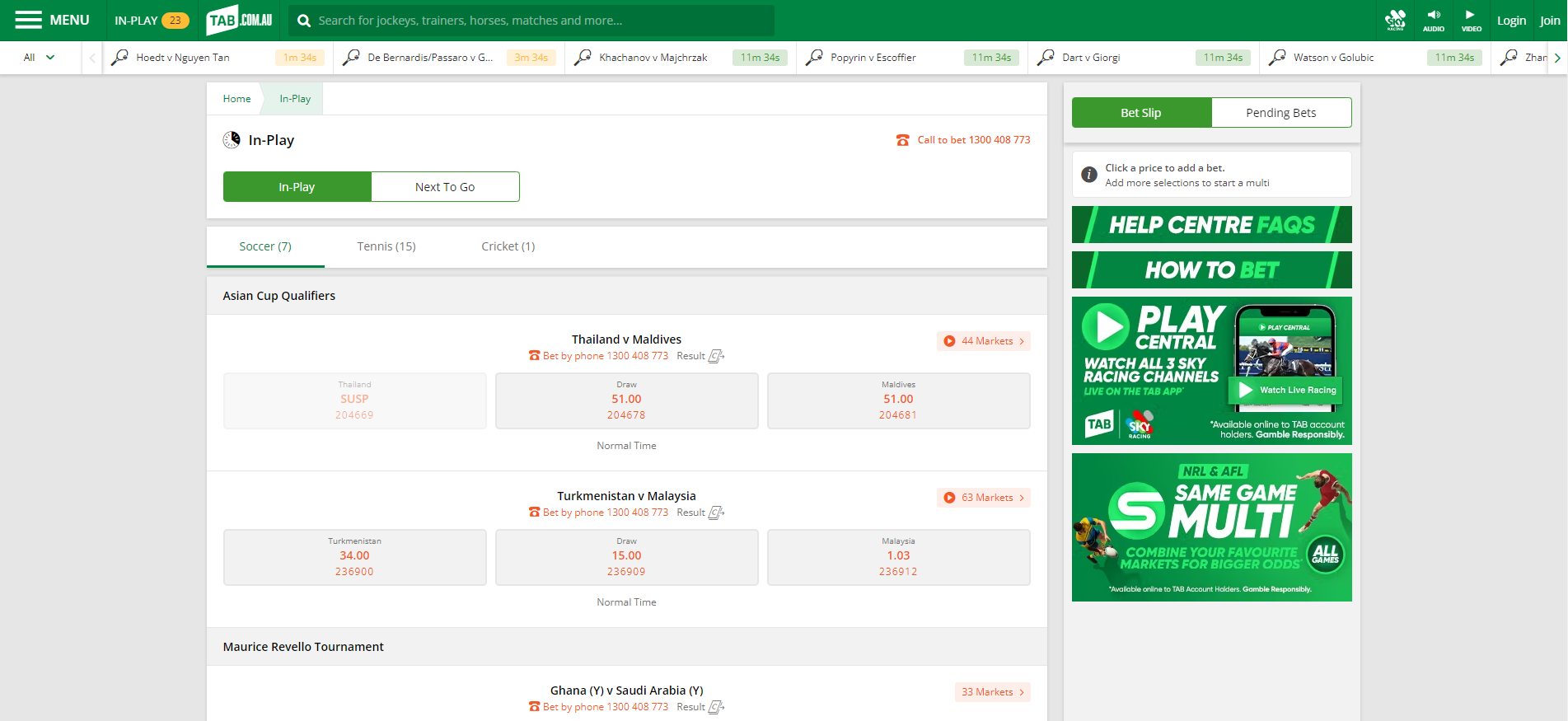 Tab is one of the very few online betting sites in Australia that offers massive number of markets. for example, a soccer match between Thailand and Maldives has 67 markets at the time of writing!
The markets have a lot of elements from the pre-match bets we discussed already. You get options to bet on double chance, total goals over/under, correct score prediction, both team to score, draw no bet, handicap, and so on. You also get the other subcategories we discussed previously.
If you're not familiar with live betting, these are the bets you can place on live matches. The idea here is to utilize the change in odds as the match progresses. You can place a bet at shorter odds and cash it out if gets longer due the flow of the match.
Live streaming is a very important part of the live betting paradigm. Live streaming simply means that you can watch the matches right on the Tab website so that you can decide what you want to do.
Tab does offer live streaming, just not on all the markets. But you can catch most of the horse racing and sports events for fixed odds on the Sky Racing channels. Tab offers a video tab for both new customers and old customers, but you must be logged into your account to access that menu.
Payment Methods at Tab
Real money payments have been a massive area of concern for punters all over the world. There was a time when only a handful bank transfer methods and e-wallets were available to use at betting sites.
Thankfully, that's not the case anymore. Most of the regulated jurisdictions have realized the potential for online betting and they allow all common payment methods to accept betting deposits and withdrawal.
Tab is one of the oldest betting shops in the country, so it knows what deposit options and withdrawal options the punters want.
Deposit Options at Tab Racing
When you bet with Tab, you can use your credit card, PayPal, Apple Pay, credit card IVR, Tab retail outlets and BPay. Pretty much all of these are electronic funds transfer methods that doesn't incur any transaction fees. It's not exactly a wide range but you can't ignore the efforts.
However, the method you're using can have annual transaction fees that you don't know about. It's always best to enquire before you go for the first deposit.
The minimum deposit at Tab is $1 only, which is the lowest minimum deposit we've seen in any Australian betting sites.
Withdrawal Options at Tab
Tab also allows $1 as the minimum withdrawal. The withdrawal options are pretty much the same as the deposit options. You can use an electronic funds transfer, a bank transfer, PayPal, Cheque or money order, and of course, at one of the Tab retain shops.
As for withdrawal times, it can take up to 5 days for cheque or money order withdrawals. Most other options for a Tab customer should be faster. The cheque comes through Australia post bank and that's why it takes longer. You can use both the Tab mobile app or the desktop site to complete the process.
Mobile Apps & Mobile Site Compatibility
A mobile app can make everything easier. Where applicable, of course. Thankfully, Tab offers both and Android app and an Apple iOS app for the mobile site users. Both of the Tab app are available on the respected app stores. For Apple, it's the App store and for Google, it's Play Store.
The app looks identical to the mobile site, which is already packed with all the features. It's one of the best apps on the market. It's no surprise to us because Tab is essentially one of the most experienced fixed odds betting sites out there.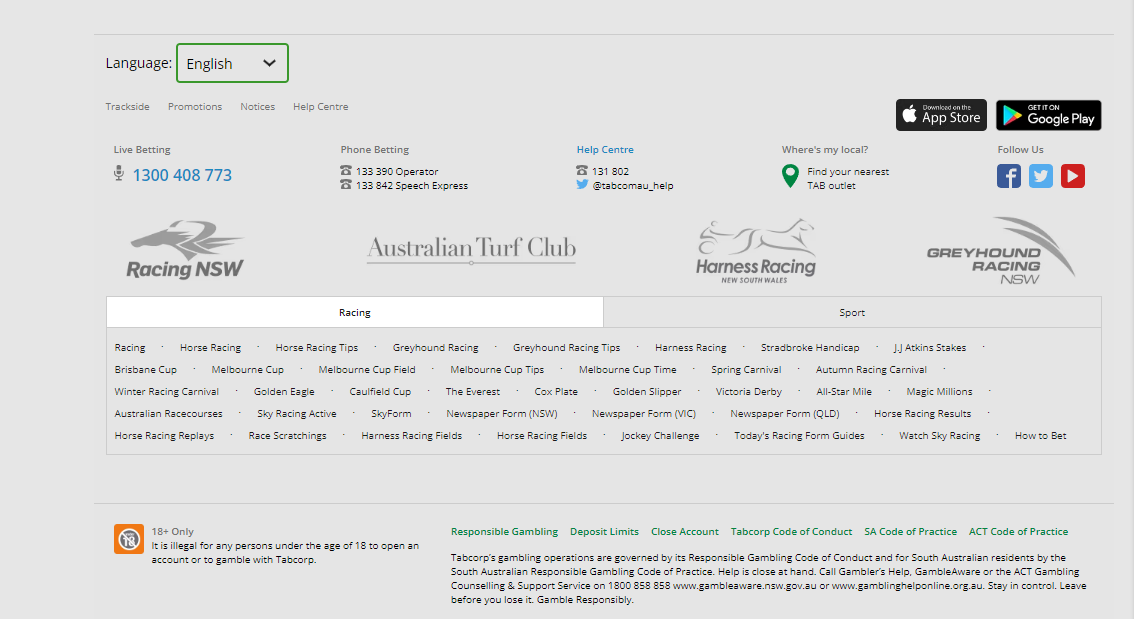 Both Apple and Android mobile app are designed to help you start betting faster and gamble responsibly. Android devices don't even need to configure permission for the Tab app.
Apart from Apple and Android, there are other devices on the market. But the users cannot use the app as the developers didn't make any for other operating systems. They can simply create an account from the site and participate in mobile betting from there. When you bet with Tab, it's the expereince that matters, not the medium.
When it comes to mobile betting, things can go 2 different ways. You can either expect an identical experience to what you had on the desktop site or you may get a completely new experience.
In our Tab review, we think it's the former. If you know how to bet as new customers, you'll know how to bet from mobile. Also, you can change the odds format as you see fit. The offered odds format are decimal, America, and fractional.
Gamble Responsibly with Tab Sportsbet
The moment you make your first deposit, the challenge to gamble responsibly start. To gamble responsibly, you must be on top of your mental status.
If you're in any kind of distress, severe enough to disrupt your decision-making abilities, we recommend to refrain from betting at Tab. It goes for other bookmakers as well. Do not start betting unless you're sure of it.
Most modern gambling and racing sites offer proper tools to gamble responsibly. You can find deposit limits, loss limits, self-exclusion, cooling-off, and various other tools at most betting apps. The odds are that you can control your impulses with these tools.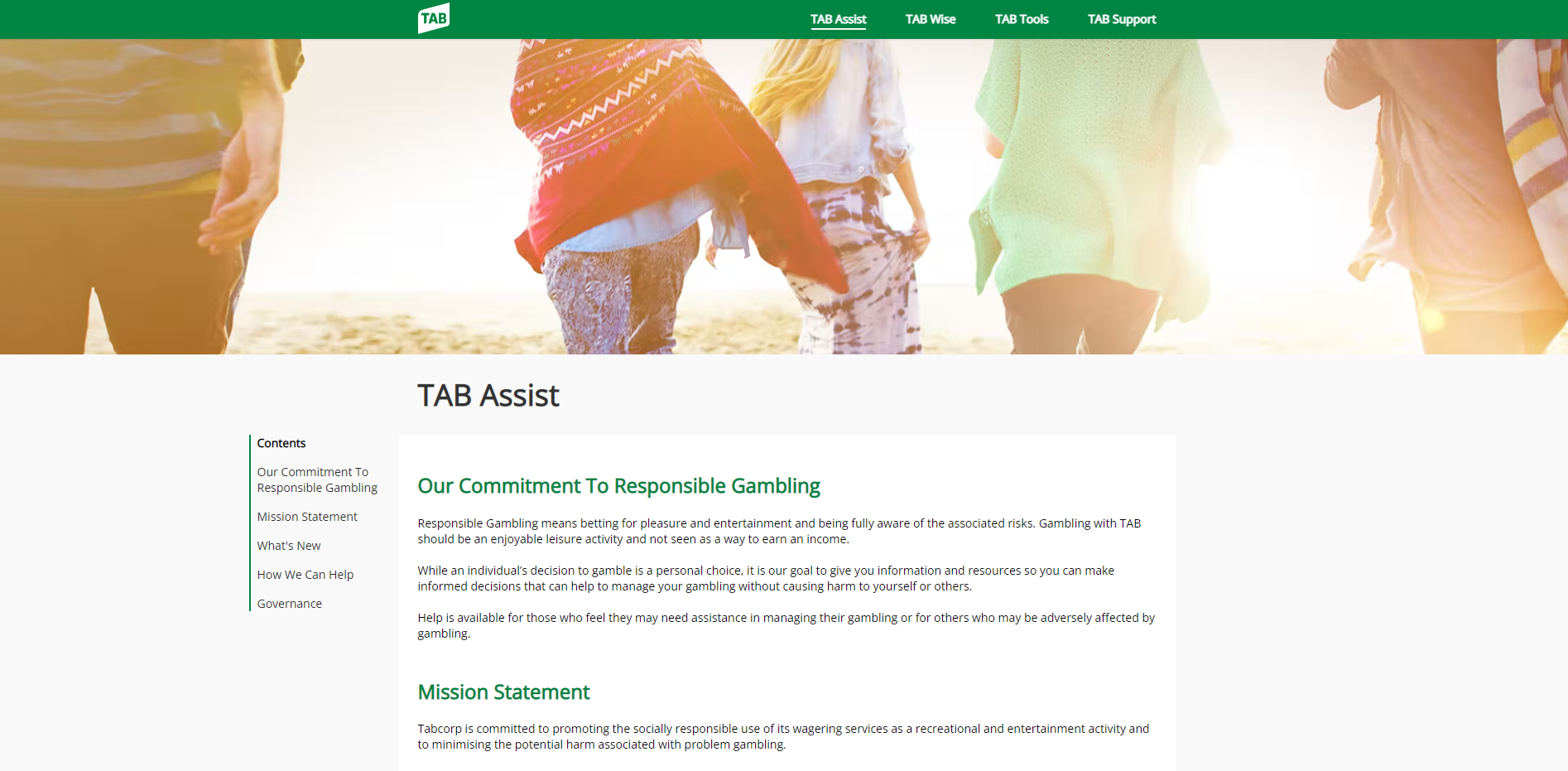 Just in case you can't, you can always reach out for external help. Betting apps like Tab will have a dedicated section to list all the information you need to know.
On the Tab website, there's a page for Responsible Gambing where you'll find contact details for Gamble Aware, Victorian Responsible Gambling Foundation, ACT Gambling and Racing Control (Code of Practice), and plenty of other organizations all over the coutnry.
FAQs
How are the Tab promotions?
Tab has a nice promotional section going on for the punters. You're most likely to get a bonus bet against your first instant deposit. The bet will work on a wide range of sports and racing markets. Tab also has a very nice loyalty pgoram known as Tab Rewards. You can accumulate reward points from Tab Rewards as you keep wagering.
What does Sky Racing 1 2 mean?
Sky Racing channels are owned by Tab and it's thoroughbred central telecasting channel as well as a greyhound telecasting channel. All the racing events you can bet on at Tab, you can catch them live on Sky Racing. The 1 2 are just the numbers to distinguish between multiple channels.
How good are the odds rating at Tab?
It's really good. To understand how the odds work, you need to understand how they're calculated. Tab employs some of the best analysts in the business to procure the most accurate Tab offer.
What is the minimum bet at Tab?
The minimum bet at Tab starts at $1 only. Keep in mind that you won't be getting any of your money back in case of a failed bet. Money back only works when you're participate in such Tab promotions.
How can I start betting at Tab?
To start betting at Tab, you first need a racing account, make a deopsit, and place a bet. The process is as seamless as it sounds. The only thing you need to ensure before you start betting is that you're providing legit information to Tab.
How is the customer support at this Racing site?
Customer support plays a very important role in our reviews. Tab offers a telephone line (131 802), a Twitter handle (@tabcomau_help), and email support. However, it doesn't offer any live chat for immediate resolution of an issue.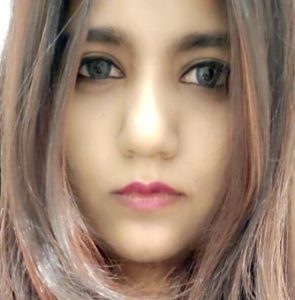 Like many aspiring writers, Jarin focuses on bringing life to the text for her readers. She is an avid sports lover, growing up in a family obsessed with bookies. She is an expert in the iGaming niche and has secondary obsessions with Gardening and cooking.