Pros
Customer service is available 24 hours a day 7 days a week
The same game multiple options are well-priced compared to other sites
Highly competitive odds with no betting limits
The sports market hosts 25+ categories
Credible and secure payment options, such as bank transfer and credit card
The bet minimum is as low as $2
TopSport displays odds margin for local and international race and sports
Tokens can be topped-up
Loyalty bonus programs are available for dedicated punters
Cons
There is no live chat feature on thecustomer service page
It is missing racing speed maps and live betting options
Mobile phone experience may be slower than on desktop sites
TopSport has a limited number of withdrawal methods
TopSport is a familiar name in the bookmaker markets of Australia. Now that TopSport mobile is accesssible for national and international punters, the platform has reached the pinnacle of success!
The range of bonus promotions provided by TopSport is top-notch, bank transfer and credit card payments are made easier, and the sport odds review has improved overtime. On the other hand, TopSport offers limit settings for punters to gamble responsibly while on the online bookmaker site.
With all these upgrades taking place, punters have access to more fixed odds sport game and races. Thanks to Tristan Merlehan and his family's relentless hard work and effort, the Australian owned sport bet site has come a long way!
Let's look at how the odds have been designed, the sign up bonus promotions on sport range and races, and the platform's way to gamble responsibly for punters in this TopSport review.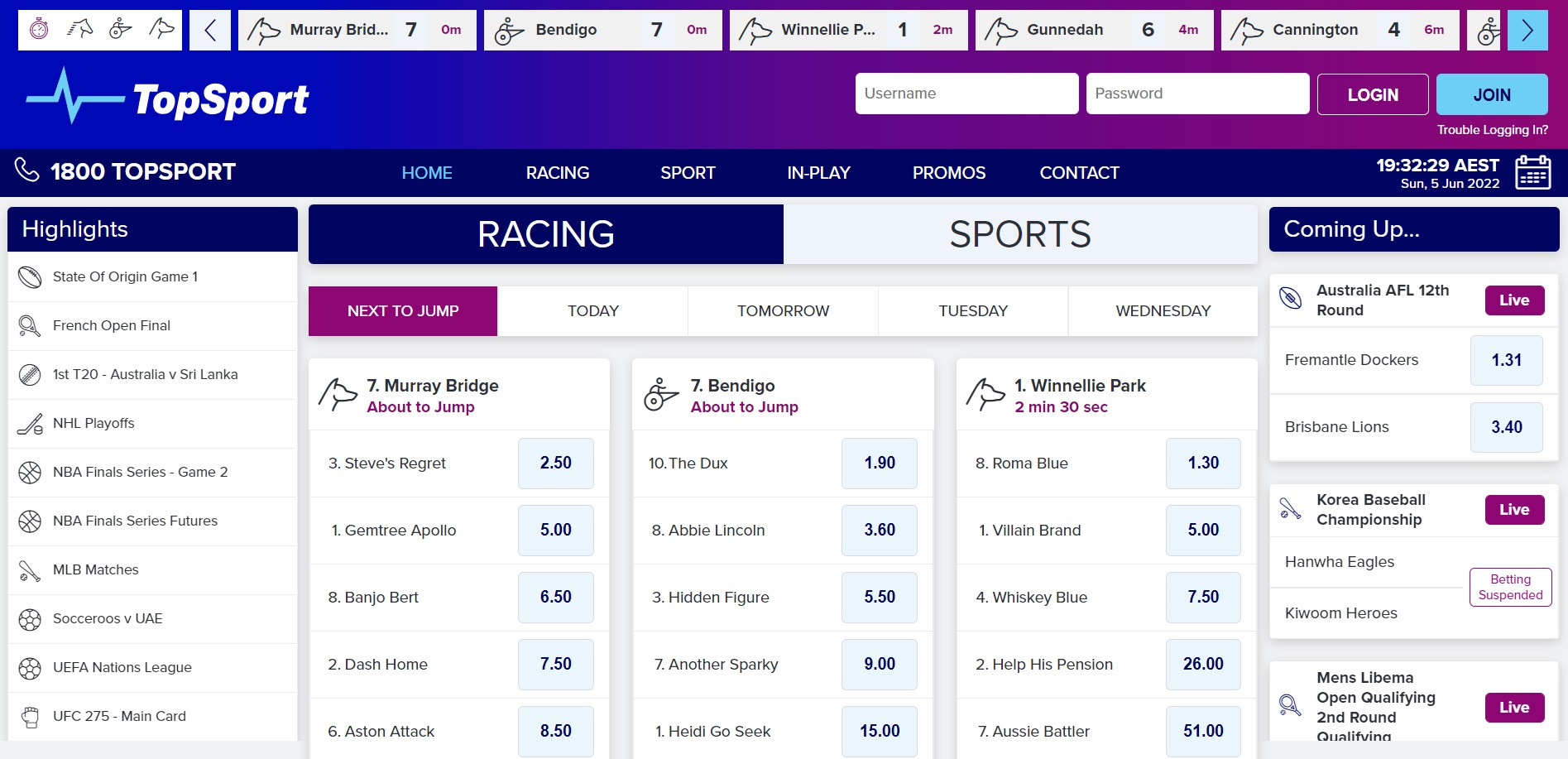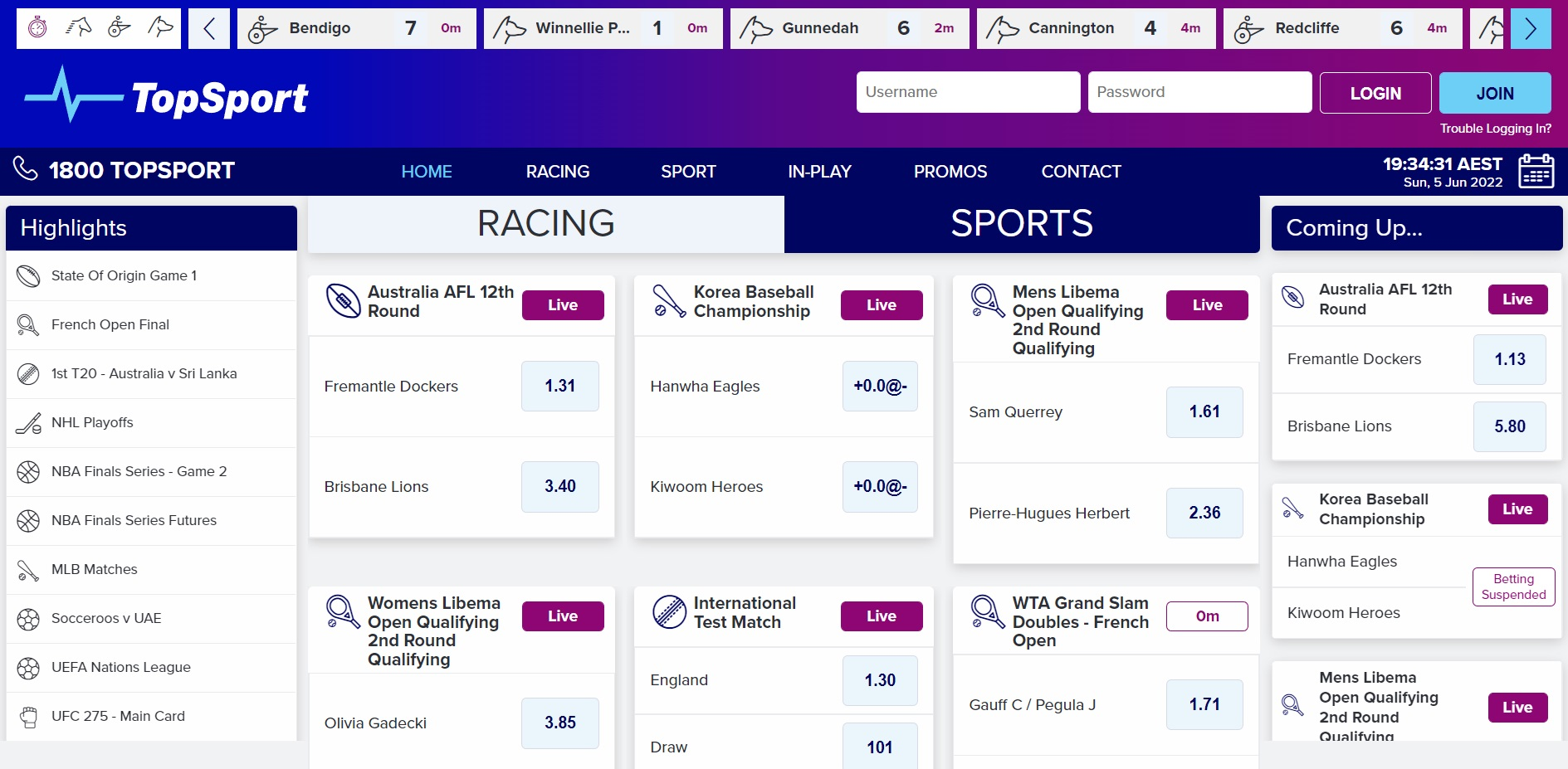 Background of TopSport Australia
Being one of the first bookmakers to operate in Australia, TopSport is still continuing to impress bettors all over the country. Located on the southern end of the Gold Coast, TopSport can still be considered as one of the best sport service in the betting industry.
It relies on the GenerationWeb V. 7. 1 Interactive Betting System to host different types of sports betting odds on its platform for entertainment. If you are wondering who are the masterminds behind TopSport, they are Tristan Merlehan and Lloyd Merlehan who have 30 years of professional experience in the field of sports betting.
As for the regulation and licensing of TopSport, it is overseen by the New South Wales Office of Liquor and Gaming. The sports betting authority ensures that all formalities and regulations are maintained by TopSport regarding gambling in the country.
Not only are they monitoring the telephone conversations between bettors and the bookmaker, but also inspecting all the wagers and service promotions placed on the TopSport bet page over the internet. Because TopSport cares about its public reputation and ongoing progress, no minors under the age of 18 are allowed to register or bet on odds on the platform.
Accordingly, we want to share more about race odds, game bet, and sport range in this TopSport review. Keep reading to find out all the surprises hidden behind this gem!
Promotional Offers of TopSport
It is safe to say that Australian owned and operated betting platform, TopSport has unnumerable promotional offers and odds especially reserved for its Australian punters.
Every Saturday, you can take part in Best of the Best Multi. There are also the Protest Payouts on horse racing markets along with top loyalty rewards and promotions for dedicated bettors out there.
However, these racing and sports promotions on TopSport can change frequently, so you have to check the web page or app for updates regularly.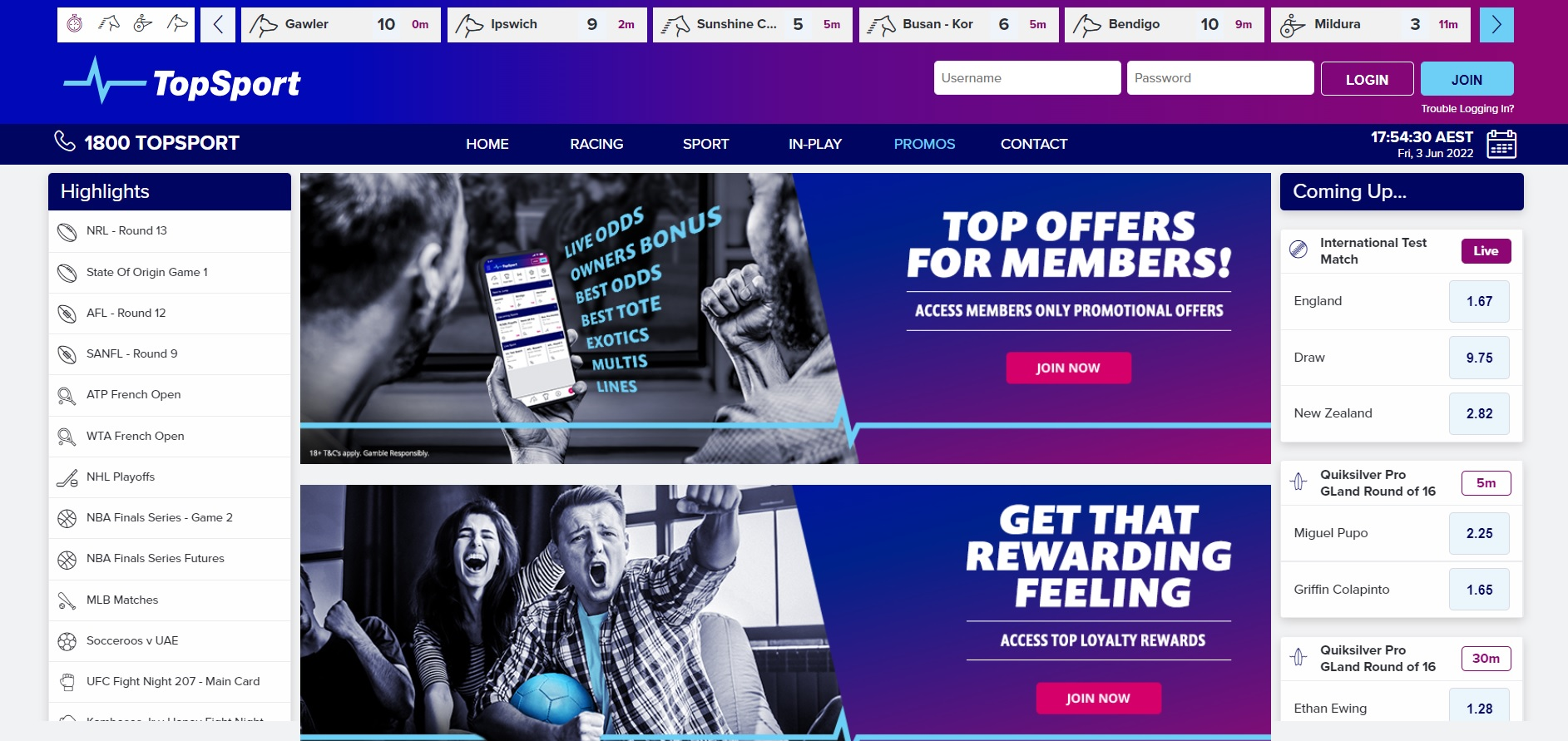 To find out if you are eligible for these bonuses or not, you have to open your account with TopSport Australia or log in if you already have an account with the platform. Having said that, we want to show you the TopSport racing products on offer.
Best Tote Plus SP
Starting Price (SP) is only applicable to the Win Portion of the bet, which is selected from either the Official On-Course Starting Price (SP) or the Best of the 3 Australian TAB Prices.
Best of the Best Premium (BOB)
Although only available for a few TopSport betting markets, BOB bets must be placed 30 minutes before the advertised starting time on the betting website. BOB is also the best of either the Official Best Fluctuation or the Best of 3 Australian TAB prices.
Best Fluctuation
It is just the best price proclaimed by the official bookmakers. Nevertheless, it is subject to policies determined by the TopSport management and is applicable for certain horse racing markets only. Since it is declared 25 minutes before a race begins, keep yourself ready!
Win & Place Tote + 5%
In this scenario, TopSport offers a 5% higher dividend than the Victorian TAB on the profit of the wager.
Middle Tote
This offer is the middle dividend of the 3 Australian TAB prices to ensure that TopSport punters are getting the best prices.
Best of 2 Totes
This one is the best dividend calculation between Victorian Super TAB and NSW TAB. So you see, TopSport lets you pick the best bets from the current sport and racing market.
Best of 3 Totes
Now, the third one in the series of totes is the Best of 3 Totes, which is based on the best odds from the 3 Australian TAB markets.
Multi Bets
Multi bets or all-up bets are just a combination of several single bets that are multiplied with individual odds to get a total dividend. Fortunately, TopSport bookmaker utilizes 2 to 10 legs for both racing and sports.
Fixed Odds
These are generally fixed and are displayed on the TopSport web page after confirmation.
Exotics
Exotics are Trifecta, Quinella, First Four, Exacta, and Quadrella. They are all paid in dividends by the Victorian TAB.
Types of Bets and Markets on TopSport
To begin, all the sports, racing markets, winning bets, and betting options on TopSport are all regulated by the NSW Office of Liquor, Gaming and Racing (OLGR). Punters can view the betting schedule provided by the OLGR on sports betting events, a glossary of terms, and applicable betting options.
Usually, the minimum bet limit for internet transactions is $2, whereas it is $10 for telephone transactions. On the other hand, the maximum bets are decided based on the type of sports event and the trend of that time.
TopSport betting on horse racing can be put forward in several ways that are not limited to Exacta, First Four, Australian 3 Codes of Racing (Horse, Harness, and Greyhound), Jockey Challenge, Box Challenge, Quaddie, Superfecta, Trifecta, Futures (local and international), and Quinella.
On the other hand, Australian owned and operated TopSport betting also allows 35 kinds of sporting bets in golf, tennis, esports, rugby, soccer, baseball, basketball, cricket, ice hockey, National Football League (NFL), Australian Football League (AFL), National Rugby League (NRL), volleyball, and athletics.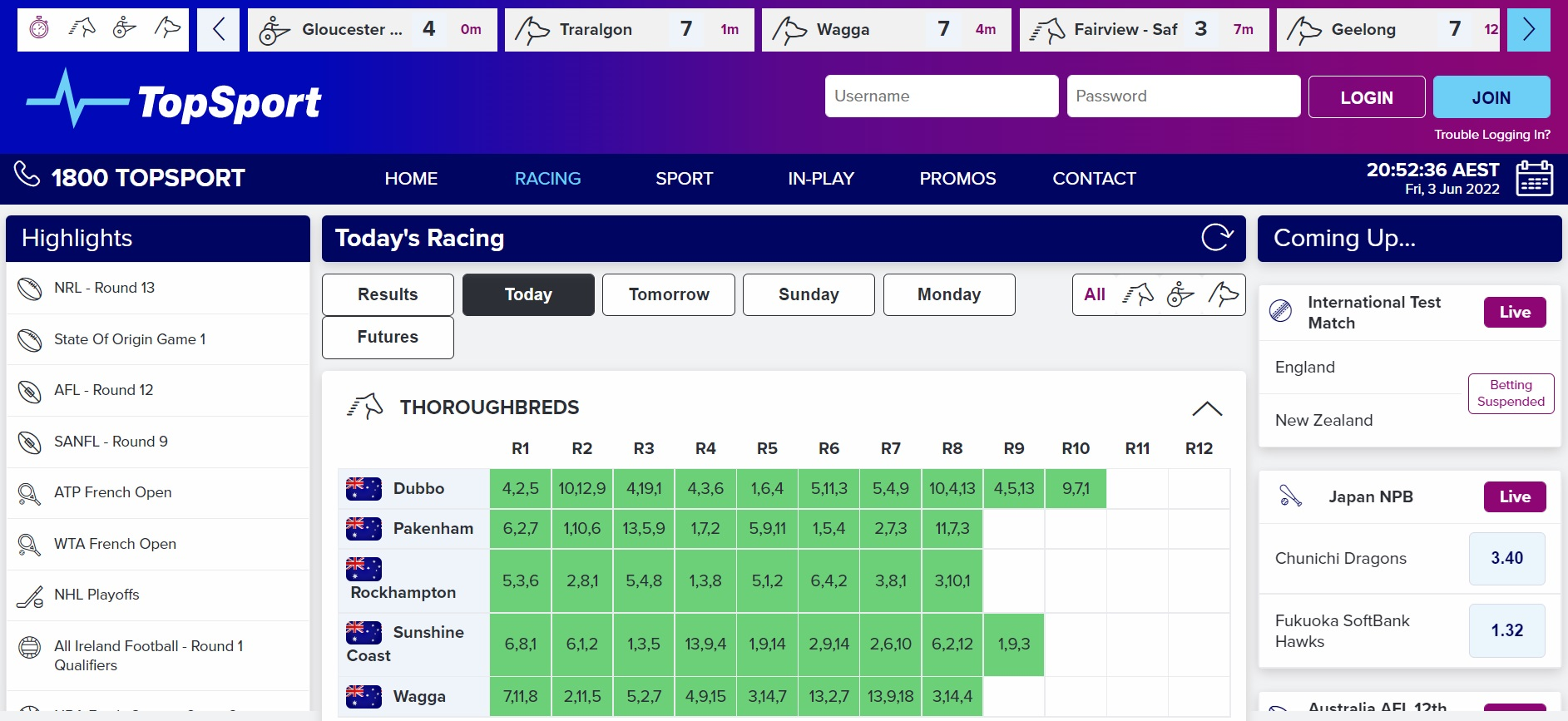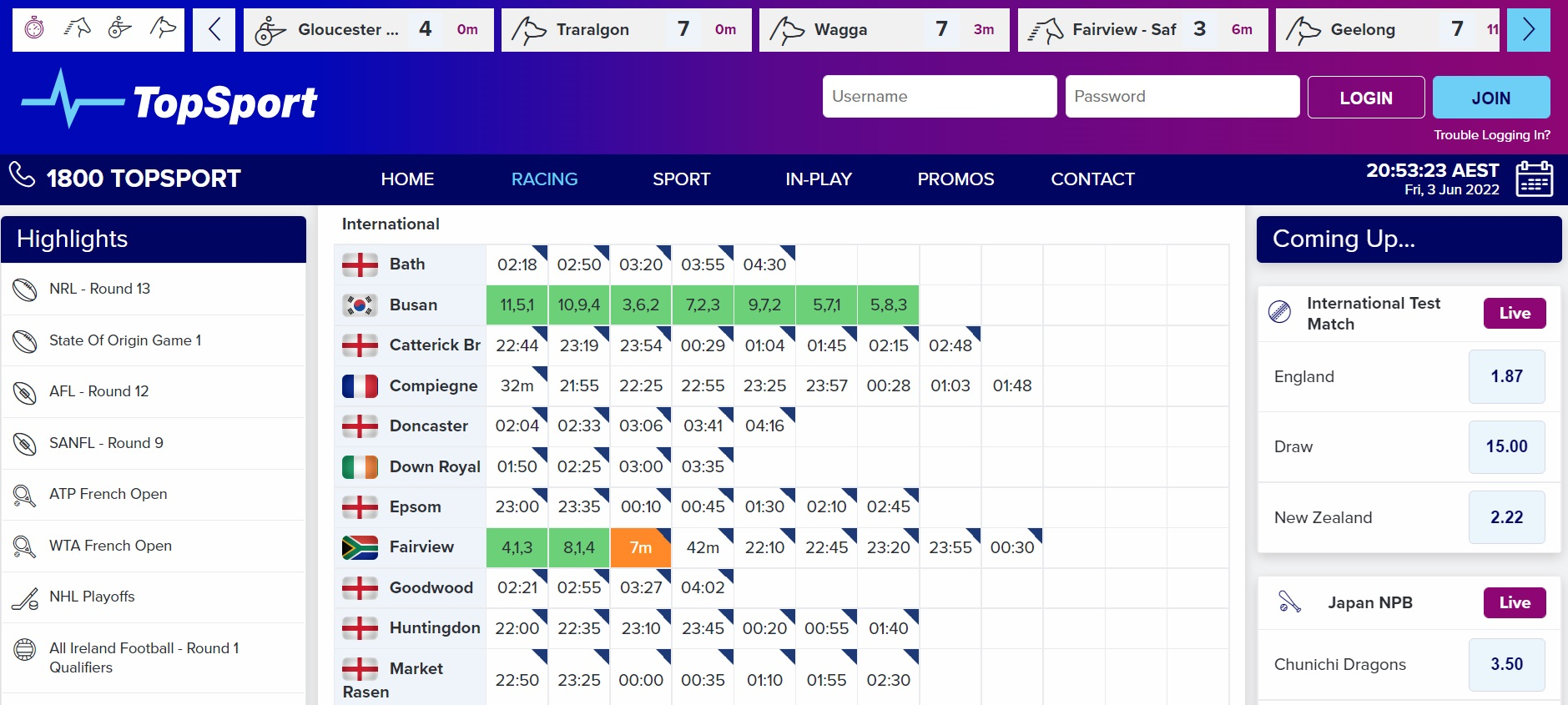 TopSport Payment Services
Other than being regulated by the NSW Office of Liquor, Gaming and Racing, the sports website, TopSport is also a member of the NSW Bookmaker's Co-Operative, an institution that promises to pay all punters with their winning bets.
In addition, TopSport also advocates a hosting facility for continual recording and retrieval of data that are related to a bank transfer, credit card, deposit methods, and withdrawal methods for online races and sports.
Having said that, the primary methods of payment are cheques, credit card services, BPay, POLi, cash, and Electronic Fund Transfer (EFT). Even though it is one of the most traditional payment methods out there, the TopSport website accepts deposits in the form of cheques.
Credit card deposits to your bookmaker account via VISA and MasterCard are very popular for online mobile play. Some fees may be incurred by the bank for processing your deposit and withdrawal options by a credit card. Deposits on TopSport may be instant, but a withdrawal may take as long as 2 to 3 days.
Whether you are using the bookmaker on the desktop website, iPhone, or Android phone, POLi, BPay, and EFT can be used to deposit money into your TopSport website account. Surprisingly, POLi can transfer funds in 60 seconds, whereas EFT takes about 3 days to do the same.
Now, if you are wondering how the cash transaction works, here is a brief explanation about it. It works as a cash deposit made from the Westpac bank to the account number displayed in the deposit section of the Australian sports bookmaker website, TopSport.
Mobile App Features of TopSport
The bookmaker proudly makes it known that its mobile app for Android and iOS devices is one of the best the market has to offer. TopSport is fast, free, and hosts all the live betting options on horse racing and sports with competitive odds and optimized features.
The main benefit of having the app for a TopSport customer is that you can bet on the go, and check the progress in real-time! The app lacks no features that are available on the desktop site.
You can enjoy the same promotions, customer support, betting limits, live betting, loyalty rewards, and so much more!
Download the TopSport App on Android
Call it our luck but Google doesn't let horse racing and sports apps be displayed or downloaded from the Play Store, so Australian punters have to go about another way to get the app.
The download link is available on the TopSport webpage that you can access on your mobile browser. Since the app is updated every now and then, you should make sure that you have the latest version installed on your Android phone.
If this is your first time downloading third-party sources on your phone, you have to make a small adjustment. Go to Settings of your phone, and select Security. Now, check the box that says Unknown Sources.
For best results, your device must be Android 6.0 or higher. The app will work even if you have a lower system version except for some features.
Download the TopSport App on iPhone and iPad
Unlike Google, Apple displays sports betting sites for download on the App Store. But you can download the app from topsport.com.au at the same time. There is less trouble to deal with when downloading and installing the app on iPhone or iPad.
Regardless, in the case of troubleshooting, you can always reach out to TopSport's customer service for assistance.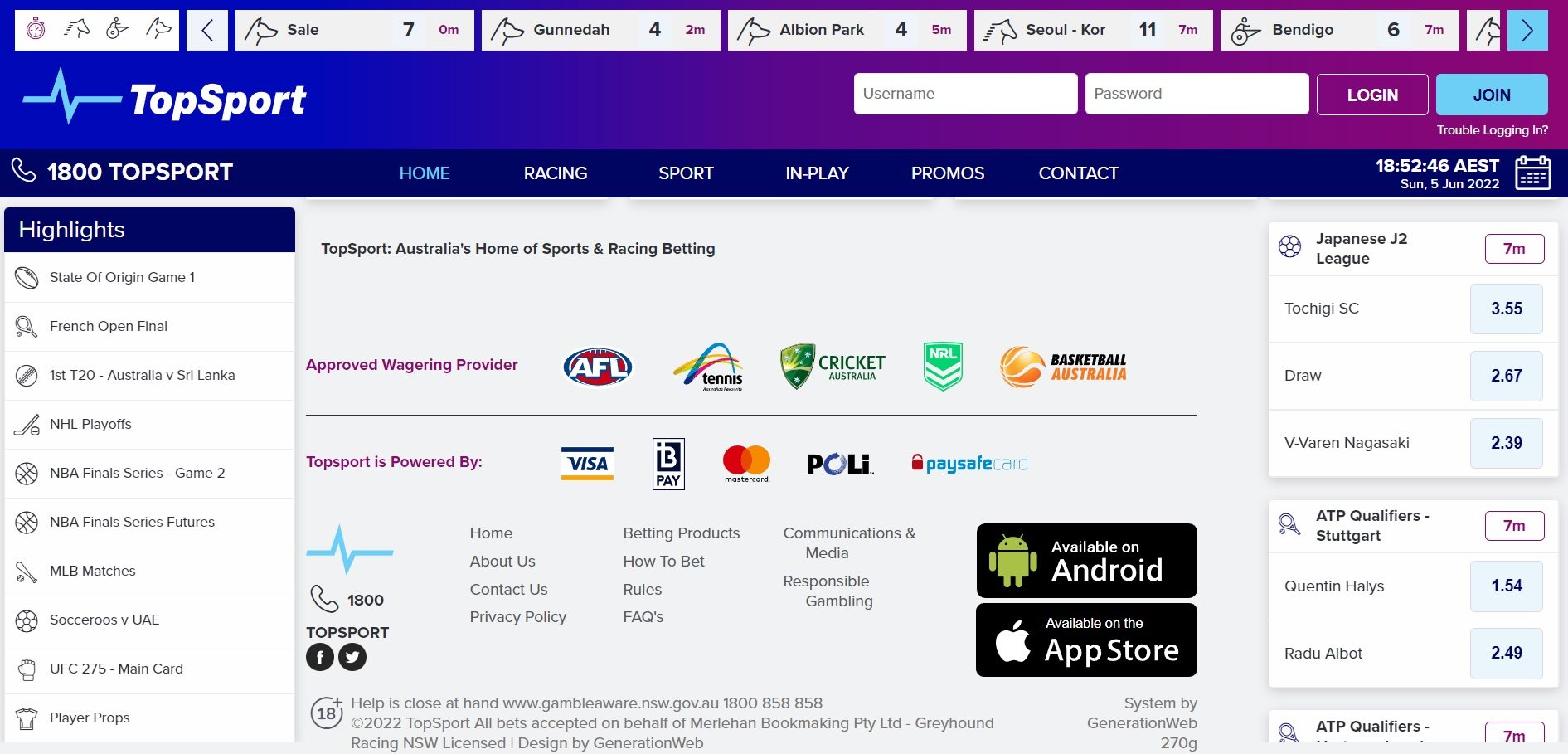 TopSport Responsible Gambling
Responsible gambling is a set of initiatives taken by the gambling authority or the government to ensure that people are engaging in gambling activities on online bookmakers within their means. This is because sometimes people bet on sports as a source of income, which is not a healthy or practical choice, to begin with.
Additionally, some people also stay stuck wagering on bookmakers to get away from current life problems. These people usually end up suffering financially, socially, and physically due to their negative gambling habits.
Therefore, it is recommended that punters take enough breaks between horse racing and betting on greyhound races, AFL, NRL, and other Australian sports markets while staying online with bookmakers.
With that being said, TopSport can arrange voluntary limit setting options for the punters in the form of time limits, deposit limits, and wager limits.
The sportsbook service, TopSport can also allow punters to become part of self-exclusion programs and cool-off periods so that they can regain their composure from gambling addiction. Bettors must gamble responsibly while they are taking advantage of various bookmakers in the betting markets.
Enough information and resources are available on the bookmaker website so that the punters can get the help they need. Otherwise, many of them will become victims of gambling addiction due to ignorance and negligence.
Last but not the least, TopSport also ensures that minors are not falling victim to irresponsible gambling due to the negligence of adults. Keeping this in mind, the bookmaker only lets punters 18 years old or older to join its page and bet on different sports.
If you have minors at home, you can prevent them from accessing the TopSport bookmaker with the help of parental control software, such as Net Nanny and Cyber Patrol.
Responsible Gambling NSW Helpline: 1800 858 858
Responsible Gambling Website: www.gamblinghelp.nsw.gov.au
Customer Support Features of TopSport
Surprisingly, as one of the best bookmakers in the world, TopSport doesn't have live chat support. Even without it, the sports betting page has an exceptional customer support system!
There are 2 separate email outreaches- one for banking-related matters and the other for general inquiries. Whether you are living in Australia or outside, you can call TopSport over the phone. The Merlehan family also provides a toll-free option.
Email for Banking Purposes: accounts@topsport.com.au
Email for General Purposes: support@topsport.com.au
Call within Australia:   (07) 5599 2244
Call outside Australia: +61 7 5599 2244
Toll-Free Number: 1800 867 7768
Postal Address: PO Box 455, MIAMI Qld 4220 Australia
How to Create a TopSport Account
To sign up with the Australian online greyhound racing, AFL, and NRL betting markets, TopSport is easy and it only takes a few steps. When you visit the TopSport website, click on the Join button on the right-hand upper corner of the screen.
First, you have to fill up the section with your personal information, such as full name, country, address, email, and contact number.
You can't move to the next step unless you have filled up all this information. The next step usually involves entering your profile information. Once you are done filling up all of that, you can confirm the sign up process.
If a TopSport customer wants to change his details, he can just contact the customer service team about it. It may take a few days, but it will be worth it!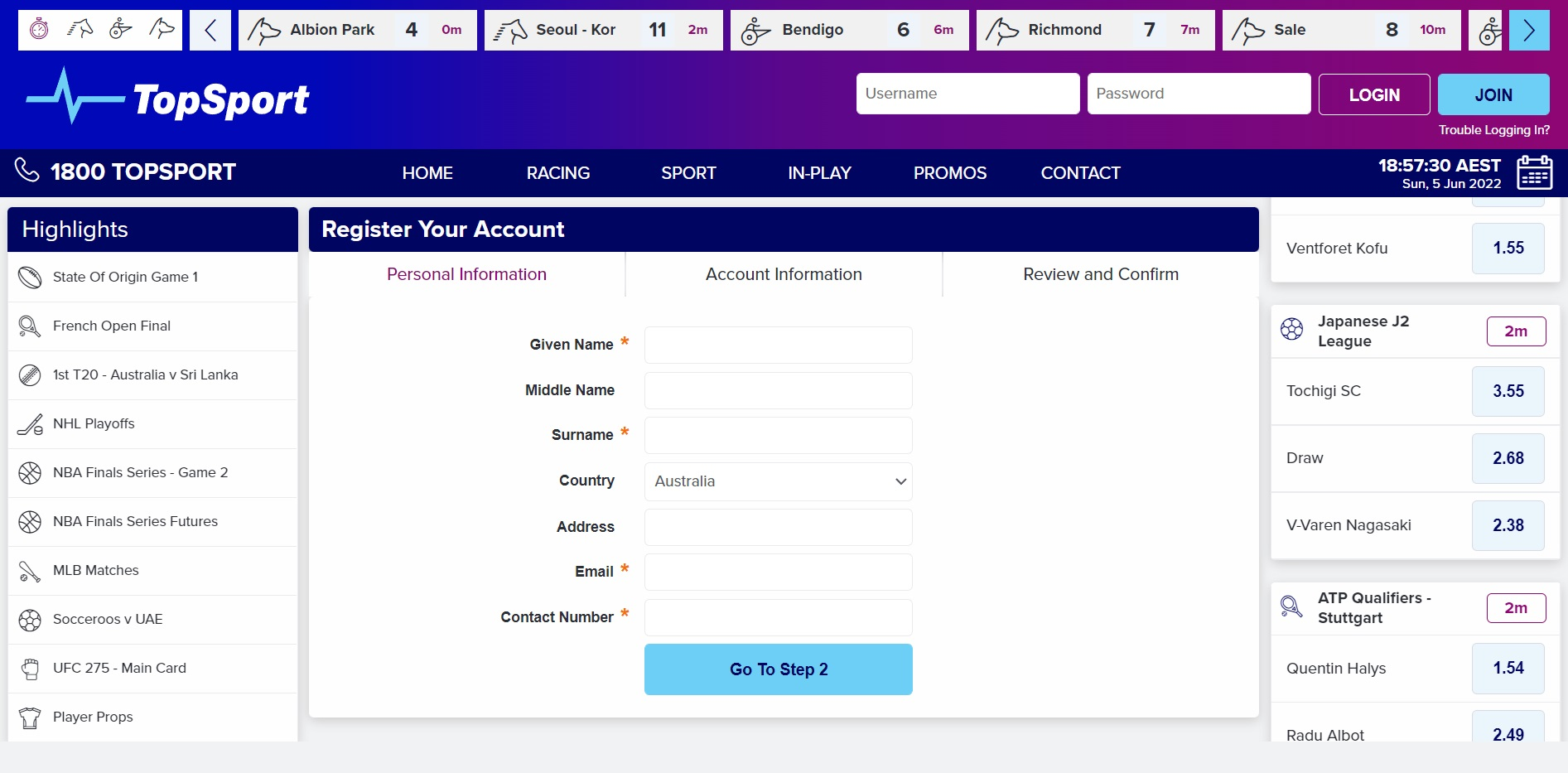 TopSport FAQ
Is in-play betting safe on TopSport?
In-play betting is safe on TopSport, only if the bettor is gambling responsibly within limits. In another word, the speed at which in-play betting occurs may lead to compulsive gambling in punters who are susceptible to gambling addiction.
How do I know that my money is safe with TopSport?
TopSport is appropriately licensed and regulated by the New South Wales Office of Liquor, Gaming and Racing, Greyhound Racing New South Wales, and New South Wales Bookmaker's Co-Operative. As a result, all accrued payments are dispatched to the right owner without delay.
What are the best payment options on TopSport?
The best payment options on TopSport are POLi, BPay, credit card, and Electronic Fund Transfer (EFT). POLi deposits and withdrawals are instant, whereas BPay, VISA, MasterCard, and EFT may take a few more days to transact your funds.
How do I send deposits to TopSport by cash?
To make your deposits to TopSport by cash, you have to send the money or cheque to the following postal address: PO Box 455 Miami QLD 4220. You can find further information about postage on the Australian owned betting platform.
Final Verdict on TopSport
Needless to say, we have nothing much to complain about TopSport which is already a well-developed platform. To name a few areas of improvement, TopSport can include a live chat service, add more withdrawal methods, racing speed maps, and live betting options. Other than that, it is doing great!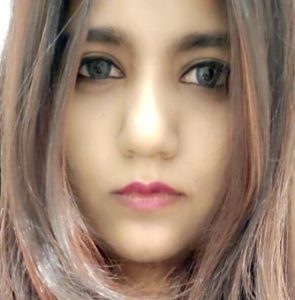 Like many aspiring writers, Jarin focuses on bringing life to the text for her readers. She is an avid sports lover, growing up in a family obsessed with bookies. She is an expert in the iGaming niche and has secondary obsessions with Gardening and cooking.