Betting in tennis in Canada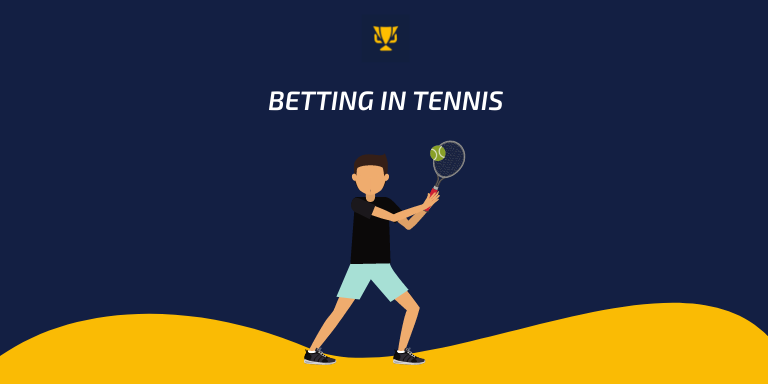 Tennis is admittedly the second most popular sport betting-wise, following football (bookmakers' data also confirm this). Many reasons contribute to this, but the most important one is the dynamic nature of the sport. In football you may have to wait for a goal for a very long time. And while in the end you might struggle for one,  the teams simply pass the ball around waiting for it to finish. This can't happen in tennis, as there are minimum indicators (with one of them being that the players must win six or seven games in order to win a set), thanks to which the sport is much more interesting. In addition, due to the dynamics of the game itself, live betting in tennis is also very popular – just because of the rapidly changing scheme within each match.
During major tournaments, bookmakers actually accept more bets on tennis than on football, a fact which clearly shows the unprecedented success of the sport. Generally speaking, betting on tennis is not much different from betting on team sports such as football, basketball, hockey etc., but there are some particular characteristics that you need to consider.
Besides the dynamic nature of tennis, one other important advantage of this sport is that it offers great opportunities for analytics. In football you need to study the physical shape, form and the morale of an entire team – which means study at least 11 players – but in tennis this only concerns one player. A general premise is that players reach their peak form nearly every three to four weeks and then there is a decline in it. Furthermore, in tennis there are a lot of comebacks and a large number of matches played every week, making it therefore easy for everyone to find a game they like – whether this refers to an elite tournament with world tennis leaders or a competition with second-tier tennis players.
But there are some disadvantages of tennis as well, which are mostly on the surface. Firstly, it is the uncertainty of the duration of a match – no one knows how long a specific match will last. And then it is the dependence on the weather conditions. If you plan to follow a strategy of placing a large number of bets one after another and withdraw the winnings, then tennis is likely to ruin this strategy. Even tennis players' plans can be ruined by rain and the obvious favorite player's game right after the rain might well change, not necessarily for the better. It is important to remember that in tennis – unlike team sports where a loss of a player may well go unnoticed –  a player's withdrawal from a match due to injury, at the same time counts as a defeat, and no bets are returned in this case.
What are the bets in tennis?
The main bets are similar here – bets on the outcome, handicap and totals. But there is a very popular bet on the score of a match by sets as well in tennis, with some bookmakers limiting their offers to these, while others providing more extensive lines in order to attract new customers.
Bets on the outcome in tennis are limited to two positions – W1 and W2, where W1 is the victory of the first player and W2 the victory of the second player. The concept of draw does not apply in tennis, specifically because matches are not played within the confines of a certain time, but when a certain result is achieved – that is 6 or 7 games won. Thus, everything is rather simple and straightforward.
There are two types of handicap in tennis – by sets and by games. In the first case, it has to do with the difference in the match's final score (3-2, 3-1 or 3-0 for men), whereas in the second case, it has to do with the difference in the number of games won. What is peculiar about tennis is that the player who wins most games is not necessarily the winner of the match. Handicap in tennis has the same rules as in all other sports – it can be positive or negative. A positive handicap means that a tennis player will have to lose in the number of sets or games with a difference no greater than the handicap suggests, while a negative means that a tennis player's advantage should be greater than the one suggested by the handicap.
Let's see an example. A fan places a bet on "handicap Djokovic (-7.5)" in the Wimbledon quarter finals between Novak Djokovic and Marton Fuchovic, being confident that Djokovic, who is the obvious favorite, will easily beat his opponent. In this case the bet will win if the Serbian player has at least 8 more games than his rival at the end of the match. The match eventually ends with Djokovic's clear victory by 3-0 (6-3, 6-4, 6-4), but the final game score is 18-11, which means that Novak's advantage is not greater than 8 games and thus the bet is lost.
Totals in tennis have to do with the total number of games in a match. A total can also be individual, which means that the bettor has to predict the number of games a specific player will win. There is a great variability in totals, particularly in large and elite tournaments, and with the help of analytics, you can end up with a bet with interesting odds.
Let's see an example. A fan places a bet on "Match total over 40.5" in the Wimbledon quarter finals between Karen Chachanov and Denis Shapovalov. The match ends with a victory of Shapovalov by 3-2 (6-4, 3-6, 5-7, 6-1, 6-4) and the number of sets is 47, which means that the bet is won.
Another popular bet in tennis is on the exact score of a match. While in sports like football, basketball or hockey the exact score can be anything, in tennis there are only six different outcomes, as there are only three sets to be won to end the match (for women only two). These six outcomes are 3-0, 3-1, 3-2, 2-3, 1-3 and 0-3.
Things to consider before betting on tennis
In tennis there are extensive opportunities for pre-match analytics. Besides the media information, there are in fact several databases with tennis players' performance records and statistics, enabling you to get a holistic profile of players and place your bets accordingly.
1) Rankings. Tennis players' rankings are very useful in analysis, especially as they are updated on a weekly basis. In football or hockey there are also competition standings, but they are not really helpful when teams from different leagues meet. In tennis, things are clear and straightforward – rankings indicate how a player plays. Within the TOP 50, there is a fairly equal competition and theoretically everyone can beat one another. Thus, for example, the leader of the ranking can't easily lose to a player in the 200th place; for this to happen a number of parameters should simultaneously exist.
2) Surface. The surface of the court in tennis is very significant, unlike football where coating (natural/artificial) is important for non-top and second-tier leagues. There are four different court surfaces in tennis: clay courts, grass courts, hard courts and carpet, each of which has its own specifics and characteristics. Interestingly, tennis players usually develop capabilities in particular courts – a player who wins all matches on clay courts may find it difficult to play effectively on grass. In some cases a strong service is important, while in other cases the shots' accuracy is more important. The hard court is thought to be the most neutral surface, in between clay and grass.
3) Players' form and motivation. As mentioned before, in tennis there are several ups and downs a year and for this reason it is critical to understand what shape the player is in at a given time. Moreover, motivation is very significant in affecting a player's game – Grand Slam tournaments, being high profile, generate higher tennis players' motivation, but they feature much more competition. In lower status tournaments, surprises are periodically encountered and this is also something to consider.
4) Head-to-head match history. The history and statistics of head-to-head matches can't be ignored when analyzing tennis. There are awkward rivals in tennis as there are in all other sports. A player who confronts a difficult opponent in a tournament held on a court surface that is inconvenient for him, will eventually be further challenged in his effectiveness.
There are numerous possibilities for betting on tennis and there is readily available and accessible information, making this sport an attractive option for betting lovers.