Double Fault Betting in Tennis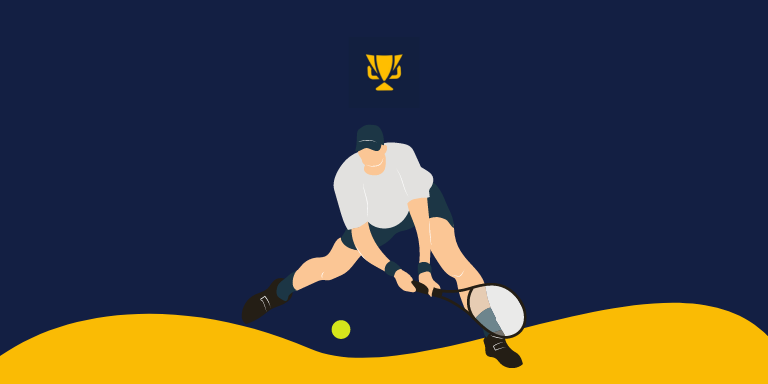 When betting on tennis faults, you should look out for two things. One, the average number of errors in the game and two, the average error rate per number of serves. The average number of errors in the game is an indicator that is individual for everyone – there are some tennis players who commit at least one double fault in each match. Now, for the average error rate per number of serves, consider a player who commits 0.2 faults during each service game and is expected to serve in 15 games. His individual score would be 3.0 faults. The same applies for the opponent's errors.
Big tennis players can also commit double faults during a game and the number per match can even reach five. But this by no means implies that they have a bad or weak serve. There are several external factors – including human factors – that can influence tennis players' serves and they are discussed in this article.
Forced or unforced risk
In some situations, players are forced to take risks on the second serve. Most often, the reason is that they're not getting to a point during their serves, so you need to take risks. But this can be a gift to the opponent, as an error possibly comes up. In the case of such a tendency, the player gets to serve the second with the same risk factor as the first serve, and therefore it is logical to bet on "total over" on errors in live betting.
Of course there are also tennis players who take risks just because taking risks is part of their game style. One such example is Maxime Cressy, the French-American tennis player. Such players generally make on average more mistakes on the serve than on the entire set. So in those matches, you can bet on "total of individual double faults over 5.5" and it is very likely that in most cases you'll win.
Key points
During a breakpoint or a matchball, tennis players are usually on the edge and their psychological state plays a key role in their game. Even top players can make mistakes at such moments because of the pressure felt – Novak Djokovic, for example, committed a double fault several times during matchball in one of the 2014 finals. Of course other issues such as the noise made by the audience was an interfering factor, but it remains an error.
So, how can this be used by bettors? Betting on a double fault right at the moment the player serves to win the match or when the second player serves, losing already with a score 4:5, for example. Clearly such rates are not always available, but the odds are usually high and this makes them valuable for bettors.
Weather
The weather is very critical and all the while very difficult to predict. In fact it is almost 100% certain that bookmakers don't take into account the weather, when they develop the odds for double faults. It is rather obvious – it makes no sense.
Consider a match starting at 12 in the noon, with the sun being directly above the tennis court and with no wind. Due to prolonged previous games, the match is delayed and it is programmed to start at 6 in the evening – which means that it is to start at sunset when daylight fades. But there is also some wind at this time. These weather conditions are in fact completely different from those that would be at 12 in the noon. So, given that analysts are unable to predict whether or how long a match will be delayed, they don't worry about weather and its role in the match.
However the weather, with or without analysts' consideration, has a strong influence over the game, as it primarily affects the tennis court. Serving into the sun and having the sunlight directly into your eyes or serving in a strong wind  makes the control of the ball considerably harder. Such factors are in fact very important when choosing "double faults total over/under". So, if the weather is windy or the sun gets in the eyes of players, then you can choose to bet on "total more". However it is critical to make sure that the bookmakers are offering incorrect odds and they have not replaced them with the correct ones when you leverage this advantage.
Location of the match
Tennis games can be played both indoors and outdoors. Clearly, indoor games usually have fewer double faults than outdoor games, because the 'closed' courts are not influenced by the weather conditions.
Bookmakers don't pay much attention to the tennis court where a match will take place in the case of developing odds for "over/under total" double faults. You can have a look at the average number of double faults for a player in different courts and compare it with what is offered by the bookmaker. If the number does not change for closed courts, you can more safely bet on "total less".
Players' Physical condition and Injuries
It is quite common to have tennis players coming into the match with an injury. In such a case, one would expect that it is logical to assume that an injured tennis player is more likely to make mistakes. But reality can be very different. An injured player, for instance, will think more about the accuracy of the serve and so his/her movements' amplitude in anticipating the ball is not large. In such cases it is better to choose "total of double faults less".
When there is excessive fatigue in a match, a tired player usually hits the ball harder and takes more risks. This is because the player might simply have no strength to continue playing a slow game. But the more risks a player takes, the more the chances of making mistakes.
How is the line formed?
It is important to dedicate a few words on the way that the lines for "total of double faults over/under" are developed. It is all about the analysis – some bookmakers consider only the average within a season, some bookmakers look at the average in specific tennis courts, while others are considering the previous face-to-face meetings of players. Experts, in most cases do not go deep into data and they prefer one indicator. But if the numbers are wrong, then the wrong odds are developed.
It is quite obvious that the most effective approach is to take into consideration all the available statistics and find some kind of a common denominator. The game of a single tennis player can be diverse during the same season – for example a player can demonstrate a certain game during an entire season, but this game can be completely different during the last two weeks. This is not something that the bookmakers take into account when they set the odds for matches. So, it is more wise to pay attention to statistics from recent matches, monitor players' games on different courts and evaluate each tennis player separately.