Pros
Licensed by the Curacao government
Hundreds of sports events and thousands of total markets
One of the best live streaming features
Accepts EUR for Irish punters
Excellent virtual sports betting platform
24/7 customer support via a lot of channels
Cons
Only 2 payment methods
Very unorganized website
No iOS apps
Whenever you search for a global online betting site on the internet, Parimatch is a very likely name to come up. It accepts players from more countries than most other international bookmakers of our time. This is our Parimatch review for Ireland.
In this detailed review, we're going to explore all the betting options you have, including the live ones. We're also going to shed light on the horse racing and other unique features the operator offers in 2022.
Parimatch first started its journey back in 1996 and it decided to go live in the year 2000. From the very beginning, it's been operating with a Curacao license. The Curacao eGaming license, to be precise.
Parimatch is a classic example of a betting franchise. In different countries, the platform is operated by different companies. But all of the companies are usually based in Curacao to keep the license valid.
Before we go any deep with our review, we have a confession to make. The Parimatch Ireland website is very confusing. Well, to be honest, there is no dedicated website for the Irish punters at all. If you're a resident of the country and you're looking forward to checking out the brand, you have to use the global website. You can identify it with the URL global.parimatch.com.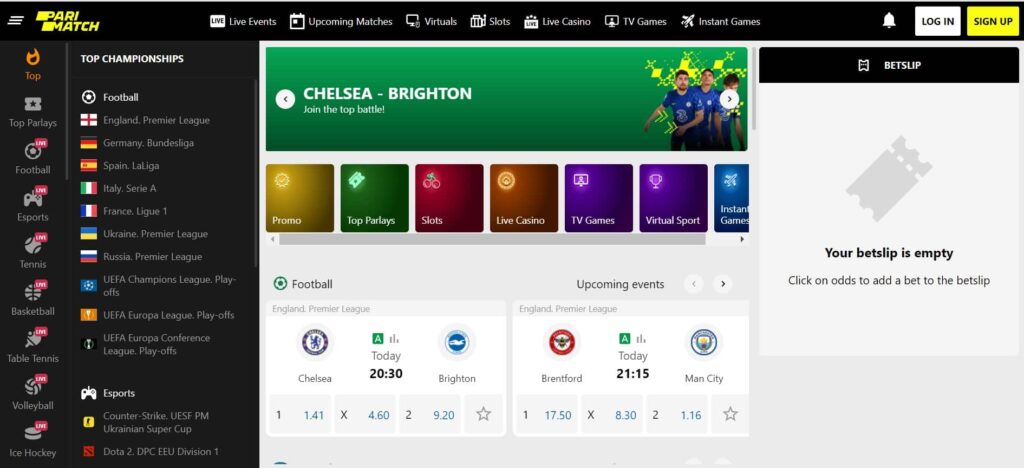 Parimatch IE Sports Betting
Why do you sign up for an online sportsbook? To bet on the major sports events from around the world, right? So, it's only obvious that we're going to focus our attention on the sports offerings in our review.
Although the website is not very optimized, the distinction of the sports section is quite prominent. It's a mix of actual sports and the markets but experienced punters will face no problem figuring out what's what.
On the left side of the screen, all of the sports are arranged for viewing. You'll find sports like Hockey, Football, Soccer, MMA, Table Tennis, Tennis, Australian Rules, Cricket, Field Hockey, Water Polo, Snooker, Politics, Handball, Futsal, Motor Sports, and so on.
All the sports that have live events or upcoming live events have a bright red "Live" tag with them. While it's a very subtle feature, we believe it can help you figure out which live matches you want to bet on quite easily.
The championships or tournaments you can bet on also play a major role in our online bookmaker reviews. It's because when you're betting, you're not betting on the sport itself. Rather, you're betting on a particular outcome of a particular match. And that match is either part of a championship or a simple domestic/international match.
The sports section on the left side of the screen is actually split into two sections. The first or the primary section houses all of the available sports that are available for betting. The secondary section, which is actually larger in size when compared to the first one, has all the major championships cluttered in one place.
At the time of writing, we had options to choose between National T20 matches, the ICC World Cup for cricket, Serie A league from Brazil, Major League Soccer (MLS) from the USA, J1 League from Japan, Primera Division from Argentina, Super League from China, Men's Wimbledon Grand Slam from London, Women's National Volleyball League, UFC fights, and Boxing fights from around the world.
As you can see, it's a massive mix of various kinds of sports slapped together in a single section. This is why we said earlier that the new punters will have a hard time figuring out actually what's going on. But if you have a little experience from a simpler bookmaker, you can easily navigate the harsh waters.
The good thing about the sports section on Parimatch Ireland is that you can't go wrong with choices. Pretty much every major tournament that goes on around the world makes its way into the Parimatch platform. We cannot help but appreciate the effort of the analysts in this regard.
But we have to admit that the sports section could benefit greatly if the developers decided to organize the sports in a simpler manner for easier understanding.
Virtual Sports in Parimatch
In recent years, betting on virtual sports has become just as popular as betting on traditional sports. If you're not familiar with the paradigm, it's exactly what it sounds like. You bet on "virtual" sports.
These matches can be football, hockey, tennis, cricket, basketball, or any other popular sport from any part of the world. You get the same markets to bet on, sometimes even more markets than traditional sport.
The only difference is that there's no existence of the match outside the Parimatch Ireland website. It's "virtual" which means the matches are computer-driven. If you're familiar with RNG (Random Number Generator), that's what these virtual matches use. The results from an RNG are adapted differently for different situations.
For a casino game like Roulette, the RNG result is translated into when the ball will stop on the wheel. For virtual sports, it's when a player is going to score a goal or how well a defender will perform.
You can even sort the events by the provider. Just like casino games, virtual matches are provided by software companies. Parimatch Ireland features names like Leap, BetRadar, GlobalBet, Highlight, GoldenRace, 1×2 Gaming, Kiron, and Edge.
Some of the popular events on the Irish Parimatch website are Virtual Football Cup, Football Streak, Spin2Win, Spin&Win, Instant Football, Instant Euroleague Legends, Italian League, Instant Horse Racing, Virtual Cricket, Virtual Football Nations Cup, and whatnot.
As you can see, most of the events are for Football (soccer). It only goes to show how popular the sport is on a global level.
Esports Betting
Of course, how can we forget about esports betting? Although Parimatch in Ireland doesn't boast a separate section for the esports events, we believe it's only fair to give esports events the respect they deserve.
If you're not familiar, esports are online multiplayer games that are also played competitively on a global level. To be precise, games like Counter-Strike: Global Offensive, League of Legends, PUBG Mobile, etc. are the most popular.
The betting process is basically the same for esports as traditional sports. You choose a match (game between 2 teams) and place money on the markets. Unlike traditional sports, the markets for esports will be like "team to first draw blood", "highest K/D ratio", "map winner", etc.   
Sports Markets at Parimatch
A "market" in sports betting refers to the outcome you can bet on. Based on what sport you
choose, the number of markets can be from a few to a few thousand. Usually, football matches have the most market as the games are very competitive and there's a lot of room for speculation.
No matter how long we keep reviewing the markets on Parimatch, they're not going to end. It's simply because the markets dramatically vary from sport to sport.
In a cricket match, you can bet on "which bowler will take the first wicket". This is exclusive to cricket and you won't find anything even close to this market for football or hockey.
However, there are a few universal bets that apply to pretty much all sports. These are also common across all the online bookmakers you can check out from anywhere in the world. Some of these bets are outright, over/under, points spread, handicap, teaser, props, futures, and so on.
Some experts categorize them as "types of bets". We like to categorize them as "types of markets". A market is a bet at the end of the day, right?
Live Betting & Live Streaming at Parimatch
Of course, no online sportsbook review in Ireland is complete without speculating on live betting, right? Live betting simply means betting on a match when it's live. You already know that Parimatch has a tag in the main sports section to distinguish the sports that have live bets.
To make the process even more seamless, there's a page labeled "Live Events" on the top navigation bar. For obvious reasons, the website takes football as the default sport and lists the events. At the time of writing, we can bet on live matches from Cyberfootball, Asian AFC Cup, Bhutan Premier League, Georgia Liga 3, Paraguay Segunda División, Rwanda Peace Cup, Ethiopia Premier League, and so on. You get the idea, right?
You can also sort matches that are scheduled to start within the hour, within 3 hours, and within 12 hours. Right beside the "Live Events" tab on the main navigation bar, there's another tab labeled "Upcoming Matches". This section works as a calendar for hardcore punters to track the upcoming matches and prepare.   
Before we wrap this section up in our Parimatch review, we promised that we're going to shed light on the live stream as well. Surprisingly, Parimatch offers a lot of streams for a lot of matches. It's refreshing to see because even some premier bookmakers in the world struggle to optimize their platforms for live streaming.
The events that allow streaming have an additional icon on the listing. It's a play button enclosed in a rectangle. You'll know when you see it. To access those streams, all you have to do is open a real money account and log in.
Bonuses & Promotions You Can Enjoy at Parimatch
In an online bookmaker review, we usually keep the bonus section near the beginning. This Parimatch Ireland review is an exception. Can you guess why? It's because there are no promotions or bonuses for the Irish punters.
We're not exactly sure what the operator is thinking in this regard. Ireland is one of the major iGaming jurisdictions and the number of consumers is in the millions. The lack of bonuses is the biggest complaint we have against Parimatch.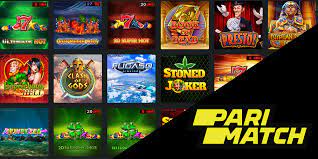 Mobile Compatibility
For an online sportsbook to be accepted among the punters, mobile compatibility is crucial. It's because not everyone is comfortable turning on their desktop or laptop computers for the sake of betting only. You'd be glad to know that for betting on Parimatch, you have to do no such thing.
The mobile website runs well on both Android and iOS. We can't claim that it runs "flawlessly" because even the desktop site has its issues. But the mobile interface is certainly usable if you know your way around the platform.
As for downloadable mobile apps, it's only available for Android users. We're not sure of the reasoning but iOS users are still stuck with the website version of the mobile app.
Real Money Banking Methods
Real money transactions are another huge area of concern for Irish bettors. According to the website, you can only use Visa and Mastercard credit/debit cards for deposits and withdrawals. While both of these methods are extremely secure and globally acclaimed, they're not enough.
The lack of e-wallets like Skrill, Neteller, and PayPal shocked us the most. These options are widely regarded as the best payment methods in the iGaming industry.
The minimum Irish punters can deposit is €10. The maximum limit is dynamically set on your account. You can set a suitable limit for yourself as well. The minimum withdrawal also starts at the same amount. The processing time is usually up to 24 hours.
Customer Support Features at Parimatch
Among all of the complaints we have regarding Parimatch Ireland, we have to appreciate the customer support section. The support team is working round the clock to answer your queries and solve your problems.
You can reach out via live chat on the website, Telegram (@PMGlobalSupport_bot), What's App (+12515722856), and Line. Last but not least, you can send direct emails to [email protected]
Read more:
In-play Betting Strategy
European Handicap in Basketball
BlueBet Bookmaker review Australia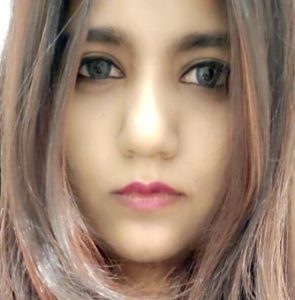 Like many aspiring writers, Jarin focuses on bringing life to the text for her readers. She is an avid sports lover, growing up in a family obsessed with bookies. She is an expert in the iGaming niche and has secondary obsessions with Gardening and cooking.