Pros
Fully licensed and regulated by the UK Gambling Commission and Malta Gaming Authority
Rizk signup bonus and other promotions are available for NZ punters
Responsible gambling tools are practical and useful
The customer support platform is competent and efficient
International electronic wallet payments are accepted
Cons
No Rizk iPhone app or Android app is available yet
The sports list is not as wide-ranging as other sportsbooks
No horse racing betting markets
Rizk is owned by the Zecure Gaming Limited which is directly monitored and licensed by the Malta Gaming Authority. Like most other online casinos in New Zealand, Rizk is licensed by an international gambling association, which makes it easy for international punters to use the platform.
Even though an official app has not been developed yet, Rizk is still acing the market with its exciting live casino games, slots, and bombastic bonuses! However, we think its sports betting sector still needs improvement as other bookies are offering more sports than Rizk at the moment.
Additionally, including horse racing may help the gambling site stand on par with other online casinos in the country. But we think the platform should take more time to build that sector. Overall, we are here to discuss all the things that are working for Rizk and all that is not. Care to join us? Then let's explore!
Rizk Online Casino and Sportsbook Promotions
The promotions offered by online casinos are usually extravagant to entice new customers to join their platforms. It seems that Rizk has incorporated the same strategy. Rizk signup bonus is not the only offer newbies can enjoy, because free spins are also right around the corner!
The 100% match bonus promises a win of $500 plus 50 free spins in the online casino. The free spins have a 30x wagering requirement, but you can only do so in the game the Gates of Olympus. You must also claim this offer before it expires, and make sure to meet all the requirements associated with it.
Besides, the other promotions that are offered to punters on the platform are for sports, slots, and live casinos. Sports fans are rewarded with odd boosts from time to time, but nothing beats the casino bonuses which can amount to a whopping $20,000!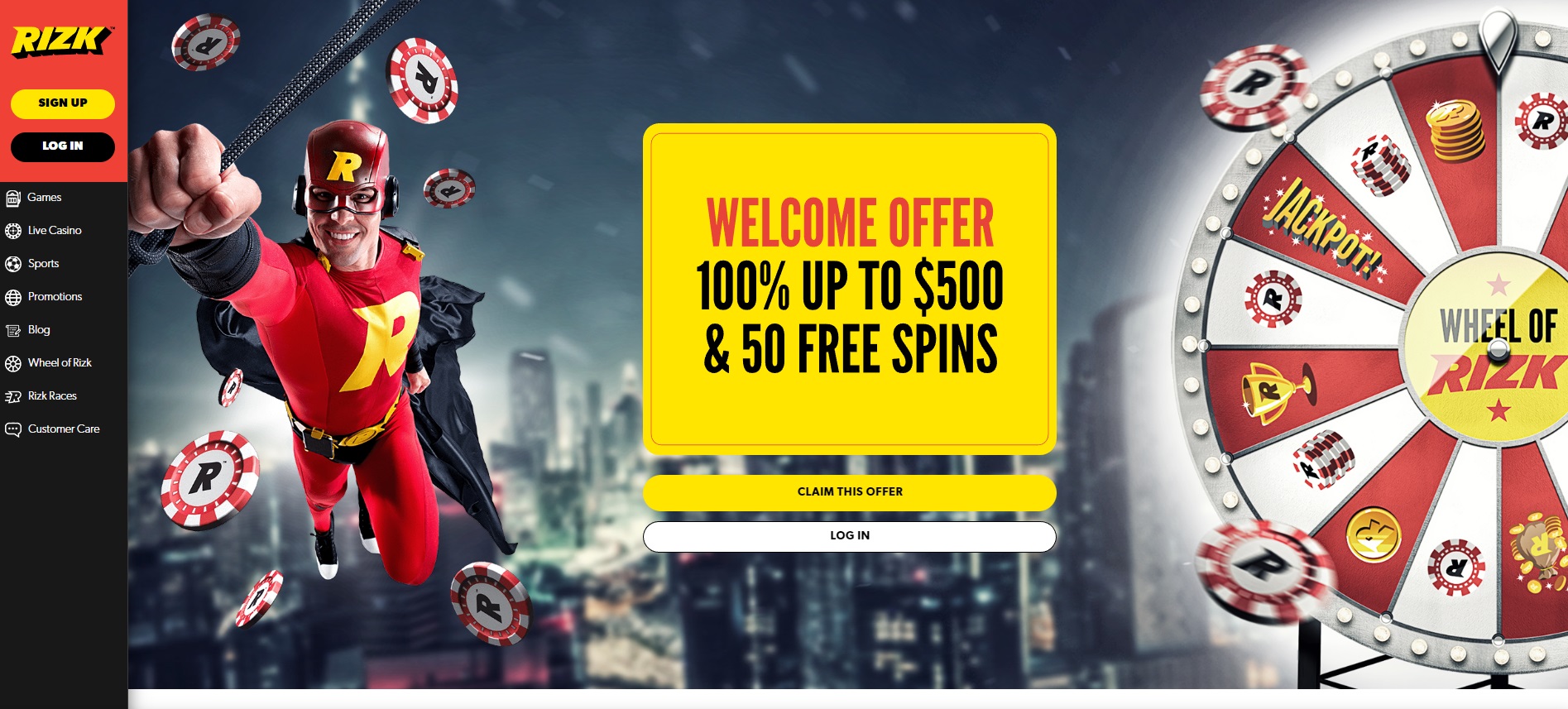 Sports Events and Betting Markets on Rizk NZ Online
Rizk boasts its sports betting platform as it is comprehensive and there is something for everybody. You can find what you are looking for in the massive database of the platform. The main sports attraction there are football, tennis, baseball, basketball, esports, boxing, cricket, Mixed Martial Arts (MMA), hockey, rugby, motorsports, table tennis, futsal, darts, beach volley, and Aussie Rules.
You can search them individually, or just select the filter options displayed at the top of the sports page. Not only can you bet on pre-matches but also on in-play events, which makes online sports betting so much more fun!
Moreover, there is no shortage of the types of bets you can place on the sports events. Whether it is parlay, teasers, futures, outright, money lines, handicap, over and under, win, point spread, or player proposition, keep playing to become more experienced in the field!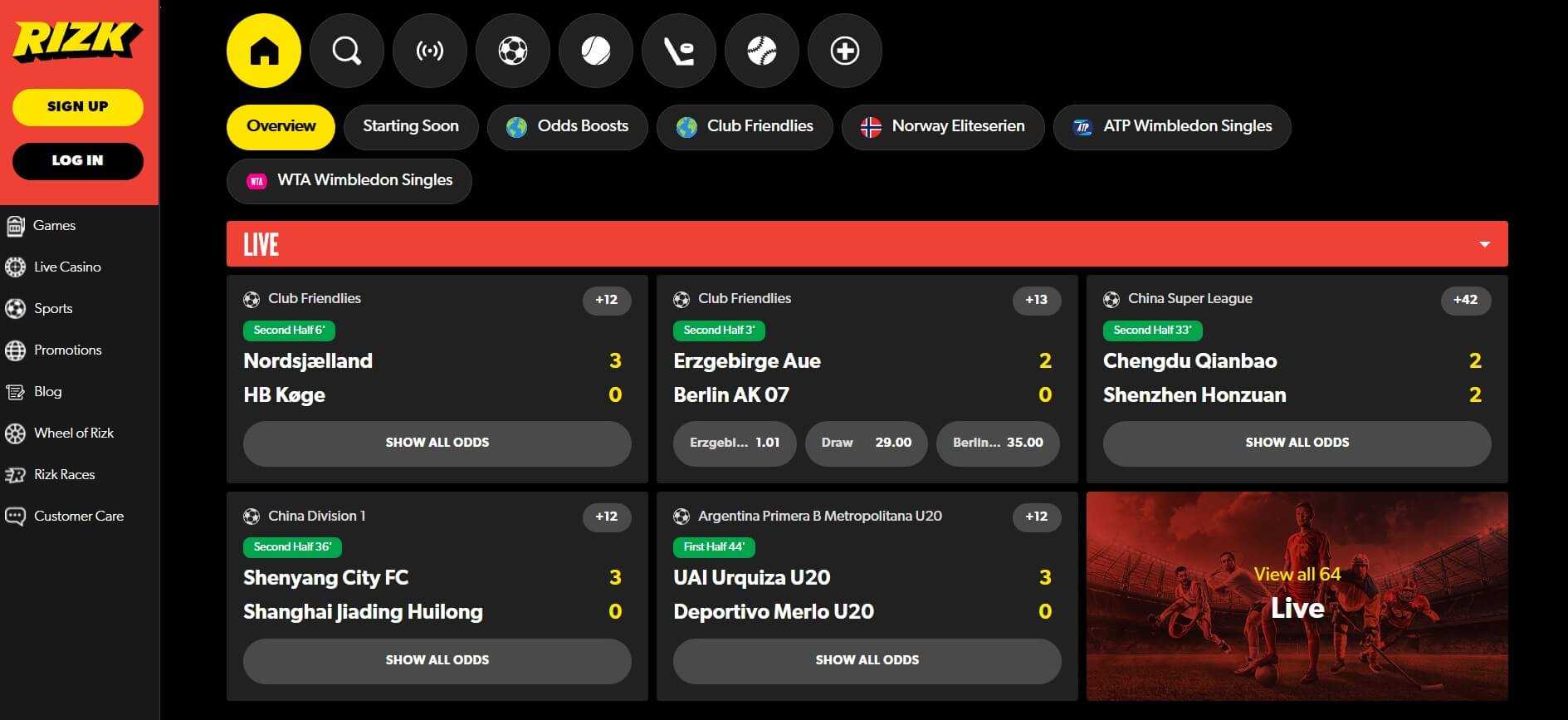 NZ-Friendly Rizk Payment Methods
The payment methods supported by Rizk are very popular in the gambling industry, so you must have heard about them before. Unlike Australian bookies and online casinos, Rizk lets punters make deposits and withdrawals through electronic wallets that support international transactions. For that reason, sports betting in Rizk are more enriching and flexible compared to Australia.
Having said that, let's learn more about the deposit and withdrawal methods incorporated by the Rizk sports betting platform.
Deposit Methods
Presently, the deposit methods that are accepted at the Rizk casino are Neteller, Skrill, Paysafecard, Sofort, Trustly, MasterCard, and VISA. If you are from the United Kingdom and you still want to play at Rizk New Zealand, then you have to pay your deposits with debit cards only based on the requirements of the AML Anti Money Laundering requirements.
Just to be sure, log into your Rizk casino account to find out the payment options that are at your disposal. The minimum deposit amount for sports betting in Rizk is $10. To make deposits for sports betting in Rizk, find the Deposit button on your account, and click the Balance button.
Then, you can choose the payment method of your choice for sports betting in Rizk, enter the amount to be deposited, review the transaction, and hit Confirm. There are no deposit fees charged by the casino, so take a sigh of relief!
Withdrawal Methods
The withdrawal methods that are available for sports betting in Rizk are bank transfer, Skrill, Neteller, Trustly, MasterCard, and VISA. A bank transfer may be the safest withdrawal method based on Anti Money Laundering KYC regulations, but it takes 3 to 7 business days to process the transfer.
On the other hand, debit and credit cards take 2 to 5 banking days to carry out withdrawals, Neteller and Skrill only take 15 minutes to 24 hours. Besides, Trustly can beg to differ and take 1 to 3 business days to get it done.
Whenever a withdrawal has been processed from the side of the casino, you will receive a confirmation email. If anything goes wrong, you can just reach out to the customer service team for assistance.
Rizk Mobile App
There is no Rizk iPhone app or Android app as of now for punters in New Zealand. We do want Rizk casino to come up with a well-developed app for fellow Kiwis, but that may take some time to implement. For now, you won't find the app on the App Store Google Play.
Nevertheless, you can use the gambling platform on your mobile browser, which will give you a similar experience as that of the desktop browser. Even on the mobile browser, you can claim deposit bonus free spins, Rizk signup bonus, bonus code, and enjoy easy and fast Rizk payment methods.
To make the most of all these goodies, you just have to open the Rizk website on your iPhone or Android mobile phone. Since you are just using a mobile-compatible browser, you don't have to download anything from anywhere.
Rizk NZ Online Responsible Gambling
Responsible gambling practices are followed by every best sportsbook in New Zealand that are adequately licensed and regulated by the New Zealand Gambling Act 2003. This is done in order to make sure that gamblers don't become addicted to gambling and end up harming themselves in more ways than one.
To find out more about it, Rizk mobile app has shared a number of responsible gambling tools and resources on the website. The Help Centre is quite thorough when it comes to explaining what responsible gambling is all about in the gambling community.
Besides, we have summarised what you can expect to get from the responsible gambling tools offered by Rizk, the best sportsbook in NZ.
Gaming Limits
The gaming limits can be activated once you log into your Rizk casino account, and select the Responsible Gamblingoption. These limits are set so you can control your excessive gambling habits and prevent yourself from making irreversible life mistakes.
Having said that, you can place deposit limits, net loss limits, and session limits before playing casino games at the Rizk casino. The deposit limit helps you manage your deposits on a daily, weekly, or monthly basis.
On the other hand, the net loss limit helps you control your losses over a certain period of time which can be daily, weekly, or monthly. Meanwhile, if you activate the session limit on your Rizk casino account, you can limit the time you can stay logged into the sports betting account.
Time-Out 
The time-out option helps you to take a short break from sports betting in Rizk which can range from 24 hours, 7 days, and 30 days. If you have set up this limit, then you can only access your live betting account after the time-out period ends.
Reality Check
Moreover, the reality check feature on the best sportsbook in NZ lets you keep track of your gambling habits over the weeks, months, and years. Once you activate this special feature, it will begin timing your activity as soon as the first bet has been placed on the Rizk mobile app or browser.
In fact, you will keep seeing the reality check feature reminding you of your online casino games activity until you are done playing live casino games, free spins, or live betting on the platform. However, for it to work, make sure you accept cookies and disable the incognito mode on your browser.
Self-Exclusion
Self-exclusion is the more serious version of time-outs because you can take longer breaks from live betting and live casino games. You can make this adjustment by yourself from your Rizk casino account or by contacting the customer service team.
When you are on your self-exclusion period, you won't be able to make any bets or withdraw funds from your Rizk casino account. Even the casino won't send you any promotional deals via email or text message. But once you have completed the self-exclusion period, you can start reusing all those features again!
Parental Control
The parental control prevents minors from using the features of online casinos, such as bonus codes free spins, live casino games, free bet deposit bonus, and Rizk signup bonus. An individual must be 18 years of age or older to open a gambling account and place wagers. If minors are found wagering on live casino games, free spins, free bet deposit bonus, or sports, then that account will be suspended immediately.
With that being said, parents are instructed to be careful when they are using the Rizk mobile app or desktop browser. They can use parental control software like Net Nanny, Cyber Sitter, Gamlock, 27 Labs, Mobicip, or Force Point to monitor their children's activity online.
Useful Information
Other than having some important responsible gambling tools on the Rizk Casino, you can also learn more about how to responsibly gamble while you are on the gambling platform. The best sportsbook in NZ has shared a couple of links for punters having gambling issues which are demonstrated below.
How to Signup with Rizk New Zealand in 2022
To signup with the Rizk casino and to claim deposit bonus free spins, you must click on the yellow sign up button on the top left corner of the online gambling website. A new window will open which will ask you to enter your email address, mobile number, and password.Your password needs to be 8 to 25 characters long with both upper and lower case letters. On top of that, it should have 1 special character and 1 or more numbers. Then, hit Continue to get on with the rest of the registration form.
On the next page, you will be asked to enter your personal information, which includes your first name, last name, street address, the city that you live in, postal code, country, and date of birth. By clicking Continue, you choose to move forward with the registration process of the online casino.
Then, the last step involves confirming your phone number with the verification code that will be sent by the Rizk casino. It will ask you to accept the terms and conditions of the sports betting platform to completely register.If you end up having issues while opening an account with the best sportsbook in NZ, the customer service team is always there to help you out with it.
Just so you know, you have to be 18 years of age or older to be able to open an account with Rizk sportsbook. The age requirement remains for claiming a bet deposit bonus, free bet, live betting bonus codes, and casino bonus free spins.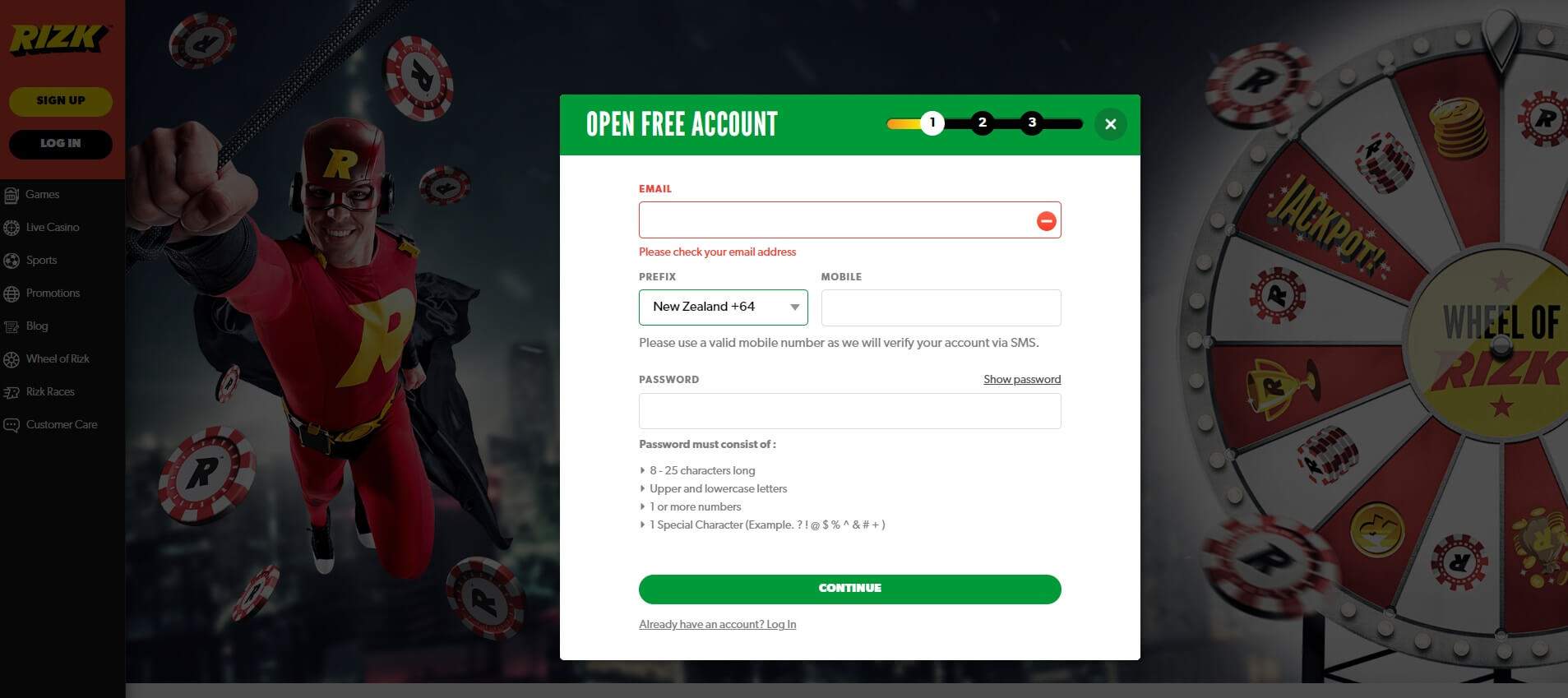 Rizk Sports Betting Customer Support Features
Sports betting in Rizk is quite abundant not just because of its wide-ranging sports event, promotional offers, and betting markets, but also because of the professional customer service team.
The online gambling platform's customer support provides a comprehensive FAQ page, live chat support, email contact, and phone call so that gamblers don't feel lost or confused while being on the Rizk mobile app or the desktop.
Having said that, the live chat response time on the sports betting site is approximately 30 seconds. For email, the response time is 30 to 60 minutes, and for a requested call back, it takes the team about 15 to 60 minutes to reach out to the customers.
Generally, the supported language is English when you contact the sports betting customer service team. But if you want assistance in another language, the team will be more than happy to lend a hand.
Email: [email protected]; [email protected]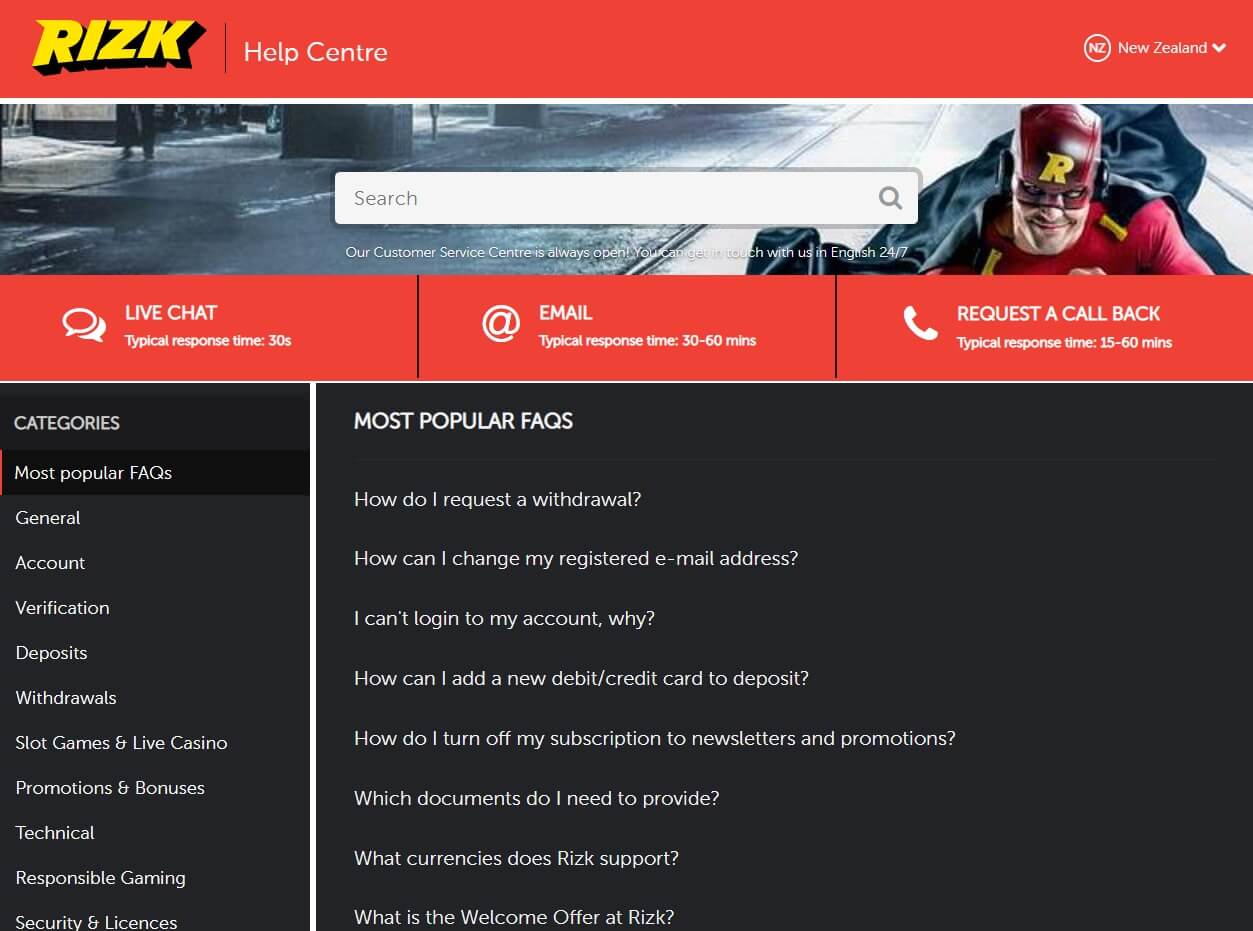 Rizk Sports Betting FAQ
How do I see my transaction history on Rizk casino?
To view your transaction history on the Rizk casino, log in to My Account and find the Transaction tab. Now you can see all your monthly transactions on the live casino platform, even your deposits and withdrawals.
Can I use a VPN to access the Rizk sportsbook?
Since there are regional regulations put in place to bet on Risk sportsbook and play online casino games, it is highly discouraged for punters to use a VPN to access the gambling platform.
Can I have more than 1 account on the Rizk mobile app?
Having more than 1 account for sports betting in Rizk is not permitted due to strict regulations regarding account ownership. The customer service team will help you if you have lost access to your own Rizk sportsbook account, but please refrain from creating multiple accounts on the site.
How do I unsubscribe from newsletters and text messages from the Rizk sportsbook?
You can log into your Rizk sportsbook account, and then find the option "Menu". Go to Settings, and change your Rizk Marketing settings. Besides, you can also choose to Unsubscribe from your email body or text STOP to the Rizk phone number that keeps sending you marketing content.
What responsible gambling limits are available on the Rizk sportsbook?
If you think that your gambling habits are getting out of control, you can select responsible gambling limits on your account, such as deposit limit, loss limit, sports wagering limit, casino wagering limit, and session time limit. On top of that, you can activate the time-out or self-exclusion options to take breaks from gambling for a while.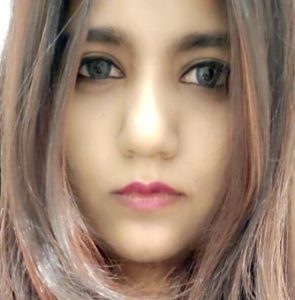 Like many aspiring writers, Jarin focuses on bringing life to the text for her readers. She is an avid sports lover, growing up in a family obsessed with bookies. She is an expert in the iGaming niche and has secondary obsessions with Gardening and cooking.