Betting in football in Tanzania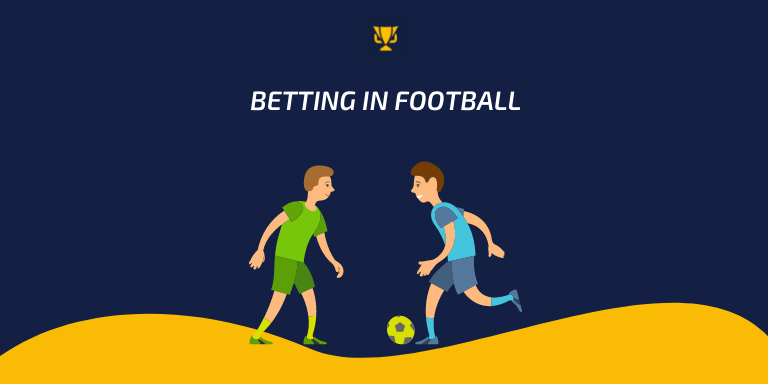 Football is admittedly the most popular sport in the world, a statement that hardly anyone can disagree with. It is played across the globe and there is almost no person on the planet not aware of its existence. For football bettors, the status of their favorite game means great opportunities. Bookmakers offer the richest lines and the most extensive list of options and events in football betting.
Additionally, the odds for football often have the smallest margin and so you can bet much larger amounts compared to other sports. This article offers information on everything you need to know about football betting.
What are the available bets in football?
The main bets in football are the outcome, handicap, total and exact score, but there are more. Bookmakers, for example, got to offer more than 400 different betting options in the European Football Championship final between England and Italy.
Outcome is about the final outcome of the match. There are single and double outcomes. Consider the European Championship final between England and Italy, in which there are six possible outcomes within the regular time:
1 – victory for England
X – draw
2 – victory for Italy
1X – England win or draw
2X – Italy win or draw
12 – victory for England or Italy
It is worth mentioning that double selections are usually offered with very low odds, especially for the "12" bet. For this reason, single outcomes are mostly preferred by bettors. There are also available bets for a whole match in cases of knockout matches, where overtime follows a draw and when necessary a penalty shootout also takes place, but they have of course lower odds. If the coefficient for Italy's victory in the regular time is 3.01, then the coefficient for Italy's victory in the entire game (including overtime and a possible penalty shootout) is 2.01.
In handicap the bettor tries to predict the difference in goals scored in a game and more specifically the advantage or disadvantage with which the match will end. The handicap can be positive or negative. In the first case, you win if the team concedes with a difference no greater than the handicap suggests, whereas in a negative handicap, you win if the team's advantage is greater than the indicator of your bet.
Let's see an example. Manchester City meets Fulham in a Premier League match, but the odds for its victory, being a favorite, are very low. A fan unattracted by the low odds, turns to handicap and wagers on "Manchester City handicap (-2.5)". To win the bet, Manchester City needs to beat its opponent with a difference greater than 2.5 (that is 3 or more). The match ends with City's victory by 4-0 and thus the bet is won.
Let's see another example. Consider the opposite situation, where the fan believes that Fulham in the second match of the season will show strong resistance to the favorite, despite its status, and in the end will lose by no more than two goals. So, he wagers on "Fulham handicap (+1.5)". This means that the team's defeat can't have a difference in score by more than the one indicated. So, Fulham can win, draw or lose by one goal. But the match ends with Fulham losing 1-3. Since the difference is 2 goals (2 being greater than 1.5), the bet is lost.
Total is the total number of goals scored in a football match. The most common bets on totals are 1.5 and 2.5 and this means that you need to predict whether the final score will be above or below these. In major leagues' listings include higher totals, such as 3.5, 4.5 and sometimes even 5.5. A bet on "Total over 3.5", for example, means that a match with at least four goals scored in total will be a winning match, but anything less will generate a loss.
Totals with values of 1.5, 2.5 etc. indicate two outcomes only: the bet will either win or lose. But there are also the exact totals – 1, 2, 3. A bet "Total over 3" means that any score with a total of 4 or more goals is a winning one  (5-0, 3-2) and any score with a total of 3 or less goals is a losing one (0-2). Now, if exactly 3 goals are scored in the match (3-0, 2-1) then the bet is void and the money is refunded.
Totals can be both for matches and individuals. In match totals we deal with how many goals will be scored in a game, whereas in individual totals we deal with how many goals will be scored by a specific team.
Things are very clear when betting on the exact score of a match. You are expected to predict what score will be shown on the scoreboard at the end of the game. And while it is rather difficult to predict an exact score, the odds for such bets are usually very attractive.
Added to the above options, football also offers a great variety of events you can bet on – when / by whom, first / last goal will be scored, a certain event will / will not happen (penalty kick, red card, a specific team to score or concede a goal). There are so many different options and it all depends on how much time you're willing to commit in analysis.
Things to consider before betting on football.
1) Past results of the teams. The shape and form of the rivals is really important – some teams are hardly making it to the new season, some other teams have a mid-season recession, while others are thriving at the end of the season. It is very important to look into how the teams played previous matches and get information on their state and form.
2) Previous head-to-head meetings between the teams. Even in elite and high profile football leagues, one team may encounter an uncomfortable opponent. For some teams from the middle or bottom of the table, it becomes a matter of principle to beat a rival with which it has not had the best of relationships in the past and for a long time.
3) Composition / coaching. One very important element in the analysis is the composition of the teams – the health state of every player and the ability of the athletes to play, the climate of the team and the relationships between players are also crucial. A possible newcomer joining the team might determine the next game's outcome. And of course the coaching issue is equally important – if a coach is fired from a team for example, it will affect the game.
4) The site and the conditions under which the match will be held. Some teams are more effective when playing at home with the cheers and support of their fans, while other teams prefer playing away, where they can catch the hosts on counterattacks. You can easily find statistics and records of home/away games of teams and consider them in your analysis before placing a bet.
5) Motivation. While speaking about motivation should not be the case for professional games, some situations are different. Consider for example, the last round of the English Premier League with Liverpool meeting Sheffield. Liverpool is fighting for a qualification in the Champions League and Sheffield has already been eliminated from the Premier League. Clearly, Liverpool is much more motivated because participating in the Champions League not only adds to its prestige and status but it also means millions of euros earned.
So, in sum it can be safe to say that there are endless possibilities of betting in football and all it takes to make an effective choice is a careful analysis of the available information.