Pros
Attractive incentives and bet types are available
Profound sports market and horse racing platform
24/7 live chat and phone support
Live betting is available
The mobile app runs on desktop, iPhone, and Android
Easy to join
Cons
No welcome bonus
Only 2 withdrawal payment methods
Being a new online copyright bookmaker in Australia since 2017, Neds has quickly become one of the favourite sites in the hearts of Australians. It has excelled in almost every area, such as payment methods, racing and sports menu, customisable betslip, copyright operation, customer support, wagering variety, and mobile app features.
Through time, dedication, and focus, Neds has been able to climb up the gambing industry of the country. Compare it to the past and see the difference! It is a good thing that the platform has been able to hold up its reputation still despite severe competition from other new betting sites.
Today, we want to see its journey with you through this review. Hope you like it!
Promotional Offers of Neds Australia
Welcome bonuses or new customer offers are banned in Australia after legislation has been passed against them. In fact, it is illegal in 2022 for racing sites to offer any sign up bonus after punters open their accounts.
But you still have chances to win other promotional incentives from the Neds this time. So, here are a few privileges you should not miss out on!
Neds Back Up
You can choose this feature from the menu if you want to have a second swing at horse racing. But you have to place your bet on the betslip before deciding on a backup runner. When the backup runner wins, you also win!
Neds Fluc Up
The Neds fluc up lets you boost your odds on your choice of a racing runner. To activate this feature, you have to place a new bet at the beginning, then fluc up your bets in the pending bet area.
Neds Price Boost
You can boost the price on the odds of a runner instead of boosting your stake.
Neds Jump Off
The Neds jump off feature lets you cancel any fixed or single odds on thoroughbred racing. But you have to add this bet to the betslip after the race starts.
Neds Bet Boost
The Neds bet boost allows Australian punters to increase their chances of winning on bets without any extra cost. You just have to activate the Neds bet boost option from your account and choose the option on your betslip.
Neds Multi Builder
Some punters like to watch and bet on multis in sports betting sites. You can add the Neds multi builder to your betslip from both desktop and mobile phones.
Types of Bets on Neds Australia
Australian punters can enjoy various types of bets on sports and racing on Neds in 2022. Some of the common ones are win betting, place betting, each way betting, quinella betting, exacta betting, trifecta betting, first 4 betting, flexi betting, quadrella betting, same race multi, and Pick Your Own Odds (PYOO).
Win Betting
Win betting on Neds is easy to get because it just means that you bet on the runner that finishes the earliest.
Place Betting
In place betting, the runner you bet on must finish 1st, 2nd, or 3rd. In races where are less than 5 runners, the place betting service is not offered.
Each Way Betting
The each way betting on Neds usually has 2 different bets- win and place. If the runner you bet on finishes the earliest, then you can collect the winnings for the win and place dividends. On the other hand, if the runner finishes 2nd or 3rd, then you can only claim the place dividend.
Quinella Betting
To win the quinella on Neds, 3 or more runners must be present in the race. Also, the runner has to take 1st or 2nd place.
Exacta Betting
Exacta betting has subdivisions, such as straight exacta, boxed exacta, banker exacta, and multi exacta. In this case as well, you need to have more than 3 runners in the race. Plus, the ones you bet on must win.
Trifecta Betting
Trifecta betting can also have subdivisions like an exacta, and its subdivisions on Neds are straight trifecta, boxed trifecta, banker trifecta, and multi trifecta.
First 4 Betting
In the first 4 betting, the runner you place bets on must finish in the top 4. This type of betting is also divided the same way as trifecta and exacta. You can pick this option from the menu and add it to your betslip.
Flexi Betting
Bettors can place exotic bets on racing events with several selections. Instead of choosing the base unit for stakes, the punter enters a stake amount as he wishes, and the base unit is automatically calculated.
Quadrella Betting
To win the quadrella, you have to select 4 nominated racing events. You only win a dividend when all 4 of them win.
Same Race Multi
The same race multi is only available to the citizens of Australia and New Zealand. Here, the play needs to have 6 runners for thoroughbred and greyhound racing events. You can select 2 to 3 runners and they must finish in the top 4.
Pick Your Own Odds (PYOO)
To find this option, you have to search the terms PYOO on your racing card. You can increase the odds by selecting the plus sign on the right-hand side of the screen. The higher your price, the higher the margin for your runner to win. Your return also increases at the same time.
Neds Sports Market
In 2022, Australian punters can expect to find all their favourite racing events and sports on the Neds menu. The page provides adequate details and information about a good list of wagering options.
Currently, Neds sports betting service provide options including volleyball, Mixed Martial Arts (MMA), tennis, table tennis, soccer, snooker, rugby union, rugby league, pool, politics, novelty, netball, motorsport, handball, ice hockey, Gaelic sports, golf, esports, darts, cycling, cricket, boxing, basketball, baseball, badminton, Australian rules, and American football.
Of course, in the featured sports section, you will find big names like National Hockey League (NHL), Australian Football League (AFL), National Rugby League (NRL), and National Basketball League (NBL)!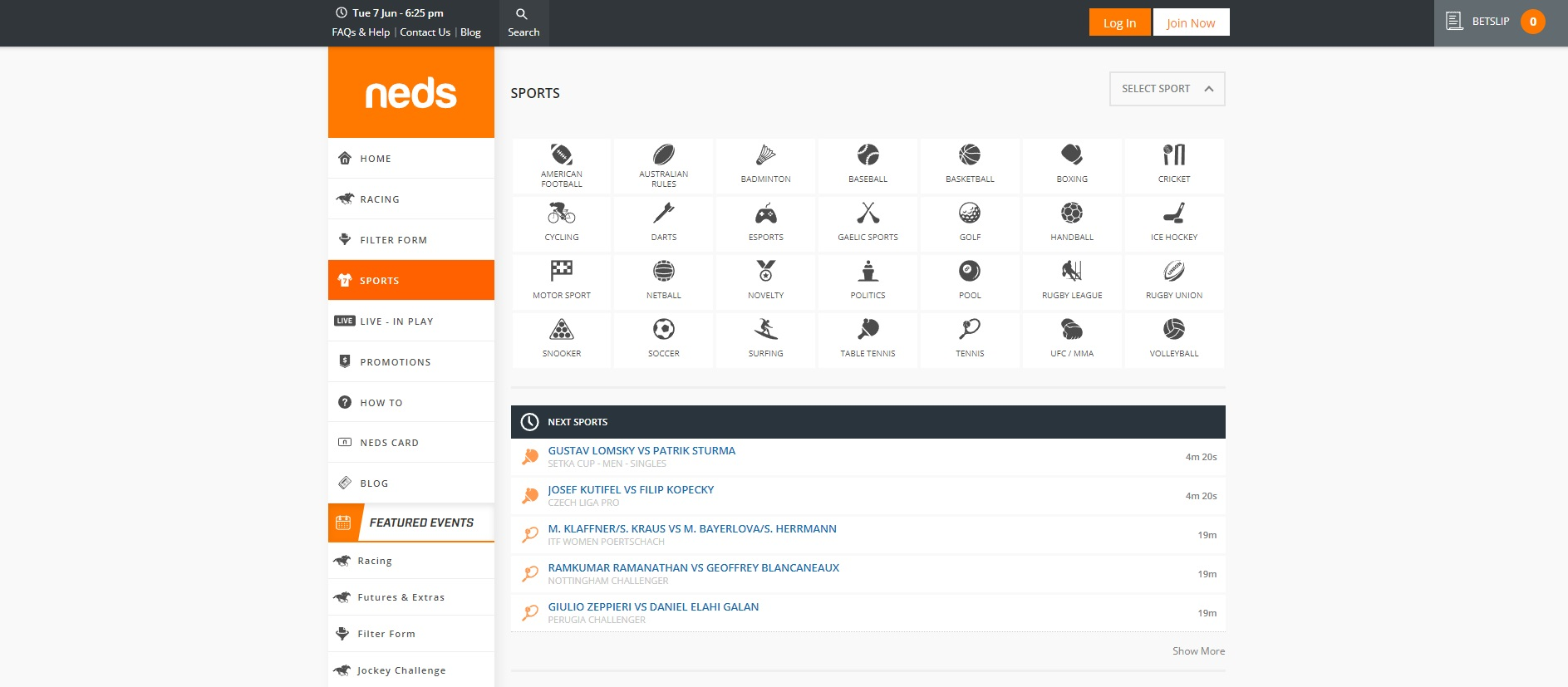 Neds Racing Market
As expected of a top horse racing wagering site, Neds offers harness and greyhound racing alongside Australia's popular horse racing sports. The market is illustrated nicely on the desktop and mobile screen, so you can easily find the menu while browsing it.
All you have to do is join the site, click on your favourite race, view the odds, decide what type of bet you want to place, and add them to your betslip! Don't forget to take advantage of bets and incentives available on the Neds platform.
The site also provides adequate information about how to place bets on different racing events and sports. Therefore, even if you are a newbie, you will be able to get the hang of it pretty soon|! Just watch and learn from the experts!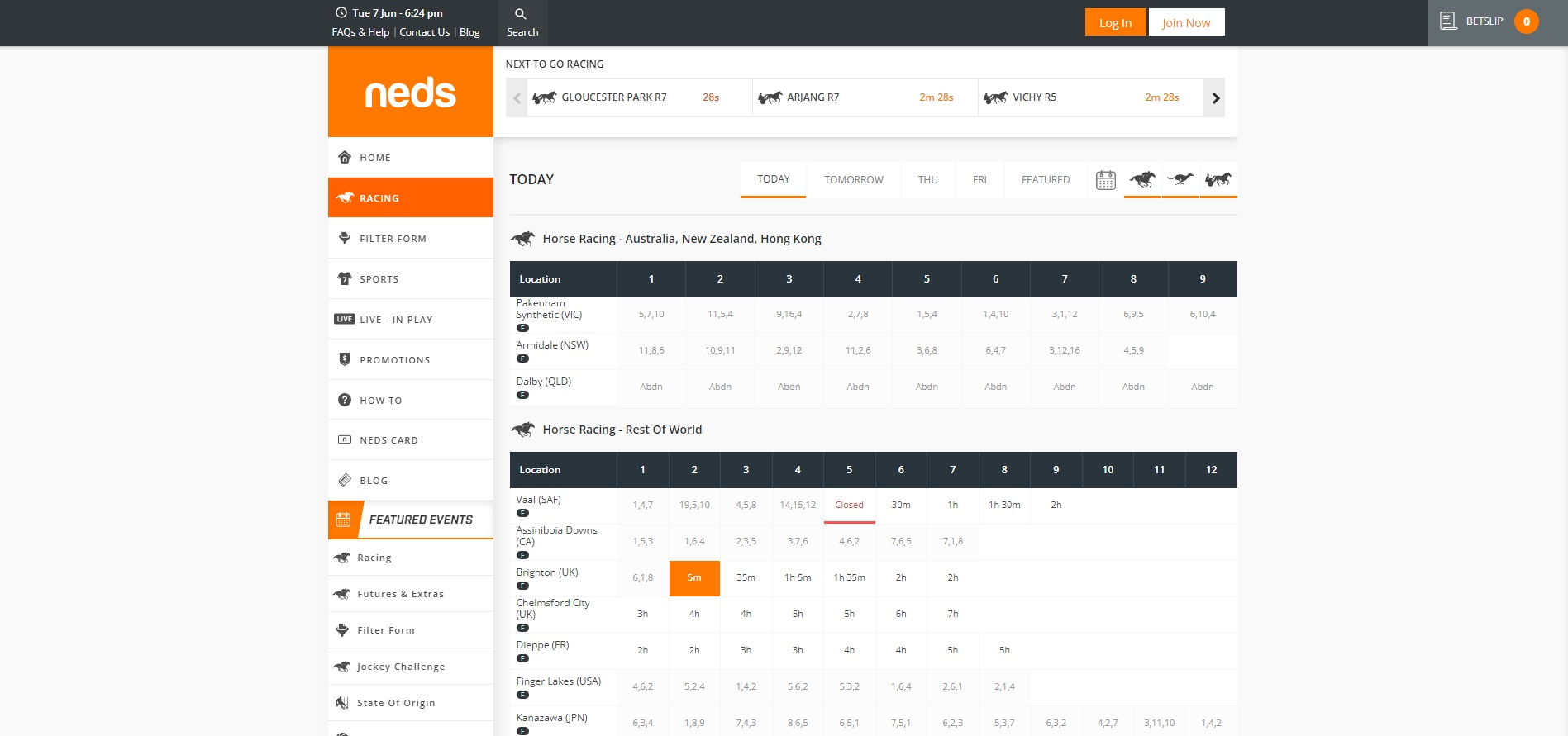 Neds Payment Services
Deposit Methods
As an account holder at Neds, you can deposit cash into your Neds account through Neds Card, credit or debit card (VISA and MasterCard), Flexepin, Cash-in, BPay, Apple Pay, bank transfer or Electronic Fund Transfer (EFT), POLi, PayPal, and Pay ID.
Even though Neds don't charge any processing fee for the transactions, the service carrier may do so. Therefore, some payment methods are not free. VISA and MasterCard are the only bank cards you can use to deposit money to your sports and racing account.
Cash-ins are possible through various news agencies located in the country. You can check Neds website page to find the nearest news agencies that are accepting cash-ins for deposits. Flexepin is a prepaid voucher, which lets you make deposits to your Neds account without disclosing your identity.
To use Apple Pay, your Wallet App must be connected to your credit or debit card, then payments become instant! BPay and bank transfer may take 1 to 3 days to process your deposits to Neds. But have no doubt with PayPal and POLi, because these two can transfer funds within seconds!
Withdrawal Methods
Unfortunately, the only withdrawal method available to punters are bank transfers and Neds Card. This is done in order to make sure that only verified accounts are receiving money from the sports betting company. Anti-money laundering regulations have put this rule in place for security purposes.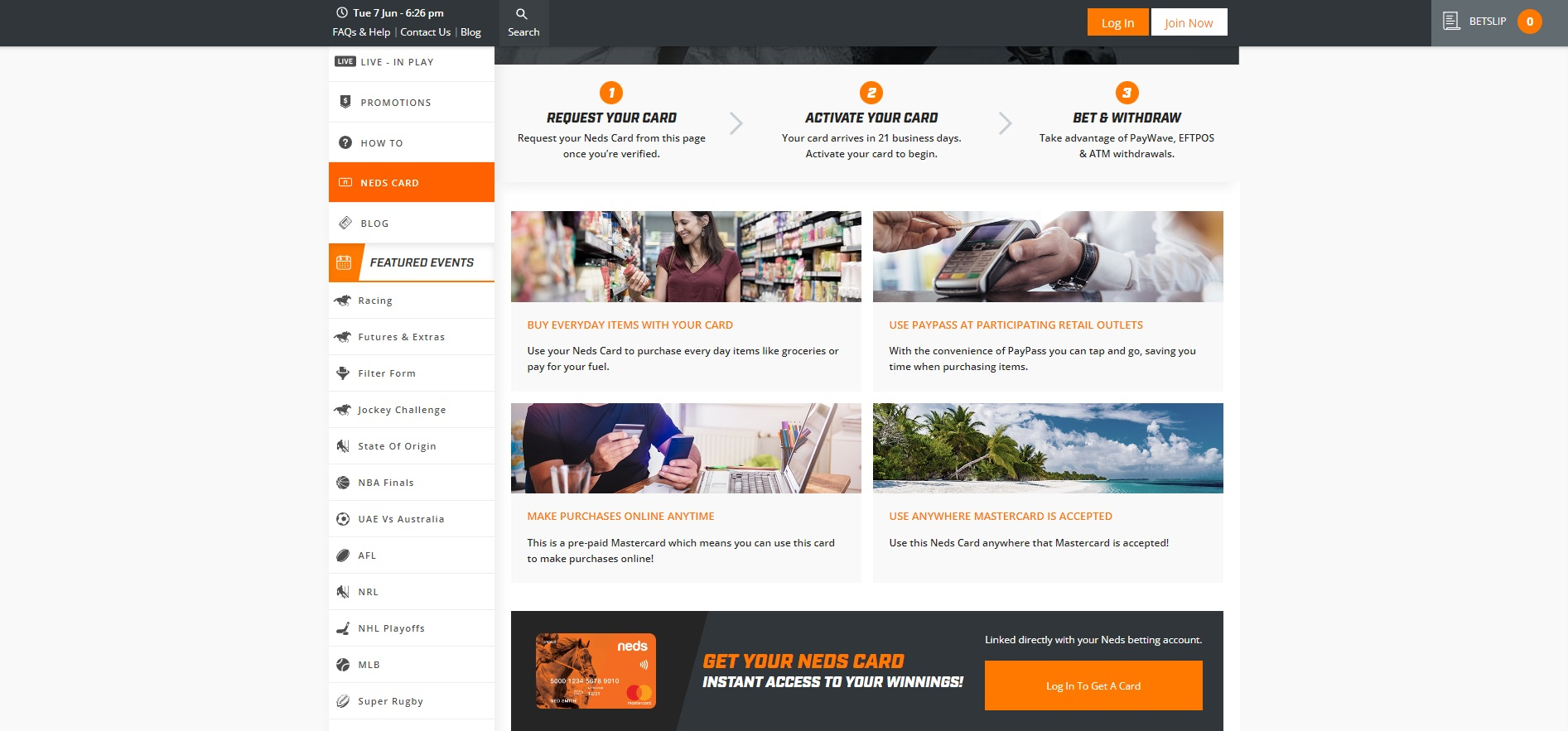 Neds Mobile App 2022
Neds mobile app features include easy access, a complete, unique list of sports and racing menu, a full copyright license to operate in Australia, and hold a good rating in the sports wagering market.
The orange and white background is simple and can show all the things relevant to betting. Anybody can access the racing and sports site, but you have to be 18 years of age or above to sign up with the site.
All the information you give during registration with this top rating company, such as full name, address, email, photo ID, and financial information must be correct as well.
Download Neds App on iPhone
For the app to work on your iPhone, you must have an iOS device that is 12.0 or higher. If your device is of a lower version, some features of the app may not work. The app is also quite heavy, so it will take plenty of space on your favourite device.
To get the original copyright app, visit Neds site or the App Store. Install it, join the racing platform, access the new sports and racing market, fill up your betslip, pick your payment methods, and watch how it goes! Also, remember that gaining the right experience is more important than winning!
Download the Neds App on Android
Your Android phone must be 5.0 or higher in order to accept the unique features of the racing app. Having said that, it can be downloaded directly from the company website or from Google Play Store.
Android phones often block third-party software from installing. Therefore, allow Unknown Sources from your Software Settings before proceeding to install the app.
Neds Customer Support Features
Australia's favourite sports and racing wagering company, Neds give 24/7 customer service to its punters over live chat and phone. Punters often find it troublesome to join the platform, sign up for incentives, watch the live stream, add bets to the betslip, search for queries, and understand the content in English.
That's where the customer support team steps in to address their issues through the FAQ page, email, telephone, and office visits. See the contact information below to get in touch with them.
24/7 Betting Line: 1300 006 377, +61 8 7918 7300
24/7 Customer Support: 134 777, +61 7 3184 9333
Email: support@neds.com.au
Office Visit by Appointment: PO Box 3321, Newstead, QLD, 4006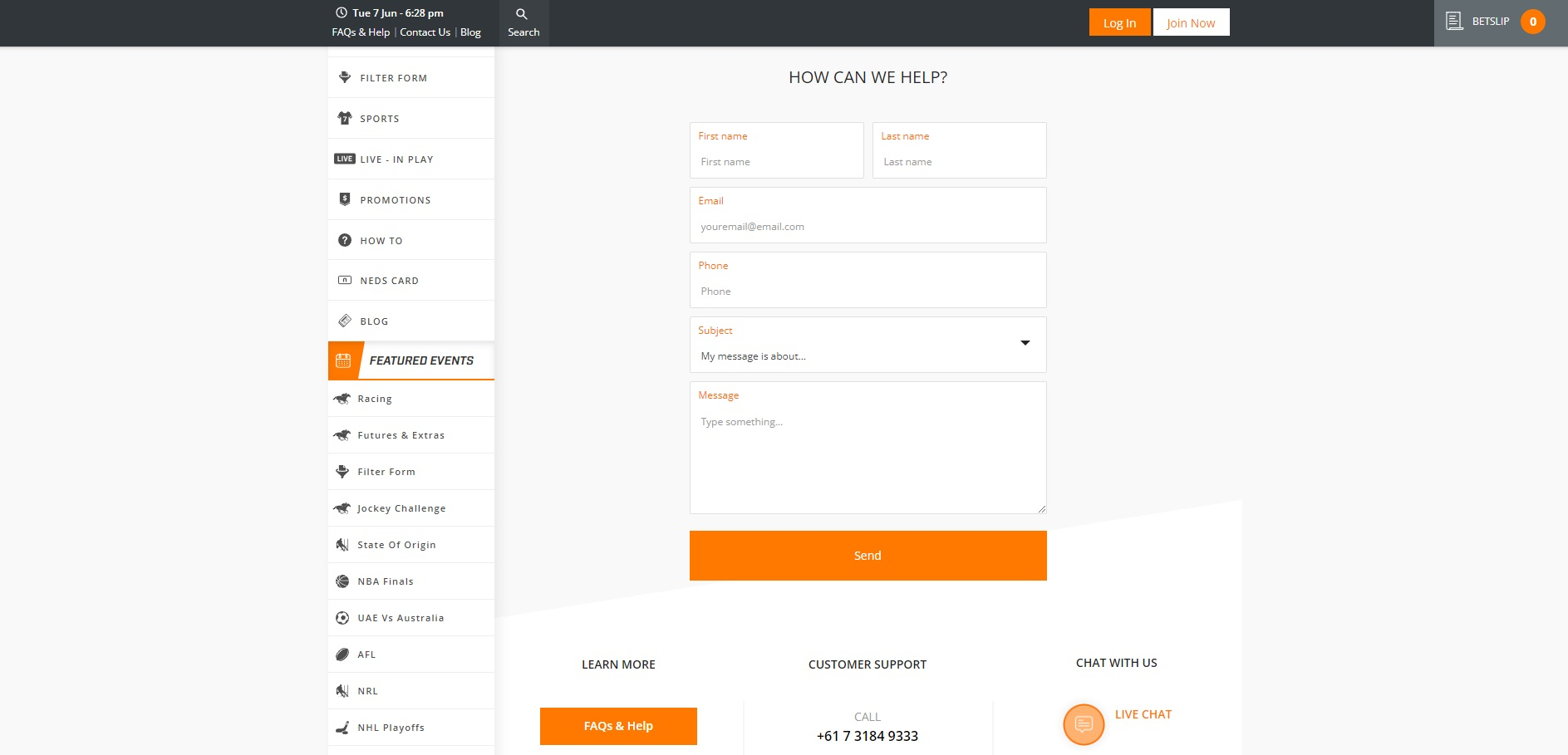 Neds FAQ
How do I use the betslip on Neds?
Join the Neds platform. Browse through the sports and racing market on Neds, check the odds, and add them to your betslip. You can add multiple bets for parlays and accumulators. Also, make sure you are aware of the different betting options. Once you are done, just finalise everything on the betslip, and hit confirm!
How do I verify my debit or credit card on Neds?
To verify your bank card, you must log in to your Neds account and visit the Verification Center. You will be requested an authorization charge. So, enter that amount, and select Confirm. Your card will be verified within 7 days.
How do I use the cashout feature on Neds?
To experience the cashout feature, select markets with cashout options. Once you are done placing your bets, you can check the cashout amount in the Pending Bets option. Now, you can cash out before the sports or race ends by clicking on the cashout button.
What is the process to activate my Neds card?
Visit the Neds site, log in, and select Neds Card. The system will ask for a 9-digit activation number. Enter that number, and the activation is complete. You will get your Neds card within 3 weeks.
How does live in-play work on Neds?
The live in-play bets only work when you contact the sports and racing site by telephone. Typically, live betting consists of 3 bet types- head to head, handicap, and coupon. Besides, the odds are adjusted many times during the course of the play.
Final Verdict on Neds
In all, Neds has a complete copyright license with secure payment methods with a massive sports and race wagering options. Australians love to watch the games and bet on them. Overall, we are very satisfied with the five-star services provided by this excellent sportsbook!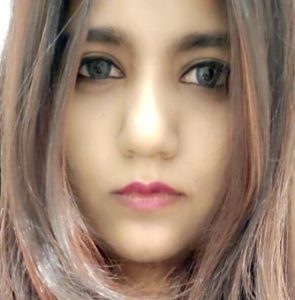 Like many aspiring writers, Jarin focuses on bringing life to the text for her readers. She is an avid sports lover, growing up in a family obsessed with bookies. She is an expert in the iGaming niche and has secondary obsessions with Gardening and cooking.