Pros
Navigable user interface
The mobile app runs on both iPhone and Android phones
Banking methods are fast and secure
The platform is heavily populated with nice games and sports
Gaming software providers are top of the line
Cons
No promotions on the platform
A FAQ page is missing
Pinoys love aerobics, wrestling, motorsports, and mostly esports. So, when they are logging into their Parimatch Philippines account, you know where they are headed! 
But we can't be so sure because some of them are more into football, tennis, rugby, and basketball. In fact, they are always well-informed about player statistics, next matches, and the overall outlook of the sports. Parimatch Philippines was designed with all these in mind. 
Nevertheless, this review will get deeper into what makes Parimatch Philippines the favorite hang-out spot of Pinoy gamblers. Keep scrolling to find out!
Parimatch Philippines Sports Betting
Parimatch Phillippines sports betting has been taken to another level for the Pinoy community. Once you enter the website, you can see a plethora of sports options not even limited to the popular events like International Cricket Council (ICC), Women's National Basketball Association (WNBA), Rugby Union, International Tennis Federation (ITF), Australian Football League (AFL), English Premier League (EPL), National Hockey League (NHL), World Cup, and the Olympics. 
This site is definitely the one you go for on special sports events, especially when people from your Filipino community are participating in weightlifting, aerobics, martial arts, boxing, motorsports, and other types of athletics. 
Among the other sports that we haven't named are water polo, snooker, rugby, handball, futsal, field hockey, darts, beach volleyball, badminton, football, tennis, cricket, esports, and table tennis. Just click on the icons that state these names, and you will be able to find the matches and odds format.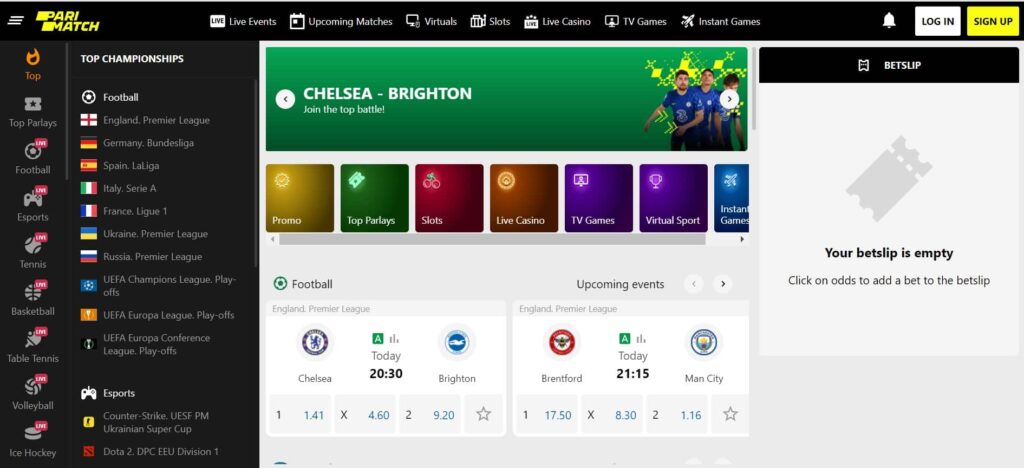 Parimatch Philippines Sports Markets
When you select your favorite sports from the bookmaker, you will have the option to choose live sports and upcoming sports in 1 hour, 3 hours, or 12 hours. Besides, you can choose the odd formats from European, American, Hong Kong, British, Indonesian, and Malaysian.
Having said that, you can utilize different bets for each sport on the platform. However, you may struggle unless you are familiar with the odd and betting types. Have no worries though! Conduct a small Google search about betting types along with a little practice, you will be able to ace sports betting very soon! 
To give you some idea about how bet types work on Parimatch Philippines, here are some examples to consider. For example, bet types for tennis are propositions, live betting, futures, totals, set spread, game spread, and money line. 
On the other hand, the bet types for boxing are round betting, method of victory, outright winner, will the fight go the distance, over or under rounds, and grouped around betting. As for motorsports, the accepted betting types on Parimatch Philippines are propositions, fastest lap, futures, podium finish, pole position, matchup, stage winners, and to-win. 
Parimatch Philippines Live Betting
Live betting became popular after online gambling platforms began to boom. The reason live betting is so favored by Pinoy punters is because bettors can cash out their bet money before the game ends whether they are winning or losing. 
In the case that they are losing the bet, they can minimize their losses by cashing out the bet money before the match ends. The bettors have more power in live betting, which is why top sportsbooks like Pairmatch Philippines have introduced the in-play betting option to their platform. 
Furthermore, it prevents the limitations of pre-match betting where you have to stick to your bet throughout the game. Having said that, you can enjoy in-play betting after plays or quarters. Overall, you get plenty of options to bet over the entire course of the game!
However, live betting can be more challenging than traditional betting because the odds are continuously changing. In pre-match betting, you can make betting decisions based on the condition of the player or team, past winning streak, weather, and other factors. Nevertheless, live betting demands that you pay attention to every minute of the game!
Due to this reason, we recommend Filipino punters practice betting on live games before actually getting down to business with real money. It is also easy to lose control of your bets, especially if you are dealing with multiples. 
Hence, consider all these points when you commit to a live betting sports game. Because it won't be as easy and decisive as traditional pre-match betting. 
Casino Games on Parimatch Philippines
There are lots to look forward to when it comes to casino games on Parimatch Philippines. You will find games that are a little different from the usual norm, such as instant games and tv games. But regular games are also available that fall under the category of live games and online slots.
It seems that Parimatch is trying to stand out from other online casinos in the market by coming up with unique games that Pinoy players can enjoy. When you surf through instant games, you may come across arcade games, crash games, and minesweeper. These games are generally provided by SmartSoft, Evoplay, Bgaming, Spribe, Hacksaw, KA Gaming, and others.
Other TV games that you may be interested in are Roulette, Lotteries, Table Games, and Card Games. The gaming software providers of these TV games are TVBet, Atmosfera, BetGames, Microgaming, fazi, and other well-known names.
That's not all, by the way. Slots lovers can gain rewards from playing Hot Fruits 27, Sun of Egypt 3, The Dog House Megaways, Big Bass Splash, Joker's Luck, Tiger Jungle, and so much more! Make sure to check the Return to Player (RTP) of the slot games so that you don't struggle while playing them!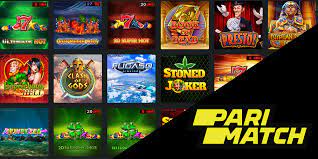 Sportsbook Promotions and Casino Bonuses
Everybody becomes excited about sportsbooks and casinos because of the welcome bonus, daily or weekly bonus, and other goodies. Having said that, our Pinoy gamblers also look forward to the promotions they can get from Parimatch Philippines. 
The best way to find out if you are eligible for any specific bonuses on Parimatch, log in to your designated account and click on the Promo page which is located on the left side of the screen. If there are bonuses available, you will clearly see them on that page. If not, better wait till they are uploaded. 
You may see Parimatch sportsbook offering incredible offers to online gamblers living in other countries. But don't let that get to you! When great promotions are available, you will get to see them on your Promo page!
Parimatch Philippines Mobile Compatibility
Having a mobile app for sportsbooks and casinos can save you lots of hassle, especially when you are always on the go. Sometimes, the user experience on mobile devices is better than the desktop versions. For that reason, Pinoy gamblers can look forward to betting on sports on the Parimatch Philippines mobile app. 
The Parimatch mobile app can be downloaded on both iOS and Android mobile phones. Your iOS device must be version 10 or higher to support this app. On the other hand, you must have an Android device that is version 5.0 or higher for the job. 
With that out of the way, you can download and install the app easily on your phones and enjoy live betting, sports betting, claiming bonuses, and wagering on casino games. However, Android users must be aware that you may need to tweak your settings for the app to be installed. 
Go to your phone's Settings, select Software, and check for a tick next to Unknown Sources. By placing a tick there, you ensure that your phone won't block the Parimach Philippines app during installation. 
Another point to remember is that the Parimatch app may collect your information regarding phone diagnostics, identifier, purchase history, and contact information after you download it. But don't worry, it is just to improve their app for improved user experience!
Parimatch Philippines Banking Methods
The banking methods in the Philippines work differently from the rest of the world, but some electronic wallets are universal no matter where you live. For example, PayPal, Neteller, and Skrill are the most popular choices when it comes to online gambling banking methods. 
Having said that, the payment methods also take as little as a minute to transfer funds to and from the Parimatch Philippines account. Regardless, since this is an international money transfer, the electronic wallets will charge processing fees as appropriate. 
Neteller may charge Filipinos a money processing fee of 3.99%, Skrill may charge 4.99%, and PayPal has a currency conversion rate of 4%. The rates are pretty much the same, so you can use the payment method that works best for you. 
Moreover, VISA and MasterCard are also some of the accepted banking methods on Parimatch Philippines. The processing rate is also low if you use these cards. The processing fee is an estimated 2.5% to transfer funds via the cards. 
Parimatch Philippines Customer Support
Since Parimatch has a global outreach, it is no surprise that the gambling platform allows multiple channels of communication between the Parimatch team and customers. Even though this is the case, the site's FAQ section is not well developed. 
The owner of the site can come up with a thorough FAQ page for international users of the platform for convenience. That is something we highly recommend for review. Otherwise, Pinoys can reach out to the help center through email, WhatsApp, Line, and live chat to solve any issues they are having. 
Live Chat: Available
Line: https://line.me/R/ti/p/@953pshtw
WhatsApp: +12515722856
Email: [email protected]
Parimatch Philippines Registration Process
The registration process at Parimatch Philippines doesn't take much time. You can be done with it in a few minutes and then start placing bets and wagers on sports and live casino games.





However, make sure that you are following the terms and conditions outlined by the Parimatch site, especially when it comes to the legal gambling age. 

According to the rules of the country, an individual must be 21 years of age to use online casinos and 18 years of age to participate in lotteries. In that case, if you are underage, then you are not allowed to open an account with Parimatch Philippines.

Provided that you are of legal age, you can start preparing for the signup process. To begin, click on the

Signup

button on the screen. Enter all information truthfully regarding your full name, email address, password, residential address, date of birth, country of residence, and postcode. Then confirm the registration process.

You will be asked to verify your account after the registration to prove your real identity, age, and place of residence. The quicker you can get on with it, the less trouble the Parimatch team will cause you in the long run. Because your account can be suspended if account verification is delayed.
Parimatch Philippines Responsible Gambling
Parimatch Philippines also takes responsible gambling to heart to protect its users from gambling addiction. Sometimes people engage in gambling activities to escape their current reality or to earn an income, which is not the real reason online casinos and sportsbooks were established in the first place. 
They were established for the sake of entertainment, but things have gone downhill over time. Some people are more susceptible to problem gambling because of existing physical and mental conditions. For this reason, Parimatch Philippines have come up with the following initiatives.
Parental Control
Parental control software is recommended for adult users of the gambling platform to prevent their children from accessing the site when they are not looking. Not only is gambling illegal for minors but also detrimental to their wellbeing. 
Having said that, set up some filtering software on your mobile phones and personal computers to block minors from getting onto Parimatch Philippines. You should also be careful with your login credentials and don't let them lie around here and there. 
Compulsive Gambling Test 
A self-assessment tool is also available on the platform for Pinoys who want to know about their current gambling habits. You just have to truthfully answer a set of questions that are provided. The whole point is to review your current mindset and patterns about gambling so you can take proper action. 
Self-Exclusion  
Anybody who is suffering from problem gambling can choose to self-exclude themselves from Parimatch Philippines. By activating this tool, you are voluntarily vouching to refrain from gambling for more than 6 months. 
Read more
Effective Strategies in Sport Betting
Betting on basketball: total over/under
European Handicap in Basketball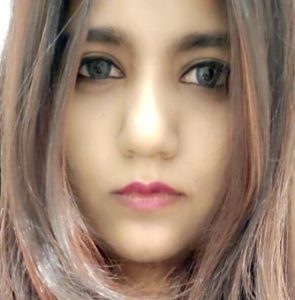 Like many aspiring writers, Jarin focuses on bringing life to the text for her readers. She is an avid sports lover, growing up in a family obsessed with bookies. She is an expert in the iGaming niche and has secondary obsessions with Gardening and cooking.