How to Bet on Hockey: total over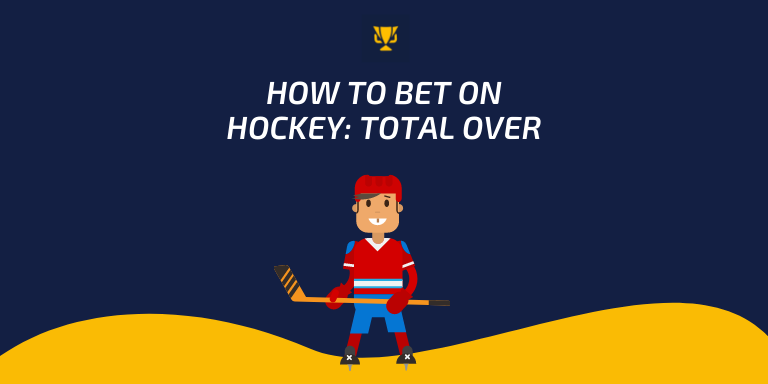 Bets on totals are very popular amongst betting players, however in each sport there are some distinctive characteristics. One such sport is hockey, which unlike football overall generates higher numbers. Hockey is played at a high speed, the closed terrain helps on that and the puck being launched with a stick is much faster than a kicked ball. As a result, in hockey matches there are more goals scored, a fact well acknowledged by the bookmakers.
Note that the Totals are not confined to the number of goals scored in a match. There are a number of different events offered by bookmakers for a specific match – for example, the number of goals scored, the shots on goal, the penalty minutes and the list goes on and on. Just like in football, the most popular bet is on the total of goals scored, in hockey fans and betting players too are particularly fond of predicting the number of goals that will be scored in one game.
In Hockey the most common indicator of a Total is 4.5 – higher than football's common indicator being 2.5. An indicator of four or five is quite normal in this sport. Consider, for example, that at the 2021 Ice Hockey World Championship, 64 matches were played and in 33 of them five or more goals were scored – that's nearly 52% of them, while the remaining matches ended with four or less goals.
The total score of a match also depends on the league. The National Hockey League (NHL) for example, generates higher numbers than the Continental Hockey League (KHL) due to various reasons such as the fact that the field in North America are narrower than the ones in Russia (although there is a process of narrowing there too) and on small fields there are more opportunities for aggravation; secondly, overseas they often apply a more attacking minded philosophy, whereas in KHL, the coaches of many teams – even the top ones (not to mention the moderate ones) – prefer a wait-and-see tactic, which affects the number of goals scored.
So, while in KHL all lines are spinning around a total of 4.5 goals, in the NHL this indicator goes to 5.5. But even if these are actually the most popular totals offered by bookmakers in hockey, which are found in the most conspicuous places, betting players can always find more totals to wager on, especially if they believe that a match will have largely different outcomes. However, one important thing to remember is that in hockey there is a distinction between the total of a match and the total of its regular time. You should always pay attention to this, so that there are no unpleasant surprises on the way.
Let's see an example. CSKA and Avangard meet in a KHL match. A neutral fan bets on "Total Regular Time Over 4.5" on it as he is confident that there will be at least five goals scored in the match. In the end, the total number of goals is five with CSKA winning, but the bet is lost. Why? Because the goals scored in the match's regular time were four and so the player didn't win as there were no five goals within that time.
Another popular bet in hockey is the total of penalty minutes, which however is somewhat more complicated. While in most cases the performance of teams can be more or less clear, when it comes to the penalties, the situation is dynamic and can change rapidly. There are some real cases where matches between rivals end with no deletions at all, but there are other games between teams from lower standings where a very high number of clashes, fights and as a result deletions take place.
Let's see an example from the World Championship and a game of Russia against Italy. A bettor wagers on "Total Penalty time over 16.5" being confident that due to the huge difference of the teams, Italy will not be able to keep up with their rivals and will foul a lot. However, Italian players give their best and are sent off only twice, while the Russians, not being prepared for such resistance, get eight send offs. These make a total of ten penalties and 20 penalty minutes. The bet is won, even though the game went on through a different scenario than the bettor thought.
One more thing that separates hockey from football is power play, which means that fans are offered with even more betting variability, as they can bet on the number of pucks that will be scored with a numerical advantage or missed. For such bets, there are readily available statistics of the game in unequal compositions in most professional leagues' websites and so, you can do some analysis of your own. It might turn out that the best power-play team has actually leveraged this only in half of the games, but did so several times. Or that the team with the most concedes when played with a player less in every match, plays always roughly and thus gives its rivals too many power plays.
Let's see an example. A player bets on "Power total goals over 1.5" on the Stanley Cup match between Montreal and Tampa. In this case, the player is not concerned over who will score the two goals during a power play, or what kind of extra play this will be – 5 to 4, 4 to 3 or 5 to 3. The match ends with a score of 6-3, Tampa Bay Lightning wins, but only one was scored during a power play. So, the bet is lost.
There are numerous bets on totals, the two for the entire game, for a particular team or even for a specific player. What is somehow common is that the odds in both directions can be close or even the same – for example, the odds for "Total less than 4.5 goals" can be 1.89 and for "Total over 4.5 goals" 1.92. You should be very careful in such cases and carry out a careful analysis in order to make a good choice.