Pros
Proper responsible gambling tools and resources provided
Live streaming and live betting on BetVictor are incredible
Strong and informative FAQ page
Welcome bonuses are satisfactory
Payment methods are suitable for NZ residents
Cons
Installing the app on Android takes a bit of time
Customer service can't be reached by phone
What makes BetVictor sportsbook in NZ special? Is it the BetVictor welcome bonus, betting options, or free bet offers? Frankly speaking, the online sports betting company has aced in all those areas already.
Now they are moving forward with user-friendly mobile apps, wider betting markets, and exclusive free bet on BetVictor! As a sportsbook that was established back in 1946, it is still standing tall and proud while continuing to move forward.
Having said that, we have a lot to talk about this awesome bookmaker. You can learn all about it in this BetVictor review!
BetVictor NZ Betting Site Promotions
Legal sports betting sites in New Zealand are always coming up with different ways to entice new customers onto their platforms. Since the competition is quite fierce in the online gambling world, it is no surprise that the sports betting sites are offering over-the-top cash prizes to allure potential gamblers!
Having said that, BetVictor offers multiple promotions to Kiwis who log into the online sports betting company. Other than welcome bonuses, you will also find free bet deposit bonus, and other horse racing bonuses on the online sports betting platform. Let's have a look at all the promotional deals the online sports betting company are offering!
BetVictor Welcome Bonus
BetVictor offers welcome bonuses for both sportsbooks as well as the casino. You can view these bonuses and free bet on BetVictor after signing up with the online sports betting site. On sports betting markets, you can enjoy the $100 match free bet offer which has a validity of 7 days. The odds for this bet free bets have to be 2.00+ for you to claim this free bet deposit bonus.
Another BetVictor welcome bonus that you can claim on the online sports betting company is the $100 deposit match bonus. This bonus is only applicable to casino games on the NZ betting site and you can win up to $300! The minimum deposit amount for this BetVictor welcome bonus is $10, but you gain more from the NZ bet if you deposit more.
Also, the wagering requirements for this BetVictor welcome bonus is 35x, and any related winnings will be blocked until you meet the wagering requirements. Honestly, better than Betway live sports betting!

Casino Games on BetVictor Betting Site
The casino games offered by the online sports betting company are divided into several sections for the convenience of the user. You can choose the game you want to play from the tabs Featured, Top Games, Most Popular, Daily Jackpots, Drops and Wins, MegaWays, Instant Wins, Hot Games, and so much more!
Some of the top games on BetVictor are Mega Moolah, Rainbow Riches, Bonanza, Who Wants to be a Millionaire, Fishin' Frenzy, Cleopatra, and Starburst. But it doesn't stop there. You have plenty of options to choose from when it comes to casino games on this NZ betting site!
To add, all casino games on the online bookmaker in New Zealand run on a Random Number Generator (RNG) which randomises the outcome of each game. For this reason, nobody can influence the outcome of the game!

Sports Betting on BetVictor NZ Betting Site
Sports betting markets and live betting on BetVictor are as intense as the casino gaming scene! You can be the judge of that when you browse through the gaming collection of BetVictor sportsbook in NZ.
On the online bookmaker in New Zealand, you can easily find the most common sporting events, like football, baseball, tennis, basketball, rugby, motorsports, cycling, pool, volleyball, boxing, badminton, MMA, and ice hockey. But there are other excitements waiting for you, such as virtual sports, speedway, politics, and entertainment.
Forecast and Tricast Betting
The forecast betting on the online bookmaker in New Zealand places bets on the 1st and 2nd horses in a specific race in the right order. Here, the dividends are declared after the horse racing match. For this type of betting to work, at least 3 runners must participate in the race.
On the other hand, tricast betting involves the 1st, 2nd, and 3rd horses, and it is usually settled based on the official computerised return. The stakes for the tricast double or treble that are accepted in error are split equally for each tricast race.
Cash Out
The cashout feature is available on all sports and betting markets and you know it when you see the cashout icon on your betting market header. With this live betting and live streaming feature at your disposal, you can lock in a profit before a match ends. That means you can withdraw your wins before the game has even ended!
Each-Way Betting
There are 2 wagers in the each-way betting- the first is for the selection to win and the other is to achieve a place. Also, the number of runners in horse racing is the number of runners who fall under the starters orders.
Besides, the each-way accumulative bets are settled place-to-place and win-to-win. If the starters are reduced to less than 5 in number, the bet will be considered an all-to-win. Fortunately, you don't have to do all the calculations in this bet because this horse racing betting site has an each-way calculator!
Bet Boosts
Bet boosts are not an uncommon term in legal sports betting sites. Sports betting sites offer bet boosts to encourage punters in New Zealand to participate more in the platform's betting options. However, when one or more outcomes on the free bets become void, then the entire bet becomes void.
Bet Builder
For some reason, the horse racing betting site only discussed bet builders for snooker and football. The rules in these two games are indeed complex. But if you want to learn more about how to use the bet builder for other sports and racing events, you have to contact the customer service team.
Just for illustration, we want to talk about the rules included in the bet builders of snooker and football. The bet builder rules for snooker discuss what happens in the case of re-racks, player match centuries, first potted ball betting, handicap betting, race to market, and other criteria.
On the other hand, the bet builder rules that apply to football are offside, pass, goal assist, match day squad, the woodwork being hit, player to score a header, team to reach stage outcomes, and so much more. Just make sure that you are playing by the rules or you may end up losing the free bet!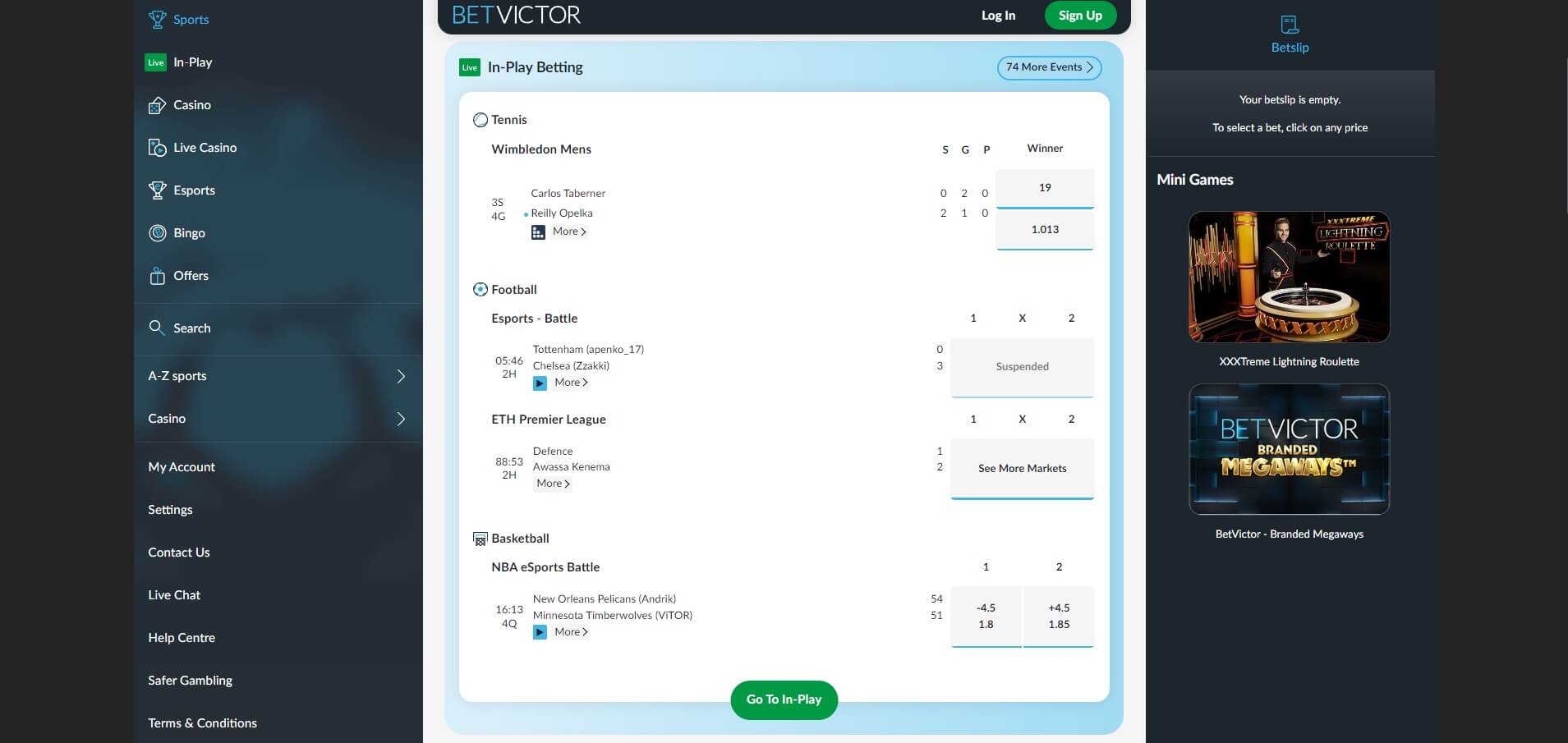 BetVictor Sportsbook in NZ Payment Method
Luckily, live betting on BetVictor has been made easier for Kiwis due to the multiple payment method that are available. Honestly, we rarely see so many payment options made available on horse racing betting sites!
Having said that, any of you will have one of the following payment methods at your disposal: credit card, debit card, bank transfer, Neteller, PayPal, Paysafe, Skrill, Trustly, and FastFunds. Therefore, whether you are engaged in rugby betting, racing betting, live streaming, or chasing free bet deposit bonus, you have the means to pay!
With that in mind, let's look at how these payment options work for this BetVictor review!
Deposit Methods
Depositing funds to your BetVictor account is easy. You just have to navigate to the Cashier and select Deposit. Then, choose your deposit methods from the list discussed above, enter the amount that needs to be sent out, and confirm the payment process.
Any deposits made through Neteller, PayPal, Trustly, are Paysafe are instant. So there is a short waiting time for you before you can get back to online gambling. Live betting on BetVictor is possible after you are done making the required deposits.
Withdrawal Methods
The modes of payment for withdrawing funds from the sportsbook are also the same as the deposit methods. However, withdrawals usually take longer than deposits because the BetVictor team has to review the transaction and send it to the right person.
Also, the accounts where the withdrawals are sent undergo account verification, which may require more time. For this reason, you may receive your withdrawal funds to your personal account after a few extra days.
For example, VISA and MasterCard may take 2 to 5 business days, and Trustly may take 3 to 5 days. But PayPal and Neteller may get that done for you within a day!
BetVictor Sportsbook in NZ Mobile App
The BetVictor mobile app is developed by BV Gaming Limited, and this app has a size of 108.7 MB for iOS devices. It may vary a little for Android devices, but you get the approximate size. It is available in only one language English for New Zealand rugby betting, horse racing betting, and greyhound racing betting.
Nevertheless, you should keep in mind that the app will collect your personal data while you are using it, but that is all for marketing purposes. It may gather data, such as purchases, usage data, identifiers, purchase history, contact info, financial information, and diagnostics. You can view this information when you download betting apps from App Store Google Play.
In this BetVictor review, we will look at how you can download and install this live streaming app on your iOS and Android devices.
iPhone
iPhone users must be aware of device compatibility when it comes to this app. They must have an iOS device that is 13.0 or higher to download this rugby betting app. You can find the download link of the BetVictor app on the App Store.
There is some information there that you can check out before downloading the app. Afterwards, it will only take you a few minutes to install the app and run it on your phone!
Android
Android users are also eligible to run the BetVictor app for horse racing betting, live streaming, free bet, and rugby betting. BetVictor responsible gambling tools also run quite well on Android phones. Having said that, you may need to change your phone settings before jumping to download it.
Go to your Android phone's Settings and navigate to Software. You will find a selection there that says Unknown Sources. Just place a tick next to the Unknown Sources so the phone gives you permission to download third-party software.
Now, proceed to the Google Play Store and find the BetVictor app. Download and install it within a few minutes! If you are new to horse racing betting, live streaming, and sports betting, the internet is a good place to learn about it!
BetVictor Sportsbook in NZ Responsible Gambling
Other than providing free bet deposit bonus and live betting on BetVictor, the online gambling site also educates and actively promotes responsible gambling for New Zealand players. Its staff are highly trained in the matter and must take refresher courses.
When any player talks to them about responsible gambling, the staff take it very seriously. They may even check if their gamblers are comfortable with their current level of gambling traits, and provide them with much assistance as possible.
With all these in mind, let's see what responsible gambling tools have BetVictor setup for its punters!
Turn Off Social Media Adverts
If you are subscribed to BetVictor or use the platform often, then your social media pages will pick up cues from your cookies, and customise their ads for you. What happens after that is that you keep getting advertisements about BetVictor and gambling on your social media pages!
Therefore, you can selectively change your advertisement preference on your social media platforms. The BetVictor FAQ page provides a thorough guideline on how you can do this, so make sure to check that out.
Deposit Limits
The deposit limit setting option on the BetVictor platform can help you to reduce the amount of money you spend on live betting on BetVictor. Usually, the limits are applied to your betting account number and not to your payment options.
You have the freedom to set the deposit limit based on days, weeks, or months. In fact, you can even increase or decrease the limit as you please, but here is the catch. If you increase your deposit limit, you must wait 24 hours for it to take effect, which is not the case when you reduce the limit.
Session Time Alerts
The session time alerts send you alerts every now and then while you are logged into your betting account. What it does is that it reminds you of how long you have been wagering free bet on BetVictor. The time alerts can pop up every 30 minutes, 60 minutes, 90 minutes, and 120 minutes.
Product Restriction
Some Kiwis can gamble responsibly on some products while failing to do so with others. This is the reason the product restriction tool was introduced by BetVictor. Players can contact the customer service team to block products |(like poker, live games, etc.) that are not suitable for them.
Timeout and Self-Exclusion
The timeout and self-exclusion periods are recommended for those whose gambling habits have gone out of control! Betting apps, casino games, welcome bonus, and free bet on BetVictor may become overwhelming for some people.
Hence, they can take a timeout from BetVictor for a short period of time or take a longer break by activating the self-exclusion option.
Prevention of Underage Gambling
Underage gambling is illegal in New Zealand. Minors are not allowed to open a gambling account, browse through betting options, or free bet on BetVictor. If they are caught engaging in gambling activities, their accounts are suspended immediately.
On top of that, parents who are regular on BetVictor can install parental control software on their phones and computers to prevent their children from visiting gambling platforms.
Useful Resources
For educational and counselling purposes, BetVictor also shares links to some responsible gambling platforms that offer assistance regarding problem gambling. View the information shared below to find out more about them.
How to Signup with BetVictor Sportsbook in New Zealand 2022
Before you signup with BetVictor, make sure that you are 18 years of age or older. Underage gambling is illegal in New Zealand, so you will definitely get in trouble if you break the law. Besides, an individual can only have 1 account with BetVictor. Therefore, don't even think about opening multiple accounts unless you want them all to be suspended!
The signup button is located in the top right corner of the BetVictor website. Click on it to enter all the information it asks of you. The registration form will ask for your gender, full name, date of birth, phone number, email address, residential address, and postcode.
Be careful when you are filling them out because BetVictor reserves the right to verify your identity and the information you provide on the registration form as part of anti-money laundering compliance.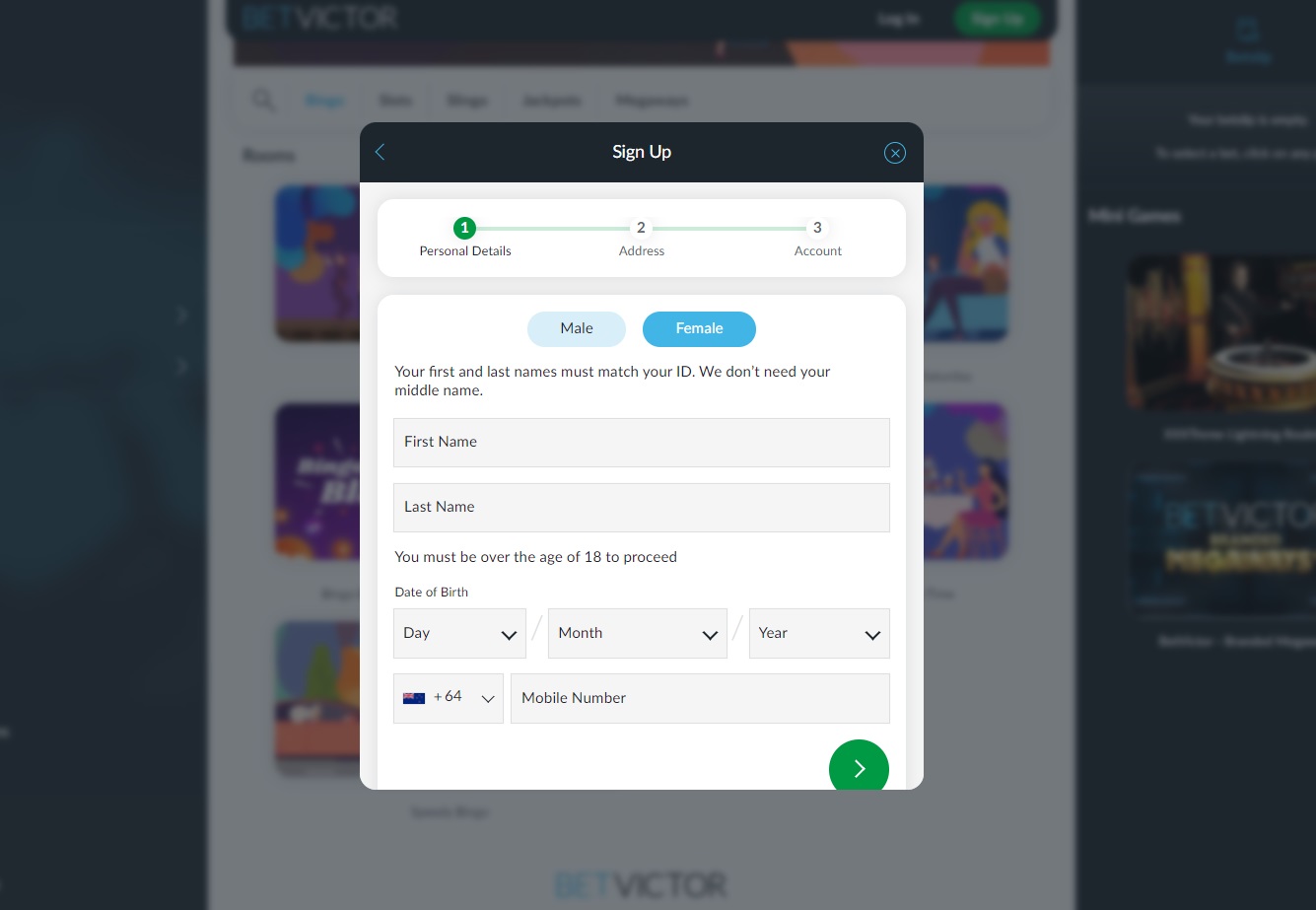 BetVictor Customer Support Features
Kiwi punters can reach out to the customer service team of BetVictor sportsbook in NZ to ask about anything, such as BetVictor welcome bonus, NZ bet, free bet deposit bonus, payment options, responsible gambling, ID verification, and so much more! Just hit the live chat, FAQ, email, Facebook, and Twitter for up-to-date information!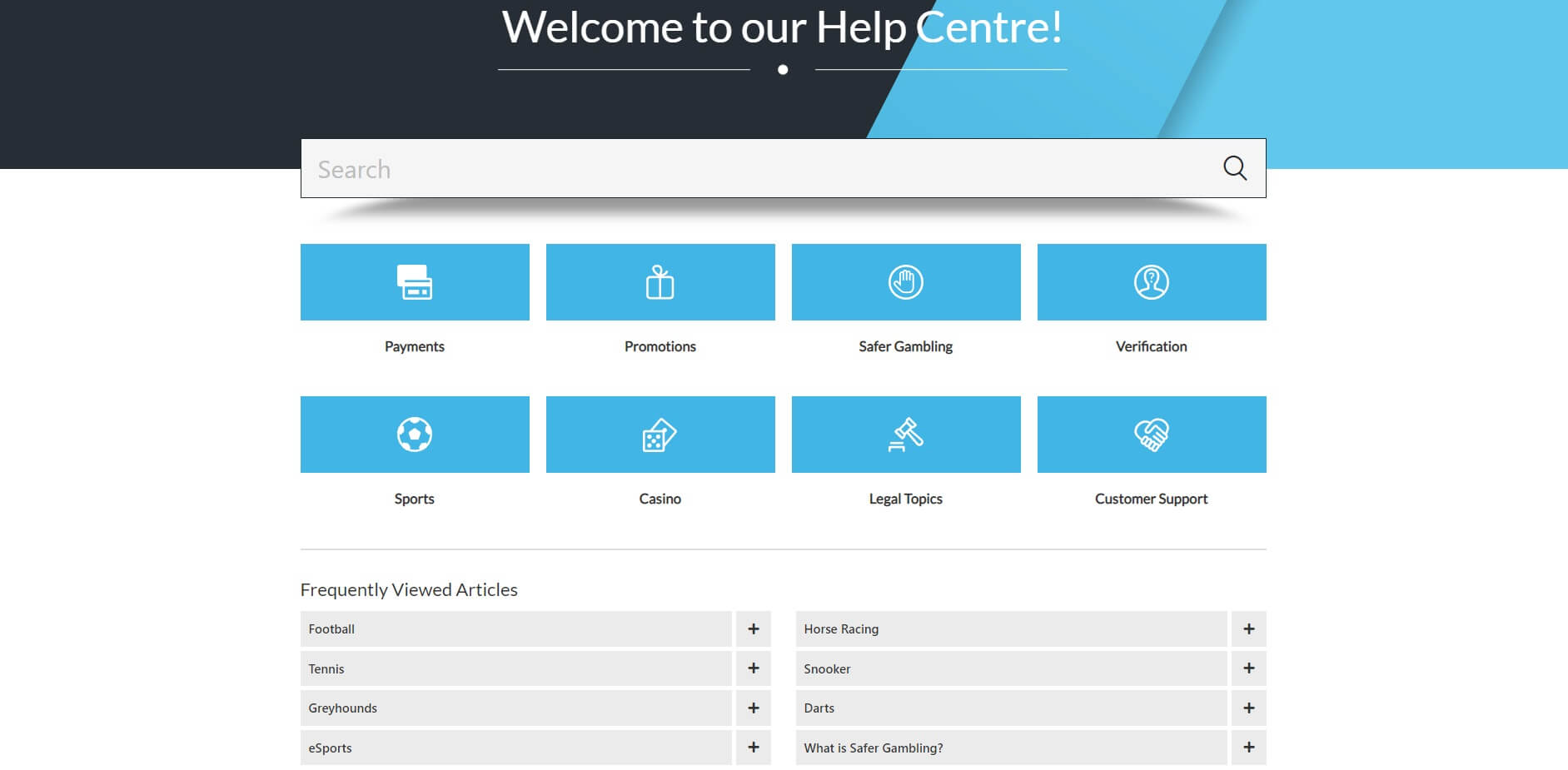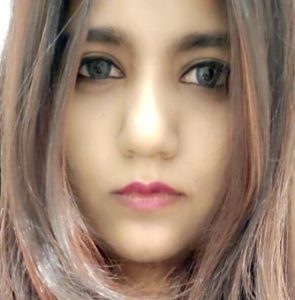 Like many aspiring writers, Jarin focuses on bringing life to the text for her readers. She is an avid sports lover, growing up in a family obsessed with bookies. She is an expert in the iGaming niche and has secondary obsessions with Gardening and cooking.