Pros
Welcome bonus, daily bonus, and loyalty bonus are quite rewarding
Casino games and sports collections are exciting and wide-ranging
Responsible gambling tools are practical
Excellent user interface on both desktop and mobile site
Casino games are provided by top gaming software companies
Live betting, Retro Bet, and WeSpin features are included for sports betting
Several possibilities for deposits and withdrawals
Cons
There is no mobile app out yet
No phone number for customer support
MobileBet came to being back in 2014 and has become a world-class casino and sportsbook in a very short time. It has a license from the Malta Gambling Authority with the license number MGA/CRP/178/2009 which was issued back in 2019. After the licensing, the platform has gradually expanded its betting markets, sports events, game collection, payment options, live chat customer support, and bonus schemes.
Now, the Kiwi casinos & sportsbook collaborates with big gaming software companies like Playtech, Evolution Gaming, Pragmatic Play, Microgaming, Yggdrasil, Ezugi, and Quickspin. The list of software companies is growing as well as the number of Kiwis who use the gambling platform.
This MobileBet review in New Zealand will touch on all the attributes that make MobileBet stand out from other Kiwi casinos & sportsbook in the market.

MobileBet Promotions
To start, the welcome bonus offered by MobileBet is pretty good as you can get a cash bonus equivalent to $200! However, you have to use this money to place wagers on different casino games and free online mobile pokies.
To claim this bonus though, you have to make a deposit of $10 or more. The more you deposit, the more you will get in return for the 100% match bonus. Don't miss this chance because it is a one-time deal!
The points you earn from wagering on casino slots real money and live casino games can be traded at the casino shop for free online casino slots, promo code, deposit bonus, fancy gadgets, and free online slots bonus. Most importantly, you may get 225 points immediately as sign up bonuses after opening an account with the gambling platform!
Points can be earned by logging in daily to your MobileBet account, verify your account by uploading documents, wagering on casino games, and sports betting on sports like ice hockey, football, rugby, tennis, and others.
Loyal players of MobileBet betting site get exclusive incentives by earning loyalty points for finishing simple tasks. Having said that, you can earn promo code, sign up bonuses, free online slots bonus, and so much more from MobileBet.
Just so you know that not every game counts towards meeting the wagering requirements set by the casino and sports betting platform. For this reason, we encourage you to play casino slots real money to gain a casino bonus.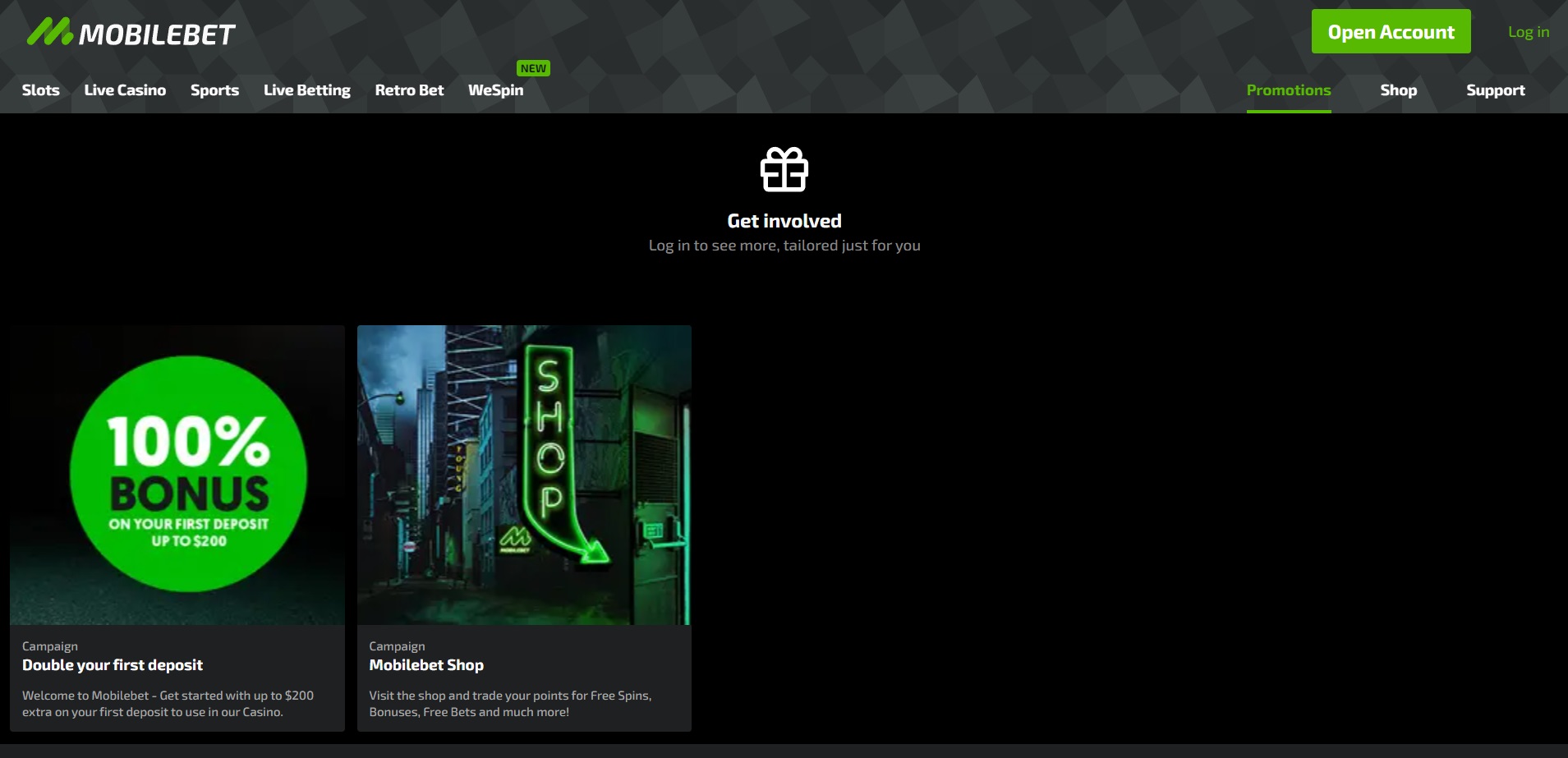 Betting Options in MobileBet
On MobileBet, the minimum bet is $0.10, but the maximum bet can vary based on sports and leagues. When you enter the stake amount on your bet slip, you will be able to see the exact value of the bet that you can place on the given sports. Moreover, the maximum daily payout is priced at $100,000.
If you want to specifically know how to bet on different sports outlined on MobileBet, then there is an organised description available on the Game Rules. Based on the Game Rules, the betting options that are on the market for the punters on MobileBet are outright, money line, teasers, propositions, parlays, point spread, totals, win, handicap, futures, pleasers, and accumulators.
To be more specific, in a football match, whether for live betting or pre-match betting, you can place bets on regular-season wins, total field goals, halftime or full-time, the result of drive, team play first down, an extra point made, team to score 1st and win, total team points, over time, total touchdowns, winnings margin, and so on.
Just like this, you can check all the betting options available for you on the specific sports tab of Game Rules. System bets, accumulators, handicap betting, each-way betting, teasers, and fast markets are also nicely explained on the page.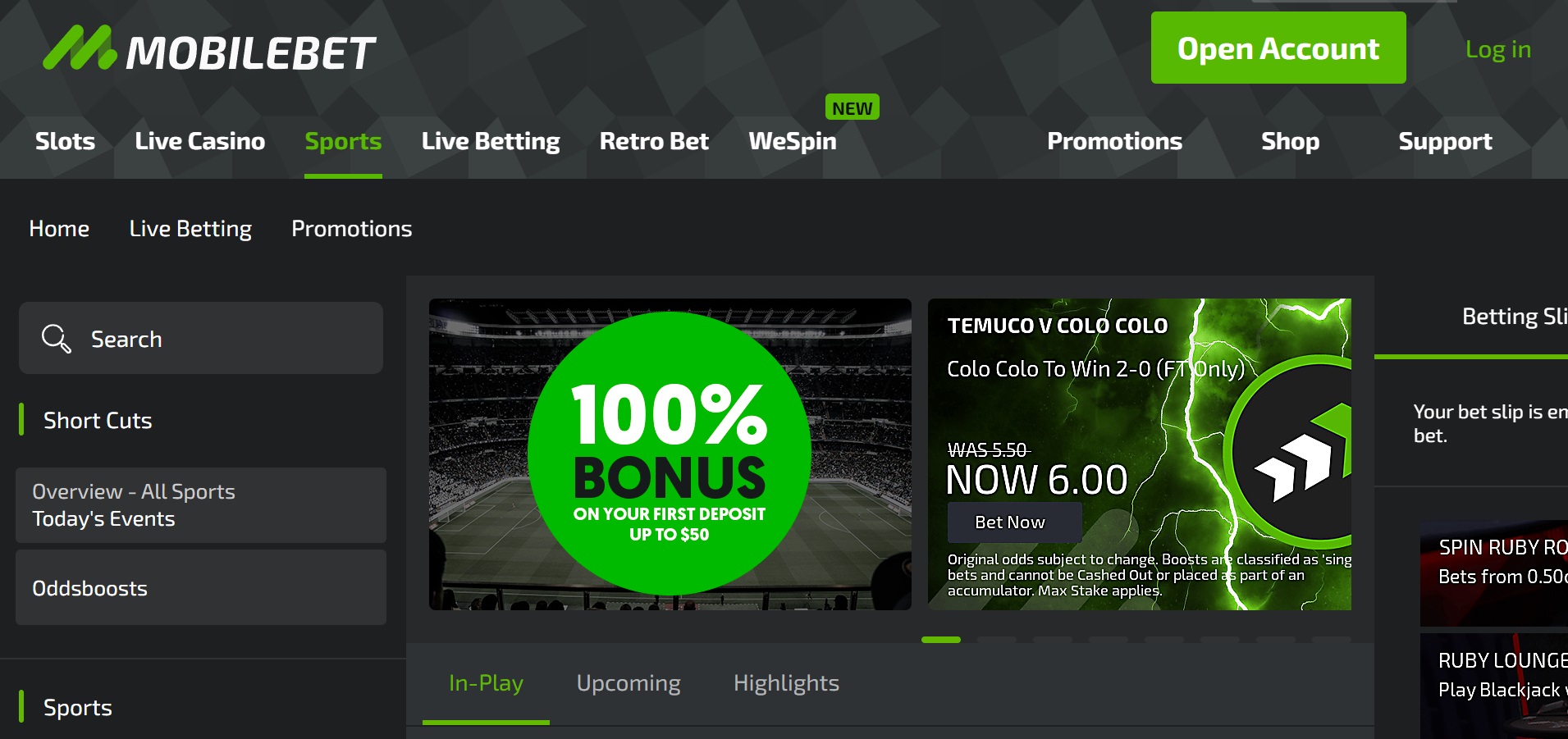 Casino Games at MobileBet
Unlike other Kiwi casinos & sportsbooks, MobileBet has a guide for new bettors on its desktop and mobile website. Everything you need to know about live casino games, free online casino slots, and card games are all nicely listed and explained on the site.
The live casino scene is mostly populated by craps, baccarat, roulette, and blackjack. On the other hand, the most popular free online mobile pokies are Book of Dead, Gonzo's Quest, Mega Fortune Dreams, Mega Moolah, Dead or Alive, Mega Fortune, Starburst, and Twin Spin.
Moreover, the most popular card game of all time is still Texas Hold'em Poker, which you would have a blast with while playing on the MobileBet platform! To find out more about the available casino gaming options on the website, just click on the tabs located at the top of the site.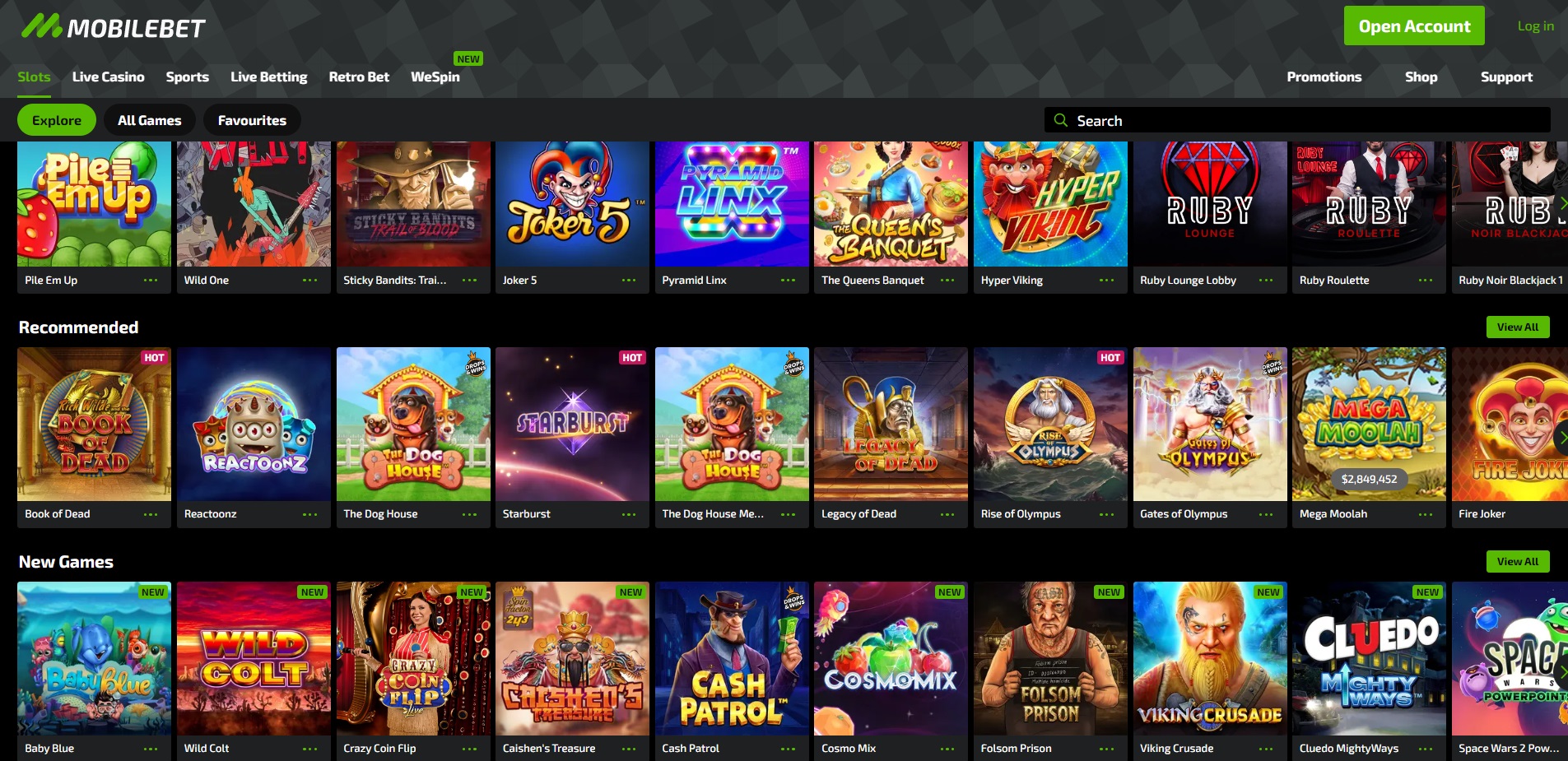 Sports Betting at MobileBet
Sports betting is another feature that MobileBet is good at. You can access the mobile site or the mobile app to place a bet on your favourite sports to make a minimum deposit of just $10! Compared to other Kiwi casinos & sportsbook, that is indeed a good deal on the part of MobileBet New Zealand.
On the MobileBet betting platform, there are shortcuts and live statistics for user convenience, such as live betting, virtual sports, betting rules, odd boosts, Super Odds, ComeOn Special Odds, and other novelties. The range of sports that are available on MobileBet is boundless with 3 filter options: in-play, upcoming, and highlights.
While you browse the website, you will find popular sports like football, futsal, cricket, boxing, baseball, badminton, cycling, darts, Aussie Rules, Mixed Martial Arts (MMA), volleyball, handball, ice hockey, tennis, beach volleyball, motor racing, Gaelic football, rugby, speedway, water polo, snooker, and golf.
What we really liked about the MobileBet sportsbook is that it had options for politics, speedway, and specials. You can bet on political elections occurring in the United Kingdom, Europe, Ireland, and the United States of America. The specials option lets you bet on entertainment shows like Love Island and BBC sports personality.
It doesn't matter what your origin is, on the MobileBet website, you will find everything that you are looking for! Moreover, you can access MobileBet New Zealand even if you are living in Europe or North America!
MobileBet Payment Options
New Zealand sportsbooks are not too rigid about their payment methods like Australian bookies. Having said that, they have a range of possibilities when it comes to making deposits and receiving withdrawals. Let's check out what those possibilities are in the sections below.
Deposit Options
The deposit options currently accepted at MobileBet are VISA, MasterCard, Maestro, Skrill, Neteller, and Paysafecard. VISA, Maestro, and MasterCards are debit and credit card payments that are subject to the processing fees and duration of designated banks. For this reason, any deposits you make with those deposit options may take between 2 to 4 business days.
On the other hand, Skrill, Neteller, and Paysafecard are electronic wallets that take only 24 hours to process each payment. Having said that, most Kiwis prefer these payment methods over traditional bank cards. These payment methods are also not tied down by the rigid rules and regulations of the banking institutions. Therefore, you have more freedom when using these options.
Besides, since the bare minimum deposit amount is just $10, anybody of any financial background can chip in their money to play casino games and bet on sports. To find out the maximum deposit amount and the processing fee for transactions, refer to the table below:
| | | |
| --- | --- | --- |
| Partners | Maximum Deposit Amount | Processing Fee |
| VISA, Maestro, and MasterCard | NZ $3000 | 2.5% |
| Neteller and Skrill | NZ $10,000 | 5% |
| Paysafecard | NZ $100 | 5% |
Withdrawal Options
Luckily, people residing in New Zealand can withdraw funds from their MobileBet New Zealand account by various methods like VISA, Maestro, MasterCard, Skrill, Neteller, and Trustly. By far, Skrill and Neteller are the fastest payment methods in the world as they can carry out all withdrawals within 24 hours.
Moreover, bank cards like Maestro, MasterCard, and VISA as well as Trustly take between 2 to 7 business days to transfer money from your MobileBet New Zealand account to your personal bank account. The electronic wallets also let you withdraw a maximum amount of $10,000 whereas bank cards and Trustly only allow a maximum withdrawal amount of $4000.
MobileBet Mobile App Features
The MobileBet app has been designed with mobile users in mind. When we say mobile gambling, we can only think of the 2 most popular devices- Android and iPhone. You are also eligible for promo code, free spins on pokies, deposit bonus, and welcome bonus if you use the mobile browser instead of your personal computer.
To access the mobile site, you just have to type the MobileBet term on the Google search console and click on the first result that you see. You can also access the site from your active social media account. Furthermore, to place a bet, just navigate to the sportsbook tab, browse through the sports that you want to bet on, and add the bets to your bet slip.
Unfortunately, the Kiwi casinos & sportsbook platform doesn't have a mobile app out yet. Therefore, you can only use the mobile browser to explore the available promo code, online games, sports events, betting markets, and the customer service and live chat system.
Don't worry though. The sportsbook can run on both iOS and Android devices without causing any trouble. Navigation is smooth, most features are accessible, the design is user-friendly, and payments are processed instantly.
MobileBet Responsible Gambling
MobileBet New Zealand believes in spreading a culture of positive gambling which is practised within limits and with self-awareness. The platform is aware of the risks associated with excessive gambling. So, as a licensed online casino and sports betting site, it has to coach its account holders to gamble responsibly.
Often, people use gambling platforms to get away from their life problems or to generate income, which is not why Kiwi casinos & sportsbook was designed. While being in the online casino, everybody should be mindful of their budget, be sober, take regular breaks, and check their transaction history to monitor monthly budgets.
Being aware of one's limit and knowing when to stop is something all gamblers should practise while they engage in gambling activities. For this reason, several responsible gambling tools and helpful resources have been shared on MobileBet New Zealand to manage the issues that emerge from problem gambling. Some of those tools are discussed below:
Account Limits
All players can set a deposit limit from their account before they start placing wagers on casino games, online pokies, and sports betting. This limit will help you budget your deposits on a daily, weekly, and monthly basis. You can do the budgeting manually, but having the tool set up on your MobileBet account can be more helpful.
Just log into your online casino account, visit the Responsible Gambling section, and select the Account Limit option to make the adjustments. You should think about the right adjustments that best suit your gambling habits. Because you don't want to keep changing the limits every now and then.
Besides, you can increase or decrease your account limit from time to time. MobileBet New Zealand encourages players to decrease their deposit limit, which is why the change is instantly implemented on your account. However, if you wish to increase your account limit, the change takes about 3 days to execute. This is another way for the casino to discourage you from inflating your gambling limit.
Reality Check
The reality check tool does what the name suggests. It helps you get a reality check of how much time you spend on online pokies, addition games online, and casino free spins. This responsible gambling tool gives you reminders of how long you have been using the site and how much you won or lost during that time.
Even though you won't be logged out of the casino games, you still need to approve the notifications that will pop up to give you a warning. Just don't ignore the notifications, or there is no point in using the reality check tool!
Cool-Off Period
If you feel like your gambling habits have caused too many difficulties in your social, financial, professional, and personal life, it is time to activate the cool-off period. This feature lets you suspend your sports betting account for a period of 24 hours to 6 months.
The cool-off period can help you reflect on your gambling habits and invest your precious time in things that are more important. By the way, this feature can be activated by accessing your Account Settings. If you are having trouble initiating the cool-off period, you can just get in touch with the customer support team for assistance.
Parental Control
It is illegal for people under the age of 18 to engage in gambling activities in New Zealand. With that being said, if you see any minors opening an account with MobileBet New Zealand, you can report the matter to the customer support group immediately.
Moreover, if you have any children in your household and you have an account with MobileBet, you have to make sure that they don't have access to your betting account. For this reason, you can install parental control software like Net Nanny, Mobicip, Gam Block, Bet Filter, 27 Labs, Cyber Sitter, and Force Point.
If the MobileBet team suspects any minors placing wagers or using MobileBet accounts, those accounts will be closed down instantly. Therefore, any pending withdrawal funds on that account will become void.
Useful Resources
MobileBet New Zealand also takes the help of multiple independent organisations that are experts in treating gambling addiction. These organisations collaborate with Kiwi casinos & sportsbook to minimise gambling harm within the community.
Bettors on MobileBet mobile sportsbook can learn more about problem gambling from the resources provided below. If they feel like their gambling habits have gone out of control, they can get the help they deserve from the links and phone numbers illustrated below.
How to Signup with MobileBet New Zealand in 2022
To get the most of free spins, casino bonus, live casino games, and MobileBet betting, you need to create a valid MobileBet account.  Primarily, you have to be 18 years of age or older to qualify to open an account with the mobile sportsbook.
Click on the green Open Account button which you see when you visit the MobileBet website. In the first registration form, you just have to enter your email address and password. Then, you will be presented with a second form where you have to type out your full name, home address, phone number, and date of birth.
The registration form has a third page that will ask you to enter your gender, country of residence, and preferred currency. Right after, you have to confirm that you are 18 years of age and agree to the terms and conditions of the MobileBet betting site.
Next up, verify your account with the online casino after registration. You may need to verify your phone number, email address, face ID, driver's license, and utility bills. If you fail to verify your account after the company requests for it, then your casino account will be suspended.
Remember, it is your responsibility to provide information accurately on the registration form. Providing false information on the sign-up form may result in your account getting suspended or deleted.
Plus, you can only have one account with MobileBet unless you want all your accounts to be suspended or deleted. If you find out that someone else has made an account with your name, then you should immediately notify the online sports betting platform.
Beware, multiple accounts that are connected to the same IP address, household, or devices are not permitted.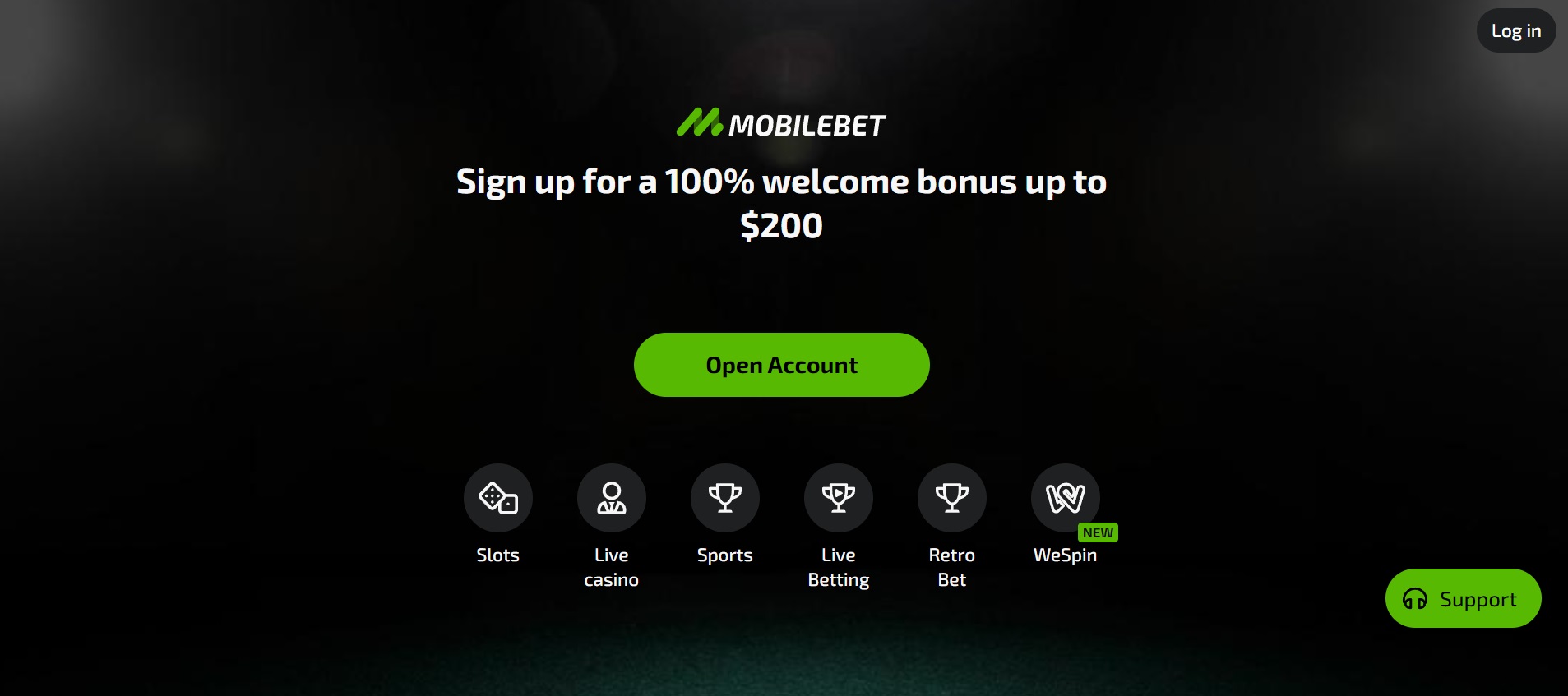 MobileBet Customer Service Features
Enquiries and complaints must be submitted to the customer service team of MobileBet in polite language, clear conversation, and with valid logic. Even though you can find solutions to most common questions on the Help Center, you can still ask the customer support team via live chat, request form, or email.
After a complaint has been submitted, a senior customer support staff will investigate the matter with a third-party vendor or the right personnel. Having said that, you will get a resolution within 7 days after the complaint has been lodged.
If the matter is still not resolved, then the issue can be taken to the Alternate Dispute Resolution (ADR) body. Generally, any dispute or issues are directly dealt with by the immediate customer support team of the Kiwis casinos & sportsbook. So, unless the case is sensitive and complex, don't contact the ADR directly.
Live Chat: 8 am to 10 pm GMT
Email: support@mobilebet.com
Alternate Dispute Resolution (ADR) Email: info@ecogra.org
Address: 3rd Floor, Spinola Park, Triq Mikiel Ang Borg, St. Julians,  SPK1000, Malta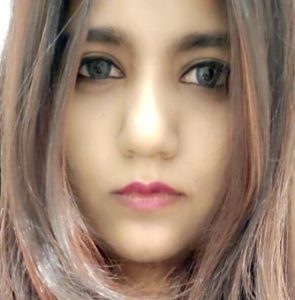 Like many aspiring writers, Jarin focuses on bringing life to the text for her readers. She is an avid sports lover, growing up in a family obsessed with bookies. She is an expert in the iGaming niche and has secondary obsessions with Gardening and cooking.